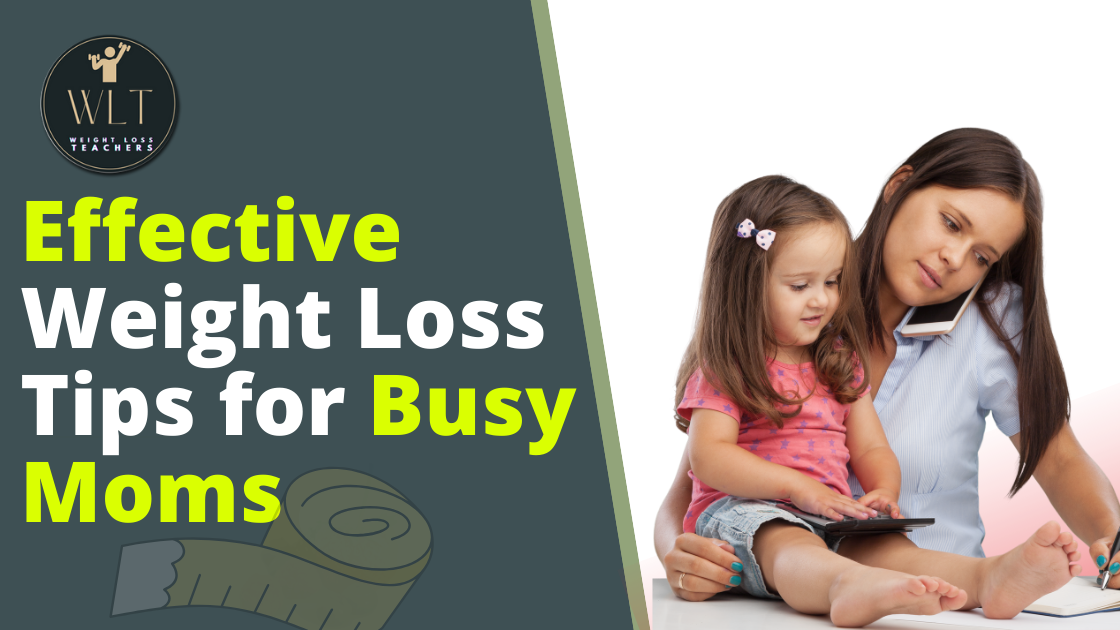 Effective Weight Loss Tips for Busy Moms
Being a mother is a role that is full of love, joy, and priceless moments, but it is also quite overwhelming. It is a multidimensional responsibility that includes nurturing and caring for your children, managing your household, and possibly juggling a profession. 
Introduction
A mother's day is a frenzy of duties, leaving little time for herself. Prioritizing health, fitness, and weight loss plans for moms can feel impossible in the middle of these commitments. However, they must realize that taking care of themselves is not a selfish act but rather a necessity for living a meaningful and energetic life.
Throughout the day, mothers wear multiple hats. They are frequently plunged into a world of breakfast preparations, school drop-offs, work responsibilities, washing, and an endless list of duties from the time they wake up. Parenting can feel like an all-consuming endeavor at times, leaving parents with little time or energy for themselves. It leaves no time to follow weight loss plans for moms.
Prioritizing Fitness and Health
It's easy for a mom's own health and fitness to take a back seat in the midst of this chaos. Often, the immediate needs of the family take precedence, and finding time to follow weight loss tips for busy moms appears to be a faraway dream. Many mothers accept the fact that they will never be able to regain their pre-pregnancy weight or level of fitness.
However, it is critical for mothers to understand that caring for their health and maintaining a healthy weight are more than just personal goals; they are acts of self-love that benefit both them and their families. A mother who is enthusiastic, confident, and healthy may give more to her family. Seeking and following weight loss tips for moms demonstrates self-care and balance, which can have a great impact on the entire family.
It is critical to understand your motivation before beginning any weight loss journey. You must determine your "why"—the  underlying reasons behind your desire to lose weight. Your motivation could be a combination of the following factors:
Better Health: Losing weight through effective weight loss plans for moms can improve your overall health. It can lower your risk of chronic diseases like diabetes, heart disease, and hypertension, ensuring you're there for your family in the long run.
Increased Self-Confidence: Regaining your pre-pregnancy figure or reaching a weight you're comfortable with can enhance your self-esteem and confidence tremendously. This improved confidence can have a positive impact on all facets of your life.
Setting a Good Example: As a mother, you serve as a role model for your children. Demonstrating that you value your health and well-being offers a tremendous example for them to emulate as they grow.
Boosted Energy: Losing weight can boost your energy levels, allowing you to keep up with the demands of a busy household and possibly a career.
Personal Fulfillment: Losing weight can often arise from a very personal desire to be more content and satisfied with oneself. It's all about self-love and self-care.
Understanding your "why" is similar to having a compass to lead you through your weight loss journey. It motivates you when things get rough and reminds you why this journey is worthwhile.
Make Self Care a Priority
Being a mom might feel like a tornado of duties at times. Juggling children, domestic responsibilities, and possibly a job might leave little time for yourself. However, in the middle of the chaos, moms must prioritize self-care. Moms must follow effective weight loss plans; after all, a healthy and happy mother is better able to care for her children.
One of the most common issues for busy moms is finding time for self-care. It's all too tempting to prioritize everyone else's needs before your own. Self-care, on the other hand, is not a luxury; it is required for successful weight loss and overall well-being.
Taking care of your physical and emotional health is not selfish; it is an essential part of your responsibility as a mother. When you prioritize self-care and follow effective weight loss tips for moms, you are investing in both yourself and your family. A mom who is physically and mentally healthy may give her loved ones more love, energy, and attention.
Scheduling "me time" into your daily or weekly routine is the first step toward prioritizing self-care. This isn't about lavish spa days (though those are lovely treats), but rather about little, constant gestures of self-love. It might be as easy as:
Exercise: Make time for physical activity, whether it's a morning yoga session, an evening brisk stroll, or a dancing workout in your living room. Exercise not only promotes weight loss, but it also improves mood and energy levels.
Meditation: Set aside some time each day to practice mindfulness meditation. It can aid with stress reduction, attention improvement, and emotional well-being.
Reading: Spend some time immersed in the pages of a good book. Reading can be used as a kind of self-care to help you relax and unwind.
Bath Time: A nice way to treat oneself is to take a peaceful bath. For an even more luxurious experience, add some soothing music and essential oils.
Hobbies: Reconnect with activities or hobbies that bring you delight, such as painting, gardening, or crafting.
Social Connections: Spend time with friends and family who encourage and support you. Social interactions are an important part of self-care.
Quality Sleep: Make getting enough sleep a priority. Sleep is rejuvenating and necessary for weight loss and overall wellness.
Remember that self-care is not a selfish act but rather a prudent investment in your well-being. It's not about ignoring your family; it's about being the best version of yourself for them. A happy, healthy, and contented woman may face the hardships of parenthood with greater resilience and grace.
Balancing parental responsibilities with weight loss plans for moms necessitates effective time management. It's about establishing a routine that works for you, your family, and your objectives. Here are some steps to creating a workable schedule:
Establish Clear Priorities: Begin by determining your main priorities. What are your day's most critical duties and commitments? These may involve caring for your children, working, and taking care of yourself.
Time Blocking: Set aside certain time blocks for various activities. Designate mornings for exercise, afternoons for work or housework, and evenings for family time and relaxation, for example.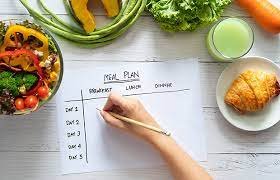 Meal Preparation: Set aside time each week for meal planning and preparation. Having a plan in place guarantees that you make healthier meal choices while also saving you time during the hectic weekdays.
Delegate and Request Assistance: When necessary, delegate tasks and request assistance. Sharing tasks lightens your load, whether it's getting help with childcare or incorporating older children into home chores.
Adaptability: Be adaptable while following weight loss tips for moms. Because life as a mom is often unpredictable, plan for flexibility in your schedule. Allow for flexibility without feeling guilty.
Get Up Early: If feasible, get up a little earlier than the rest of the family. This peaceful period in the morning is perfect for exercise, meditation, or day planning.
Naptime or School Hours: Use your child's naptime or school hours to focus on weight loss tips for moms. This is a great time for workouts or uninterrupted work.
Establish Limits: Learn to say no when necessary. Overcommitting to weight loss plans for moms might result in burnout and harm your weight loss efforts.
Creating a realistic plan is about finding a balance that allows you to achieve your health and fitness objectives without sacrificing your other responsibilities as a mom. Remember that balance is dynamic and can alter from day to day, so be fair to yourself and adapt as required.
Plan Your Meals to Nourish Body and Soul
Meal planning is a vital component of successful weight loss, especially for busy women who often find themselves pulled in several ways. It's not only about dropping pounds; it's about fueling your body and soul with nutritious, balanced meals. Here are some practical meal planning suggestions that can make a huge impact on your weight loss journey.
Time is a crucial asset for moms, and bulk cooking may be a lifesaver. The principle is simple yet highly effective: prepare healthy meals in bulk when you have some free time, and then divide them up and freeze them for later use. Here's how to use batch cooking to your advantage while following weight loss plans for moms:
Select Versatile Dishes: Soups, stews, casseroles, and chili are examples of dishes that can be easily scaled up and frozen. When these foods are reheated, they typically taste even better.
Portion Meals: After cooking, divide your meals into individual or family-sized servings. This not only ensures that you have the proper portion size, but it also makes it simple to grab a quick supper.
Label and Date: Always label your containers with the name of the food as well as the date it was produced. This helps you keep track of what's in your freezer and when it should be used.
Why Variety is Important: Cooking in bulk does not imply eating the same thing every day. To keep your taste buds engaged and happy, rotate your batch-cooked meals.
Nutritious Freezer Staples: In addition to whole meals, consider making and freezing nutritious staples like cooked quinoa, brown rice, or grilled chicken breast. These can be the basis for quick, nutritious dinners.
Defrost Securely: When it's time to consume a batch-cooked meal, make sure to defrost it securely in the refrigerator. Avoid leaving it at room temperature, as this can promote bacterial growth.
Snacking can be a challenge to weight loss, particularly if you seek unhealthy foods out of convenience or stress. As a busy mom, having healthy snacks on hand will help you combat hunger mindfully.
Nuts and Seeds: Almonds, walnuts, and pumpkin seeds are high in protein and healthy fats. For convenient access, portion them into little containers or snack-sized bags.
Fruits and Vegetables: Wash, chop, and refrigerate fruits and vegetables. It can make a big difference to have sliced cucumber, carrot sticks, or apple slices on hand.
Greek Yogurt: Packed with protein, Greek yogurt may be a filling and healthy snack. For added taste, sprinkle with berries and drizzle with honey.
Nut Butter: When coupled with whole-grain crackers or a slice of whole-grain bread, peanut or almond butter may be a quick and filling snack.
Popcorn: Air-popped popcorn is a low calorie whole-grain snack. To make a healthy choice, avoid heavy butter or salt toppings.
Portion control is an essential component of weight loss plans for moms. Busy moms often eat on the go or grab whatever is available, which can contribute to overeating. Here's a simple tip to help you manage your portions:
Use Smaller Plates: Replace your standard dinner plates with smaller ones. The visual illusion of a full plate might fool your brain into thinking you're full with less food.
Mindful Eating: Pay attention to your body's signals of hunger and fullness. Eat gently, savoring each meal, and stop when you're satisfied but not stuffed.
Pre-portioned Snacks: Avoid eating snacks like almonds or chips straight from the package. Instead, take a small quantity and place it in the bag.
Measure Foods: Use measuring cups and spoons while cooking to guarantee precise portion amounts, especially for calorie-dense foods like oils and dressings.
Water is often overlooked in the pursuit of weight loss, yet it is an essential component of success. Staying hydrated while following weight loss plans for moms provides various advantages:
Appetite Control: Drinking water before meals can help suppress your appetite, lowering your chances of overeating.
Calorie-Free: Because water is calorie-free, it is a perfect substitute for sugary beverages or excessive snacking.
Metabolism Boost: Hydration helps your body's metabolic activities, which aid in fat loss.
Energy Levels: Dehydration can cause fatigue, making it difficult to stay active and engaged in your weight loss quest.
Toxin Removal: Water aids in the removal of toxins from the body, hence improving overall health and well-being.
Drink at least eight 8-ounce glasses (approximately 2 liters) of water per day to ensure you're receiving enough. Carry a water bottle with you all day as a reminder to stay hydrated.
Choose Nutrient Rich Foods
When you're a busy mom trying to lose weight, every mouthful should count. This is where the concept of nutrient-rich foods comes in handy. It's not just about the number of calories you consume but also about the quality of those calories. Focusing on nutrient-dense foods gives your body important vitamins, minerals, and fiber while keeping calories under control.
Creating a nutrient-rich plate requires making deliberate food choices. Here's how to make a balanced and healthy food plan:
Fruits and Vegetables: These should be the highlight of your meal. Fill half of your plate with bright fruits and vegetables. They include plenty of vitamins, minerals, antioxidants, and fiber. They also add bulk and taste to your meals, allowing you to feel full on fewer calories.
Lean Proteins: Protein is necessary for satiety as well as muscle maintenance. Include lean protein sources in your meals, such as poultry, fish, tofu, lentils, and low-fat dairy. Protein also takes more energy to digest, which might help with weight loss.
Whole Grains: Whole grains are preferable to refined grains. Whole grains, such as brown rice, quinoa, whole wheat bread, and oats, are high in fiber and help manage blood sugar levels.
Healthy Fats: Include avocados, almonds, seeds, and olive oil in your diet as sources of healthy fats. These fats are important for overall health and can aid with appetite control.
Limit the Unhealthy Options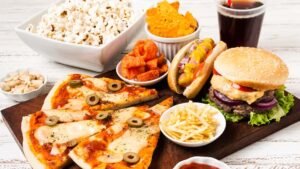 While eating nutrient-rich foods is crucial, it's also necessary to limit or avoid certain dietary culprits that can sabotage your weight loss efforts:
Processed Foods: Highly processed foods are frequently high in added sugars, harmful fats, and salt. These empty calories can contribute to weight gain while also providing little nutritional value.
Sugary Snacks: Limit your consumption of sugary snacks such as sweets, cookies, and sugary drinks. They have the potential to trigger blood sugar spikes and crashes, which can lead to increased cravings and overeating.
Excessive Refined Carbohydrates: Consume white bread, sugary cereals, and pastries in moderation. They may cause sharp blood sugar spikes, followed by energy crashes and increased hunger.
Busy moms are frequently experts at multitasking, but when it comes to eating, mindfulness can be a game changer. Being fully present during meals, savoring each bite, and paying attention to your body's cues are all examples of mindful eating.
Note: There might be affiliate links mentioned here. We may receive a commission if you purchase a product through an affiliate link. There is no additional charge for you. Please do your own research before making any online purchases.
Sitting Down Without Distractions: Make an effort to eat your meals at a table, even if it's only a brief snack. Eat away from the television or computer, as distractions can lead to thoughtless overeating.
Chewing Slowly and Savoring Each Bite: Eating slowly allows your body to more accurately sense fullness. It also improves your enjoyment of the food and allows you to detect when you're full.
Hunger and Fullness Cues: Before you eat, assess your hunger level. Is it really that you're hungry, or are you eating out of habit or stress? Throughout the meal, check in with your body to see if you're still hungry. Stop eating when you are satisfied.
Emotional Eating Awareness: Many working mothers use food to cope with stress, boredom, or other emotions. Mindful eating helps you become more aware of your emotional triggers and develop healthy methods to deal with them. Instead of grabbing food when worried, try taking a few deep breaths or going for a brief stroll.
Consider the following techniques to incorporate mindful eating into weight loss plans for moms:
Set Aside Time: Set aside particular meal times to practice mindful eating. Even if it is only one meal per day, it is a start.
Mindful Snacking: Extend mindful eating techniques to snacks. Allow yourself a few seconds to enjoy your snack without interruption.
Teach Your Family: Encourage your family to join you on your journey to mindful eating. This can help create a good food environment for your children and establish healthy eating habits.
Exercise Tips for Working Moms
Physical activity should be incorporated into your daily routine along with other weight loss tips for moms. Finding time for long gym sessions as a busy mom may seem difficult, but there are various inventive methods to keep active and meet your fitness objectives.
Home exercises are an excellent alternative for busy women who require flexibility in their fitness regimens. Here are some home workout suggestions:
Bodyweight Exercises: Bodyweight exercises such as push-ups, squats, lunges, and planks require no equipment and may be performed in the privacy of your own home. They aid in muscle building and toning.
Yoga: Yoga is a great approach to increasing flexibility, balance, and stress relief. There are numerous online tools and apps that provide guided yoga sessions tailored to various ability levels and time constraints.
Dance Workouts: Dancing is a fun way to increase your heart rate while listening to music. You can either watch dance training videos online or simply dance around your living room with your children.
Involving your children in your exercise routine not only benefits you as a mom, but it also sets a good example for them. Here's how to make physical activity a family affair:
Family Walks: Take regular family walks in your neighborhood or at a nearby park. It's a great way to spend time with your kids while remaining active.
Family Bike Excursions: Plan family bike excursions to neighboring trails or bike-friendly areas. Cycling is not only a fantastic workout, but it is also a pleasant family activity.
Active Games: Engage your children in active games such as tag, hide and seek, or frisbee. These games get everyone up and active while also making them laugh.
HIIT Advantage: Short and Intense
HIIT (High-Intensity Interval Training) is a time-efficient training approach that can produce outstanding outcomes. In HIIT workouts, there are brief periods of intense exertion and rest. They are proven to burn calories and boost metabolism even after the workout is over. Here's how to work HIIT into your hectic routine, along with other weight loss tips for moms:
Short Workouts: HIIT sessions can last as little as 15-20 minutes, making them ideal for working moms. There are numerous HIIT training programs available online that require little to no equipment.
Efficient Calorie Burn: HIIT workouts maximize calorie burn in a short period of time, making them an effective weight loss option.
To see long-term results, you must be consistent with your physical activity as well as other weight loss tips for moms. Health guidelines recommend a minimum of 150 minutes of moderate-intensity aerobic activity or 75 minutes of vigorous-intensity aerobic activity each week. As a working mom, you can divide this up into shorter sessions throughout the week. As an example:
Seek Help
Losing weight can be a difficult journey, and the encouragement of others can make a big difference. You don't have to go it alone as a busy mom. Here's how to get help:
Share Your Goals with Your Close Friends: Share your weight loss goals with close friends and family members who can encourage and hold you accountable. They might even accompany you on your journey.
Local or Online Forums: Connect with other moms facing similar issues by joining local weight loss groups or online forums. These groups provide a forum for people to share their experiences, trade insights, and find inspiration.
Professional Assistance: Seek advice from a qualified nutritionist or a personal trainer who specializes in working with working moms. They can offer specialized guidance and support tailored to your unique requirements and goals.
Prioritize Your Sleep 
In the hustle and bustle of parenthood, good sleep is often disregarded but plays a critical role in weight loss. Lack of sleep can affect hunger hormones, leading to cravings for unhealthy meals. Here's how to prioritize sleep:
Establish a Sleep Schedule: Try to go to bed and wake up at the same time every day, especially on weekends. Consistency helps regulate your body's internal clock.
Create a Nighttime Habit: Develop a peaceful nighttime habit to signal to your body that it's time to wind down. Activities like reading a book, having a warm bath, or practicing deep breathing exercises help encourage restful sleep.
Limit Screen Time: Avoid devices (phones, tablets, TVs) before night, as the blue light emitted can interfere with your sleep cycle.
Manage Stress
Stress can be a big obstacle to weight loss, and busy moms typically encounter high levels of stress owing to the obligations of motherhood. Following weight loss tips for moms cannot be very effective without proper stress management. Implementing stress-management practices is vital for your general well-being:
Meditation: Spend a few minutes each day in mindfulness meditation. It can aid with stress reduction, attention improvement, and emotional well-being.
Deep Breathing Exercises: Deep breathing exercises might help to calm your nervous system. Simply inhale slowly and deeply through your nose and exhale through your mouth.
Journaling: Writing in a journal can be a helpful way to process your thoughts and emotions. It can assist you in identifying stressors and developing coping methods.
Find Moments of Solitude: Finding time for yourself as a busy mom can be difficult, but even a few minutes of solitude can make a difference. Take advantage of this time to rest and reflect.
Be Patient and Realistic
When embarking on a weight loss journey as a busy mom, it's critical to remember that this is a marathon, not a sprint. Weight loss is a gradual process that requires perseverance, patience, and a healthy dose of realism. Here's how to cultivate a patient and realistic mindset in order to achieve long-term success.
Recognizing the Long Game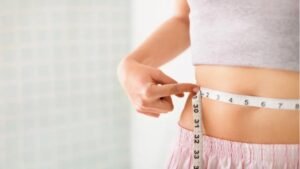 Losing weight is not a quick fix. It is about making long-term changes to your lifestyle and habits that will lead to a healthier you. While it is tempting to seek immediate results, especially in our fast-paced world, it is critical to embrace the journey and recognize that lasting change takes time.
Establishing Realistic Expectations
Set realistic expectations to set yourself up for success. It requires accepting that weight loss will occur gradually and will not always be a linear process. Your weight may fluctuate, and there may be days when progress appears to be slow or nonexistent. But keep in mind that this is quite natural.
Influence of Consistent Progress
Instead of focusing solely on the end goal, celebrate small victories along the way. Celebrate your accomplishments, no matter how insignificant they may appear. Every pound lost, every healthy meal eaten, and every workout completed is a step in the right direction. Acknowledging and appreciating these small wins can help maintain motivation and build confidence.
Consistency is the glue that holds your weight loss efforts together. It's the daily commitment to your goals that adds up over time, leading to lasting change. As a busy mom, maintaining consistency can be challenging, but it's also essential for long-term success.
Consistency is about creating healthy habits and routines that become second nature. Even on days when you're busy or feeling unmotivated, try to stick to weight loss tips for moms as much as possible. Whether it's your daily exercise routine, meal planning, or mindful eating, these small, consistent efforts will accumulate and make a significant impact.
Overcoming Setbacks Gracefully
It's essential to recognize that setbacks are a natural part of any journey, including weight loss. There will be days when life gets in the way, and you might deviate from your plan. The key is to not be discouraged but to recover gracefully. Recognize the stumbling block, learn from it, and get back on track as soon as possible.
Monitor Your Progress Using Your Personal GPS
Keeping track of your weight loss journey is similar to having your own personal GPS directing you to your destination. It assists you in staying on track, making necessary adjustments, and celebrating your accomplishments.
Food Diary: Keep a food diary or use a mobile app to track your food intake. This can give you valuable insights into your eating habits, allowing you to identify areas for improvement and potential problems.
Exercise Log: Keep a record of your workouts, including the type of activity, duration, and intensity. Tracking your workouts can assist you in seeing your progress and remaining motivated.
Body Measurements: In addition to tracking your weight, consider measuring your waist circumference, hip circumference, or body fat percentage. Sometimes, these measurements can provide a more accurate reflection of your progress than weight alone.
Stay Accountable: Reviewing your progress regularly can help you stay accountable to your goals. It's a way to ensure that you're staying consistent and making the necessary adjustments to your plan.
Consult a Professional and Seek Expert Guidance
If you find yourself struggling to lose weight despite following the best weight loss tips for moms, it's a wise decision to seek professional guidance. Registered dietitians, nutritionists, and personal trainers are trained experts who can provide personalized advice and support tailored to your specific needs and goals.
Expertise Tailored to You: These professionals can examine your individual condition, food preferences, and exercise levels to build a tailored plan that enhances your chances of success.
Addressing Plateaus: If you hit a weight loss plateau or encounter challenges that seem insurmountable, consulting an expert can provide fresh insights and strategies to overcome these obstacles.
Accountability and Motivation: Having a professional guide can also offer an extra layer of accountability and motivation, as you know someone is monitoring your progress and helping you stay on track.
FAQs
How can busy moms find time for self-care and prioritize their health while juggling multiple responsibilities?
Finding time for self-care as a busy mom can be challenging, but it's crucial. Start by scheduling "me time" into your daily or weekly routine, even if it's just for a few minutes. Small acts of self-love, like exercise, meditation, or enjoying a good book, can make a big difference in your overall well-being.
Why is self-care crucial for weight loss?
Self-care is vital since it helps you manage stress, which can contribute to weight gain. When you prioritize self-care, you're more likely to make healthier choices, stay motivated, and have the energy needed for following the weight loss tips for busy moms.
What are some practical tactics for developing a realistic schedule as a busy mom?
To develop a realistic timetable, set clear priorities, employ time blocking, delegate responsibilities when possible, be adaptable, wake up a bit earlier for personal time, and make use of naptime or school hours for focused work or workouts.
How can I fit exercise into my hectic parenting routine when I don't have access to a gym?
Home workouts are a convenient choice. You can attempt bodyweight exercises, yoga, or dance workouts, or involve your kids in family fitness activities like walks and bike trips. High-Intensity Interval Training (HIIT) is also helpful for time-efficient workouts.
What is mindful eating, and how can busy moms practice it?
Mindful eating involves being fully present during meals, savoring each bite, and paying attention to hunger and fullness cues. To practice it, sit down without distractions, chew slowly, assess your hunger level, and avoid emotional eating triggers.
How can I stay consistent with the weight loss tips for busy moms?
Consistency is crucial. Create healthy habits, enjoy minor triumphs, and bounce back gracefully from disappointments. Keeping a food diary, an activity record, and body measurements will help you stay accountable.
Why is it necessary to understand your "why" before starting a weight loss journey?
Understanding your "why" provides motivation and direction for following the weight loss tips for busy moms. It helps you stay concentrated, especially when faced with problems. Your "why" can be related to health, self-confidence, setting an example for your kids, increased vitality, or personal fulfillment.
How can busy moms tackle the stress connected with weight loss challenges?
Managing stress is key. Techniques like meditation, deep breathing exercises, writing, and finding moments of solitude can assist. Remember that self-care is a valuable stress management strategy.
What role does sleep play in weight loss for busy moms?
Adequate sleep is vital for weight loss. Lack of sleep can affect hunger hormones and lead to cravings for unhealthy meals. Establish a sleep regimen, build a nightly routine, and prioritize excellent rest.
When should I consider getting expert guidance for my weight reduction journey as a busy mom?
If you're failing to lose weight despite following the best weight loss tips for busy moms or confronting unique problems like plateaus, try consulting a qualified dietitian, nutritionist, or personal trainer. They can provide specialized counseling that is targeted at your specific needs and goals.
Conclusion
Losing weight as a busy parent is surely difficult, but it is not impossible. You may reach your weight loss goals while still being a caring and dedicated mom by following the right weight loss tips for busy moms. You just need to prioritize self-care, developing a realistic schedule, eating healthy foods, staying active, and seeking help. Remember that caring for your health benefits not only you but also your family by setting a good example of a balanced and healthy lifestyle. Accept the journey, be patient with yourself, and rejoice in each step toward a better, happier you.
Disclaimer: The information provided in this article is for educational purposes only and should not be considered as a substitute for medical advice. Consult a healthcare professional before implementing any home remedies or making significant changes to your lifestyle.