How to Lose Weight With a Busy Schedule
Maintaining a healthy weight is vital not just for our physical well-being but also for our entire health. However, the demands of a hectic schedule frequently leave us with little time for exercise and meal preparation, making weight loss a difficult task to accomplish.
Introduction
In this complete guide, we will go into many ideas and techniques to help you lose weight with a busy schedule. You can design your weight loss plan for a busy schedule and enhance your overall quality of life by following these recommendations and adopting tiny lifestyle modifications.
How to Reduce Weight with a Busy Schedule
Here are some crucial tips for losing weight on a busy schedule.
Make Exercise a Priority
Exercise is the cornerstone of any effective weight-loss plan. Even if you have a hectic schedule, it is critical to prioritize physical activity. Individuals with hectic schedules are often discouraged by the assumption that hours of gym time are required to achieve results. However, consistent, moderate-intensity exercise can provide significant benefits. 
When you're short on time, aim for at least 30 minutes of moderate-intensity exercise on most days of the week. Activities such as brisk walking, jogging, cycling, and swimming fall within this category and offer the best ways to lose weight with a busy schedule. These activities are not only excellent for burning calories, but they are also simple to add to your everyday routine.
Consider incorporating physical activity into your weight loss plan if you have a busy schedule to make exercise more feasible. Take the stairs instead of the elevator, park farther away from your destination to allow for a longer walk, and engage in mild stretching during breaks. Small changes might add up to a big increase in physical activity over time.
Additionally, look at different fitness options that fit your hectic schedule. Workouts that involve high-intensity interval training (HIIT), for example, are a quick way to burn calories and improve cardiovascular fitness. These workouts consist of short bursts of intensive exercise followed by short rest intervals, making them suitable for people with limited time.
When it comes to exercising, remember that consistency is everything. Find and stick to a regimen that works for you. Establishing a regular workout program, whether in the mornings, during lunch breaks, or in the evenings, can assist in making physical activity a non-negotiable part of your daily life.
In addition, don't overlook the value of incorporating physical activity into your free time. Instead of meeting for coffee, propose going for a hike or a bike ride with your friends. Participating in movement-based recreational activities not only offers variation to your routine but also promotes an active lifestyle.
It's crucial to remember that exercise not only helps with weight loss but also has several health benefits. Regular physical activity improves cardiovascular health, happiness, stress reduction, sleep quality, and overall energy levels. Prioritizing exercise not only helps you lose weight but also improves your overall well-being.
To summarize, while a hectic schedule can bring difficulties, prioritizing exercise is critical for weight loss success. Remember that it takes regular effort and finding methods to incorporate physical activity into your daily life, not hours in the gym. Making exercise a priority will help you achieve your weight loss goals while also boosting your general health and fitness.
Effective Meal Planning
Meal planning becomes a useful tool when attempting to reduce weight while maintaining a hectic lifestyle. When you plan your meals ahead of time, you can avoid making impulsive and unhealthy food choices when you are pressed for time. You may set yourself up for success in meeting your weight loss goals by devoting a little time and effort at the start of each week. 
Begin by making a weekly meal plan with a mix of healthy, balanced meals and snacks. Consider your calendar and identify days when you may have more time for cooking and food preparation, as well as days when you require quick and easy solutions.
Begin by selecting nutrient-dense foods that promote weight loss while also providing important elements. Include a variety of fruits, vegetables, whole grains, lean meats, and healthy fats in your diet. These foods are not only lower in calories but also contain the nutrients required for good health.
Once you've decided on a menu, make a detailed grocery list to ensure you have everything you need. This eliminates unnecessary store excursions and saves crucial time during the week. To further simplify the procedure, consider using grocery delivery services.
Consider batch cooking to increase efficiency. Set aside some time on the weekend to make larger amounts of food that can be divided into individual meals for the week. This way, you'll have ready-made meals that can be quickly reheated when you're short on time. Purchasing high-quality food storage containers will help you keep your meals fresh and tidy.
Preparing your meals and snacks the night before is another time-saving tip. This allows you to grab and go in the morning, reducing the need to make judgments or spend time assembling meals during hectic mornings.
When preparing your meals, keep portion sizes and caloric intake in mind. Pay attention to your body's hunger and fullness cues and strive to prepare balanced meals that deliver both satisfaction and nourishment. Include a variety of macronutrients in each meal, such as protein, carbohydrates, and healthy fats, to help keep you full.
Furthermore, don't be scared to try different recipes and flavors to keep your meals interesting and pleasurable. Look for healthier alternatives to your favorite foods and use a variety of spices and herbs to add flavor without adding extra calories.
Finally, be adaptable with your eating plan. Recognize that unforeseen events or last-minute adjustments may occur in your weight loss plan for a busy schedule and be prepared with backup options, such as quick and nutritious recipes or healthy restaurant options.
You may save time, make healthier food choices, and remain on track with your weight reduction objectives by employing efficient meal planning tactics. Meal planning is considered among the best ways to lose weight with a busy schedule, as it lays the groundwork for healthy eating habits and alleviates the burden of determining what to eat when time is short. You may successfully handle your hectic schedule while fueling your body and supporting your weight reduction goal with a well-planned meal plan.
Make Healthy Food Choices
Making good eating choices is critical for weight loss and overall health. When you're pressed for time, it's easy to reach for convenience meals or fast food. These options, however, are frequently heavy in calories, bad fats, and sugar, resulting in weight gain and a loss of health. Consuming them may mitigate the effects of even the best ways to lose weight with a busy schedule. Prioritize nutrient-dense foods that fuel your body and support your weight reduction objectives to efficiently lose weight with a busy schedule.
Here are some pointers to help you make good meal choices for weight loss in your busy schedule:
Fill your plate with colorful fruits and veggies

. Include a range of colorful fruits and vegetables in your meals. These are minimal in calories and include important vitamins, minerals, and fiber. Include in your diet leafy greens, berries, citrus fruits, cruciferous vegetables, and other seasonal items.

Choose whole grains

: Instead of refined grains, choose whole grains such as brown rice, quinoa, oats, and whole wheat bread. Whole grains have more fiber and minerals, which keep you nourished for longer and improve digestion.

Incorporate lean proteins

: Choose lean protein sources such as skinless poultry, fish, lentils, tofu, and low-fat dairy products. Protein is required for tissue construction and repair, muscle growth, and increasing satiety.

Include healthy fats in your diet

. Avocados, almonds, seeds, olive oil, and fatty seafood like salmon are all good sources of healthy fats. Healthy fats satisfy hunger, promote brain function, and aid in the absorption of fat-soluble vitamins.

Reduce your intake of processed and sugary foods.

Limit your consumption of processed foods, sugary snacks, desserts, and sugary beverages. These frequently contain empty calories, bad fats, and excessive sugar, all of which contribute to weight gain and other health problems.

Practice portion control

: To avoid overeating, keep portion proportions in mind. Use smaller plates and bowls, measure your food as needed, and listen to your body's hunger and fullness cues.

Cook at home

: Cooking at home allows you to manage the ingredients and cooking procedures. It enables you to make better choices and decreases your dependency on processed foods and restaurant meals.
Remember that eating healthy does not require tight diets or deprivation. It's all about fueling your body with nutritious foods that will help you reach your weight-loss goals. To build a sustainable and enjoyable eating routine, prioritize balance, variety, and moderation in your weight loss plan for a busy schedule.
Prioritizing full, nutrient-dense foods will not only help you lose weight but will also improve your overall health and well-being. You can count it among the best ways to lose weight with a busy schedule. When you nourish your body with the correct nutrients, it will thrive, providing you with the energy and vitality to face your busy schedule while maintaining a healthy weight.
Healthy Snacking
Snacking can help control appetite, balance blood sugar levels, and minimize overeating during meals, making it an effective technique for weight loss. However, it is critical to snack wisely by selecting healthy, nutrient-dense alternatives that will keep you full until your next meal.
Here are some sensible snacking ideas for weight loss in a busy schedule:
Choose fresh fruits

: Fresh fruits are a terrific snack option. They are naturally sweet, high in fiber, vitamins, and minerals, and make a refreshing and filling snack. Keep a variety of fruits on hand for when you need a fast pick-me-up.

Eat raw vegetables with dips

: Raw vegetables such as carrots, celery, bell peppers, and cherry tomatoes are great crunchy snacks. For extra taste and enjoyment, serve with a nutritious dip like hummus or guacamole. These dips are high in healthy fats and nutrients.

Go for Greek yogurt

: Greek yogurt is a high-protein snack that can help you feel full and content. It also contains calcium and probiotics, which help maintain digestive health. Top with fresh berries, nuts, or a drizzle of honey to add flavor.

Snack on nuts and seeds: Nuts and seeds are high in nutrients, including healthy fats, protein, fiber, and a variety of vitamins and minerals. Almonds, walnuts, pumpkin seeds, and chia seeds are all excellent choices that can be included in your weight loss plan for a busy schedule. Be wary of portion sizes, as they are high in calories.
Make your own trail mix

: Combine your favorite nuts, seeds, and dried fruits to make your own trail mix. This gives you more control over the ingredients and allows you to avoid the extra sugars and bad fats found in pre-packaged trail mixes.

Select low-fat dairy products: If you tolerate dairy well, choose low-fat dairy products such as cottage cheese or string cheese. These are high in protein and calcium while being low in calories.
Hydrate with infused water: Thirst might be confused with hunger at times. Drink plenty of water throughout the day to stay hydrated. Infuse your water with fruit pieces like lemon, cucumber, or berries to add taste.
Watch your portion sizes

: Even healthy snacks can contribute to weight gain if consumed in large numbers. Pay attention to portion sizes and eat mindfully, relishing each bite and recognizing when you're comfortably full.

Plan your snacks

: Just like meal planning, planning your snacks ahead of time is beneficial. This way, you can be sure to have nutritious options on hand when hunger strikes. Pack snacks in portable containers or bags so they are easy to grab on the run.

Pay attention to your body

: Finally, pay attention to your body's hunger and fullness indicators. Snack only when you're truly hungry, and quit eating when you're satisfied. Avoid mindless munching as a means of emotional consolation or boredom.
 You can nourish your body between meals and help your weight loss goals by selecting smart snacks that are nutrient-dense and satisfying. These snacks will give you energy and important nutrients and will help you avoid overeating during meals.
To summarize, sensible snacking is a vital part of weight loss in a busy schedule. You can feed your body between meals, minimize excessive hunger, and maintain a healthy balance of nutrients throughout the day by selecting healthy snacks and planning ahead. To ensure your snacks are in line with your weight loss objectives, remember to listen to your body and exercise portion control.
Importance of Hydration
Staying hydrated is important for overall health and well-being, and it also aids a weight loss plan for a busy schedule. Although it's easy to forget to drink enough water during the day when you have a hectic schedule, Make water a priority along with the best ways to lose weight with a busy schedule to realize your weight loss goals.
Here's why drinking plenty of water is vital and how to stay well hydrated:
Water aids in appetite control

: Our bodies' thirst signals are sometimes misinterpreted as hunger signals. Staying hydrated and drinking plenty of water allows you to distinguish between actual hunger and thirst, minimizing excessive snacking or overeating. Drinking water before meals might also make you feel fuller and help you consume fewer calories.

Water assists digestion

: Maintaining good digestive function requires proper hydration. Water aids in the digestion of meals, the absorption of nutrients, and the prevention of constipation. Adequate hydration promotes a healthy metabolism and allows your body to process and eliminate waste more efficiently.

Water increases metabolism: Drinking water momentarily raises your metabolic rate, allowing you to burn more calories. Cold water, for instance, may have a mild thermogenic impact as your body attempts to raise it to your core temperature. While the effect may be minor, every little bit helps when it comes to losing weight.
Water can substitute for high-calorie beverages: Many beverages, such as sugary sodas, juices, and energy drinks, are high in calories and provide little nutritional value. By drinking water as your primary beverage, you avoid consuming extra calories and lower your risk of weight gain associated with sugary drinks.
Water improves exercise performance: Staying hydrated during workouts is critical for sustaining peak physical performance. Dehydration can cause fatigue, decreased stamina, and poor exercise performance. When you have a hectic schedule and limited time for exercise, it's critical to maximize your workout efficiency, and appropriate hydration can help you do just that.
Consider the following suggestions to ensure you drink enough water throughout the day:
Carry a reusable water bottle

: Having a water bottle on hand might act as a reminder to drink water on a regular basis. Always keep it with you, whether you're at work, running errands, or exercising.

Create reminders

: If you have trouble remembering to drink water throughout the day, create reminders on your phone or computer. These reminders can assist you in developing a routine and the habit of frequent hydration.

Infuse your water

: If plain water bores you, try infusing it with slices of fruits, veggies, or herbs. This gives a refreshing flavor without the extra sugars or artificial sweeteners that are common in flavored beverages.

Keep track of your water intake

: Use a water tracking app or simply scribble down how many glasses or ounces you drink each day. This can assist you in monitoring your hydration levels and ensuring you fulfill your daily water intake objectives.
Individual water requirements can vary depending on factors such as activity level, climate, and overall health. As a general rule, aim for at least eight to ten glasses (64–80 ounces) of water every day. Listen to your body's instincts, though, and modify your water consumption accordingly.
You may help your weight loss in a busy schedule, improve your general health, and maintain optimal biological functions by prioritizing hydration and making a conscious effort to drink adequate water.
Role of Adequate Sleep in Weight Loss
Getting enough sleep sometimes takes a back seat to other priorities in the midst of a hectic schedule. Sleep, on the other hand, is critical for weight loss and overall wellness. Sleep deprivation can disturb hormonal balance, increase appetite, and impede metabolism, making weight loss more difficult. Prioritizing adequate sleep in your weight loss plan for a busy schedule is critical if you want to lose weight effectively.
Here's why sleep is important and how you can make sure you're getting enough of it:
Hormonal regulation

: Lack of sleep alters the balance of hormones that control hunger and fullness. It raises ghrelin levels, a hormone that promotes appetite, while decreasing leptin levels, a hormone that signals fullness. As a result, sleep-deprived people frequently have heightened desires, particularly for high-calorie and carbohydrate-rich foods.

Energy balance

: Sleep is essential for maintaining a healthy energy balance. When you don't get enough sleep, you may feel weary and lethargic, which leads to decreased physical activity and calorie expenditure. Inadequate sleep can also impact insulin sensitivity, influencing how your body processes glucose and stores fat.

Stress management: Sleep deficiency can lead to an increase in stress, which can undermine weight loss efforts. Stress causes the release of cortisol, a stress hormone linked to increased belly fat storage. A good night's sleep can help control cortisol levels and promote healthy weight management.
Muscle recovery and growth: Quality sleep is critical for muscle recovery and growth, especially if you exercise regularly. The body repairs damaged tissues and grows muscle when sleeping. Prioritizing sleep helps your body recover from exercises, gain muscular mass, and improve overall body composition.
Consider applying the following measures to ensure you get adequate sleep for weight loss in your busy schedule:
Create a bedtime ritual

: Establish a soothing routine before bed to signal to your body that it's time to unwind. Activities such as reading, having a warm bath, or practicing relaxation techniques such as deep breathing or meditation fall under this category.

Establish a sleep-friendly environment

: Make your bedroom sleep-friendly by keeping it cold, dark, and quiet. Invest in comfortable bedding, block out any external noise or light, and, if necessary, use sleep aids such as eye masks or earplugs.

Maintain a consistent sleep schedule

: Try to go to bed and wake up at the same time every day, including weekends. Consistency aids in the regulation of your body's internal clock and increases the quality of your sleep.

Limit screen time before bed

: Blue light from electronic gadgets might disrupt your sleep-wake cycle. To promote better sleep, avoid using screens (e.g., smartphones, tablets, and computers) for at least an hour before bed.

Limit caffeine intake: Limit or avoid caffeine and

stimulants, particularly in the afternoon and evening. These substances can disrupt sleep quality and make it difficult to fall asleep.
Create a relaxing sleep environment by investing in a comfortable mattress, pillows, and bedding that meet your sleep requirements. Consider employing things such as white noise machines or blackout curtains to improve your sleeping environment if necessary.
Individual sleep requirements vary, but most individuals need seven to eight hours of excellent sleep per night. Making sleep a priority may necessitate changes to your schedule and lifestyle, but the rewards for your overall health and weight reduction efforts are well worth it.
Making great sleep a priority will help you support your body's natural functions, optimize hormone control, manage stress, and aid your quest for weight loss in your busy schedule.
Mindful Eating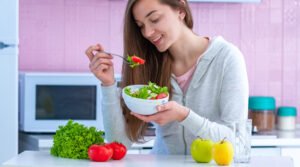 Mindful eating is a discipline that entails paying attention to your food, appreciating each bite, and remaining completely present at mealtime. It encourages a healthier connection with food, avoids overeating, and aids in weight loss. With a hectic schedule, it's easy to fall into the trap of thoughtless eating, eating on the move, or eating in front of a screen. However, you may create a healthy relationship with food and improve your general well-being by including mindful eating techniques into your weight loss plan for a busy schedule.
Here's how it's done:
Listen to your body's hunger and fullness cues

: Mindful eating teaches you to pay attention to your body's hunger and fullness signs. Before you eat, consider whether you're actually hungry or eating out of habit or boredom. Pay attention to your body's signs of satisfaction and fullness during meals and stop eating when you feel adequately content. This habit can help you avoid overeating and achieve a healthier calorie balance.

Eat slowly and relish each bite

: Take the time to savor the flavors, textures, and fragrances of your food. This allows you to thoroughly appreciate your meal and increases contentment. Chew your meal properly, set your utensils down between bites, and use all of your senses. Slowing down allows your body to sense satiety, preventing overeating.

Avoid distractions

: Avoid eating while doing other things like watching TV, working on your computer, or scrolling through your phone. When eating mindfully, concentrate entirely on the act of eating. You'll be more alert to your body's cues, appreciate your food more thoroughly, and make mindful choices about what and how much you eat if you remove distractions.

Value the quality of your food

: Mindful eating teaches you to value the quality of the food you eat. Choose full, nutrient-dense foods that will fuel your body and supply you with long-lasting energy. Take note of the sources, preparation, and flavors of your meals. Developing a taste for the quality of your food can improve your eating experience and help you achieve your weight-loss objectives.

Practice thankfulness: Practicing gratitude for your meal might help you connect with it more deeply. Take a moment before each meal to express gratitude for the nourishment and enjoyment your food provides. This practice might help you develop a positive attitude toward food and make deliberate decisions that support your weight loss goals.
Consider the following techniques to include mindful eating for weight loss in your busy schedule:
Set aside dedicated mealtime

: Make time for meals, even if it means adding a few minutes to your schedule. Make dinner a priority and allow yourself the time to eat calmly and without rushing.

Pack portable and thoughtful snacks

: If you need to eat on the go, pack portable and mindful snacks. Choose mindful-eating options such as whole fruits, nuts, or pre-portioned snack packs.

Create a calm eating environment

: Look for a quiet and serene place where you can eat without distractions. This may be a park, a quiet spot in your office, or a room in your home.

Practice deep breathing

: Take a few deep breaths before each meal to center yourself and bring your consciousness to the present moment. This can assist you in shifting from a busy mindset to a more thoughtful one.

Seek help

: Joining a mindful eating group or consulting with a certified dietitian or therapist who specializes in mindful eating can provide further support and assistance on your path.
Remember that developing a mindful eating practice takes time and patience. Be kind to yourself as you learn to apply these principles and the best ways to lose weight with a busy schedule in your daily life. You will not only support your weight loss efforts but also improve your general well-being if you have a healthier relationship with food and eating.
Use Time-Saving Meal Planning and Preparation Tools
Finding strategies to save time in meal planning and preparation can make a huge impact on your rate of weight loss in a busy schedule. You can expedite the process and ensure that healthy eating remains a priority by adopting time-saving tools and tactics.
Here are some strategies for more effective meal planning and preparation:
Slow Cooker or Instant Pot: For busy people, investing in a slow cooker or Instant Pot can be a game changer. These kitchen appliances make it possible to prepare meals ahead of time with no effort. Simply add your ingredients in the morning or the night before, set the cooking time, and leave it to do the work while you attend to other responsibilities. Slow cooker or Instant Pot dishes frequently take little preparation and can be left to cook while you are away, saving you time and energy.
Batch Cooking

: Use your free time on weekends or days off to prepare meals for the week. Prepare larger batches of recipes that can be divided into individual servings and stored in the refrigerator or freezer. This way, when you're short on time during the week, you'll have healthy meals ready to go. Consider cooking essentials such as grains, meats, and roasted veggies, which are simple to mix for quick and healthful meals.

Preparing Ingredients Ahead of Time

: Spend some time preparing ingredients ahead of time to reduce cooking time during the week. Fruits and vegetables should be washed, chopped, and stored so that they can be used in salads, stir-fries, or snacks. Cook grains ahead of time, such as quinoa or brown rice, and store them in the fridge for quick meal assembly. Having pre-prepared components on hand will make it easier to prepare healthy meals, even when you're pressed for time.

Grocery Delivery or Online Shopping

: To save time and simplify meal preparation, choose grocery delivery services or online shopping platforms. Rather than spending hours at the grocery shop, you may browse and choose your things online and have them delivered to your house. This saves you from having to negotiate packed aisles and wait in long checkout lines, giving you more time to focus on other elements of your hectic schedule.

Meal Prep Containers and Portioning

: Buy a good set of meal prep containers. These containers are available in a variety of sizes and sections, allowing you to divide up your meals ahead of time. When batch cooking or preparing meals, separate them into containers so they're quick to grab and go when you're on the road. This not only saves time, but it also aids in portion management and ensures that you're eating a well-balanced diet.

Prepare Snacks Ahead of Time

: Make snacks ahead of time to have on hand when hunger strikes. Make your own energy balls or granola bars to store in the fridge or freezer, or portion up nuts, seeds, or trail mix into little bags. When you're busy and on the go, having healthy snacks on hand will keep you from reaching for less nutritious options.

One-Pot or Sheet Pan Meals

: Choose one-pot or sheet pan meals to simplify your cooking procedure. These meals involve cooking all of the components in a single pot or on a single sheet pan, which reduces cleanup and saves time. You can make a stir-fry, for example, by sautéing vegetables, adding protein and sauce, and serving it over cooked rice. Alternatively, for a quick and delectable meal, roast a variety of vegetables and protein on a sheet pan.

Make Use of Leftovers

: Never underestimate the power of leftovers. When you prepare a meal, make extra portions to savor as leftovers the next day. This saves you from having to make an entirely new meal and allows you to use up leftovers. Add cooked chicken to a salad or turn roasted vegetables into a frittata to make new dishes out of leftovers.
You can make healthy eating more feasible and sustainable, even with a hectic schedule, by including these time-saving tools and tactics in your meal planning and preparation. The goal is to find the best ways to lose weight with a busy schedule and to prioritize kitchen efficiency. Remember that tiny time-saving behaviors can quickly mount up and have a big impact on your weight loss journey.
Note: There might be affiliate links mentioned here. We may receive a commission if you purchase a product through an affiliate link. There is no additional charge for you. Please do your own research before making any online purchases.
Seeking Help for Successful Weight Loss
With a hectic schedule, embarking on a weight loss journey can be difficult, but getting support from others can make a major difference in your success. Having a support system, whether from friends, family, or professionals, can provide accountability, incentive, and direction along the road.
Here's how you can get help to boost your weight loss efforts:
Join a Support Group: Consider joining a local or online weight loss or healthy lifestyle support group. These groups offer a safe haven where you can connect with people who have similar goals. Sharing your weight reduction journey experiences, problems, and accomplishments with like-minded people may be motivating and inspiring. Furthermore, support groups frequently give useful tools, suggestions for finding the best ways to lose weight with a busy schedule, and advice for overcoming barriers and maintaining success.
Find an Accountability Partner: Find a friend, family member, or coworker who wants to lose weight or live a better lifestyle. Choose an accountability partner with whom you can share your goals and progress and who will hold you accountable to your commitments. Schedule regular check-ins or exercises together, and encourage and support one another.
Seek Professional Help: Consult with a certified dietitian, nutritionist, or weight reduction coach to understand how to reduce weight with a busy schedule. They may offer personalized advice tailored to your unique goals and schedule. These professionals can assist you in finding the best ways to lose weight with a busy schedule, developing a personalized food plan, offering nutritional guidance, and encouraging behavioral adjustments. They may also help you set realistic goals, track your progress, and address any obstacles or issues you may have on your weight reduction journey.
Involve Family and Friends: Tell your family and close friends about your weight loss goals and solicit their support on how to reduce weight in a busy schedule. Share your motivations for wanting to lose weight and how their support and understanding can help. Encourage them to join you in developing better habits, such as selecting nutritious meals when dining out together or participating in group physical activities.
Make Use of Technology and Apps

: Make use of technology and numerous apps meant to aid in weight loss and healthy living choices. There are a plethora of fitness trackers, food diary applications, and online communities that can assist you in tracking your progress, tracking your food intake, providing healthy recipe ideas, and offering encouragement through forums and chat groups. These digital solutions, which provide convenience and accessibility, can be especially useful when time is limited.

Commemorate Milestones and Non-Scale Victories: Commemorate your weight reduction achievements, both big and small. Recognize and reward yourself for accomplishing milestones and non-scale wins, such as fitting into a smaller clothing size, completing a difficult workout, or making healthy eating choices consistently. Celebrating your accomplishments will increase your motivation and promote healthy behavior.
Exercise Self-Care and Self-Compassion: Be gentle with yourself during the weight-loss process. Recognize that setbacks and problems are a normal part of the trip and should not be used to determine your progress. Self-care practices that help alleviate stress, such as meditation, yoga, or engaging in hobbies, should be practiced. Long-term success requires you to take care of your mental and emotional well-being.
Remember that requesting help is not a show of weakness but rather a smart way to improve your weight reduction journey. Surrounding yourself with people who understand your goals and encourage you can help you stay motivated, overcome hurdles, and sustain your progress, even if you have a hectic schedule.
Be Consistent and Patient with Your Weight Loss Efforts
Losing weight is a long-term process that involves perseverance, consistency, and a long-term perspective. It's critical to approach your weight reduction objectives with reasonable expectations and recognize that long-term weight loss takes time.
Here are some crucial tips for losing weight on a busy schedule:
You'll lay the groundwork for long-term weight loss if you're patient and consistent. Remember that the road is just as essential as the destination and that every step you take toward a better life is a victory. Accept the process, stay focused on your goals, and appreciate each step along the way.
FAQs
Is it possible to lose weight while working full-time?
Yes, even with a hectic schedule, it is possible to lose weight. You can reach your weight loss objectives by prioritizing your health, making conscious decisions, integrating time-saving measures, and following effective tips for losing weight on a busy schedule.
How much exercise do I need to fit into my hectic schedule to lose weight?
On most days of the week, aim for at least 30 minutes of moderate-intensity exercise. This can be accomplished by brisk walking, jogging, cycling, swimming, or incorporating physical activity into your regular routine.
How can I successfully arrange my meals while I have a busy schedule?
Meal planning is essential for weight reduction success when you have a hectic schedule. Spend some time at the start of each week planning your meals and snacks, and consider preparing meals ahead of time or using time-saving equipment like slow cookers or meal delivery services.
What are some nutritious food options that I can cook despite my hectic schedule?
Choose nutrient-dense whole foods such as fruits, vegetables, whole grains, lean meats, and healthy fats. Avoid quick-fix solutions that are heavy in calories, harmful fats, and sugar.
Can snacking aid with weight loss, and how should I snack?
Yes, snacking can help you lose weight. Snack on fresh fruit, raw veggies with hummus or guacamole, Greek yogurt, or nuts or seeds for healthful, nutrient-dense snacks. High-calorie, sugary snacks with minimal nutritional value should be avoided.
Why is it vital to drink plenty of water when trying to lose weight?
Water can help you feel full, prevent overeating, and improve your overall health. To stay hydrated and lose weight, drink at least eight to ten glasses of water every day.
How does enough sleep affect weight loss?
Getting enough sleep is essential for weight loss and overall wellness. Sleep deprivation can affect hormones and metabolism, making it difficult to lose weight. Aim for seven to eight hours of uninterrupted sleep per night.
What exactly is mindful eating, and how can it aid in weight loss?
Mindful eating entails focusing on your meal, eating carefully, and appreciating each bite. It creates a healthier relationship with food, avoids overeating, and promotes improved digestion and meal satisfaction.
What time-saving tools can you recommend for meal planning and preparation?
To save time, utilize slow cookers or Instant Pots for meal preparation, freeze batch-cooked meals for later use, or use supermarket delivery services.
How might getting assistance help me lose weight?
Seeking help from friends, family, or experts can help with accountability, inspiration, and direction. Joining support groups, finding an accountability partner, or consulting with specialists for tips for losing weight on a busy schedule can assist you in staying on course and overcoming obstacles.
Conclusion
Losing weight with a hectic schedule may appear difficult, but it is fully possible with the correct mindset and the right tips for losing weight on a busy schedule. You may effectively navigate your weight loss journey while managing your busy lifestyle by understanding how to reduce weight in a busy schedule, prioritizing your health, making conscious decisions, optimizing your time, finding help, and remaining patient and consistent. Remember that minor, long-term improvements can have a big impact over time. Accept the process, appreciate your accomplishments, and enjoy the benefits of a healthier lifestyle for your entire well-being.
Disclaimer: The information provided in this article is for educational purposes only and should not be considered as a substitute for medical advice. Consult a healthcare professional before implementing any home remedies or making significant changes to your lifestyle.