Understanding The Science Behind Creatine Supplements for Weight Loss
In the realm of fitness and weight loss, there is a continuous search for that magical element that will help you lose weight and shape the body of your dreams. Creatine, one of the many nutritional supplements available, has long been praised for its capacity to improve athletic performance and increase muscular building.
Introduction
A growing number of research and analytical data suggests that creatine supplements may potentially play a role in weight loss. This article delves into the science of creatine supplements for weight loss, attempting to distinguish reality from fiction.
Overview of Creatine
Creatine is an intriguing molecule that plays an important role in the body's energy-generation system. It is important to note that creatine is both a supplement and a naturally occurring substance in the body. It can be found in trace amounts in certain foods, most notably red meat and fish. This naturally occurring presence in our diets demonstrates its significance for the general functioning of the human body.
Creatine has an important role in the body, particularly in muscle cells. Its primary function is to provide the energy required for brief but intense physical exercises. Because of this natural potential, creatine has become an extremely popular dietary supplement across a wide range of demographics, from professional athletes and bodybuilders to regular fitness enthusiasts looking to improve their performance.
Creatine's mechanism of action is remarkable. When creatine is consumed, it is converted into creatine phosphate. This newly produced creatine phosphate is then efficiently stored as an energy reserve within the muscular tissue. This reserve becomes a useful resource for high-intensity sports like weightlifting, sprinting, or any activity requiring unexpected bursts of power and endurance.
When creatine phosphate is activated, the magic happens. It is essential for the generation of adenosine triphosphate (ATP), our cells' basic energy currency. Creatine, by aiding this transition, enables athletes to unleash short bursts of strong physical exertion, considerably improving athletic performance and endurance levels. This distinguishing feature has cemented creatine's position as a go-to product for anyone wishing to boost their physical skills during heavy workouts.
Role of Creatine for Weight Loss
Given creatine's well-established reputation for boosting muscle building and increasing body weight, the link between creatine supplementation and weight loss may appear counterintuitive. However, a closer look at the various mechanisms at work indicates how creatine helps you lose weight.
One important factor that highlights creatine's potential for weight loss is its ability to increase resting metabolic rate (RMR). The quantity of calories your body expends at rest to maintain essential physical activities such as breathing, digestion, and body temperature is referred to as your resting metabolic rate. A greater RMR indicates that your body burns more calories throughout the day, even when you are not physically active.
Creatine for weight loss has been demonstrated in studies to raise RMR by causing an increase in lean muscle mass. The important thing to remember here is that muscle tissue is more metabolically active than fat tissue, which means it requires more energy to maintain itself. As a result, when you add lean muscle mass to your body, your body requires more caloric expenditure to maintain and repair these muscles. This higher energy demand correlates to an enhanced RMR, which sets the stage for weight loss.
Creatine functions as a catalyst for muscle building, and as your muscle mass grows, so does your daily calorie consumption. As a result, the balance between the calories you consume through your diet and the calories you burn at rest improves. This calorie shortfall is the foundation of effective weight loss, as your body begins to tap into its stored energy reserves (fat) to meet the increased needs.
The interaction between creatine supplementation and enhanced metabolic rate is consistent with the general goal of weight loss: to create an environment in which your body burns more calories than it consumes. While creatine's effects on RMR may not be noticeable, the cumulative impact when paired with exercise and nutritional measures might be significant.
Improved Physical Performance
While creatine is commonly associated with muscular building, its main role is to improve workout performance. Creatine functions as a powerful fuel source for muscles, allowing people to exceed their physical boundaries, train harder, and work out for longer periods of time. This improved exercise performance has a significant impact on a weight loss program.
Individuals can increase the intensity and duration of their exercises by carefully utilizing creatine before they exercise. Workouts that are more vigorous and longer in duration burn more calories. This higher calorie expenditure is critical to attaining weight loss goals.
Furthermore, vigorous exercises promote an "afterburn" effect characterized scientifically as excess post-exercise oxygen consumption (EPOC). Following vigorous physical exercise, the body continues to burn energy at a high rate as it strives to repair tissues, eliminate metabolic waste, and restore balance. This post-workout calorie burn might last for hours after the exercise session is over.
Creatine's capacity to improve exercise performance and increase workout durations, along with the post-exercise calorie burn, provides a comprehensive approach to weight loss. It aids in ensuring that calories are effectively spent, resulting in a caloric deficit, which is one of the fundamental concepts of weight loss.
When a person maintains this caloric deficit over time, it causes the breakdown of stored fat for energy. In essence, the energy required during and after exercise, when combined with a good diet, stimulates the body to use its fat reserves, resulting in weight loss.
The association between creatine and appetite management is an area of research that needs to be explored further. While research in this area is sparse, some studies have provided preliminary insights into creatine's potential role in appetite regulation.
Appetite regulation is a complex process involving numerous hormones, neurotransmitters, and brain signals. These variables interact to impact hunger, satiety, and overall food intake. The precise methods by which creatine may influence hunger are unknown; however, various possibilities have been offered.
According to one theory, creatine may impact particular neurotransmitters related to appetite and satiety. These neurotransmitters are critical in communicating to the brain when to eat and when to stop eating. If creatine does have an effect on these signaling pathways, it may be able to help people better manage their calorie intake, making it simpler to stick to a calorie-controlled diet.
Furthermore, creatine supplements for weight loss may have an indirect effect on hunger regulation due to improved exercise performance and a greater metabolic rate. Individuals who engage in vigorous physical activity frequently report a drop in appetite shortly following exercise. This short reduction in appetite can help create a calorie deficit and, as a result, weight loss.
However, it's important to note that the extent of creatine's influence on hunger regulation is still being studied, and additional research is needed to establish a solid link between creatine and appetite control.
Scientific Proof
It is critical to evaluate the scientific evidence to determine the effectiveness of creatine supplements for weight loss. While the relationship between creatine and weight loss has not received as much attention as other elements of creatine supplementation, several studies have looked at it. Here are some of the most important findings:
Lean Mass and Body Fat Research
In 2006, the International Journal of Sports Medicine released a study that looked at the impact of creatine supplementation on body composition in athletes. The study discovered that creatine administration increased lean body mass while decreasing body fat percentage. Participants in the creatine group had better body composition than those in the placebo group.
Creatine with HIIT (High-Intensity Interval Training)
High-Intensity Interval Training (HIIT) is a popular weight-loss workout approach. In 2018, a study published in the Journal of the International Society of Sports Nutrition looked into the benefits of creatine supplementation in conjunction with HIIT. The study discovered that combining creatine and HIIT resulted in a considerable reduction in body fat percentage when compared to HIIT alone.
Resting Metabolic Rate Effects
In 2017, the Journal of the American College of Nutrition released a study that looked at the effect of creatine supplements for weight loss on resting metabolic rate. When paired with regular exercise and a balanced diet, creatine supplementation resulted in a considerable increase in resting metabolic rate, presumably contributing to increased weight loss.
While research is sparse, some evidence suggests that creatine may influence appetite regulation. Creatine supplementation was linked to changes in appetite-related hormones, which could lead to lower calorie consumption, according to a 2009 study published in the Journal of Nutritional Biochemistry.
How to Use Creatine to Lose Weight
Creatine is a versatile dietary supplement that, when utilized in accordance with basic principles, can be a significant tool in a weight loss program. Consider the following suggestions to maximize the impact of creatine for weight loss:
Amount of Dosage: The average daily creatine dosage is 3 to 5 grams. Contrary to the popular belief that "loading" creatine with high initial dosages is necessary, research has shown that lower daily doses are just as beneficial over time. However, before introducing any supplement into your regimen, you must first contact a healthcare practitioner. They can provide individualized advice and verify that creatine is suitable for your specific health requirements.
Time for Dosage: Creatine can be taken at any time of the day. However, many people prefer to drink it before or after exercising. Taking creatine pre-workout can help improve exercise performance, giving you an extra edge during your workouts. Meanwhile, post-workout nutrition can help with recovery, allowing for more effective muscle repair and growth. Personal preferences and how creatine fits into your daily routine are what determine the timing.
Exercise: To maximize the potential of creatine for weight loss, it must be combined with a well-structured exercise regimen. Exercises like weight training, High-Intensity Interval Training (HIIT), and cardiovascular workouts can complement creatine's advantages. For example, resistance training stimulates muscular development, but HIIT and aerobic activities increase calorie expenditure and improve overall fitness. These workouts not only supplement creatine's benefits on metabolism and muscle building, but they also contribute to the calorie deficit required for weight loss.
Diet: A well-balanced, calorie-controlled diet is the foundation of any successful weight loss program. Creatine should be seen as a supplement to your diet rather than a replacement for it. Pay close attention to your daily caloric intake and meal composition. Prioritize nutrient-dense foods like lean proteins, vegetables, fruits, and whole grains above processed and high-calorie foods. A well-balanced diet combined with creatine supplements assures that you are optimizing your efforts and fostering a long-term weight loss trajectory.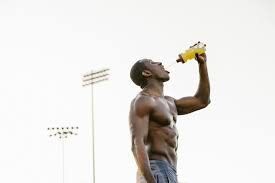 Stay Hydrated: Creatine can promote water retention in some people, resulting in a transient increase in body weight. This water retention is intracellular rather than fat growth, so it is critical to stay hydrated when taking the supplement. Adequate hydration not only reduces possible water retention, but it also benefits overall health and activity performance. Drinking plenty of water ensures that creatine works properly and helps flush away metabolic waste products, boosting muscle regeneration.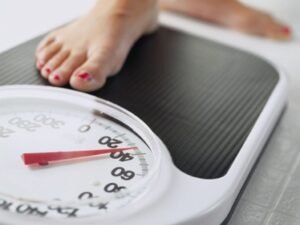 Track Progress: As you begin your weight loss journey with creatine, it's critical to keep a close check on your progress. Track your body composition, performance, and overall progress on a regular basis to determine the effectiveness of your strategy. This allows you to make educated adjustments based on your results. Monitoring progress allows you to stay motivated, discover areas for improvement, and fine-tune your strategy to achieve the best potential results.
Limitations and Potential Concerns
While creatine can be a useful aid in a weight loss program, there are certain things to consider and potential risks to be aware of: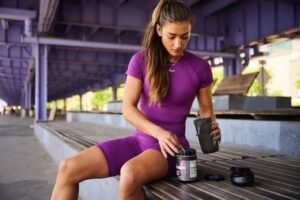 Individual Variability: Creatine response differs between individuals. Some people may show major improvements in their exercise performance and weight loss, while others may see little or no improvement.
Water Retention: As previously stated, creatine can cause water retention in some people, causing a temporary increase in body weight. This is an increase in intracellular water content, rather than fat growth.
Note: There might be affiliate links mentioned here. We may receive a commission if you purchase a product through an affiliate link. There is no additional charge for you. Please do your own research before making any online purchases.
Consult a Healthcare Professional: It is critical to consult with a healthcare professional before beginning any supplement program, especially if you have underlying medical concerns or are taking drugs, to ensure safety and effectiveness.
Variety: Creatine supplements exist in a variety of forms, including creatine monohydrate, creatine hydrochloride, and creatine nitrate. While creatine monohydrate is the most researched and widely utilized form, for tailored suggestions, contact a healthcare practitioner or a dietitian.
Long-Term Use: Creatine supplementation is generally deemed safe in the long term when used within recommended levels. Long-term studies, however, are still limited, and additional study is needed to completely understand the effects of long-term creatine consumption.
FAQs
What exactly is creatine, and why is it important for weight loss?
Creatine is a naturally occurring chemical found in the body as well as certain meals. It can help with weight loss by increasing metabolism and enhancing workout performance.
Can creatine truly aid with weight loss?
Yes, research suggests that when taken wisely, creatine can be a beneficial aid in a weight loss regimen. It has the ability to raise metabolic rate, improve exercise performance, and alter hunger regulation.
How can creatine boost metabolism?
Creatine encourages the growth of lean muscle mass, which requires more energy to sustain. This results in an increased resting metabolic rate (RMR), which allows you to burn more calories at rest.
Does creatine take the place of exercise in weight loss?
No, creatine should supplement, not replace, a well-structured fitness routine. The combination of creatine and exercise has the potential to maximize weight loss.
Is there a particular sort of exercise that works best with creatine for weight loss?
Creatine can synergize with a variety of exercises, including weight training, HIIT, and cardiovascular workouts. Resistance training encourages muscular growth, while HIIT and aerobics enhance calorie expenditure.
How should I add creatine to my weight-loss diet?
Creatine should be taken in doses of 3-5 grams per day. It can be used before or after workouts and should be used in conjunction with a well-balanced, calorie-controlled diet.
Creatine, I've heard, causes water retention. Is this a cause for concern in terms of weight loss?
Creatine may cause transient water retention in some people, but it does not cause fat accumulation. Staying hydrated is important for general health and can help lessen this effect.
Are there any potential negative effects or health issues associated with using creatine for weight loss?
When used at the recommended dosages, creatine is generally safe. Individual responses, however, may differ. It is best to see a healthcare expert before using this product, especially if you have underlying medical conditions or take drugs.
Is creatine a long-term weight-loss solution?
While creatine is regarded as safe for long-term use, it is not a weight loss treatment in and of itself. A holistic approach to weight loss, including a good diet and frequent exercise, is required for long-term success.
Which type of creatine pill is best for weight loss?
The most researched and widely utilized type is creatine monohydrate. Consult a healthcare expert or nutritionist for tailored creatine source suggestions.
Conclusion
The link between creatine pills and weight loss is a fascinating area of research that has piqued the interest of both researchers and fitness enthusiasts. While creatine is well known for its role in improving athletic performance and stimulating muscle growth, there is evidence that it can also help with weight loss.
Before starting any supplement program, contact a healthcare expert to confirm that creatine is a good fit for your unique needs and goals. Individuals can leverage the potential benefits of creatine in their quest for a healthier and more toned physique by taking a well-rounded approach to weight loss and judiciously incorporating creatine.
Disclaimer: The information provided in this article is for educational purposes only and should not be considered as a substitute for medical advice. Consult a healthcare professional before implementing any home remedies or making significant changes to your lifestyle.