How Cortisol Hormone Affects Your Weight Loss Journey
The role of hormones in the never-ending search for effective weight-loss techniques has received increased attention in recent years. Cortisol, also known as the "stress hormone," has emerged as a crucial player in controlling our metabolism and body weight among the many hormones involved. 
Introduction
The adrenal glands' production of cortisol in response to stress is crucial for many bodily processes, including metabolism, immune response, and blood pressure regulation. An excess of cortisol can have a negative impact on weight, causing weight gain and making weight loss more difficult. This article delves into the complex relationship between cortisol and weight loss, illuminating how this hormone can be both a friend and a foe in the fight against obesity. Keep reading further to understand the impact of the cortisol hormone on weight loss. 
Understanding the Stress Hormone Cortisol
The adrenal glands, which are located on top of the kidneys, produce the steroid hormone cortisol. Its secretion is a component of the body's stress response system, which is also known as the "fight or flight" response. The body releases cortisol in response to a perceived threat or stressor. This hormonal response can be life-saving in emergency situations because it increases energy production and sharpens the senses, allowing the body to respond to a perceived threat more effectively.
Cortisol is also important in the body for regulating blood pressure, reducing inflammation, and controlling the sleep-wake cycle. It aids in the breakdown of carbohydrates, fats, and proteins for energy, as well as the maintenance of stable blood sugar levels. Furthermore, cortisol regulates the immune system.
While cortisol serves important functions, chronic and excessive production of this hormone as a result of chronic stress can have serious consequences for the body, particularly in terms of weight gain and obesity. You may need to adapt effective strategies for reducing cortisol for weight loss.
Relationship Between Cortisol and Weight Loss
Let us elaborate on cortisol and weight loss and understand their relationship. These insights will help you comprehend the impact of the cortisol hormone on weight loss. 
Weight Gain Caused by Stress
Chronic stress is a well-documented trigger for overeating and weight gain, and at the center of this complex interaction resides the hormone cortisol. When the body encounters a perceived threat or stressor, it initiates a physiological cascade, leading to the release of cortisol, which serves as the body's built-in stress response system. This hormone plays a crucial role in arming the body with the necessary resources to deal with the stressor. In essence, cortisol prepares the body for action, providing the energy required for an effective response.
The historical significance of this stress response is undeniably profound. Our evolutionary ancestors relied on the release of cortisol when facing life-threatening situations, such as encounters with predators or physically demanding survival challenges. In these instances, cortisol was an essential ally, enabling individuals to flee from danger, engage in intense physical activities, and ultimately secure their survival.
Fast forward to the complexities of modern life, and we find ourselves facing stressors of a vastly different nature. Our daily experiences often revolve around psychological and chronic stressors, which are significantly distinct from the more immediate physical threats our ancestors encountered. Stressors like work-related pressures, financial worries, or relationship problems trigger the same physiological response in our bodies. The outcome is a chronic and repetitive release of cortisol that, over time, can have far-reaching implications.
High cortisol levels due to chronic stress have a notable impact on our eating behaviors. One of the most striking manifestations of this effect is the increase in appetite, particularly for high-calorie and sugary foods. This heightened desire for energy-dense foods can be seen as an evolutionary adaptation. In the midst of a fight-or-flight scenario, when immediate survival is at stake, consuming high-calorie foods provides a rapid source of fuel to face the perceived threat. However, in modern times, where high-calorie options are readily available and stressors are frequently present, this response can become a double-edged sword.
As a result, stress-related overeating occurs, which can lead to the accumulation of visceral fat, particularly around the abdomen. Visceral fat is known to play a role in the development of a variety of health problems, including heart disease and type 2 diabetes. This type of fat is metabolically active and is linked to more health risks than subcutaneous fat, which is found just beneath the skin. As cortisol levels remain elevated, the body's preference for storing excess calories in the form of visceral fat becomes evident, further complicating the weight gain issue. You will need to work on reducing cortisol for weight loss.
Cortisol and Insulin Interaction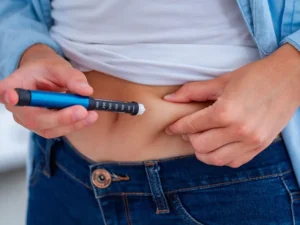 Beyond its role in stress management, cortisol also wields a significant influence on how our bodies regulate blood sugar through its interaction with insulin. Insulin is a hormone responsible for maintaining blood sugar levels within a healthy range, and any disruption in its function can have profound consequences for our metabolic health. Chronic stress and elevated cortisol levels can interfere with the body's ability to use insulin effectively, leading to a condition known as insulin resistance, which has strong ties to both weight gain and various health risks.
Insulin resistance is a condition wherein the body's cells become less responsive to the hormone's signals. As a result, it takes higher levels of insulin to achieve the same blood sugar control that healthy, insulin-sensitive individuals experience. This higher insulin production can lead to various issues, particularly concerning weight management. The excess insulin can signal the body to store glucose as fat, primarily in the abdominal area. This fat storage can contribute to weight gain and is associated with an increased risk of developing metabolic syndrome.
Metabolic syndrome is a cluster of conditions that include high blood pressure, elevated blood sugar levels, and abnormal lipid profiles. All of these factors are recognized as independent risk factors for cardiovascular disease. Insulin resistance, storing too much fat around the middle, and these risk factors can all have serious effects on a person's cardiovascular health. This shows how important it is to control cortisol levels to keep insulin sensitivity and metabolic health.
The connection between cortisol and weight extends to the realm of muscle mass. Cortisol, when consistently elevated, can be detrimental to muscle tissue, fostering its breakdown. This impact is especially significant when cortisol remains at elevated levels over extended periods.
Muscle tissue is inherently metabolically active, and it plays a pivotal role in calorie burning, even at rest. When the body is equipped with a healthy amount of muscular mass, it serves as a calorie-burning powerhouse. Muscles take a large amount of energy to sustain, making them efficient at adding to daily calorie expenditure. However, when cortisol levels are chronically high, the body enters a catabolic state when muscle protein is broken down for energy, which can lead to muscle loss.
The repercussions of this muscle loss are severe when it comes to weight management. With a decrease in muscle mass, the body becomes less effective at burning calories, even during periods of inactivity. This reduction in calorie expenditure can lead to weight gain as the body's metabolic rate declines. As a result, managing cortisol levels is not only essential for stress reduction and preventing overeating but also for preserving precious muscle mass, which contributes significantly to overall metabolic health and weight management efforts.
Cortisol and Emotional Eating
One of the most intriguing and troublesome features of the cortisol-weight link is its intertwining with emotional eating. Emotional eating is a phenomenon characterized by the consumption of food as a coping mechanism for stress, anxiety, or negative emotions. It constitutes a big stumbling hurdle for people trying to achieve healthy weight loss and maintenance.
The connection between cortisol and emotional eating is intricate and multifaceted. Elevated cortisol levels, triggered by stress, can directly contribute to emotional eating in various ways. Firstly, these heightened cortisol levels can induce intense cravings, particularly for high-calorie comfort foods. This response, rooted in evolutionary survival instincts, has a way of making those tempting, calorie-laden treats appear even more irresistible. It's as though the body believes it needs immediate energy to confront the perceived threat, and high-calorie foods are its first choice.
Beyond mere cravings, cortisol further interacts with the brain's regions responsible for regulating mood. This connection can lead individuals to turn to food as a form of solace when faced with stress. The eating of comfort food, generally heavy in sugar and harmful fats, can momentarily reduce negative feelings, delivering a short sensation of relief.
This intricate interplay sets the setting for a vicious cycle: stress raises cortisol levels, which drive desires for high-calorie foods, finally leading to emotional eating. This practice not only adds to weight gain over time, but it also increases stress levels since individuals may feel guilty or worried after succumbing to emotional eating. This self-perpetuating cycle can be a substantial impediment to weight loss efforts.
Recognizing the association between cortisol and emotional eating is crucial for reducing cortisol for weight loss. Stress management approaches, mindfulness practices, and building a deeper knowledge of the emotional motivations for eating are some strategies for breaking this pattern. Individuals can traverse the complexities of the cortisol-emotional eating-weight gain relationship and work toward more sustainable weight reduction and maintenance goals by addressing the emotional side of eating and finding healthier ways to cope with stress.
Cortisol and Abdominal Fat
When it comes to considering the health hazards connected with weight gain, the distribution of body fat is an important issue to consider. In this context, cortisol, the stress hormone, plays a vital role by affecting the formation of fat primarily in the abdominal area, a type of fat known as visceral fat. This deep belly fat is separate from subcutaneous fat, which is kept close beneath the skin. Visceral fat, in contrast, is metabolically active and has particularly grave links to health concerns, including heart disease, type 2 diabetes, and several other health disorders.
The link between cortisol and abdominal fat is intriguing. The hormone cortisol seems to make people store more fat around their middle. This might be because there are more cortisol receptors in fat cells in the middle. The particular mechanisms driving this phenomenon are still the subject of current investigation, although the association between high cortisol and visceral fat deposition is well established.
The presence of visceral fat is a specific health risk, and this fat type plays a crucial role in the development of many health disorders. When paired with increased cortisol levels, it provides a specific worry. The increase of visceral fat is closely connected with insulin resistance, a disease where the body's cells become less receptive to insulin, leading to higher insulin levels. This combination of visceral obesity, insulin resistance, and high cortisol levels might dramatically increase the risk of developing metabolic syndrome, a group of disorders characterized by high blood pressure, elevated blood sugar levels, and abnormal lipid profiles. All of these risk factors for cardiovascular disease are recognized as independent risk factors.
Note: There might be affiliate links mentioned here. We may receive a commission if you purchase a product through an affiliate link. There is no additional charge for you. Please do your own research before making any online purchases.
Cortisol Management for Weight Loss
In order to achieve lasting weight loss, it is crucial to understand the complex relationship between cortisol and weight loss. Chronic stress and elevated cortisol levels can make losing weight and maintaining a healthy weight difficult. However, controlling cortisol levels can be crucial to weight loss success. Here, we'll look at six strategies for cortisol management for weight loss:
One of the primary causes of elevated cortisol levels, which can lead to weight gain, is chronic stress. Stress management techniques are one of the most effective ways to combat this. Mindfulness meditation, yoga, deep breathing exercises, progressive muscle relaxation, and even engaging in hobbies that promote relaxation and joy are examples of these techniques. Participation in stress-reduction activities on a regular basis can significantly reduce the impact of chronic stress on cortisol levels.
Mindfulness Meditation: Focusing on the present moment while practicing mindfulness meditation can help reduce cortisol for weight loss. Deep breathing and heightened awareness of sensations, thoughts, and emotions are common techniques.
Yoga: Yoga combines physical postures, breathing exercises, and meditation to promote relaxation and stress reduction. It has been demonstrated to reduce cortisol levels and improve overall well-being.
Breathing Exercises: Deep breathing exercises, such as diaphragmatic breathing, can activate the body's relaxation response and lower cortisol levels. Stress management can be improved with regular practice.
Progressive Muscle Relaxation: This technique involves tensing and then relaxing different muscle groups in the body in a systematic manner. It has the ability to reduce muscle tension and stress levels.
Regular physical activity can help with cortisol management for weight loss since it improves the body's response to stress. Aerobic exercises such as jogging, brisk walking, or cycling can aid with cortisol regulation. Furthermore, strength training routines are good for cortisol reduction and muscle mass maintenance, both of which are critical for metabolic health.
Aerobic Exercise: Activities such as running, brisk walking, or swimming can cause the production of endorphins, which are natural stress relievers that can lower cortisol levels and increase overall well-being.
Resistance Training: Resistance training activities help preserve muscle mass and enhance insulin sensitivity, which helps offset some of cortisol's negative impacts on weight and metabolic health.
Adequate and high-quality sleep is essential for cortisol management and weight loss. Maintaining a consistent sleep pattern and maintaining good sleep hygiene can help maintain healthy cortisol levels. Chronic sleep deprivation can lead to increased cortisol, upsetting the body's hormonal balance and influencing weight growth and weight loss attempts.
Sleep Hygiene: This includes habits like maintaining a regular sleep schedule, providing a comfortable sleep environment, and avoiding stimulating activities before bedtime.
Diet has a vital influence on controlling cortisol levels. During situations of stress, it's crucial to avoid excessive ingestion of high-sugar and high-fat foods, as these can stimulate the overproduction of cortisol. A well-balanced diet, rich in whole grains, lean protein, and a variety of fruits and vegetables, helps with cortisol management and overall health.
Complex Carbs: Incorporating complex carbs like whole grains will help balance blood sugar levels and avoid the excessive release of cortisol.
Lean Protein: Protein foods, including lean meats, seafood, and plant-based proteins, can help reduce appetite and preserve muscle mass.
Fruits and Vegetables: A diet rich in fruits and vegetables provides critical nutrients and antioxidants that help general health and cortisol management.
Practicing mindful eating helps prevent emotional eating, which is commonly triggered by stress. Being sensitive to hunger and fullness cues, as well as understanding emotional motivations for eating, can help prevent overconsumption of calories and promote better weight management.
Portion Control: Paying attention to meal sizes and eating slowly might aid in preventing overeating.
Eating Choices: Making deliberate and healthy eating choices, even during times of stress, is vital for weight management.
Connecting with friends and loved ones can provide essential emotional support during stressful times. A robust social support system minimizes the need for emotional eating and contributes to controlling cortisol levels, making it a vital component of stress management.
Nurturing Positive and Supportive Connections: Nurturing positive and supportive connections can help relieve stress, create a sense of belonging, and provide emotional security.
FAQs
What exactly is cortisol, and why is it known as the "stress hormone"? 
Cortisol is a steroid hormone that the adrenal glands create in response to stress. It is commonly known as the "stress hormone" because it plays an important function in the body's stress response system, assisting the body in preparing to cope with stressors.
What are cortisol's principal functions in the body? 
Cortisol performs various important activities, including blood pressure regulation, inflammation reduction, sleep-wake cycle control, energy breakdown of carbs, lipids, and proteins, and immune system support.
What effect does persistent stress have on cortisol levels and weight gain? 
Chronic stress can cause chronic and excessive cortisol release, which can increase appetite, particularly for high-calorie and sugary foods. This increased craving for high-energy foods might result in overeating and weight gain.
Can cortisol influence where fat is stored in the body? 
Yes, cortisol has been related to the growth of fat, notably visceral fat in the abdomen. Visceral fat is linked to increased health risks such as heart disease and type 2 diabetes.
Does cortisol affect muscle mass, and if so, how does it affect weight management? 
Cortisol levels that are too high can encourage muscle breakdown, reducing the body's capacity to burn calories efficiently even when at rest. As the metabolic rate slows, this might contribute to weight gain.
What is the role of cortisol in emotional eating? 
Elevated cortisol levels can stimulate cravings, especially for high-calorie comfort foods, and interact with the brain's mood-regulating areas. As a coping mechanism for stress and bad emotions, this can lead to emotional eating.
What exactly is insulin resistance, and how does cortisol fit into it? 
Insulin resistance occurs when the body's cells become less sensitive to insulin signals, necessitating larger doses of insulin to manage blood sugar. Chronic stress and high cortisol levels can both contribute to insulin resistance, which can lead to weight gain and health problems.
How can I control my cortisol levels in order to lose weight? 
Understand the impact of the cortisol hormone on weight loss thoroughly. Stress management strategies such as mindfulness meditation, yoga, and deep breathing exercises can be used to reduce cortisol for weight loss. Regular physical activity, a well-balanced diet, enough sleep, mindful eating, and reaching out for social support are all beneficial techniques.
What role does a well-balanced diet have in cortisol management? 
A well-balanced diet rich in whole grains, lean protein, and a range of fruits and vegetables supports cortisol management by avoiding excessive consumption of high-sugar and high-fat meals, particularly during stressful times.
Can social support truly help with cortisol management and weight loss? 
Yes, connecting with friends and loved ones during stressful times can provide emotional support, reducing the need for emotional eating and contributing to cortisol regulation. A strong social support network is essential for stress management.
Conclusion
Cortisol, the stress hormone, plays a complicated role in weight loss. While it is necessary for many physiological functions, chronic stress and elevated cortisol levels can contribute to weight gain and obesity. Stress-induced overeating, insulin resistance, muscle loss, and visceral fat accumulation are all factors that can stymie weight loss efforts.
Understanding the relationship between cortisol and weight gain is critical for people trying to lose weight. Individuals can effectively manage cortisol levels and improve their chances of successful weight reduction and long-term weight maintenance by implementing stress management measures, maintaining a balanced lifestyle, and making conscious decisions. Finally, successful weight loss is about more than just counting calories or going to the gym; it's about managing stress and its impact on cortisol levels for a healthier, happier life.
Disclaimer: The information provided in this article is for educational purposes only and should not be considered as a substitute for medical advice. Consult a healthcare professional before implementing any home remedies or making significant changes to your lifestyle.