Significance of Quality and Quantity of Food in Weight Loss
Weight loss is a common goal for many individuals striving for better health and improved well-being.
Introduction
Amid the numerous strategies available, two basic aspects often play a pivotal role in determining success: the quality and quantity of food consumed.
Understanding Caloric Needs
Calories serve as the basic unit of energy obtained from food and beverages. The number of calories needed varies based on several factors, including age, gender, weight, height, and activity level. Women typically require fewer calories than men due to differences in body composition and metabolism.
For women, the caloric intake generally ranges from:
Not physically active: Approximately 1,600 calories per day

Moderately active: Around 1,800 calories per day

Active lifestyle: Between 2,000 and 2,200 calories per day
On the other hand, men tend to need a slightly higher caloric intake, which may range from:
Not physically active: Approximately 2,000 to 2,200 calories per day

Moderately active: Ranging from 2,200 to 2,400 calories per day

Active lifestyle: Around 2,400 to 2,600 calories per day
Importance of Serving or Portion Sizes
Understanding serving or portion sizes is crucial when managing caloric intake. The concept of serving sizes helps individuals make informed decisions about how much food they consume. Generally, one serving of a particular food group might differ from another. For instance:
Vegetables

: A serving size equals about 1 cup of raw leafy vegetables or ½ cup of other vegetables, cooked or chopped raw.

Fruits

: One serving of fruit is typically equivalent to one medium-sized fruit, ½ cup of fresh, frozen, or canned fruit, or ¼ cup dried fruit.

Proteins

: A serving of protein, such as meat, poultry, fish, beans, or tofu, is approximately 3-4 ounces, roughly the size of a deck of cards.

Grains

: One serving of grains is around 1 slice of bread, 1 ounce of cereal, or ½ cup of cooked rice, pasta, or cereal.
Prioritizing Quality Choices
While quantity matters, the quality of the food consumed plays an equally significant role in weight loss. Focusing on nutrient-dense options is key. Here's a breakdown of how to make quality choices:
Snacks

: Avoid high-calorie, low-nutrient snacks. opt for nutrient-dense alternatives like nuts, seeds, or Greek yogurt.
Added Sugar and Salt

: Minimize consumption of foods with excessive added sugar and salt. Choose natural sweeteners like honey or incorporate herbs and spices for flavor.
Refined Grains

: Steer clear of refined grains and opt for whole grains like brown rice, quinoa, and whole wheat bread. They are rich in fiber and nutrients, keeping you fuller for longer.
High-Calorie Snacks

: Reduce intake of calorie-dense snacks such as chips, pastries, and candies. Instead, choose healthier alternatives like air-popped popcorn, veggies with hummus, or fruit slices.
Solid Fats

: Limit the intake of solid fats found in processed foods, fried items, and butter. Instead, use healthier fat sources like olive oil, avocados, or nuts.
Note: There might be affiliate links mentioned here. We may receive a commission if you purchase a product through an affiliate link. There is no additional charge for you. Please do your own research before making any online purchases.
Emphasizing Quality Choices
Fresh Fruits

: Opt for fresh fruits rich in vitamins, minerals, and fiber. Incorporate a variety of colorful fruits into your diet for a wide array of nutrients.
Whole Grains

: Whole grains are a powerhouse of nutrients and fiber. Introduce whole grains like oats, quinoa, and barley for sustained energy and better digestion.
Healthy Fats

: Include sources of healthy fats like avocados, nuts, seeds, and olive oil. They provide essential fatty acids vital for overall health.
Nutrient-Dense Snacks

: Choose nutrient-dense snacks such as Greek yogurt with berries, veggies with hummus, or a handful of mixed nuts. These snacks provide essential nutrients without excessive calories.
Incorporating Healthy Eating Habits
While focusing on both the quality and quantity of food is crucial, adopting healthy eating habits further aids in weight loss:
Mindful Eating

: Practice mindful eating by being present and attentive while consuming meals. Pay attention to hunger cues and stop eating when full.
Portion Control

: Be mindful of portion sizes to avoid overeating. Use smaller plates, bowls, and utensils to help control portions.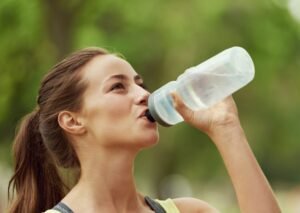 Hydration

: Drink plenty of water throughout the day. Often, feelings of hunger may actually be a signal of dehydration.
Balanced Meals

: Strive for balanced meals containing a mix of lean protein, healthy fats, complex carbohydrates, and vegetables.
Conclusion
Achieving the weight loss goal involves a delicate balance between the quantity and quality of the food consumed. Understanding caloric needs, portion sizes, and prioritizing nutrient-dense choices are fundamental to attaining weight loss goals. 
By making conscious decisions to limit certain food types and incorporating healthier alternatives, individuals can create sustainable and effective strategies for successful weight management and improved overall health.
Disclaimer: The information provided in this article is for educational purposes only and should not be considered as a substitute for medical advice. Consult a healthcare professional before implementing any home remedies or making significant changes to your lifestyle.