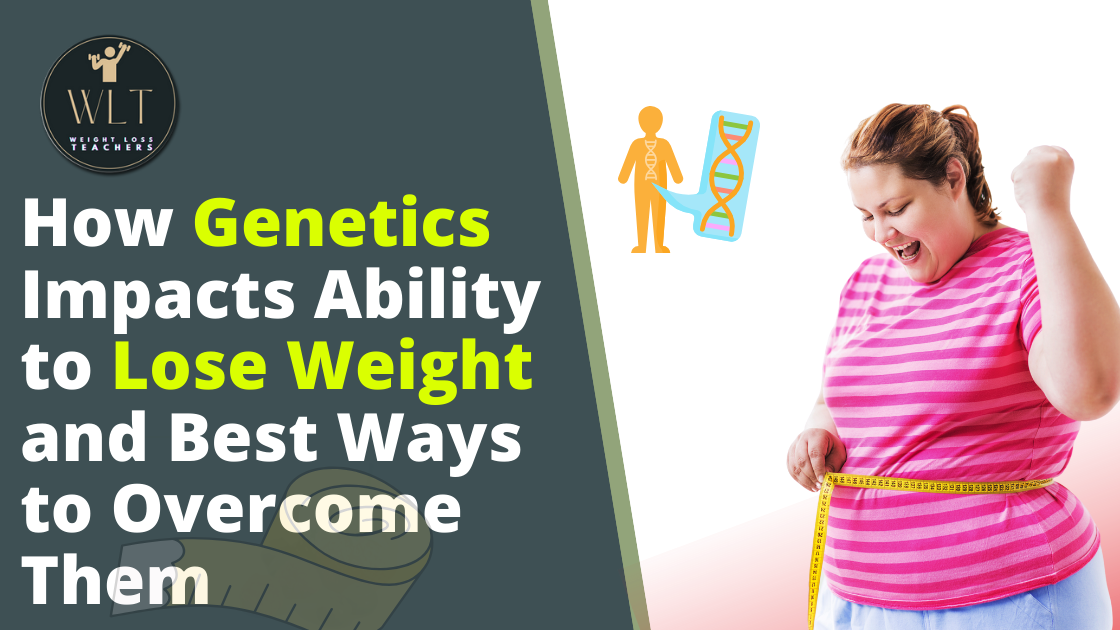 How Genetics Impacts Ability to Lose Weight and Best Ways to Overcome Them
For many people, gaining and maintaining a healthy weight has been a constant problem. While food and exercise are widely viewed as the key factors influencing weight management, the role of genetics in this equation has recently gained prominence. 
Introduction
This article dives into the complicated connection between genetics and weight loss, with the goal of answering the question, "Does genetics play a role in a person's ability to lose weight, and how can someone overcome genetic limitations?"
Basics of Genetics and Weight Loss
To really understand the impact of genetics on weight loss, it is necessary to investigate the basic genetic variables that influence our bodies' ability to manage weight. Our genetic composition, a one-of-a-kind blueprint encoded within our DNA, plays a significant role in determining numerous parts of our physiology, which in turn influences our weight. Metabolism, appetite regulation, fat storage and distribution, and our particular responses to diverse diets are all important genetic factors in weight management.
Metabolism is the complex network of chemical reactions that occur within our bodies to transform the food we eat into energy. It is the engine that drives our existence, constantly burning calories to support crucial processes like breathing, cell repair, and temperature regulation. Genetics has a significant impact on an individual's basal metabolic rate (BMR), a statistic that measures the number of calories the body needs when at rest. It is a baseline measurement of the amount of energy required to maintain vital physiological operations.
BMR varies greatly between individuals, and this variation can be linked to genetic factors. Some people have inherently higher BMRs, which indicates they can metabolize calories more effectively. As a result, individuals burn calories faster and may find it simpler to maintain a healthy weight. Others, on the other hand, may be born with a slower metabolism, which predisposes them to more calorie retention and makes it simpler for them to gain weight.
Understanding one's BMR can be quite helpful in developing an efficient weight-loss approach. Individuals with higher BMRs may need to consume more calories or engage in more intense physical exercise to maintain their weight, whereas those with lower BMRs may need to watch their calories more carefully and engage in more physical activity to avoid weight gain.
Genetics has a significant impact on how our bodies regulate appetite, which is a multidimensional process requiring delicate hormonal communication. Several hormones, including leptin, ghrelin, and the peptide YY, are important in signaling hunger and fullness. The interaction of these hormones helps to maintain energy balance by ensuring that we consume enough calories to meet our biological needs.
Variations in the genes that encode these hormones have the potential to upset the delicate balance of hunger regulation. Some people, for example, may inherit genetic variations that cause their bodies to produce an excess of ghrelin, the "hunger hormone," which can lead to increased feelings of hunger and decreased sensations of fullness, potentially causing them to overeat and struggle with weight management.
Genetic factors, on the other hand, can contribute to increased sensitivity to "satiety hormones" such as leptin and peptide YY. This sensitivity may cause people to feel full faster, which can be beneficial for weight control.
Understanding the genetic foundations of appetite regulation might help individuals establish successful hunger management techniques. Those who are genetically inclined to heightened hunger may need to exercise portion management, mindful eating, and a diet rich in satiety-inducing foods.
Fat Distribution and Storage
The distribution of fat in the body is another hereditary factor that influences weight management. Some people are genetically predisposed to retain fat in specific areas, such as the tummy, hips, or thighs. This genetic propensity can have a substantial impact on an individual's entire body composition, affecting their aesthetic appearance as well as their vulnerability to certain health concerns.
Individuals who genetically store excess fat in the abdomen area, for example, may be at a higher risk of acquiring visceral fat, which is linked to an elevated risk of a variety of health issues, including cardiovascular disease and type 2 diabetes. Understanding one's genetic proclivity for fat accumulation can lead to more targeted attempts to lessen the risk associated with such fat distribution.
Reaction to Various Diets
According to research, our genetic makeup might also influence how our bodies adapt to certain diet plans. Some people may benefit more significantly from certain diets based on their genetic predispositions. For example, research reveals that genetic differences can influence how the body metabolizes carbs and fats, influencing an individual's reaction to low-carb or low-fat diets.
Individuals with genetic characteristics that favor efficient carbohydrate metabolism may benefit from a low-carb diet, which restricts carbohydrate intake. Those with genetic predispositions that encourage efficient fat metabolism, on the other hand, may flourish on a low-fat diet. Recognizing these hereditary tendencies can help people choose nutritional methods that are compatible with their specific physiological constitution, increasing the efficacy of their weight-loss efforts.
Genetic Factors in Weight Management
The complex interplay between genetics and weight loss is a growing area of interest and inquiry. Understanding the hereditary factors that influence a person's capacity to gain, reduce, or maintain weight is essential for establishing successful strategies for reaching a better body composition. Here, we look at some of the important genetic elements at work in weight regulation and how they affect our bodies.
The FTO (Fat Mass and Obesity-Associated) gene has emerged as one of the most thoroughly researched obesity genes. Variations in the FTO gene have been associated with higher body weight and an increased risk of obesity. This gene is largely engaged in appetite and food preference regulation, making it an important factor in weight management.
Variations in the FTO gene can cause changes in the synthesis of particular proteins that affect appetite regulation. Individuals with specific FTO gene variations may have increased feelings of hunger and decreased feelings of fullness, which can lead to overeating and, as a result, weight gain.
Furthermore, these genetic variants can influence eating preferences, making people favor energy-dense and pleasant diets heavy in carbohydrates and fats. Such inclinations can lead to an obesogenic environment, making it more difficult to resist unhealthy dietary choices.
Recognizing the FTO gene's role in weight management can assist individuals in tailoring their dietary and lifestyle choices to reduce their hereditary constraint. To effectively manage hunger and food preferences, strategies may include using portion control techniques, selecting nutrient-dense foods, and employing mindful eating habits.
The MC4R (Melanocortin 4 Receptor) gene encodes a receptor involved in appetite regulation. Mutations or polymorphisms in the MC4R gene can have a significant impact on a person's capacity to regulate their food intake.
Individuals with MC4R gene mutations may have an increased appetite as well as a decreased capacity to feel full. This increased hunger might lead to excessive caloric consumption, making weight management difficult. The melanocortin system, which maintains energy balance by influencing hunger and metabolism, includes the MC4R receptor.
Understanding the genetic influence of the MC4R gene on appetite regulation can help people create successful weight-management measures. Individuals with MC4R gene variants can benefit from behavioral interventions such as cognitive-behavioral therapy (CBT) and mindfulness techniques to help them manage their eating habits and make healthier food choices.
PPARG (Peroxisome Proliferator-Activated Receptor Gamma) is a gene that has been linked to fat storage and insulin sensitivity. PPARG gene variations can influence how the body stores and uses fat, potentially leading to weight gain and insulin resistance.
PPARG regulates the growth and function of adipocytes (fat cells). Variations in this gene may result in an increase in the number of fat cells or changes in how fat cells respond to insulin and other metabolic signals. This can lead to an increased proclivity to retain excess calories as fat, which contributes to weight gain.
Variations in the PPARG gene can also affect an individual's insulin sensitivity. Reduced insulin sensitivity can result in higher blood sugar levels and an increased chance of developing type 2 diabetes, complicating weight-management efforts even further.
Understanding the role of the PPARG gene in fat storage and insulin sensitivity can help develop effective weight-management strategies. Individuals with PPARG gene variants may benefit from a low-glycemic-index diet, frequent physical activity to increase insulin sensitivity, and consideration of drugs that target insulin resistance.
The COMT (Catechol-O-Methyltransferase) gene is linked to catecholamine breakdown, which is a neurotransmitter involved in the body's stress response and metabolism. Individuals' ability to regulate stress may be influenced by genetic changes in the COMT gene, which may in turn effect their weight management attempts.
COMT is in charge of degrading catecholamines such as dopamine, adrenaline, and norepinephrine. These neurotransmitters are essential for mood control, stress response, and metabolism. COMT genetic variants can cause variances in catecholamine breakdown efficiency, impacting an individual's stress resilience and mood control.
Chronic stress can lead to emotional eating and bad coping techniques; therefore, stress management is essential for weight management. Understanding the genetic influence of the COMT gene on stress response can motivate people to prioritize stress-reduction strategies like mindfulness, meditation, or yoga in their weight-loss plans.
Diet Response and Genetics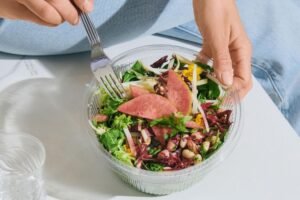 Recent advances in the study of nutrigenomics have shed light on how a person's genetic composition can influence their reaction to certain diets. This individualized nutrition approach recognizes that one-size-fits-all dietary advice may not be appropriate for everyone.
Some people, for example, may have a genetic tendency that impairs their capacity to absorb carbs efficiently. In such circumstances, a low-carbohydrate diet may be more beneficial for weight loss because it corresponds to their genetic composition. Others, on the other hand, may have genetic traits that encourage efficient fat metabolism, making a low-fat diet a better choice.
The concept of genetics and weight loss diet response emphasizes the significance of customized nutrition plans. Genetic testing for weight loss can provide significant information on a person's genetic predispositions for macronutrient metabolism and dietary preferences. Armed with this knowledge, individuals can collaborate with healthcare providers to develop nutritional plans that are matched to their specific genetic profile, increasing their chances of effective weight management.
Is it Possible to Overcome Genetic Limitations for Weight Loss?
Recognizing that genetics can have a big impact on weight management might be discouraging for some people. It may give them the impression that genetic factors have cast an indelible shadow on their weight and health. It is important to note, however, that while genetics play a part, they are not the only factors in one's weight and overall health. Individuals can manage and even overcome these genetic constraints through a variety of methods.
Note: There might be affiliate links mentioned here. We may receive a commission if you purchase a product through an affiliate link. There is no additional charge for you. Please do your own research before making any online purchases.
Lifestyle factors, which include nutrition, physical exercise, sleep, and stress management, have an unquestionable impact on weight and general health. Making informed and health-conscious choices in these areas, regardless of your genetic make-up, can have a substantial impact on your ability to achieve and maintain a healthy weight.
Diet: The foundation of healthy living is a well-balanced and nutritious diet. Individuals can reduce the influence of genetic predispositions by eating whole meals, prioritizing fruits and vegetables, and limiting their consumption of processed and calorie-dense foods. Diets high in nutrients can help with weight loss by providing vital vitamins, minerals, and fiber while limiting excess calories.
Physical Activity: Regular physical activity is essential for weight management. Exercise aids in the burning of calories, the development of lean muscle mass, and the improvement of metabolic health. A consistent exercise regimen, regardless of genetic considerations, can boost metabolism, aid in weight loss, and contribute to general well-being.
Adequate Sleep: Adequate sleep is frequently disregarded, although it is critical for maintaining a healthy weight. Sleep deprivation can disturb hormone balance, increase appetite, and impair the body's capacity to cope with stress. Prioritizing quality sleep can help offset hereditary weight gain tendencies.
Stress Management: Long-term stress can cause emotional eating and inappropriate coping techniques, increasing weight-related issues. Meditation, deep breathing exercises, and mindfulness are effective stress management practices that can help people recover control of their eating habits and make healthier choices.
Individuals seeking to overcome genetic limitations for weight loss can greatly benefit from behavior modification techniques such as cognitive-behavioral therapy (CBT). CBT focuses on the psychological and emotional aspects of eating and weight, assisting people in developing healthier eating habits and managing stress.
Emotional Eating: CBT can help people identify and address emotional eating triggers, allowing them to develop alternative coping strategies that do not involve binge eating.
Healthy Eating Habits: CBT can encourage the adoption of mindful eating practices, encouraging people to savor and appreciate their food while making informed decisions about portion sizes and food quality.
Stress Management: CBT techniques can teach people how to manage stress effectively, reducing the likelihood of turning to food for comfort during difficult times.
Individualized Approaches
Advances in genetic testing for weight loss have made personalized approaches to weight management possible. Healthcare professionals can tailor dietary and exercise recommendations to maximize weight loss results by analyzing an individual's genetic profile.
Genetic Testing: Genetic testing for weight loss can reveal a person's genetic predispositions to metabolism, appetite regulation, and dietary responsiveness. With this information, healthcare providers can create personalized nutrition and exercise plans that are tailored to the individual's genetic make-up, increasing the likelihood of success.
Precision Medicine: Precision medicine recognizes that each person is unique and that their responses to treatments or interventions may differ. Personalized weight management plans take genetic factors into account in addition to other individualized parameters, increasing the effectiveness of interventions.
Bariatric surgery is a viable option for people who are severely obese or who have struggled with weight loss despite their best efforts. Gastric bypass and sleeve gastrectomy are two bariatric procedures that can result in significant weight loss and improvements in obesity-related health conditions.
Mechanisms of Action: Bariatric surgery works on numerous levels, including dietary restriction, gut hormone changes, and gut microbiota remodeling. These strategies can overcome genetic predispositions and result in significant and long-term weight loss.
Health Advantages: Bariatric surgery can improve obesity-related comorbidities such as type 2 diabetes, hypertension, and sleep apnea, in addition to weight loss. These health advantages can significantly improve a person's quality of life.
There are medications that can help with weight management, particularly for people who have certain genetic predispositions that affect appetite regulation and metabolism. To aid in weight loss, these drugs frequently target specific appetite-regulating circuits or alter metabolic processes. Just consult experts to understand the connection between genetics and weight loss before beginning any kind of medication.  
Appetite Control: Medications such as appetite suppressants can assist individuals in controlling their food intake, particularly if genetic factors have resulted in increased hunger or decreased sensations of fullness.
Metabolic Support: Some medications improve metabolic processes such as fat breakdown or thermogenesis. These can be especially beneficial for people who have genetic variations that affect their metabolism.
Strategies for Overcoming Genetic Limitations for Weight Loss
Weight loss can be a difficult journey, especially when genetic factors appear to stack the deck against you. However, it's essential to recognize that genetics do not have the final say in your ability to achieve your weight loss goals. There are several strategies you can employ to overcome genetic limitations for weight loss and work towards a healthier weight and lifestyle.
One of the first steps in overcoming genetic limitations in weight management is to consider undergoing genetic testing for weight loss. This technique entails testing your DNA to acquire insight into your genetic predispositions connected to weight and metabolism. Genetic testing for weight loss can reveal vital information on how your body processes foods, your susceptibility to certain health disorders, and your reactivity to certain weight loss treatments.
Armed with this genetic knowledge, you and your healthcare team can build a personalized weight management plan suited to your specific genetic composition. For example, if you have genetic variants that make it challenging to process carbohydrates efficiently, your plan may include a low-carb diet. Alternatively, if your genetic profile reveals a predisposition to a sluggish metabolism, your strategy can emphasize frequent exercise and portion control.
Regardless of your genetic composition, a balanced and healthy diet should be at the foundation of any weight management plan. Focus on consuming a range of meals that supply necessary nutrients, including vitamins, minerals, fiber, and protein. A well-rounded diet not only helps with good weight management but also promotes general health and well-being.
While your genetic predispositions may influence how your body responds to various nutrients, a balanced diet can help reduce some of these effects. For instance, including more complete foods, such as fruits, vegetables, lean proteins, and whole grains, can create a basis for good eating habits that correspond with your genetic makeup.
Regular physical exercise is a cornerstone of healthy weight management, and it plays a significant role in overcoming hereditary limits. Exercise helps burn calories, increase lean muscle mass, and boost metabolism, all of which contribute to weight loss and maintenance.
When establishing an exercise regimen, consider activities that you enjoy and can sustain in the long run. This method increases the possibility of consistency, which is necessary for getting long-term effects. Whether it's brisk walking, cycling, dancing, or strength training, establishing an exercise plan that fits your interests and lifestyle will help you overcome hereditary markers that may incline you toward weight gain.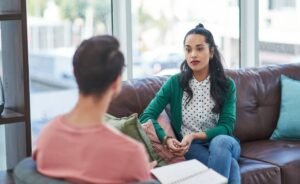 Behavior modification strategies, including cognitive-behavioral therapy (CBT) and counseling, can be highly useful tools in treating the emotional and psychological components of weight management. Genetics may influence emotional eating, stress responses, and unhealthy eating behaviors, but behavioral interventions can help you gain control over these aspects.
CBT, for instance, can assist in identifying and modifying negative thought patterns and behaviors connected with eating and weight. It can teach you healthy coping mechanisms for managing stress and emotions, ultimately helping you make more educated eating choices and maintain a happy connection with food.
Assistance and Accountability
Seeking help from friends, family, or a support group can provide the inspiration and accountability needed to stay on track with your weight management goals. Sharing your story with others can generate a sense of community and lessen feelings of isolation.
Accountability partners or support groups can help you stay committed to your lifestyle changes, provide encouragement through hard times, and celebrate your triumphs. Knowing that you have a network of individuals supporting your efforts can enhance your confidence and motivation. You can tackle both genetics and weight loss with appropriate support. 
Medication and Surgical Options
In circumstances where lifestyle modifications alone are not beneficial, it may be acceptable to seek pharmacological or surgical options for weight management. To discuss these options, speak with a healthcare practitioner.
Weight-loss medications can operate in a variety of ways, including suppressing appetite, enhancing feelings of fullness, and modifying nutritional absorption. Some drugs are designed to target specific appetite-regulating pathways, which can be especially beneficial for those who have certain genetic predispositions to appetite regulation.
Bariatric surgery is another option for people who are severely obese or have struggled to lose weight despite their best efforts. Gastric bypass and sleeve gastrectomy are two procedures that can result in significant weight loss and improvements in obesity-related health issues.
Finally, keep in mind that weight loss is not always a straight line, and setbacks are typical. Be patient with yourself and persevere in your endeavors. Understand that long-term success is the ultimate aim and that achieving and maintaining a healthier weight may take time.
Genetics may bring weight control issues, but they do not decide your fate. You may overcome genetic limits and work toward a healthier, happier you by combining genetic understanding with individualized methods, a balanced diet, regular exercise, behavior change, support, and, if necessary, medical interventions.
FAQs
Is genetics really so important in weight management?
Yes, heredity does have a role in weight management. Your genetic make-up can affect your metabolism, appetite regulation, fat storage, and even how you respond to different diets, all of which affect your ability to lose or gain weight.
What exactly is the basal metabolic rate (BMR), and how does genetics influence it?
The number of calories your body requires at rest to maintain vital activities is known as the basal metabolic rate (BMR). Genetics can have an impact on BMR, with some people naturally having higher BMRs, allowing them to burn calories more effectively, while others may have slower metabolisms, making it simpler to gain weight.
What role does genetics play in appetite regulation?
Genetics can influence appetite regulation through influencing hormones that signal hunger and fullness, such as leptin, ghrelin, and peptide YY. Genetic variances in these hormones can cause appetite differences, making it difficult for certain people to control their food intake.
Can my genes influence where I store fat in my body?
Yes, genetics can influence fat distribution in the body. Some people may be predisposed genetically to storing fat in specific regions, such as the abdomen or hips. This hereditary component has the potential to influence your entire body composition.
Is it possible that hereditary variables influence how I respond to different diets?
Yes, research has shown that heredity can influence how people respond to different diets. Some people, for example, may be inclined genetically to absorb carbs inefficiently, making low-carb diets more successful for them, while others may benefit more from low-fat diets.
Can I overcome my genetic limits in weight management?
Yes, you can overcome genetic limitations for weight loss. Even if you have genetic predispositions, lifestyle variables, behavior adjustment, individualized approaches, medications, surgical choices, and patience and tenacity can all help you reach your weight loss objectives.
What exactly is genetic testing for weight loss, and how might it help with weight loss?
Genetic testing for weight loss is studying your DNA to learn about your genetic predispositions to weight and metabolism. This information can assist you and your healthcare team in developing a customized weight-management plan that is compatible with your genetic make-up.
Is it possible to increase metabolism and overcome hereditary slowing predispositions?
Yes, you can increase your metabolism by engaging in regular physical activity, eating a well-balanced diet, and, in some situations, using drugs. These lifestyle modifications and interventions can help reduce the consequences of genetic predispositions to slow metabolism.
How important is behavior modification in overcoming genetic limitations?
Behavior modification treatments such as cognitive-behavioral therapy (CBT) and counseling can be quite useful in addressing emotional eating, stress management, and genetically determined unhealthy eating behaviors. These approaches assist individuals in developing healthy eating habits.
Is bariatric surgery a valid choice for overcoming genetic weight management limitations?
Individuals with severe obesity or those who have battled with weight loss despite genetic considerations may benefit from bariatric surgery. Gastric bypass and sleeve gastrectomy are two procedures that can result in significant weight loss and improvements in obesity-related health issues.
Conclusion
It is apparent that genetics play a part in an individual's capacity to reduce weight. However, genetics do not determine fate. Anyone can handle genetics and weight loss both, overcome genetic limits, and achieve a healthier weight with the correct tactics, support, and drive. Understanding your genetic predispositions can help you adapt your approach to weight management, but ultimately, your lifestyle choices and actions will have the most impact on your journey to improved health.
Disclaimer: The information provided in this article is for educational purposes only and should not be considered as a substitute for medical advice. Consult a healthcare professional before implementing any home remedies or making significant changes to your lifestyle.