How to Lose Weight by Running: A Comprehensive Guide
Weight loss is a popular objective for many people pursuing a healthier lifestyle in a world where health and fitness are prioritized. Running is an excellent and convenient way to achieve this goal. 
Introduction
Weight loss is a popular objective for many people pursuing a healthier lifestyle in a world where health and fitness are prioritized. Running is an excellent and convenient way to achieve this goal. 
Running not only helps you lose weight, but it also has a variety of physical, mental, and emotional benefits. This comprehensive article tries to delve into the complexities of running for weight loss, presenting a precise path for success.
Running for Weight Loss
Understanding the science behind running can provide essential insights into attaining your weight loss goals. Running for weight loss is more than simply hitting the running track; it's a high-impact aerobic workout that impacts major muscle groups and raises the heart rate, making it an effective calorie-burning activity. The primary impact of running resides in its ability to generate a calorie deficit, which is the foundation of weight loss.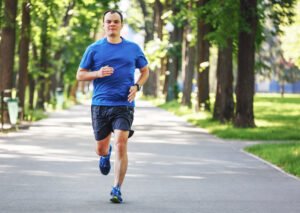 Fundamental Principle of Calorie Deficit
The concept of the calorie deficit is crucial for weight loss. It is a state in which the calories lost via physical activity and metabolism exceed the calories received through food and beverages. To meet its energy demands, the body must draw on its energy stores, which are mostly stored as fat. This is where running comes into play as a great weight loss catalyst.
Working Out Large Muscle Groups
Running is a full-body activity that works many significant muscle groups, including the quadriceps, hamstrings, calves, glutes, and core muscles. When you try to lose weight by running, these muscles operate together to move your body forward, resulting in a significant energy requirement. As the body's need for energy increases while running, it turns to its energy reserves for fuel, causing the breakdown of stored fat cells to release energy.
Calorie Burning and Cardiovascular System
Running's effect on the cardiovascular system is another important aspect of its weight loss effects. Your heart rate increases dramatically as your body engages in this high-impact activity. A faster heart rate means more efficient energy expenditure as your body works to provide oxygen-rich blood to your functioning muscles. As a result, more calories are expended in a shorter amount of time, offering an efficient method of establishing the calorie deficit required for weight loss.
Running has an effect on weight loss that lasts longer than the duration of the activity. The "afterburn effect," or excess post-exercise oxygen consumption (EPOC), comes into play, which is an exciting phenomenon. Even during the recuperation phase after a strenuous run, your body's metabolic rate remains elevated. This increased metabolic rate necessitates more energy, resulting in calories being burned long after you've finished jogging. This post-exercise metabolic increase can considerably add to the overall calorie deficit, improving weight reduction outcomes.
Comprehensive Approach to Losing Weight by Running
Running is more than just a calorie-burning activity; it is a comprehensive method that integrates physiological processes to produce a sustainable path to weight loss. Running prepares the body for an ideal calorie burn by working vast muscle groups and boosting the heart rate. Furthermore, the post-exercise metabolic increase ensures that your body continues to burn energy, strengthening the calorie deficit and accelerating the weight loss process.
Benefits of Running for Weight Loss
Shedding extra weight is a typical objective in the pursuit of a healthier and more vibrant life. Running stands out as a lively and multipurpose method among the several weight loss approaches. Running has a wealth of health benefits that include physical, mental, and emotional well-being, in addition to its reputation as a weight loss tool. Let's take a look at the several benefits of running that make it an enticing option for people looking to enhance their overall fitness.
Caloric Consumption: Uncovering Running's Calorie-Burning Potential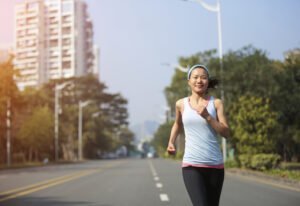 Weight loss is fundamentally tied to the principle of caloric burning. The simple mathematics of burning more calories than you ingest is the driving factor behind losing weight. Running, because of its high cardiovascular nature, is one of the most effective calorie-burning activities accessible. The intensity and duration of the activity, as well as individual characteristics like body weight and metabolism, all affect the number of calories burned during a run.
Running demands a significant amount of energy as it engages a wide range of muscles to drive the body forward. This increased energy demand results in a substantial calorie burn. Whether you're going for a leisurely jog or a strenuous sprint, each stride contributes to your overall caloric expenditure, assisting you in creating the essential calorie deficit for weight loss.
Metabolic Boost: Increasing Your Body's Calorie-Burning Potential
Regular jogging has benefits that extend beyond the acute calorie burn. One of the primary benefits of running is its ability to increase the basal metabolic rate (BMR). Your basal metabolic rate (BMR) is the number of calories your body needs to function at rest. Running on a regular basis causes your body to adapt to the increased energy needs, resulting in an increased BMR.
This increase in basal metabolic rate means that your body becomes more efficient at burning calories even when you are not physically active. The post-exercise metabolic increase results in continual calorie burn, which helps you get closer to your weight loss objectives even when you're resting or recovering.
The preservation of lean muscle mass is one of the most important benefits of running. Lean muscle is metabolically active tissue that burns calories even while resting. The dread of losing muscle mass often stops people from trying to lose weight, but running provides an alternative. Running, in contrast to some severe cardio workouts that may contribute to muscle loss, establishes a balance between cardiovascular exercise and muscle maintenance.
Running primarily targets fat stores for energy, guaranteeing that fat, rather than muscle, accounts for the majority of weight reduction. Because lean muscle leads to an elevated BMR, maintaining lean mass is crucial for maintaining a healthy metabolism. By including jogging into your program, you are not only losing weight but also sculpting a leaner, more efficient physique.
When it comes to overall health, weight loss is only one piece of the puzzle. A healthy heart and cardiovascular system are both essential. Running is a high-intensity cardiovascular exercise that improves heart health and lowers the risk of cardiovascular disease. When you put on your running shoes and hit the pavement, your heart rate rises, increasing blood flow and oxygen delivery to the muscles.
Running on a regular basis helps to strengthen the heart muscle, making it more efficient at pumping blood throughout the body. This greater efficiency results in lower resting heart rates and better circulation. The benefits of running include lower blood pressure, which is important for preserving cardiovascular health. Running on a daily basis not only helps you lose weight but also improves the general health of your heart and circulatory system.
Running has several advantages that go beyond physical health and into mental and emotional well-being. Running is a powerful stress reliever, mood booster, and antidote to the stresses of everyday life. This mental boost is mostly due to the production of endorphins, also known as "feel-good" hormones.
When you run, your body releases endorphins, which cause bliss and reduce stress and anxiety. This natural high boosts not just your mood but also your mental clarity and overall cognitive performance. Running creates a meditative zone in which you can disengage from the outside world and tune into your own thoughts. This mental break can be quite beneficial in dealing with the emotional side of weight reduction and building a healthier relationship with your body.
Step-by-Step Guide to Getting Started with Running
Running for weight loss is an empowering option that has the potential to alter your physical and mental well-being. However, before diving fully into the world of running, you must first create a solid foundation to ensure a safe and productive start. Here's a thorough guide to starting your running experience while limiting injury risk and maximizing achievement.
Consult Your Doctor: Putting Your Health First
Prioritize your health and well-being before lacing up your running shoes and hitting the pavement. Consultation with your healthcare professional is an important first step to losing weight by running if you have any underlying health disorders, a history of injuries, or worries about your physical capabilities. Based on your medical history, your doctor can provide insights into your physical preparedness, advise you on potential restrictions, and make changes to your exercise plan.
This preventive approach not only guarantees that you are physically prepared to lose weight by running, but it also provides you with peace of mind in knowing that you are going on this trip with the approval of a medical professional.
Selecting Appropriate Footwear: Your Foundation for Success
Proper footwear is your constant friend in the world of running, providing the support and protection required to handle diverse terrains and distances. Investing in a good pair of running shoes is a critical decision that can improve your running experience and help you avoid injuries.
Prioritize comfort and fit over anything else when choosing running shoes. Visit a dedicated running store where experts can analyze your motion and foot type and recommend shoes with the required cushioning and stability. Running shoes that are well-designed not only improve your comfort but also reduce your chance of overuse injuries, making them an investment in your long-term running trip.
Begin Small and Slowly: Gradual Progression is Critical
It's natural to want to push yourself to the limit right away when you're ready to get started on losing weight by running. This strategy, however, can result in overexertion, fatigue, and even injuries. Accept the principle of moderate growth to ensure a long-term and effective running experience.
Begin by combining walking and jogging to allow your body to adjust to the new demands. This methodical technique not only decreases your chance of injury but also gradually increases your stamina and endurance. The "Couch to 5K" program, which walks you through an organized strategy that gradually increases the duration and intensity of your runs over several weeks, is a popular way to start your running experience.
Warming Up and Cooling Down: Muscle Care
Running is more than simply an activity on the road; it also requires correct warm-up and cool-down practices that nourish your muscles and prepare them for the demands of the action.
Engage in dynamic stretches before your run to gently warm up your muscles and enhance blood flow. Leg swings, high knees, and hip circles are examples of stretches. Warming up prepares your body for the upcoming exercise, lowering the likelihood of strains and improving overall performance.
After the run, set aside time for a proper cool-down exercise. Static stretches that target the main muscle groups should be done. These stretches relieve muscle tension, increase flexibility, and aid in recuperation. Including a cooldown program in your running regimen minimizes the risk of post-run pain and leads to long-term performance improvement.
Creating an Effective Running Strategy and Making Your Way to Success
A well-structured running regimen is essential for achieving long-term weight loss and fitness progress. Your plan acts as a road map, helping you through the complexities of running while optimizing your progress toward your weight loss goals. Here's an in-depth look at how to develop an effective running routine that promotes both physical transformation and long-term well-being.
Establish Realistic Goals
Before you begin your running journey, you must create specific and attainable goals. Your objectives serve as beacons, guiding your efforts and offering a sense of direction. When it comes to losing weight, it's critical to avoid establishing unrealistic goals that could lead to dissatisfaction or burnout.
Instead, concentrate on defining attainable goals. Perhaps your first objective is to run a 5K event or to run for 30 minutes without stopping. By emphasizing incremental development over quick results, you create a sense of success at each milestone, which fuels your drive and commitment.
The key to gaining the benefits of running for weight loss is consistency. 3–4 days a week, aim to incorporate running into your regimen. This frequency finds a compromise between allowing your body appropriate recovery time and ensuring that you're engaging in physical exercise on a constant basis.
Begin with shorter periods, often ranging from 20 to 30 minutes per run, as a novice. Gradually increase the length of your runs as your stamina and fitness levels improve. This gradual approach not only reduces the chance of injury but also assists your body in adapting to the demands of running over time.
Running is a dynamic activity that can include a variety of methods. Include a variety of runs in your training regimen to avoid boredom and keep your body challenged during your quest to lose weight by running.
Steady-State Runs: These runs require you to keep a consistent pace throughout. They increase endurance while also burning calories.
Interval Training: Intervals vary between periods of high-intensity jogging and intervals of rest. This variation increases calorie burn, improves cardiovascular fitness, and can assist in breaking through weight reduction plateaus.
Hill sprints: Hill sprints provide an effective combination of cardiovascular and strength training. Running uphill uses more muscle groups and increases calorie burn.
By mixing up your running regimen, you work new muscle fibers and energy systems, contributing to overall fitness improvement while avoiding monotony.
Intensify Calorie-Burning Process
While steady-state runs are excellent, including higher-intensity workouts might help you reach new heights in your weight loss journey. As previously stated, interval training entails alternating between bursts of high-intensity running and recuperation intervals. This method fires up your body's calorie-burning furnace, resulting in an enhanced metabolism long after you've finished your exercise.
Intervals not only burn more calories in a shorter amount of time, but they also improve cardiovascular fitness. You're pushing your limitations and reaping the advantages of each workout when you challenge your body with bursts of strong effort. This adaptive strategy keeps your body adaptable, prevents plateaus, and promotes continuous improvement.
Note: There might be affiliate links mentioned here. We may receive a commission if you purchase a product through an affiliate link. There is no additional charge for you. Please do your own research before making any online purchases.
While running is the foundation of your weight loss strategy, incorporating cross-training exercises boosts your overall fitness and protects you from overuse issues. Cross-training entails performing various types of workouts to work different muscle groups and lessen pressure on your body.
In order to gain lean muscle mass, incorporate strength training sessions into your program. Muscle burns more calories at rest, which helps with weight loss. Include activities that improve flexibility, balance, and cardiovascular fitness, such as yoga or cycling.
Nutrition Guide for Effective Weight Loss and to Nourish Your Running Journey
Running for weight loss is a dynamic partnership between exercise and adequate nutrition. The nourishment you provide your body is essential for powering your exercises, aiding recovery, and, ultimately, supporting the fulfillment of your weight loss goals. Here's an in-depth look at how to fuel your body for peak performance and ensure effective weight loss by running.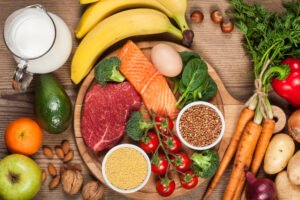 A balanced and well-rounded diet is vital for runners looking to lose weight. Three key macronutrients should be included in your diet:
Carbohydrates: Carbohydrates are your body's primary energy source during running. They provide easily accessible fuel for your workouts. Choose complex carbs such as whole grains, fruits, and vegetables for prolonged energy release and overall well-being.
Protein: Protein is essential for muscle repair, growth, and recuperation. Incorporate lean protein sources like poultry, fish, beans, lentils, and tofu to help your body recuperate after a run.
Healthy Fats: Healthy fats are important for general health and should not be overlooked in your diet. Include avocados, almonds, seeds, and olive oil as sources of necessary fatty acids and to increase fullness.
A well-balanced combination of these macronutrients provides your body with the energy and nourishment it requires to power through runs and sustain its overall functionality.
Hydration for Performance and Recovery
Hydration is a critical component of running nutrition. Dehydration can have a negative impact on your performance, slow your recovery, and even cause injury. To stay hydrated, do the following:
Hydrate Before Running: Drink water throughout the day to stay hydrated. Consume adequate fluids before your run to ensure you start your workout hydrated.
Stay Hydrated While Running: Depending on the length and intensity of your run, sip water or a sports drink to restore fluids lost through sweat.
Rehydrate After Running: Continue to hydrate after your run to replenish any fluid losses. Water, herbal teas, and beverages high in electrolytes can all aid in rehydration.
Pre-Run Fuel: Boost Your Performance
Eating smartly before your run is critical to ensuring you have the energy you need to complete your activity. About 1-2 hours before your run, eat a small lunch or snack high in carbs. This gives your body easily available energy and eliminates the discomfort of exercising on an empty stomach.
Consider bananas with peanut butter, whole-grain toast with avocado, or a small bowl of porridge with berries. These options provide a balance of carbohydrates and healthy fats to keep you going throughout your run.
Post-Run Recovery: Muscle Nourishing
The time immediately following your run is critical for recovery and nutrient replacement. Your muscles are poised to receive nutrients that aid in repair and growth after vigorous physical activity. To improve your post-run recovery, do the following:
Consume Protein: Eat a protein-rich meal or snack within an hour of finishing your run. Options include a protein drink, Greek yogurt with nuts, or a lean chicken salad. Protein contains the amino acids required for muscle repair and growth.
Consume Complex Carbs: In addition to protein, incorporate complex carbs to restore glycogen stores, which are your body's energy reserves. Quinoa, sweet potatoes, and whole-grain pasta are all good options for refueling after a run.
While good nourishment is critical, practicing mindful eating is also necessary. Pay attention to portion amounts and try not to overeat. Pay attention to your body's hunger and fullness cues to ensure you're eating in accordance with its needs.
Avoid the urge to "reward" yourself after a run with excessive indulgence. Instead, think of your meals as chances to nourish and support your running journey, thereby cultivating a positive relationship with food and your body.
Maintaining Momentum: Managing Motivation and Avoiding Plateaus
Starting a weight loss journey through jogging involves not only physical work but also mental fortitude. The road to success is frequently paved with difficulties, such as fluctuating motivation and the frightening weight reduction plateau. However, with the correct methods in place, you can stay motivated and overcome obstacles to attain your objectives. Here's a thorough guide to staying motivated and overcoming plateaus on your running adventure.
Monitoring Progress: The Value of Documentation
Keeping a running journal can be a valuable asset in your arsenal. Keeping track of your workouts, distances, times, and even how you feel during each run serves several functions. For starters, it gives you a physical record of your progress, letting you track your improvement over time. Reviewing your accomplishments can give you a sense of success and encourage you to keep going.
A running notebook also aids in identifying areas for improvement. Your notebook becomes a blueprint for perfecting your running approach, whether you're concentrating on raising your pace, conquering longer distances, or managing your energy levels. You can stay connected to your progress and remind yourself of how far you've come by charting your evolution.
Celebrate Small Victories: Promoting Positivity
The road to weight loss and running is littered with both huge and little milestones. Accept the habit of celebrating your accomplishments, no matter how small. Completing a longer run than your previous one, meeting a weight loss goal, or simply having a very nice run are all reasons to rejoice.
Positive reinforcement is an extremely effective motivator. When you celebrate your victories, you are recognizing your hard work and perseverance. These occasions imprint a favorable link between your efforts, instilling a sense of accomplishment and boosting your urge to continue.
Embrace Variety: Mix It Up
The dreaded plateau, a moment when progress appears to be stagnant, is one of the most typical hurdles in any fitness endeavor. To avoid the clutches of a plateau, vary your running program on a regular basis. Alter your running path to discover different areas and engage your senses. In order to challenge your body in new ways, increase the intensity of your runs by integrating interval training or hill sprints.
Not only does variety make things interesting, but it also keeps your body guessing. When you put your body through new trials, it adapts and improves. Breaking out of a routine can rekindle your excitement and help you overcome plateaus that could otherwise stymie your progress.
Joining a Community: The Power of Companionship
Running does not have to be a solitary activity. Joining a running group or participating in online forums might offer you a sense of camaraderie that will help you stay motivated. Connecting with people who share your interests may be both encouraging and uplifting. Sharing your experiences, struggles, and victories develops a sense of belonging and support.
You are not alone on your path in a community. Others who are familiar with your issues and can offer helpful advice are all around you. The experiences and advice offered can rekindle your motivation and remind you that you are part of a broader, encouraging network.
Inner Fuel of the Mind-Body Connection
As you lace up your running shoes and hit the streets, keep in mind that your mental condition is crucial to your success. The mind-body connection is a powerful tool for maintaining motivation. To keep focused and motivated while running, try mindfulness techniques such as deep breathing and imagery.
To stay dedicated through difficult times, tap into your inner resources. Visualize your progress, see yourself passing finish lines, or imagine yourself feeling accomplished when you attain your weight reduction goals. These approaches can assist you in remaining grounded, centered, and focused on your goals.
Common Mistakes in Running for Weight Loss
Running for weight loss is a transforming experience that demands careful planning, focus, and constant commitment. However, like with any endeavor, there are obvious hazards that can stymie and undermine your efforts. It's critical to be aware of and avoid these common faults to guarantee a smooth and productive running experience that leads to real weight loss.
The desire to reach weight-loss objectives may lead to the temptation to push your body beyond its limits. Overtraining, defined as excessive sessions with insufficient rest, can result in burnout, tiredness, and even injury. While it's necessary to push yourself, it's also critical to listen to your body's indications.
Rest days should be included in your running schedule to allow your muscles and joints to recover. Recovery time is when your body restores and strengthens itself. Ignoring this important part of training might harm your progress and result in setbacks. To achieve long-term success with your efforts to lose weight by running, balance your exercise regimen with adequate rest.
Ignoring Strength Training and Muscle Power
While running is an excellent cardiovascular activity, many people overlook the need for strength training. Strength training exercises, such as weight lifting or bodyweight workouts, provide numerous benefits that go beyond the scale. Increasing lean muscle mass leads to an increase in metabolic rate, which aids weight loss attempts.
Muscles are metabolically active structures that burn calories even when they are not being used. Strength training not only improves overall strength and balance, but it also increases your body's calorie-burning capacity. A complete method that combines running with strength training will help you lose weight and improve your general fitness.
Running for weight loss is a dynamic partnership between exercise and adequate nutrition. Relying entirely on exercise and ignoring your eating choices can stymie your progress. It's critical to strike a balance between the calories you burn and the nutrients you give your body.
Consume a well-balanced diet that contains a variety of nutrient-dense foods. Make whole grains, lean proteins, healthy fats, and a rainbow of fruits and veggies a priority. Provide your body with the nutrients it requires to perform well during runs and recover quickly afterward. Remember that losing weight isn't only about the quantity; it's also about the quality of the nourishment you supply.
Running with poor form can result in a variety of ailments and setbacks. Running without appropriate mechanics can cause pressure on your muscles, joints, and connective tissues, thus derailing your weight loss plan. To ensure a safe and productive running experience and to lose weight by running, follow these guidelines:
Maintain an upright posture to enhance effective breathing and reduce back pain.

Land lightly on your feet, preferring a midfoot strike over a heel strike.

Maintain a regular stride and prevent overstriding, which can strain your joints.

Swing your arms naturally, keeping your posture relaxed but active.
Paying attention to your form will not only help you avoid injuries, but it will also improve your running efficiency, leading to better weight loss outcomes.
Using Expertise Without Consulting a Professional
If you're new to running or weight loss, getting professional advice can make a big impact. Consider hiring a skilled fitness trainer to create a customized running plan based on your fitness level and goals. A trained dietician can help you create a dietary plan that complements your running routine and supports your weight loss objectives.
Professionals provide expertise and experience that can help you avoid frequent mistakes, optimize your efforts, and confidently negotiate the complexities of running for weight loss.
FAQs
What is running?
Running is a high-impact aerobic exercise that utilizes large muscle groups and raises the heart rate, making it an effective calorie-burning activity.
Why is running regarded as an effective method of weight loss?
Running not only aids in weight loss but also provides physical, mental, and emotional benefits, making it an accessible and dynamic weight loss technique.
How can running help with weight loss from a scientific standpoint?
Running causes a calorie deficit by exercising vast muscle groups, boosting heart rate, and increasing post-exercise metabolic rate, all of which burn calories and cause fat loss.
What exactly is a calorie deficit, and why is it significant for losing weight?
A calorie deficit occurs when the calories spent via activity exceed the calories consumed through food, causing the body to use stored fat for energy and resulting in weight loss.
Aside from weight loss, what are some of the other advantages of running?
Running promotes overall fitness by improving cardiovascular health, preserving lean muscle mass, improving mental well-being, and increasing metabolic efficiency.
How can running aid in the preservation of lean muscle mass after weight loss?
Running primarily targets fat stores for energy while maintaining lean muscle mass, which contributes to the maintenance of a healthy metabolism and effective calorie burning.
What steps should new runners take before embarking on their running adventure?
Consult a doctor before commencing, invest in good running shoes, and begin with a moderate level of walking and jogging.
Why is it vital to warm up and cool down before running?
Warming up your muscles prepares them for exercise, while cooling down improves recovery by decreasing muscle tightness and lowering the risk of injury.
How often should I run to lose weight?
For consistency and progress, aim to run 3–4 days a week.
Can cross-training help my running program?
Cross-training, which includes activities such as strength training and yoga, improves general fitness, prevents injuries, and helps with weight loss goals.
Conclusion
When combined with a healthy diet and regular exercise, running can be an effective weight loss method. You may lose weight by running while reaping the multiple physical and emotional benefits of this adaptable exercise with perseverance, persistence, and a well-structured plan. Remember that every step you take puts you closer to becoming a healthier and happier version of yourself.
Disclaimer: The information provided in this article is for educational purposes only and should not be considered as a substitute for medical advice. Consult a healthcare professional before implementing any home remedies or making significant changes to your lifestyle.