Everything You Need to Know to Lose Belly Fat: Benefits, Tips, and Strategies
Excess belly fat is not just an aesthetic issue; it is also a severe health problem that can lead to a variety of chronic illnesses. Many people find it difficult to lose those stubborn pounds around their waist. While spot reduction is not possible, decreasing belly fat takes a comprehensive approach that includes good nutrition, frequent exercise, and lifestyle changes.
Introduction
In this comprehensive article, we will look at the benefits of decreasing belly fat, easy ways to lose belly fat, and useful techniques and strategies to help you achieve a smaller waistline and enhance your overall well-being.
Understanding Belly Fat
Before determining the most effective and easy ways to lose belly fat, let us first understand the fundamentals of belly fat.
Different Types of Belly Fat
There are two major types of belly fat that can be found in the human body.
Subcutaneous Fat

: The soft, pinchable layer of fat found just beneath the skin is known as subcutaneous fat. It's the kind of fat that makes your stomach look saggy when you pinch it. While subcutaneous fat is not as dangerous as visceral fat, it can still contribute to overall weight gain and health problems.

Visceral Fat

: Visceral fat is the most hazardous type of belly fat that collects around internal organs. It gives the impression of a "beer belly" or "potbelly" and is linked to an increased risk of heart disease, type 2 diabetes, and other metabolic problems. This fat produces inflammatory molecules and hormones, which can upset the body's balance and contribute to a variety of health problems.
Health Consequences of Belly Fat
Belly fat impacts our health in many ways. Some of the most significant health consequences of belly fat are listed below.
Cardiovascular Disorders

: Visceral fat plays an active role in the development of cardiovascular disorders such as heart attacks and strokes. This type of fat's inflammatory chemicals can damage blood vessels, raise blood pressure, and raise cholesterol levels, increasing the formation of arterial plaques.
Type 2 Diabetes

: Belly fat is connected to insulin resistance, a condition in which the body's cells become less receptive to insulin, resulting in high blood sugar levels. Consistently elevated blood sugar levels can lead to the development of type 2 diabetes.
Insulin Resistance: Belly fat interferes with insulin signaling and causes insulin resistance by releasing free fatty acids and inflammatory chemicals. This disorder interferes with glucose regulation and raises the likelihood of developing diabetes.
Hypertension

: Visceral fat contributes to hypertension by releasing hormones that affect the sodium balance of the kidneys and constrict blood vessels. Hypertension is a key risk factor for heart disease and stroke.
Metabolic Syndrome

: Metabolic syndrome is a group of disorders that includes high blood pressure, diabetes, abnormal cholesterol levels, and extra belly fat. These factors, when combined, significantly raise the risk of developing cardiovascular disease and type 2 diabetes.

Certain Malignancies

: Research has found a solid link between extra belly fat and an increased risk of several malignancies, including breast cancer, colorectal cancer, and pancreatic cancer. The precise mechanisms underlying this association are still being investigated, but it highlights the importance of maintaining a healthy waistline.
Benefits of Losing Belly Fat
Some of the most incredible health benefits of losing belly fat are listed below.
Lower Risk of Heart Disease: Losing abdominal fat, especially visceral fat, reduces the pressure on the cardiovascular system. You can reduce your risk of heart disease, such as heart attacks and strokes, by lowering inflammation and boosting insulin sensitivity.
Lowering Blood Pressure and Cholesterol Levels: Losing belly fat can result in significant reductions in blood pressure and cholesterol levels. This, in turn, reduces the risk of atherosclerosis (artery hardening) and the possibility of having heart-related issues. 
Improved Metabolic Health
Improved Insulin Sensitivity: Losing abdominal fat enhances insulin sensitivity, allowing cells to respond better to insulin. This aids in blood sugar regulation and lowers the risk of developing insulin resistance and type 2 diabetes.
Reduced chance of Type 2 Diabetes: Lowering visceral fat levels lowers the chance of developing type 2 diabetes. Improved glucose management contributes to better overall metabolic health, potentially reducing the onset of this potentially fatal illness.
Improved Physical Performance: Excess abdominal fat can drag you down and make physical activity difficult. If you seek effective and easy ways to lose belly fat, you will gain agility, making it easier to engage in exercises and daily tasks.
Greater Endurance and Stamina: You'll notice greater endurance and stamina as you eliminate abdominal fat and improve your overall fitness. Tasks that used to leave you gasping for air will become more bearable, allowing you to live a more active lifestyle.
Positive Body Image: Achieving a slimmer waistline, along with the other health benefits of losing belly fat, can have a significant impact on your self-esteem. Feeling good about yourself fosters self-esteem and a positive view of life.
Improved Self-Esteem: Losing abdominal fat via hard work can create a sense of accomplishment, raising self-esteem and self-worth. This improved confidence frequently spreads to other areas of life, favorably impacting personal relationships and professional efforts.
Essential Tips for Losing Belly Fat
If you are seeking easy ways to lose belly fat, you are in the right place. Here are some of the most effective tips for losing belly fat:
Adopting a Balanced Diet
Emphasizing Whole Foods and Reducing Processed Foods: Focus on a diet rich in whole foods, such as fruits, vegetables, whole grains, lean meats, and healthy fats. Processed foods heavy in added sugars, bad fats, and empty calories should be limited or avoided because they can lead to weight gain and inhibit fat loss.
Increasing Fiber Intake: High-fiber foods keep you fuller for longer, avoiding overeating and assisting with weight loss. Choose fiber-rich foods such as legumes, nuts, seeds, whole grains, and an abundance of fruits and vegetables.
Including healthy fats is one of the most significant tips for losing belly fat. Include healthy fat sources in your diet, such as avocados, olive oil, almonds, and fatty seafood. These fats not only increase satiety but also provide several health benefits, including cardiovascular support.
Portion Control: Even nutritious meals can cause weight gain if consumed in excess. To maintain a balanced calorie intake, be conscious of portion sizes and practice portion management.
Staying Hydrated
Advantages of Drinking Enough Water: Drinking enough water while following other tips for losing belly fat is essential for overall health and well-being. Water improves digestion, regulates body temperature, and promotes optimal organ function.
Limit Sugary Beverages: Sugary drinks, including soda, fruit juices, and sweetened teas, contribute to belly fat accumulation and increased calorie intake. Instead, drink water, herbal teas, or infused water with fresh fruits to enable fat loss and gain the health benefits of losing belly fat.
Maintaining a Regular Exercise Routine
Importance of Cardio Workouts: Incorporate cardiovascular workouts into your routine, such as brisk walking, jogging, cycling, or swimming. Cardiovascular workouts burn calories and fat, assisting you in creating the caloric deficit required for fat loss.
Strength Training's Effectiveness: Strength training is vital for building lean muscle mass. More muscle increases your resting metabolic rate, resulting in a higher calorie burn even when you're not working out.
Doing Core-Strengthening Exercises: Exercises that target the core muscles, such as planks, crunches, and leg raises, can help strengthen and tone the abdominal muscles, giving your midsection a more defined appearance.
Doing Flexibility Exercises (e.g., Yoga, Pilates): Yoga and Pilates are considered among the easiest ways to lose belly fat and are highly effective in improving flexibility, posture, and stress reduction. These exercises are designed to supplement cardiovascular and strength-training workouts while also promoting overall well-being.
Stress Management
Stress and Belly Fat: Chronic stress causes the release of cortisol, a stress hormone associated with increased belly fat storage. Stress management is critical for achieving your weight loss goals, along with the benefits of losing belly fat.
Stress Reduction Activities: Engage in stress-reduction activities while following other tips for losing belly fat for effective fat loss. Include activities like meditation, deep breathing exercises, mindfulness, hobbies, spending time in nature, or seeking support from friends and loved ones in your daily life.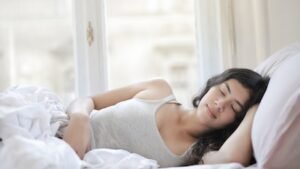 Sleep Prioritization
Sleep Weight Connection: Inadequate sleep disrupts the body's hormonal balance, resulting in increased hunger, cravings for unhealthy foods, and an impaired metabolism. Each night, aim for 7-9 hours of quality sleep.
Creating a Consistent Sleep Schedule: Maintain a consistent sleep schedule by going to bed and waking up at the same time every day, even on weekends. Creating a soothing evening ritual can help you sleep better and enable you to lose belly fat faster.
Effective Methods for Losing Belly Fat
Incorporate the following health habits into your daily life to lose belly fat:
HIIT (High-Intensity Interval Training)
HIIT and Its Benefits: HIIT consists of short bursts of intensive activity followed by shorter rest intervals. This sort of training can burn a lot of calories in a short amount of time and enhance metabolism for hours after the workout.
HIIT Workout Examples: Perform activities like jumping jacks, burpees, sprints, or kettlebell swings in 30-second to 1-minute intervals, followed by 15–30 seconds of recovery. Repeat the cycle for another 15–20 minutes.
Intermittent fasting (IF) has grown in popularity among the effective and easy ways to lose belly fat and improve overall weight management. This eating pattern alternates between eating and fasting times. There are several IF techniques, but the most prevalent ones include the 16/8 strategy (fasting for 16 hours and eating within an 8-hour window) and the 5:2 method (eating normally for five days and restricting calorie intake for two non-consecutive days).
IF helps with belly fat reduction by promoting a caloric deficit and increasing the body's ability to burn stored fat for energy during fasting periods. Fasting lowers insulin levels, which aid fat burning and improve insulin sensitivity, all of which contribute to overall metabolic health.
Intermittent fasting also promotes the release of growth hormone, which aids in the preservation of lean muscle mass and increases fat burning, particularly in the abdominal region.
Furthermore, IF can help reduce visceral fat, which is harmful fat that surrounds internal organs. Intermittent fasting has been shown in studies to significantly reduce visceral fat, lowering the risk of obesity-related health issues such as heart disease, type 2 diabetes, and metabolic syndrome.
Individual results may vary, as with any dietary approach, and it's critical to adopt a sustainable Integrate IF plan along with the best ways to lose belly fat fast that fit your lifestyle and health needs. Intermittent fasting can be enhanced by combining it with a well-balanced diet, regular exercise, and healthy lifestyle habits. Before beginning intermittent fasting, it is best to consult with a healthcare professional or registered dietitian, especially if you have any pre-existing health conditions.
Low Carbohydrate Diet
A low-carb diet is a common and efficient method for reducing abdominal fat and decreasing weight. It is counted among the best ways to lose belly fat fast. The diet emphasizes cutting back on carbohydrates, particularly refined and processed carbs like sugar and white bread, while increasing protein and healthy fat consumption. By minimizing carb intake, the body is encouraged to use stored fat as an alternative energy source, a metabolic state known as ketosis.
One of the primary benefits of a low-carb diet is its ability to target visceral fat, the dangerous fat that accumulates around internal organs and contributes to numerous health risks. As insulin levels decrease due to reduced carb consumption, the body is less likely to store excess fat, especially around the abdominal area.
Low-carb diets are known to suppress appetite and reduce overall calorie intake naturally. This helps individuals feel fuller for longer periods, making it easier to adhere to the diet and maintain the caloric deficit necessary for weight loss.
It's essential to prioritize whole, nutrient-dense foods while following a low-carb diet. Incorporate plenty of vegetables, lean proteins, healthy fats, and nuts and seeds into your meals. As with any diet, it's crucial to consult with a healthcare professional or registered dietitian before starting a low-carb diet, especially if you have any underlying health conditions or concerns. By combining a low-carb diet with regular exercise and other healthy lifestyle habits, you can optimize your chances of losing belly fat and improving your overall health.
Note: There might be affiliate links mentioned here. We may receive a commission if you purchase a product through an affiliate link. There is no additional charge for you. Please do your own research before making any online purchases.
Low Calorie Diet
A low-calorie diet is a popular and effective method for losing belly fat and achieving weight loss goals faster. The core principle of this approach is to consume fewer calories than your body expends, creating a caloric deficit that leads to fat loss. By reducing overall calorie consumption, the body starts to use stored fat for energy, particularly the fat accumulated around the abdomen area.
An effective low-calorie diet demands careful meal planning and portion control to ensure that you still acquire important nutrients while keeping calories in check. Fruits, vegetables, lean proteins, and whole grains are high in nutrient density and provide necessary vitamins, minerals, and fiber without a lot of calories.
To achieve the best outcomes and sustain fullness, spread your calorie intake throughout the day by eating smaller, more frequent meals. This strategy can help balance blood sugar levels, limit overeating, and keep your metabolism functioning.
While a low-calorie diet can be useful for decreasing belly fat, it's vital to maintain a balanced approach and avoid extreme calorie restriction. Drastic calorie reductions can slow down metabolism and lead to dietary shortages. Consulting with a certified dietitian or healthcare expert before starting any low-calorie diet is essential to ensuring that it meets your unique demands and health requirements. Combine a low-calorie diet with regular physical activity and other best ways to lose belly fat fast for sustainable and successful weight loss management.
Mindful Eating
Principle of Mindful Eating: Mindful eating involves paying full attention to the eating experience, relishing each bite, and identifying hunger and satiety signs. This strategy develops healthier eating habits and prevents overeating.
How to Practice Mindful Eating: Eliminate distractions during meals (e.g., TV, smartphones), chew food carefully, and absorb the taste and textures. Pay attention to feelings of hunger and fullness, and stop eating when satisfied.
Tracking Progress and Setting Realistic Goals
Importance of Tracking Food Intake and Activity: Keeping a food diary and activity journal will help you uncover patterns, track progress, and stay accountable for your weight reduction journey.
Setting Achievable and Measurable Goals: Set attainable and measurable goals, such as eliminating a certain amount of belly fat in a specific timeframe. To keep motivated, break down large goals into smaller, more manageable benchmarks.
Seeking Professional Advice
Consultation with a Registered Dietitian or Nutritionist: A registered dietitian or nutritionist may design a customized meal plan based on your needs, preferences, and health objectives.
Personal Trainers and Fitness Experts: Working with a licensed personal trainer may guarantee that you are performing exercises correctly and that you are receiving instruction on appropriate training routines to target belly fat.
FAQs
What is the primary issue with increased belly fat?
Excess belly fat is not just an aesthetic issue; it is also a severe health concern that can lead to a variety of chronic illnesses.
Is it possible to successfully target belly fat with spot reduction?
Spot reduction is not an option. Losing abdominal fat necessitates a multifaceted approach that includes correct nutrition, frequent exercise, and lifestyle changes.
What are the different types of abdominal fat?
Subcutaneous fat (soft, pinchable fat beneath the skin) and visceral fat (fat that accumulates around internal organs) are the two main forms of belly fat.
Why is visceral fat seen as dangerous?
Because of its inflammatory nature and hormonal activity, visceral fat is linked to an elevated risk of heart disease, type 2 diabetes, and other metabolic illnesses.
How does reducing abdominal fat benefit heart health?
Losing abdominal fat relieves pressure on the circulatory system, reduces inflammation, and improves insulin sensitivity, lowering the risk of heart disease.
How can I boost my energy while shedding abdominal fat?
You can improve your physical performance, agility, endurance, and stamina by losing excess belly fat, which will increase your overall energy levels.
Can intermittent fasting help you lose abdominal fat?
Yes, intermittent fasting helps you lose belly fat by producing a calorie deficit and pushing your body to burn stored fat for energy during fasting times.
What are some crucial abdominal fat-loss tips?
Adopting a balanced diet, staying hydrated, doing frequent exercise, managing stress, and putting sleep first are all important strategies for efficient belly fat loss.
How does high-intensity interval training (HIIT) help with abdominal fat loss?
HIIT burns a lot of calories and improves metabolism, making it an excellent exercise for losing abdominal fat.
Is it possible to lose abdominal fat by following a low-carb diet?
Yes, a low-carb diet can help target visceral fat, lower hunger, and increase calorie expenditure, making it an excellent way to lose belly fat.
Conclusion
Losing belly fat is a life-changing adventure that provides significant health benefits while also boosting general well-being. Understanding the various types of belly fat and the health hazards connected with them allows you to make informed decisions about how to manage it and find the best ways to lose belly fat fast. Adopting a balanced diet, staying hydrated, engaging in regular exercise, controlling stress, and prioritizing sleep can lay the framework for sustainable fat loss.
Furthermore, using effective tactics, including HIIT, intermittent fasting, mindful eating, documenting progress, and seeking professional coaching, will help you develop faster and achieve long-term outcomes. Remember that consistency, patience, and self-compassion are essential for attaining your objectives and living a better, happier life.
Disclaimer: The information provided in this article is for educational purposes only and should not be considered as a substitute for medical advice. Consult a healthcare professional before implementing any home remedies or making significant changes to your lifestyle.