The Ultimate Guide to Choosing the Right Workout Supplements
Pre-workout pills have grown in popularity among fitness enthusiasts in recent years. These supplements are intended to boost exercise performance by providing the body with needed nutrients and energy. 
Introduction
There are various pre-workout supplements on the market that claim to provide users with numerous benefits, such as greater energy, improved focus, and improved endurance. In this article, we will look at pre-workout supplements, their benefits, how they work, and the numerous components that contribute to their effectiveness.
What Are Pre Workout Supplements?
Pre-workout supplements are nutritional supplements that are taken prior to activity. They are designed to give the body the energy and nutrition it requires to operate at its best during a workout. Pre-workout supplements are available as powders, capsules, or beverages and contain a variety of substances.
Pre-workout vitamins are designed to boost energy levels, improve attention, and increase endurance. They are also believed to aid in muscle growth and recovery, minimize muscle fatigue, and boost strength. Athletes, bodybuilders, and fitness enthusiasts regularly utilize pre-workout vitamins to help them reach their fitness goals.
Benefits of Pre Workout Supplements
Pre-workout pills have become a popular alternative for people looking to improve their workout experience. These supplements provide a variety of benefits to meet the different needs of fitness enthusiasts. Pre-workout vitamins have become a staple of many fitness programs. The major benefits of pre-workout supplements range from greater energy and focus to increased endurance, muscle growth, and less muscle fatigue.
One of the most noticeable and immediate effects of pre workout vitamins is undoubtedly the increase in energy. Pre-workout pills, which are designed to sustain the body's demands during intensive physical activity, often contain caffeine, an efficient stimulant known to enhance energy levels and improve mental focus. Caffeine functions as a natural energizer by targeting the central nervous system, resulting in increased alertness and decreased fatigue perception. As a result, people who integrate pre-workout vitamins into their fitness program frequently report increased motivation and the capacity to proceed with high-intensity workouts.
The path to fitness excellence entails more than just physical prowess; mental focus is just as important. Pre-workout supplements take advantage of this idea by including chemicals such as caffeine and other stimulants that improve cognitive function. These supplements' increased mental alertness and greater attention allow users to stay focused on their workouts, allowing them to retain appropriate form, technique, and goal-oriented execution. By reducing the risk of injury from distraction, improved focus not only helps you achieve better results but also contributes to the overall safety of your workouts.
Endurance is the foundation of any good workout regimen, and pre-workout vitamins excel in this area. Ingredients present in these supplements, such as beta-alanine, work to delay the onset of muscular weariness. Beta-alanine allows athletes to engage in lengthy, high-intensity exercises by raising the body's levels of carnosine, a molecule important for buffering lactic acid accumulation. This enhanced endurance is especially beneficial for endurance sports like long-distance running or cycling since it allows athletes to push their limitations and reach new performance plateaus.
Muscle Building and Recovery
Muscle growth and quick recovery are common goals among fitness aficionados. Pre-workout supplements help achieve these goals by containing components that promote muscle building and repair. Creatine, a well-known component of many pre-workout formulations, promotes the production of adenosine triphosphate (ATP), the primary energy currency of cells, which aids in boosting muscular development and strength. Furthermore, pre-workout supplements contain branched-chain amino acids (BCAAs), which aid in muscle repair. BCAAs aid in the reduction of muscle protein breakdown during exercise, enabling a favorable environment for post-workout muscle repair and growth.
Muscle fatigue is a tough foe that can impair training effectiveness and inhibit growth. Pre-workout supplements use substances like beta-alanine and citrulline malate to efficiently counteract muscle fatigue. These components postpone the onset of exhaustion by enhancing the body's capacity to buffer acid buildup and improve blood flow, allowing individuals to sustain high-intensity exercises for extended periods of time. Reduced fatigue perception allows athletes to burst through performance boundaries and explore their physical limits, resulting in more effective training sessions.
How Do Pre Workout Supplements Work?
Pre-workout supplements work by giving the body the nutrition and energy it requires to operate well during exercise. They contain a combination of substances that act together to boost energy, focus, endurance, muscle growth, and recovery.
Caffeine is a common element in many pre-workout preparations. Caffeine is a stimulant that can help you gain energy and improve your mental focus. It can also boost metabolism, helping the body burn more calories when exercising.
Beta-alanine is another common element in pre-workout supplements. Beta-alanine is an amino acid that can help with muscular endurance and tiredness. It works by raising carnosine levels in the muscles, which can delay muscular fatigue during exercise.
Creatine is another common pre-workout supplement component. Creatine is an amino acid that can aid in the growth of muscular mass and strength. It works by supplying energy to the muscles during activity, allowing users to push through their activities for extended lengths of time.
BCAAs, citrulline malate, and nitric oxide boosters are also frequent constituents in pre-workout supplements. BCAAs are amino acids that can aid in muscle repair and muscle pain. Citrulline malate is an amino acid that can boost endurance and promote blood flow. Nitric oxide enhancers, such as arginine, can improve endurance and tiredness by increasing blood supply to the muscles.
Overall, pre-workout supplements function by supplying the body with the nutrition and energy it requires to operate optimally during exercise. They contain a combination of substances that act together to boost energy, focus, endurance, muscle growth, and recovery.
Common Ingredients in Pre Workout Supplements
The aim to maximize workout sessions and achieve peak physical performance has contributed to the surge in popularity of pre-workout supplements. These formulations, which have been meticulously created to improve energy, endurance, and recovery, owe their effectiveness to a robust blend of components that cater to the needs of athletes and fitness enthusiasts. This investigation delves into the science behind the typical components found in pre-workout supplements, offering insight on their mechanisms and the benefits they provide.
Caffeine: Boosting Energy
Caffeine, the universally adored wakefulness-promoting stimulant, is a prominent ingredient in many pre-workout preparations. Caffeine functions as a central nervous system stimulant by inhibiting adenosine receptors. Adenosine is a neurotransmitter that signals tiredness and relaxation. Caffeine causes a spike in brain activity by slowing its action, resulting in increased alertness, an enhanced mood, and a reduced impression of exhaustion. This combined action of raising energy levels and improving mental focus is extremely beneficial during intensive workouts, helping users to maintain vitality and resolve throughout their sessions.
Beta-Alanine: Endurance Booster
Beta-alanine, an amino acid present naturally in the body, is essential for increasing muscle endurance and reducing muscle fatigue. It works by boosting carnosine levels in the muscles, which is a dipeptide made up of beta-alanine and histidine. Carnosine functions as a buffer against the buildup of lactic acid, a consequence of strenuous activity that contributes to the burning sensation felt during workouts. Beta-alanine efficiently increases the time until exhaustion sets in by delaying the increase in acidity in muscles, allowing individuals to push their boundaries and achieve more during their exercise.
Note: There might be affiliate links mentioned here. We may receive a commission if you purchase a product through an affiliate link. There is no additional charge for you. Please do your own research before making any online purchases.
Creatine: Performance Enhancer
Creatine is an amino acid derivative that supports explosive energy requirements and is widely renowned for its muscle-building properties. Creatine rapidly replaces adenosine triphosphate (ATP), the cellular energy currency, during high-intensity exercises, allowing muscles to contract with more force and for longer periods of time. This increase in energy leads to improved workout performance, allowing consumers to tackle strenuous workouts head-on. Furthermore, creatine's role in cellular hydration contributes to increased muscle cell volume and nutrient transport, boosting muscular growth and recovery after exercise.
BCAAs: The Foundation of Recovery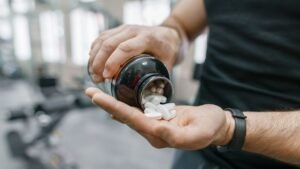 Branched-chain amino acids (BCAAs) are made up of three important amino acids: leucine, isoleucine, and valine, which are required for effective muscle recovery and growth. BCAAs are metabolized in the muscles during exercise, preventing muscle protein breakdown and stimulating protein synthesis. Leucine, in particular, takes the lead by triggering the mTOR pathway, which is a key regulator of muscle protein synthesis. Individuals who supplement with BCAAs create an environment conducive to muscle regeneration, minimizing muscular discomfort and speeding up the recovery process.
Citrulline Malate: Boosts Blood Flow and Stamina
Citrulline malate, a mixture of the amino acids citrulline and malic acid, is a versatile pre-workout supplement component. Its principal function is to improve blood flow and endurance. Citrulline malate causes vasodilation—the enlargement of blood vessels—by increasing nitric oxide synthesis, which improves blood circulation and oxygen supply to working muscles. This increased oxygen supply, along with waste product removal, promotes sustained muscular activity and delays the onset of muscle fatigue.
Nitric Oxide Boosters: Increased Blood Flow
Nitric oxide enhancers, such as arginine, share a common goal with citrulline malate: increasing blood flow to the muscles. Arginine, an amino acid, is a precursor to the formation of nitric oxide. These boosters improve endurance and combat exhaustion through the dilation of blood vessels, which increases the transport of oxygen and nutrients to muscles. These boosters' synergistic action with other compounds in pre-workout supplements increases their total impact on performance.
Taurine: Focus and Fatigue Management
Taurine, an amino acid with numerous advantages, helps with both the cognitive and physical elements of exercise. Taurine raises the amounts of neurotransmitters like dopamine and serotonin in the brain, resulting in enhanced mood and mental focus. This increased mental acuity might boost motivation and determination during workouts. Taurine promotes endurance by assisting in the regulation of calcium levels within muscle cells, boosting effective muscle contractions and overall performance. Its anti-oxidative effects also help reduce exercise-induced muscle damage and pain.
Potential Side Effects of Pre Workout Supplements
Pre-workout vitamins have developed as effective tools for increasing energy, attention, and performance in the field of fitness and exercise. These supplements, like any dietary intervention, do have some drawbacks. While they provide numerous advantages, it is critical to recognize and appreciate the potential adverse effects of their use. Here, we look at the most prevalent adverse effects of pre-workout supplements, allowing users to make more informed fitness selections.
Caffeine, a key element in many pre-workout preparations, provides an invigorating boost that propels consumers into their activities with increased alertness. However, this particular characteristic might lead to jitters and anxiety. Caffeine sensitivity varies greatly between individuals, and for some, even a moderate dosage might cause sensations of restlessness and anxiety. Individuals who are caffeine sensitive should choose supplements with reduced caffeine content or seek caffeine-free options to ensure that the benefits of enhanced energy are enjoyed without the associated discomfort.
While pre-workout pills are intended to boost energy and attention during the day, their stimulant content has the potential to alter sleep habits. Caffeine and other stimulants, when consumed too close to bedtime, can impair the body's ability to wind down for restorative sleep, potentially leading to insomnia. To avoid this problem, it is best to use supplements earlier in the day, allowing the stimulants to be digested before bedtime and ensuring a good night's sleep.
Pre-workout supplements might cause digestive issues such as bloating, gas, and diarrhea. The presence of excessive amounts of caffeine, creatine, or other stimulants, which can interfere with the digestive system's normal operation, frequently causes these issues. Keeping within the suggested dosage levels and being hydrated can help reduce the likelihood of these side effects of pre-workout supplements. Drinking plenty of water not only aids in supplement absorption but also promotes healthy digestion, lowering the probability of gastrointestinal discomfort.
Headaches are an unwanted side effect of pre-workout supplement use, especially when the supplements contain high levels of caffeine or other stimulants. These substances can cause blood vessel constriction and dilation, which can result in headaches, especially in those who are sensitive to such effects. By choosing supplements with a low caffeine content and staying hydrated, one can avoid this negative effect.
When contemplating pre-workout supplements, anyone with pre-existing cardiac diseases or cardiovascular weaknesses should proceed with caution. Caffeine and other stimulants can raise heart rate and blood pressure, possibly endangering people with weakened cardiac health. It is critical to consult a healthcare provider before incorporating such supplements into one's routine, as medical guidance can assure safe administration and limit the likelihood of unfavorable cardiovascular consequences.
Individual sensitivity to specific components, like with any nutritional supplement, might cause allergic responses. Allergic reactions can cause hives, rashes, itching, and even difficulty breathing. If you have these symptoms after taking a pre-workout pill, you should seek medical assistance right away. It is critical for user safety to identify the source of the allergic response and avoid the offending chemical in the future.
FAQs
What exactly are pre-workout supplements?
Pre-workout supplements are nutritional products that are expressly created to be consumed before activity. They provide critical nutrients and energy to improve workout performance and are frequently available in powders, capsules, or beverages. Their major goal is to increase energy, focus, endurance, muscular growth and recuperation, and reduce muscle fatigue, making them popular among fitness enthusiasts.
What are the major benefits of pre workout supplements?
Pre-workout vitamins have numerous benefits, including greater energy, improved focus, higher endurance, muscle growth, and decreased muscle fatigue. These advantages are obtained by combining compounds such as caffeine, beta-alanine, creatine, BCAAs, and citrulline malate, each of which caters to a different component of performance enhancement.
What effect does caffeine have in pre-workout supplements?
Caffeine, a frequent element in pre-workout supplements, works as a stimulant to the central nervous system. Caffeine increases alertness, lowers fatigue perception, and boosts energy levels via inhibiting adenosine receptors. This allows users to stay motivated and focused during workouts, resulting in better overall performance.
What role does beta-alanine play in pre-workout supplements?
Beta-alanine is an amino acid that improves muscle endurance and reduces tiredness. It raises carnosine levels in the muscles, which buffers against lactic acid accumulation and delays exhaustion. This allows consumers to perform high-intensity activities for longer periods of time, thereby improving workout endurance.
How does creatine add to the effectiveness of pre-workout supplements?
Creatine is an amino acid that replaces ATP, the cellular energy currency, quickly during high-intensity activity. This results in increased muscular contraction force and duration, which improves workout performance. Furthermore, creatine improves cellular hydration, which aids in muscle growth and post-exercise recovery.
What is the significance of BCAAs in pre-workout supplements?
Branched-chain amino acids (BCAAs) promote muscle growth and recuperation. They inhibit muscle protein breakdown and boost protein synthesis, particularly leucine, which initiates muscle protein synthesis. This increases muscle healing, lowers soreness, and speeds up recovery time after exercise.
How can citrulline malate improve athletic performance?
Citrulline malate boosts blood flow by increasing nitric oxide levels. This vasodilation improves oxygen and nutrient delivery to muscles, which delays tiredness and increases endurance. Improved blood circulation also aids in waste disposal, allowing for more sustained physical activity.
Do pre-workout pills have any negative side effects?
Pre-workout supplements do have the potential for negative effects. Jitters, nervousness, insomnia, digestive disorders (such as bloating and gas), headaches, a raised heart rate, high blood pressure, and allergic reactions are all common adverse effects of pre-workout supplements. Because sensitivity to substances such as caffeine varies, it is critical to select supplements that fit with individual tolerances and health considerations.
How can I avoid the negative effects of pre workout supplements?
To reduce side effects, take the following precautions: choose supplements with a low caffeine content, consume them earlier in the day to avoid disrupting sleep, follow recommended dosage guidelines, stay hydrated to avoid digestive issues, and consult a healthcare provider if you have pre-existing heart conditions or allergies.
Can I use pre-workout pills if I'm allergic to them?
Specific components in pre-workout supplements may cause allergic reactions in some people. Hives, rashes, itching, and difficulty breathing are all possible symptoms. Seek medical treatment right away if you suffer any of these symptoms after taking a supplement. It is critical for your safety and well-being to identify the allergy and avoid it in the future.
Conclusion
Individuals aiming to increase their gym performance might benefit from pre-workout vitamins in a variety of ways. They can help boost energy levels, focus, endurance, and support muscular growth and recovery. To minimize any adverse effects, it is critical to choose a pre-workout supplement that has safe and effective components and to adhere to the specified dosage.
Individuals who have pre-existing medical concerns or are sensitive to caffeine or other stimulants should consult a healthcare provider before using pre-workout supplements. To gain the best effects, it is also necessary to maintain a good diet and exercise regimen in addition to using pre-workout vitamins.
Disclaimer: The information provided in this article is for educational purposes only and should not be considered as a substitute for medical advice. Consult a healthcare professional before implementing any home remedies or making significant changes to your lifestyle.