What are The Best Ways to Lose Face Fat?
Introduction
Many people want to have a small and toned face, but it might be difficult to achieve. While there is no such thing as spot reduction, which means that you cannot lose weight from a single area of your body, there are techniques to lower general body fat, which can eventually lead to a thinner face.
In this post, we will look at the best way to lose face fat. We'll talk about how important it is to eat a healthy, balanced diet, drink enough water, exercise regularly, get adequate sleep, and reduce stress. These lifestyle modifications can help you lose weight and have a smaller, more toned face.
What Are The Best Ways To Lose Face Fat?
The Importance of a Healthy and Balanced Diet
A nutritious and balanced diet is one of the best ways to lose face fat. When it comes to losing weight, it's crucial to concentrate on general body fat reduction rather than targeting individual locations. A good diet is critical to reaching this goal.
To begin, prioritize foods high in lean protein, such as chicken breast, fish, beans, and lentils. Protein is essential for muscle repair and growth, and it also helps you feel fuller for longer periods, lowering your chances of overeating. Furthermore, consuming nutritious grains such as brown rice, quinoa, and oatmeal can give complex carbs that release energy slowly, aiding in blood sugar stabilization and hunger control.
In addition, make fruits and vegetables a priority in your diet. Because they are low in calories and abundant in fiber, vitamins, and minerals, they are crucial for overall health and weight management. Antioxidants found in fruits and vegetables can help protect your skin and maintain a healthy complexion.
It is critical to reduce your intake of processed and junk meals. These foods often contain high levels of harmful fats, added sugars, and empty calories, all of which lead to weight gain. Instead, choose complete, unprocessed foods that are high in nutrients and provide long-lasting energy.
It is also critical to practice portion control. While eating a balanced diet is important, eating too many nutritious foods might sabotage weight loss efforts. Pay attention to your body's hunger and fullness cues, and try to eat deliberately, relishing each meal and staying away from distractions.
Follow Low-Calorie Diet for Weight Loss on Your Face
A low-calorie diet is also one of the best ways to lose face fat and it can also help you lose your overall weight. When you eat fewer calories than your body requires for daily activity, it begins to use stored fat for energy, including fat deposits in your face.
To properly follow a low-calorie diet, you must generate a calorie deficit by consuming fewer calories than you burn. However, it's critical to do so in a healthy and balanced manner to ensure your body gets the nutrients it needs.
To begin, make wise meal selections to reduce your overall calorie intake. Choose low-calorie, nutrient-dense foods like fruits, vegetables, lean meats, and whole grains. These foods are not only low in calories, but they are also high in vitamins, minerals, and fiber, all of which can help you feel full and content.
When following the best way to lose face fat it is vital to keep portion amounts in mind. To avoid overeating, pay attention to serving sizes and practice portion control. Smaller plates, measuring ingredients, and being aware of your hunger and fullness cues will help you achieve this.
Including more plant-based meals in your diet can also be advantageous. Plant-based foods have fewer calories and can contain a variety of critical elements. Include a variety of colorful veggies, beans, and complete grains in your diet.
Another option is to limit or eliminate items that are high in calories and low in nutrients, such as sugary beverages, processed snacks, fried foods, and sweets. These meals are frequently high in empty calories and can contribute to weight gain, particularly in the face.
Drink plenty of water throughout the day to keep yourself hydrated and support your low-calorie diet. Water has no calories and can help you feel full, lowering your chances of overeating. It also improves normal digestion and aids in the removal of toxins from the body, resulting in a better complexion.
Remember that before beginning any low-calorie diet, you should check with a healthcare practitioner or certified dietitian because individual calorie demands vary depending on factors such as age, gender, activity level, and overall health.
Explore Low-Carb Diet For The Best Way To Lose Face Fat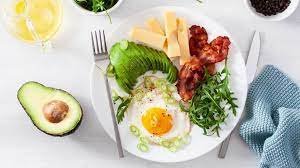 A low-carb diet is another technique that can help you lose weight, especially weight in your face. By lowering your carbohydrate intake, your body is pushed to use stored fat as an energy source, which can result in general fat reduction, including fat loss in the face.
A low-carb diet usually entails limiting or eliminating items high in refined carbohydrates and sugars, such as white bread, pasta, rice, sugary drinks, and processed snacks. Consume carbs from whole, unprocessed foods such as vegetables, legumes, and whole grains.
A low-carb diet can help regulate blood sugar levels and manage insulin surges, which is one of its key advantages. This is especially important for weight loss because high insulin levels can increase fat storage, particularly in the face.
Prioritize foods high in healthy fats and proteins when looking to lose weight in the face. Avocados, almonds, seeds, olive oil, and fatty seafood like salmon are all good sources of healthy fat. These fats produce satiety and make you feel satiated, which helps to reduce cravings and eventually helps you lose weight in the face.
Protein is also essential for a low-carb diet and a great way of looking at how to lose weight in the face since it improves metabolism and increases feelings of fullness. Include lean protein sources in your meals, such as chicken breast, turkey, fish, tofu, and lentils. Because these protein sources are often low in fat and carbohydrates, they are perfect for a low-carb diet.
The secret to a successful low-carb diet is to incorporate non-starchy veggies. Vegetables are high in fiber, vitamins, and minerals while being low in calories and carbs. They give important nutrients and aid in the development of a healthy, long-term dietary plan. Leafy greens, broccoli, cauliflower, peppers, and zucchini are examples of non-starchy vegetables.
While a low-carb diet can help you lose weight, it's crucial to establish a balance and make sure you're still getting enough nutrients. Carbohydrates are an important source of energy and provide necessary nutrients, so don't cut them out completely. Choose complex carbs that are high in fiber and have a smaller influence on blood sugar levels instead.
Before beginning a low-carb diet, as with any dietary adjustment, speak with a healthcare provider or certified dietitian. They may offer tailored advice, take into account any underlying health concerns, and assist you in developing a sustainable eating plan that promotes weight loss in your face while satisfying your nutritional demands.
Drink Plenty of Water
Drinking enough water is not only important for overall health, but it can also help you lose weight in the face. Staying hydrated aids in the maintenance of body processes, metabolism, and digestion.
Water is essential for detoxification because it flushes toxins from your body and promotes healthy kidney function. Your body can work efficiently when it is well hydrated, which can help prevent water retention, bloating, and puffiness in the face.
Drinking water before meals might also help with appetite management. Thirst is frequently misinterpreted as hunger, resulting in excessive snacking or overeating. Staying hydrated allows you to distinguish between hunger and thirst, which might help you avoid overeating.
Aim for at least eight glasses (64 ounces) of water per day to ensure you're getting enough. Individual demands, however, may differ depending on factors such as physical activity level, environment, and overall health. Other beverages, such as herbal teas or infused water, can also add to your daily fluid consumption.
While water is essential, you should also be cautious of the other beverages you consume. Sugary drinks, caffeinated beverages, and alcohol should be drunk in moderation because they deplete the body and increase water retention.
Note: There might be affiliate links mentioned here. We may receive a commission if you purchase a product through an affiliate link. There is no additional charge for you. Please do your own research before making any online purchases.
Here are some products to help in reduce body face fat for Weight Loss:
Exercise Regularly
Regular exercise is an important part of losing weight and can help you lose weight in face. Physical activity burns calories, boosts metabolism, and reduces overall body fat, resulting in a leaner face.
Including cardiovascular exercises in your program is especially good for weight loss. Running, swimming, cycling, or brisk walking all raise your heart rate, causing your body to burn calories. Aim for 150 minutes of moderate-intensity aerobic activity each week or 75 minutes of vigorous-intensity aerobic activity.
Strength training activities should also be included in your workout routine. While they do not directly target weight loss from your face, they do aid in the development of lean muscle mass. Muscles are metabolically active tissues that burn calories even when not in use, thus increasing your muscle mass can boost your metabolism and help you lose weight.
Consider including exercises that especially target the muscles in your face. Facial yoga and massages can tone and tighten your facial muscles, resulting in a more defined jawline and cheekbones. These exercises can be done in addition to your regular workout routine and may help you lose weight in face. Before beginning any workout program, contact a fitness professional or healthcare practitioner, especially if you have any pre-existing medical ailments or concerns.
Get Enough Sleep
Adequate sleep is essential for overall health and can have a substantial impact on weight loss attempts, especially when you are looking to lose weight in your face. When you don't get enough sleep, your body creates more cortisol, a stress hormone that can boost appetite and lead to weight gain, especially in the abdomen.
Sleep deprivation affects the balance of hormones involved in hunger and fullness regulation, resulting in an increased appetite and desire for unhealthy foods. It also interferes with glucose metabolism, making it more difficult for the body to control blood sugar levels and use stored fat for energy.
Establish a consistent sleep pattern and a soothing nighttime routine to improve your sleep for weight loss. Aim for seven to eight hours of uninterrupted sleep per night. Make sure your sleeping environment is comfortable, dark, and free of distractions that could disrupt your sleep.
Implementing appropriate sleep hygiene routines might also help you sleep better. Avoiding stimulating activities or screens close to bedtime, practicing relaxation techniques, and creating a relaxing environment in your bedroom are all part of this.
It's also vital to prevent late-night munching. Food consumed close to bedtime can impair digestion and alter the body's regular sleep cycles. If you get hungry before night, eat something light and healthful, like a small serving of Greek yogurt or a handful of nuts.
Reduce Stress
Stress can have a substantial impact on weight gain and make losing weight off your face more difficult. When you are stressed, your body releases more cortisol, which can boost hunger and contribute to overeating, especially when it comes to foods heavy in sugar and fat.
Stress-relieving activities that you incorporate into your routine will assist lower cortisol levels and encourage weight loss. Meditation, yoga, deep breathing techniques, and mindfulness are all practices that can help you calm your mind and relax your body.
Regular physical activity, such as cardio and strength training, can also help relieve stress by generating endorphins, the body's natural mood lifters. Finding things that you enjoy and putting them into your routine can help you cope with stress and help you lose weight in your face.
It is critical for long-term weight management to identify and address the sources of stress in your life. This may include adopting lifestyle adjustments, establishing boundaries, seeking support from friends and family, and, if necessary, consulting a therapist or counselor.
Do Facial Exercises
Facial exercises, in addition to the measures mentioned above, can help tone and strengthen the muscles in your face, resulting in a more defined and smaller appearance. These workouts concentrate on certain regions of the body, such as the jawline, cheekbones, and neck.
Facial yoga, also known as facial exercises or facial gymnastics, entails engaging and strengthening the facial muscles through a sequence of motions and poses. These workouts can improve blood circulation, lymphatic drainage, and collagen formation, resulting in increased muscle tone and skin suppleness.
The "Jawline Define" exercise is an example of a facial exercise. Begin by leaning back and looking up at the ceiling. Pucker your lips and extend them forward, as if you're attempting to kiss the ceiling. Hold this pose for a few seconds before relaxing. To target the muscles in your jawline, repeat this exercise 10-15 times per day.
The "Cheek Lift" exercise is another. Close your lips and smile as broadly as you can. Place your fingertips lightly on the top of your cheeks and lift your fingers towards your eyes using your cheek muscles. Hold this pose for a few seconds before relaxing. To tone and elevate your face muscles, repeat this exercise 10-15 times per day.
It's crucial to note that, while facial exercises can help you seem more sculpted, they should be combined with general weight loss measures to lose weight in your face. Facial exercises may not result in significant weight loss or fat reduction in the face on their own. Facial exercises, however, can be a beneficial addition to your regimen when combined with a balanced diet, regular exercise, appropriate sleep, and stress reduction.
FAQs
Can I reduce fat in my face on the spot?
No, spot reduction is not an option. To attain a slimmer face, you must first work on reducing total body fat.
How may a well-balanced diet assist me in losing face fat?
A well-balanced diet aids in the lowering of overall body fat. Avoid processed and junk foods in favor of lean protein, fruits, and vegetables.
Is it possible to lose facial fat by following a low-calorie diet?
Yes, a low-calorie diet causes a calorie deficit, which leads to weight loss generally, including fat loss in the face.
What foods should I eat on a low-calorie diet in order to decrease facial fat?
Choose nutrient-dense foods such as fruits, vegetables, lean meats, and whole grains, and eat in moderation.
Can a low-carb diet help me lose face fat?
Yes, a low-carb diet promotes the body to utilize stored fat as energy, which leads to total fat loss, including the face.
What foods should I prioritize on a low-carb diet in order to lose face fat?
Limit processed carbs and sugars while increasing healthy fats, proteins, non-starchy veggies, and complex carbs.
How does drinking water help you lose facial fat?
Water keeps you hydrated, assists digestion, prevents water retention, and aids in appetite management, minimizing overeating.
Why is regular exercise vital for shedding face weight?
Exercise burns calories, increases metabolism, and decreases overall body fat, resulting in a slimmer face. Exercises for cardiovascular and strength training should be included.
How does sleep affect fat loss on the face?
Adequate sleep modulates hunger hormones, lowers cortisol (the stress hormone), and increases glucose metabolism for efficient weight loss.
Can facial exercises aid in weight loss in the face?
Facial exercises can tone and strengthen facial muscles, improving muscle tone and skin suppleness, but they should be used in conjunction with other weight loss techniques.
Conclusion
Losing weight off your face can be difficult, but with the right strategy and determination, you can reach your goals. Following a nutritious and balanced diet, drinking lots of water, exercising regularly, getting enough sleep, and minimizing stress will all help you lose weight and obtain a smaller face.
Remember that to lose weight in your face takes time and requires patience and persistence. It's critical to keep motivated and focused on your goals while also being realistic about the timeframe required to achieve them. If you're struggling or need assistance, get help from friends and family members or a healthcare professional.
Low-calorie and low-carb diets can both be successful methods of decreasing weight, including weight loss in the face. A low-calorie diet focuses on ingesting nutrient-dense meals in suitable portion sizes to create a calorie deficit. A low-carb diet, on the other hand, restricts carbohydrate intake to encourage the body to use stored fat for energy.
It's crucial to remember that everyone's body is different, thus individual results may differ. Furthermore, long-term weight loss requires a balanced and holistic strategy that includes regular exercise, proper sleep, stress management, and overall healthy living practices.
Before beginning any diet, speak with a healthcare practitioner or registered dietitian who can analyze your personal needs, provide assistance, and verify you're following a safe and appropriate plan for your individual objectives and health state.
In conclusion, losing weight in your face can be accomplished by a mix of healthy eating habits, a low-calorie diet, a low-carb diet, regular exercise, adequate sleep, stress reduction, and staying hydrated. You may get a smaller and more toned face that you can be proud of by implementing these lifestyle adjustments and being devoted to your goals.
Disclaimer: The information provided in this article is for educational purposes only and should not be considered as a substitute for medical advice. Consult a healthcare professional before implementing any home remedies or making significant changes to your lifestyle.