How Can You Lose Weight with PCOS?
PCOS or Polycystic Ovary syndrome, is a complex hormonal condition that affects a large number of people. It can cause irregular menstrual periods, infertility, acne, excessive hair growth, weight gain, and insulin resistance. Among these symptoms, weight gain is one of the most difficult challenges that people with PCOS encounter.
Introduction
Losing weight can be a frustrating task, but with the appropriate attitude, lifestyle
modifications, and PCOS symptoms management, weight can be effectively managed. We will go into many insightful areas of PCOS and weight loss in this thorough article, providing detailed information and practical solutions to help people with PCOS reach their weight loss objectives.
How to Lose Weight When You Have PCOS
Let us understand PCOS, its relationship with weight gain, and how you can lose weight
when you have PCOS.
What is PCOS?
PCOS (polycystic ovarian syndrome) is a complex hormonal condition that affects women's
reproductive systems. It is distinguished by the appearance of numerous cysts on the
ovaries, irregular menstruation cycles, and a hormonal imbalance. While the specific etiology
of PCOS is unknown, both genetic and environmental factors are thought to play a role.
PCOS Symptoms
PCOS causes a variety of symptoms that differ from woman to woman. The most common
symptoms are irregular menstrual cycles, which might be longer or shorter than usual or
completely absent. Due to unpredictable ovulation, infertility is a typical problem for women
with PCOS. Acne, excessive hair growth (hirsutism), and thinning hair on the scalp
(male-pattern baldness) are further signs. Weight gain is another common symptom of
PCOS and it can be very difficult for women to manage.
Relationship Between PCOS and Weight Gain
Weight gain is a serious issue for many women with PCOS. While the specific mechanisms
underlying the relationship between PCOS and weight gain are unknown, various variables
contribute to this link. Insulin resistance is an important issue. Insulin is a hormone that
regulates blood sugar levels. When the body becomes resistant to insulin, blood sugar levels
rise. Insulin resistance causes the body to retain fat more readily, resulting in weight gain.
Inflammation, in addition to insulin resistance, may play a role in PCOS-related weight gain.
Chronic inflammation, a reaction of the immune system, can contribute to insulin resistance
and weight gain. According to studies, women with PCOS have higher levels of inflammation
than women who do not have the illness.
Furthermore, hormonal imbalances linked with PCOS might affect normal metabolic function
and result in weight gain. Elevated androgen (male hormone) levels in PCOS women can
contribute to increased fat storage, particularly in the abdominal area. This pattern of fat
distribution is referred to as central obesity, and it is linked to an elevated risk of metabolic
illnesses such as diabetes and cardiovascular disease.
Factors Contributing to Weight Gain in PCOS
Weight gain in women with PCOS is caused by several factors. These elements are as
follows:
As previously stated, insulin resistance is a defining feature of PCOS and can result in
weight gain. When the body's insulin sensitivity declines, it becomes more difficult to control
blood sugar levels. This increases insulin production, which promotes fat storage and
thwarts weight loss efforts.
Reproductive hormone imbalances, especially high levels of androgens like testosterone,
might alter metabolic processes and promote weight gain. Androgens lead to fat storage and
the development of insulin resistance.
Disparity of Hunger and Satisfaction Signals
Women with PCOS may have dysregulation of appetite and satiety signals, resulting in
increased food consumption and desires. This might make sticking to a calorie-controlled
diet difficult and contribute to weight gain.
PCOS can also cause psychological issues such as stress, anxiety, and sadness. These
emotional aspects can lead to emotional eating and a reliance on food as a coping method,
which can result in weight gain.
Hereditary Predisposition
While the particular genetic reasons driving PCOS-related weight gain are unknown,
evidence suggests that women with PCOS may have a genetic propensity to increase their
weight.
Insulin Resistance and Inflammation in PCOS
Insulin resistance is a frequent metabolic anomaly in PCOS, affecting 70–80% of affected
women. Insulin resistance affects the body's capacity to utilize insulin effectively, resulting in
high blood sugar and fat storage. This adds to weight gain and makes losing weight more
difficult for women with PCOS.
Inflammation is another common problem with PCOS, and women with the illness often have
higher levels of inflammation than those without the disorder. Chronic inflammation has been
linked to insulin resistance, hormone imbalance, and weight gain. Addressing inflammation
through lifestyle changes, including a nutritious diet and regular exercise, can help reduce
the influence of inflammation on weight management in PCOS.
It is critical to understand the relevance of insulin resistance and inflammation in PCOS to develop successful weight-loss treatments. Women with PCOS can better control their symptoms and achieve their weight loss goals by addressing these underlying causes.
Polycystic Ovary Syndrome and Weight Loss Strategies
Let us elaborate on some of the best ways to lose weight with PCOS.
Importance of a Well Balanced Diet
A healthy, balanced diet is vital for handling polycystic ovary syndrome and weight loss
effectively. A well-balanced diet provides the body with the nutrition it requires while also
maintaining stable blood sugar levels and minimizing inflammation. Here are some
significant recommendations for PCOS diets for weight loss:
Macronutrient Composition
Protein, Fiber, and Healthy Fats Adequate protein, fiber, and healthy fats in the diet are essential for PCOS weight loss. Protein promotes satiety, maintains lean muscle mass, and promotes a healthy metabolism. Protein-rich foods include lean meats, fish, tofu, beans, and lentils.
Fruits, vegetables, whole grains, and legumes are high in fiber, which helps control blood sugar levels, encourage feelings of fullness and aid in digestion. They also help to maintain a healthy gut microbiota, which aids in weight management and overall health.
Avocados, nuts, seeds, and olive oil include healthy fats that aid in hormone production,
nutrition absorption, and satiety. Incorporating these fats in moderation into the PCOS diet
for weight loss can help with weight management and overall well-being.
Carbohydrate Consumption 
While carbohydrates are an important part of a healthy diet, it is crucial to focus on complex carbs with a low glycemic index (GI). Low-GI meals digest and absorb more slowly, resulting in a gradual and consistent rise in blood sugar levels. This helps to prevent energy spikes and crashes and lowers the risk of insulin resistance and weight gain.
Choosing whole grains over refined carbohydrates, such as brown rice, quinoa, whole wheat bread, and oats, is useful for managing polycystic ovary syndrome and weight loss. These whole grains include more fiber and minerals, which aid in feeling full and maintaining stable blood sugar levels.
Note: There might be affiliate links mentioned here. We may receive a commission if you purchase a product through an affiliate link. There is no additional charge for you. Please do your own research before making any online purchases
Dietary Options for PCOS Management and Weight Loss
In addition to macronutrient composition and carbohydrate management, certain dietary choices can help manage polycystic ovary syndrome and weight loss simultaneously. The following foods may be beneficial:
Berries have a high antioxidant, vitamin, and fiber content. They have a low GI and can help keep blood sugar levels stable.
Leafy greens, such as spinach and kale, are high in nutrients and low in calories. They deliver critical vitamins and minerals while increasing meal volume without adding extra calories.
Broccoli is a cruciferous vegetable that includes chemicals that may have anti-inflammatory properties. It is also high in fiber, vitamins, and minerals.
Sweet potatoes are a nutrient-dense carbohydrate that is high in vitamins, minerals, and fiber. When compared to normal potatoes, they have a lower GI.
Including lean protein sources in meals, such as chicken, fish, tofu, beans, and lentils, can help with satiety, muscle maintenance, and weight loss.
Portion Control
In addition to focusing on the quality of food choices, portion control is an important part of PCOS and weight loss. Managing portion sizes in a PCOS diet for weight loss aids in calorie control and blood sugar regulation. Here are several portion-control strategies to manage polycystic ovary syndrome and weight loss:
Smaller and More Regular Meals
Instead of eating three substantial meals a day, consider breaking them up into smaller, more regular eating times throughout the day. This method can aid in the regulation of blood sugar levels, the control of appetite, and the prevention of overeating.
Using Smaller Plates and Bowls
According to research, using smaller plates and bowls might fool the brain into thinking it is eating larger portions. This can help produce a visual appearance of fullness and minimize the desire to overeat.
Using equipment like measuring cups, food scales, or visual portion guides to measure food portions can provide a more accurate portrayal of serving amounts. This practice raises awareness of portion proportions and aids in the prevention of unintended overconsumption.
Physical Activities for Weight Loss and PCOS Management
Regular exercise is essential for losing weight and controlling PCOS symptoms. Exercise
aids in the improvement of insulin sensitivity, the burning of calories, the reduction of
inflammation, and the promotion of overall well-being. Here are some workout suggestions
for handling polycystic ovary syndrome and weight loss:
Cardiovascular Exercise
Cardiovascular exercise, also known as aerobic exercise, consists of activities that raise the heart rate and improve cardiovascular fitness. Regular cardiovascular exercise burns calories, improves insulin sensitivity, and aids weight control attempts. Cardiovascular workouts that are appropriate for women with PCOS include:
Walking is a low-impact workout that is easy to incorporate into daily routines. Strive
for 30 minutes of brisk walking per day.
Jogging or running: For physically capable individuals, jogging or running
might be beneficial cardiovascular workouts for weight loss.
Riding: Whether done on a stationary bike or outside, riding offers a low-impact
cardiovascular workout that can be adapted to individual fitness levels.
Swimming

is a low-impact sport that involves the entire body and gives a

cardiovascular workout while minimizing joint stress.
Resistance Training
Resistance training, often known as strength training or weightlifting, is the process of building and strengthening muscles by working against resistance. Incorporating resistance training into an exercise plan increases muscle mass, which boosts metabolism and aids in weight loss.
To reduce the danger of injury, it is critical to focus on good form and technique. Resistance
training exercises appropriate for polycystic ovary syndrome and weight loss include:
Weightlifting: Performing exercises such as squats, lunges, deadlifts, and chest
presses with dumbody weightrbells, or weight machines.
Bodyweight exercises: These are exercises that use your own bodyweight as
resistance, such as push-ups, squats, lunges, planks, and glute bridges.
Resistance bands:

Working out with resistance bands at home or on the fly can give

an effective strength-training workout.
Yoga and Mind-Body Practices
Yoga and other mind-body practices can reduce stress and improve insulin sensitivity in women with PCOS. Stress management is essential for weight loss and overall well-being. Yoga is a holistic method for health and stress reduction that incorporates physical postures, breath control, and meditation.
Lifestyle Changes and Other Considerations
In addition to food and exercise, the following lifestyle changes and considerations can help
women with PCOS lose weight:
Stress Management
Excessive stress can contribute to weight gain and make weight loss more difficult. Stress-reduction practices such as mindfulness meditation, deep breathing exercises, and engaging in fun hobbies can help reduce stress and support weight loss.
Adequate Sleep
Adequate sleep is essential for overall health and weight control. Sleep deprivation can upset hormone balance, increase hunger, and affect insulin sensitivity. Aim for 7-9 hours of quality sleep per night to help with weight loss and general health.
Medications and Supplements
Healthcare practitioners may give medications or supplements to control PCOS symptoms and aid in weight loss in some situations. Medication to regulate menstrual cycles, increase ovulation, or manage insulin resistance may be included. Before beginning any drugs or supplements, it is critical to contact a healthcare expert.
Regular Progress Monitoring and Accountability
Regular progress monitoring and accountability can help preserve motivation and adherence to weight loss initiatives. Keeping a food and exercise journal, tracking measurements and body weight, or seeking help from a healthcare professional, registered dietitian, or support group can all help.
Personalized Approach
It's important to remember that everyone's experience with PCOS and weight loss is different. What works for one person might not work for another. Consultation with a healthcare professional, registered dietitian, or qualified fitness expert can aid in the development of a personalized approach that takes into account personal needs, preferences, and any specific medical conditions.
Real-Life PCOS and Weight Loss Experiences of Women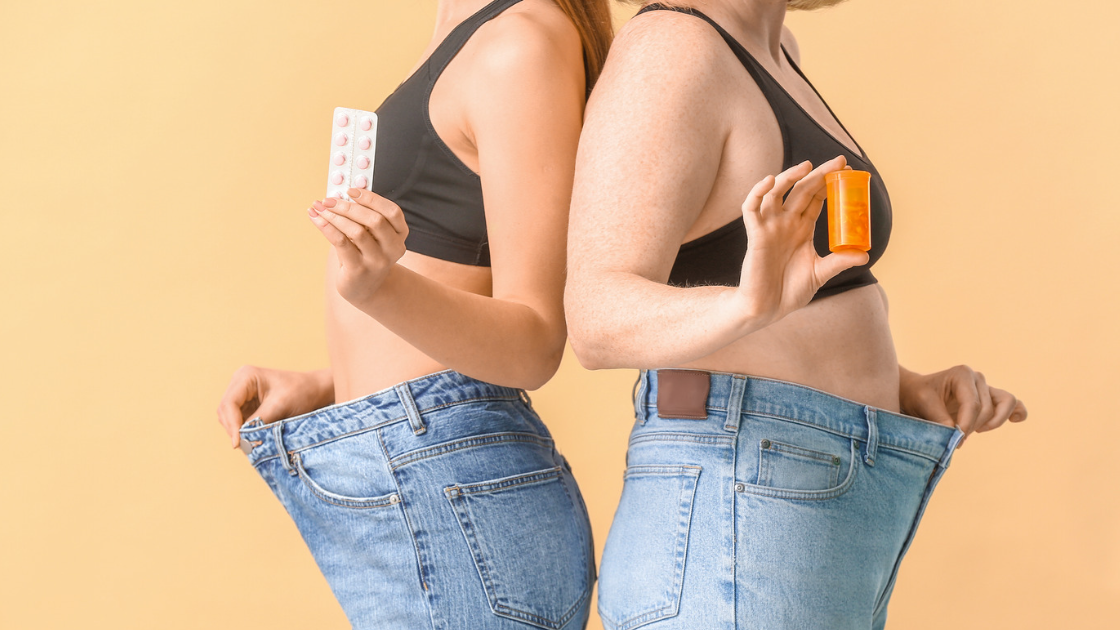 Hearing the real-life experiences and success stories of women who have overcome challenges and achieved their goals is one of the most inspiring aspects of the PCOS weight loss journey. These stories provide encouragement, motivation, the best ways to lose weight with PCOS, and valuable insights into the strategies and mindset required for success while tackling polycystic ovary syndrome and weight loss.
Sarah, a 32-year-old woman with PCOS, for example, struggled with weight gain for years. She tried various diets and exercise routines but had no success. However, she began to see benefits after deciding to adopt a comprehensive approach and make sustainable lifestyle adjustments by relying on some of the best ways to lose weight with PCOS. Sarah concentrated on eating a healthy diet, getting regular exercise, managing stress with meditation and yoga, and seeking help from a healthcare professional and a support group. She lost weight and improved her insulin sensitivity, and her PCOS symptoms improved over time.
Similarly, Lisa, a 28-year-old woman, learned the value of self-compassion and patience during her PCOS weight loss journey. She was first disappointed by her delayed improvement in comparison to her peers who did not have PCOS. She persisted in finding the best ways to lose weight with PCOS to reach her weight management goals.
Lisa, on the other hand, embraced a positive mindset and celebrated every tiny achievement by moving her focus from the numbers on the scale to general health and well-being. Non-scale triumphs, such as higher energy, better sleep, and a better attitude, brought her joy. Lisa eventually met her weight loss objectives and now lives a healthy lifestyle that helps her control her PCOS.
Overcoming Obstacles and Obtaining Long-Term Results
Women with PCOS confront particular challenges in their weight loss quest, but many have
surmounted these obstacles and achieved long-term success. Insulin resistance, hormone
imbalances, emotional eating, and cravings are all frequent roadblocks. Here are a few of
the best ways to lose weight with PCOS used by successful people:
Managing Insulin Resistance
Insulin resistance is common in women with PCOS, which can stymie weight loss efforts. By focusing on a low-glycemic diet and adding regular exercise, individuals can increase insulin sensitivity and encourage weight loss.
Addressing Emotional Eating
Emotional eating can be a coping mechanism for stress and emotional suffering. Developing alternative tactics, such as practicing mindfulness, receiving support from a therapist, or engaging in stress-reducing activities while following a PCOS diet for weight loss, can help individuals manage emotional eating and make healthier choices.
PCOS can sometimes lead to significant desires, particularly for sweet and high- carbohydrate foods. Developing techniques to satisfy cravings in a healthier way, such as selecting fruit instead of sweets or whole grains over processed carbohydrates, can help individuals manage cravings without derailing their weight reduction attempts.
Following a Sustainable Workout Routine
Consistency is the key when it comes to exercising. Finding activities that are pleasant and fit into one's lifestyle can boost adherence and long-term success. This may include incorporating hobbies like dancing, swimming, hiking, or joining group fitness programs.
Lessons and Inspirational Insights
Through their stories, people who have successfully lost weight with PCOS share essential
lessons and insights for those on the same journey. Here are a few lessons learned:
Objectives for Overall Health
Weight loss should not be the main objective. Prioritizing overall health, including controlling PCOS symptoms, enhancing insulin sensitivity, and promoting emotional well-being, leads to more durable results.
Embrace a Positive Perspective
Shifting from a mindset focused primarily on weight loss to one oriented on self-love, self-care, and recognizing non-scale accomplishments can give a more positive and powerful experience.
Building a solid support system, whether it be through healthcare experts, support groups, or loved ones, can provide guidance, accountability, and inspiration throughout the weight reduction process.
Be Patient and Persistent
PCOS weight loss may take longer than expected, and progress may be non-linear. Long-term success necessitates the acceptance of patience, tenacity, and resilience.
Because each person with PCOS is unique, what may seem like easy ways to lose weight with PCOS and work for one person may not work for another. It's critical to try out several tactics, listen to your body, and find a method that works for your individual needs and preferences.
Importance of Resources For PCOS and Weight Loss
Starting a weight-loss journey with PCOS can be both physically and emotionally taxing. As a result, it is critical to seek assistance and make use of existing resources to improve one's chances of success. Here are some key considerations:
Involving Close Friends and Family Members
Informing close friends and family members about your weight loss goals can provide a powerful support system. Their support, understanding, and participation can help reduce stress and provide incentives through challenging times. Sharing your struggles, efforts, and accomplishments with loved ones can help foster a good and supportive environment.
It is strongly advised to consult healthcare providers who specialize in PCOS and weight management. These experts can provide tailored guidance, assess progress, and create easy ways to lose weight with PCOS as needed. They may also recommend drugs or supplements to aid with weight loss and the management of PCOS symptoms. Regular check-ups and discussions with healthcare specialists can provide invaluable advice and ensure that the weight loss journey is both safe and effective.
Registered dietitians are nutrition specialists who may provide personalized nutritional recommendations and a PCOS diet for weight loss. They can assist in developing a well-balanced diet that promotes weight loss and regulates PCOS symptoms. A dietitian can also educate people on portion control, food choices, and techniques for overcoming PCOS-specific issues. Working with a licensed dietitian ensures that dietary modifications are evidence-based, safe, and sustainable.
Joining a support group for women with PCOS or who are trying to lose weight can be quite beneficial. These groups provide a forum for people to discuss their experiences, exchange advice, and receive emotional support. Connecting with individuals who understand the difficulties of PCOS and weight reduction can alleviate feelings of loneliness and provide support along the way. Online communities and forums dedicated to PCOS and weight management can also be helpful sources of information and support.
Mental Health Professionals
Weight loss with PCOS can influence an individual's mental health. Prioritize mental health and seek help from mental health specialists such as therapists or counselors. These professionals can help you cope with emotional difficulties, address body image issues, and manage stress and anxiety. Individuals can keep a positive outlook throughout their weight loss journey with a holistic strategy that includes mental health care.
A variety of educational materials are available to help women with PCOS make informed health decisions. Books, blogs, podcasts, and credible online sources can all provide useful information about PCOS, weight loss tactics, and success stories. Staying up-to-date on the latest research and advancements in PCOS and weight reduction can help people make informed decisions and stay motivated.
Overcoming Obstacles and Maintaining Long-Term Success
While the process of losing weight with PCOS can be difficult, it is critical to recognize and address potential roadblocks along the way. Women with PCOS can achieve long-term success by being aware of these problems and implementing ways to overcome them. Here
are some common difficulties and suggestions for solving them:
Plateaus are frequent during weight-loss journeys, where progress may momentarily stall.
This can be both irritating and discouraging. Consider the following ways of breaking through
plateaus:
Assess Your Food and Exercise Routine: Make sure you're still eating a balanced PCOS diet for weight loss and getting enough exercise.
Set Small and Attainable Goals: Breaking down your weight reduction journey into smaller milestones can create a sense of accomplishment and help to maintain motivation.
Be Patient and Persistent: Recognize that plateaus are natural and transient. Maintain your healthy habits, and your growth will ultimately resume.
Emotional Eating
When it comes to Polycystic Ovary Syndrome and weight loss, emotional eating can be a
significant difficulty. Stress, worry, and other emotional factors can cause overeating or poor
dietary choices. Here are some methods for overcoming emotional eating during PCOS for
weight loss:
Recognize Triggers: Identify situations, feelings, or thoughts that cause emotional eating. Understanding your triggers can aid in the development of alternate coping techniques and easy ways to lose weight with PCOS.
Seek Help: Reach out to friends, relatives, or a therapist for emotional support and direction.
Practice Mindful Eating: Practice mindful eating by paying attention to bodily hunger indicators and appreciating each bite while following the PCOS diet for weight loss. Distract yourself from emotional triggers by going for a stroll or participating in a pastime.
Discover Healthy Outlets for Emotions: Instead of resorting to food, discover other ways to manage stress and emotions, such as journaling, practicing relaxation techniques, or engaging in physical activities you enjoy.
Hormonal Shifts
PCOS is defined by hormonal irregularities, which might interfere with weight loss efforts.
Hormonal fluctuations can affect metabolism, hunger cues, and energy levels.
Here are some methods for dealing with hormonal changes when it comes to losing weight
with PCOS:
Concentrate on Overall Health: Make lifestyle adjustments that promote hormone balance, such as frequent exercise, stress management, and adequate sleep.
Think about Hormonal Therapies: Talk to your doctor about potential drugs or hormonal treatments that could help you manage your PCOS symptoms and lose weight.
Be Patient and Adaptable: Recognize that hormonal shifts can affect weight reduction progress and that dietary and activity changes may be required along the way.
Self-Esteem and Body Image
PCOS is frequently associated with body image issues and low self-esteem. Throughout the weight loss journey, it is critical to build a positive body image and practice self-compassion.
Here are a few ideas:
Concentrate on Non-scale Victories: Recognize accomplishments that go beyond the number on the scale, such as increased energy, improved fitness levels, or improved general health.
Surround Yourself with Positivity: Surround yourself with people who are supportive and encourage you to lose weight with PCOS.
Practice Self Care: Take baths, practice self-reflection, or engage in hobbies that you enjoy to promote self-care and self-acceptance.
Combat Negative Talk: Combat negative self-talk by replacing it with positive affirmations and realistic, inspiring remarks about your physique.
Long-Term Adjustments
Maintaining weight loss over time might be just as difficult as losing weight in the first place. Consider the following measures to ensure long-term success:
Adopt a Sustainable Lifestyle: Make long-term improvements to your diet and exercise habits that you can keep to lose weight with PCOS.
Set Realistic Goals: Avoid setting unrealistic or overly ambitious weight loss goals. Instead of seeking easy ways to lose weight with PCOS, concentrate on making long-term progress and maintaining a healthy weight range.
Maintain Contact with Support Systems: Continue to seek aid from healthcare experts, support groups, and loved ones to stay accountable and motivated.
Reassess Your Methods and Adjust Regularly: As your body changes and your demands change, check your food and exercise regimen to ensure it is in line with your goals and current circumstances.

Women with PCOS can sustain long-term success in their weight reduction journey and enjoy increased health and well-being by recognizing and proactively addressing these obstacles.
FAQs
What exactly is PCOS?
PCOS is a hormonal illness that affects women's reproductive systems and is characterized
by irregular periods, ovarian cysts, and hormonal abnormalities.
Why is weight gain so common in people with PCOS?
Insulin resistance, inflammation, hormonal imbalances, poor appetite signals, and genetic
susceptibility can all contribute to weight gain in PCOS.
How can insulin resistance contribute to PCOS weight gain?
Insulin resistance leads the body to more easily retain fat, resulting in weight gain and
difficulty reducing weight.
What is the function of inflammation in PCOS-related weight gain?
Chronic inflammation, which is common in PCOS, can lead to insulin resistance and weight gain.
What role does nutrition play in PCOS and weight loss?
A well-balanced diet rich in protein, fiber, healthy fats, and low-glycemic carbohydrates can help to control blood sugar levels and aid in weight loss.
What kinds of exercise are good for PCOS weight loss?
Walking, running, swimming, and resistance training with weights or bodyweight exercises can all help with weight loss and insulin sensitivity.
What lifestyle changes can aid in the treatment of PCOS and weight loss?
Managing stress, getting enough sleep, contemplating medication or supplements, tracking progress, and personalizing the approach can all help with weight reduction success.
Is there a specific diet for PCOS management and weight loss?
Berries, leafy greens, broccoli, sweet potatoes, and lean protein sources can help with
PCOS and weight loss.
How may PCOS weight loss be achieved with portion control?
Eating smaller, more often meals, as well as using smaller plates and bowls and calculating
food portions, will help you manage your calorie intake and blood sugar levels.
Is it possible to treat PCOS and lose weight with patience and self-compassion?
Yes, embracing a long-term approach, developing a positive mindset, and enjoying
non-scale achievements can lead to successful weight loss and PCOS management.
Conclusion
Weight loss with PCOS necessitates commitment, patience, and a diversified strategy. Women with PCOS can successfully manage their weight and enhance their overall quality of life by making lifestyle changes, obtaining support, and conquering challenges along the way. It is critical to remember that growth is not always linear and that setbacks can occur.
Women with PCOS, on the other hand, can achieve their weight loss goals and maintain long-term success with a resilient mindset and a dedication to self-care. Embrace the journey, appreciate minor achievements, and be gentle with yourself throughout. Remember that your worth is measured by your strength, resilience, and drive on your journey to a better and happier life, not by a number on a scale.
To summarize, reducing weight with PCOS is a complex and difficult process, but it is certainly doable with the appropriate attitude, determination, and support. Women with PCOS have unique hormonal and metabolic factors that make weight loss more difficult, but by implementing lifestyle changes such as eating a healthy, balanced diet, exercising regularly, managing stress, and seeking appropriate medical support, they can effectively manage their weight and improve their overall health.
It is critical to remember that the weight loss journey is personal, and what works as an easy way to lose weight with PCOS for one person may not work for another. It takes endurance, patience, and self-compassion. It's not only about the numbers on the scale; it's also about living a healthy lifestyle that promotes total well-being.
Women with PCOS can overcome the problems of weight gain and reach their weight loss goals by implementing the solutions provided in this article. Remember to communicate with healthcare specialists, ask for help from loved ones, and be aware of your body's specific demands. Accept the journey as an opportunity for personal development and improvement and rejoice in every tiny triumph along the way. Women with PCOS can regain control of their weight, manage their symptoms effectively and improve their quality of life with effort and a positive attitude.
Disclaimer: The information provided in this article is for educational purposes only and should not be considered as a substitute for medical advice. Consult a healthcare professional before implementing any home remedies or making significant changes to your lifestyle.