How You can Lose Weight by Walking
Walking, a basic and convenient physical activity, can be an effective weight loss method. In this comprehensive article, we will look at different forms of walking, how walking can help you lose weight, and how you can lose weight by walking by developing a precise routine.
Introduction
You can achieve your weight loss goals while enjoying the many benefits of walking if you use the appropriate method, persistence, and commitment.
Understanding the Effects of Walking on Weight Loss
Walking is a low-impact aerobic exercise that, when combined with a healthy diet, can help you lose weight. To understand how you can lose weight by walking, you must first understand the notion of a calorie deficit. When the calories used during your walks exceed the calories ingested throughout your regular meal, your body begins to use stored fat as an energy source. Walking can help you lose weight in the following ways:
Body weight, walking speed, and distance traveled all affect the number of calories burned while walking. A person weighing 160 pounds can walk at a moderate speed of 3 miles per hour and burn roughly 314 calories per hour. Increase the intensity or duration of your walks to increase calorie burn and promote weight loss.
During walking, your body's principal energy source is glycogen, the stored form of carbs. As your walking for fat loss progresses, glycogen levels drop, forcing the body to rely on stored fat for sustenance. Regular moderate-intensity walking allows your body to use fat more efficiently, resulting in progressive weight loss. 
One of the long-term advantages of walking for weight loss is that it increases your metabolism. Regular physical activity, such as walking, keeps your metabolism high even while you're at rest. This is referred to as "afterburn" or Excess Post-Exercise Oxygen Consumption (EPOC). Following a walk, your body continues to burn calories as it recovers and repairs itself, helping your weight loss efforts even more.
Walking Techniques for Weight Loss
Walking of various varieties can be added to your weight loss program to keep your activities interesting and effective. Here are some examples of different forms of walking and their associated benefits:
Maintaining a regular pace during your walk, often at modest exertion, is what continuous walking means. This type of walking is appropriate for beginners or those looking to lose weight through a low-intensity exercise choice. Walking at a steady pace improves endurance and is an ideal starting point for progressively increasing the intensity of your outings.
Brisk walking is defined as walking faster than your normal stride but not quite at jogging or running speed. It raises your heart rate, resulting in more calorie burn and better cardiovascular fitness. Brisk walking is an efficient strategy to lose weight that is simple to incorporate into your everyday routine.
Interval walking entails alternating between times of higher intensity (for example, brisk walking) and periods of lower intensity (for example, a leisurely stroll). This strategy puts your body to the test and improves the overall effectiveness of your workouts. High-intensity bursts followed by recovery periods improve cardiovascular health, increase calorie burn, and increase the afterburn effect, resulting in increased calorie expenditure post-workout.
Walking uphill or on inclines increases the intensity of your workout and targets different muscle groups. Walking uphill burns more calories than flat walking and helps tone and shape your lower body. Hill walking also raises your heart rate, making it an ideal cardiovascular challenge for weight loss and overall fitness. 
Developing an Effective Weight Loss Walking Program
To achieve long-term success, a successful walking program requires careful planning and progressive growth. Here's how you can lose weight by walking through a well-planned routine:
Determine Your Fitness Level
Before beginning a walking program, evaluate your present level of fitness. Consider your walking endurance, general health, and any physical limitations you may have. If you're new to exercise or have any medical issues, work with a healthcare practitioner or a certified fitness trainer to create a program that's right for you.
Note: There might be affiliate links mentioned here. We may receive a commission if you purchase a product through an affiliate link. There is no additional charge for you. Please do your own research before making any online purchases.
Establish Realistic Goals
Set attainable weight-loss objectives and a realistic timetable for achieving them. Rapid weight loss is not sustainable and might result in muscle loss as well as other health problems. Aim for a weekly weight loss of 1-2 pounds, which is regarded as healthy and sustainable.
Establish the Frequency and Duration
Determine how many days per week you can walk. For most people, starting with at least three to four days of walking per week is ideal. As your fitness level increases, gradually increase the frequency and duration of your walks. Begin with shorter walks (for example, 15–20 minutes) and progressively increase to 30–60 minutes every session.
Schedule Your Walking Sessions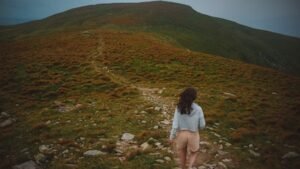 Make a walking plan that works for you, and treat your walks as non-negotiable appointments with yourself. Finding a time that works best for you and sticking to it will help you achieve your weight loss objectives.
Include a Variety of Walking Styles in Your Program
In order to maximize your weight loss potential, combine steady-state walking, brisk walking, interval walking, and hill walking into your walking routine. Changing up your walking routine challenges your body, keeps it from plateauing, and guarantees that you target new muscle groups and energy systems.
Cool-Down and Warm-Up
Warm up for 5–10 minutes before beginning your walking session to prepare your body for activity. A warm-up could include easy stretching, marching in place, or leisurely strolling. After your walk, spend 5–10 minutes cooling down to gradually drop your heart rate and stretch your muscles, lowering your chance of stiffness and injury.
Monitor Your Progress
Keeping track of your walks, distances traveled, and accomplishments is critical for tracking your development. Celebrate your accomplishments, no matter how minor they appear to be, because each step forward contributes to your eventual success. Tracking your progress also assists you in seeing patterns, making adjustments, and remaining motivated to lose weight by walking.
Add Strength Training to Your Routine
While walking can help you lose weight, adding strength training to your routine can help you achieve even better results. Strength training helps you create lean muscle mass, which enhances your metabolism and increases your overall calorie burn even when you're not doing anything. Consider alternating your walking sessions with bodyweight exercises such as squats, lunges, push-ups, or resistance band workouts.
Take Care of Your Nutrition
Weight loss is not entirely determined by exercise; diet also plays an important role. Maintain a well-balanced diet rich in nutritious foods, lean proteins, fruits, vegetables, and whole grains. Limit your intake of processed foods, sugary snacks, and calorie-dense beverages. Drinking plenty of water throughout the day is also important for aiding your efforts to lose weight by walking and your overall well-being.
Stay Motivated and Overcome Challenges
When embarking on a walking weight loss program, it is critical to be prepared for challenges that may occur along the route. Weight loss plateaus, a lack of motivation, and the desire to give up are all frequent obstacles that many people confront. However, with the appropriate tactics and a good attitude, you can overcome these challenges and stay motivated to reach your objectives. In this section, we'll look at practical techniques to overcome challenges and keep your walking motivation going.
Managing Plateaus
Weight loss plateaus occur when your progress appears to stagnate and you are no longer losing weight at the same rate as previously. Plateaus can be frustrating and discouraging, but they are a natural part of the weight-loss process. To break through plateaus, change up your walking regimen and present new challenges to your body.
Vary Your Walking Routine: If you've been following the same walking routine for a long time, your body may have acclimated to it, resulting in poor results. Vary your walking routine by modifying the pace, terrain, or duration of your walks to break through a plateau. To test your cardiovascular system and increase calorie burn, introduce intervals of quick walking and slower walking.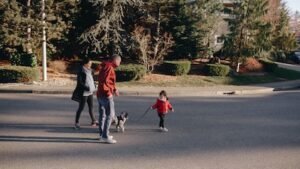 Experiment with Different Routes: Not only will exploring new walking routes provide a nice change of scenery, but it will also test your body in new ways. In order to engage different muscle groups and improve the intensity of your walks, including uphill or downhill roads, stairs, or uneven terrain.
Combine Walking with Strength Training Exercises: Combining walking with strength training exercises might be an excellent strategy to break through plateaus. Strength exercise promotes the development of lean muscle mass, which enhances your metabolism and promotes long-term weight loss. On days when you are not walking, incorporate bodyweight workouts such as lunges, squats, or push-ups.
Remember that plateaus are just temporary, and by sticking to your walking schedule and making the necessary adjustments, you will ultimately see improvement again.
Maintain Accountability and Track Progress
Tracking your progress can help you stay motivated and accountable during your weight loss journey. Keeping track of your walks, distances traveled, and times can provide useful information as well as a sense of success.
Keep a Journal or Use a Fitness App: Keep a journal or use a fitness app to track your daily walks and any significant accomplishments. Keep track of the distance, duration, and how you felt while walking. Track your weight and body measurements on a regular basis to track your improvement.
Celebrate Milestones: Establish minor goals and celebrate each accomplishment along the road. Recognizing your progress, whether it's completing a longer walk, hitting a certain amount of steps, or fitting into a smaller clothing size, helps keep you motivated.
Analyze Your Progress: Review your tracking data on a regular basis to uncover patterns or areas for improvement. For example, you may find that you walk more consistently on certain days or that you walk quicker on particular routes. Understanding your habits and progress might assist you in making sound selections regarding your walking program.
Seek Social Assistance
Walking with a friend or joining a walking group can make your walk more enjoyable and provide much-needed social support. Having a supportive group can help you stay motivated, be accountable, and create a sense of camaraderie as you lose weight.
Find a Walking Buddy: Find a friend, family member, or coworker who is interested in walking for weight loss. Walking with a friend can make your walks more fun, and you can encourage each other to stick to your goals.
Join a Walking Group

: Many localities have walking clubs or walking groups that gather on a regular basis for group walks. Joining such a club can introduce you to people who share your interests and ambitions. Group walks can also be used to explore new routes and meet new walking partners.

Take Part in Virtual Challenges

: There are numerous virtual challenges and walking events available in the digital age. These challenges frequently require you to enter your walking distances and receive virtual badges or awards for reaching certain milestones. Virtual challenges can add a sense of excitement and competition to your walking regimen.
FAQs
How often should I walk to lose weight?
Your level of fitness and schedule will determine how frequently you walk. Begin by aiming for three to four days of walking per week. As your endurance improves, gradually increase the frequency. Consistency is essential for seeing outcomes.
Can I lose weight simply by walking?
Walking alone can help you lose weight. Combining walking with a healthy diet and strength exercise, on the other hand, can improve your weight loss outcomes and overall health.
How can I tell if I'm walking at the proper pace?
The "talk test" is a simple approach to assessing your walking intensity: when brisk walking, you should be able to chat easily but not sing. If you're walking too slowly, pick up the pace; if you're having trouble speaking, slow down a little.
Can walking uphill be difficult for beginners?
Walking uphill can be more difficult than walking on flat ground. While it might be difficult for beginners looking to lose weight by walking, it can also be a satisfying method to burn calories and gain strength. Begin with shorter uphill stretches and progressively increase the time as you gain confidence.
Will walking cause muscular atrophy?
Walking alone is unlikely to cause muscle loss. Consider incorporating strength training workouts into your program to maintain muscle mass while losing weight.
What should I do if my weight loss plateaus?
Weight-loss plateaus are very normal. To overcome them, vary your walking routine, try new routes, and incorporate strength training activities to keep your body challenged.
How can I keep motivated while walking?
Set attainable goals, track your progress, and celebrate accomplishments. Finding a walking partner or joining a walking group can also provide social support and motivation.
Aside from weight reduction, can walking help me enhance my general health?
Absolutely! Walking has several health benefits, including improved cardiovascular fitness, mood enhancement, stress reduction, and improved joint health.
Is it necessary to warm up and cool down before and after going for a walk?
Yes, warming up before and cooling down after your walk are critical for avoiding injuries and enhancing flexibility. Prepare and recuperate your body by spending 5–10 minutes on each.
Can I lose weight by jogging on a treadmill indoors?
Yes, walking on a treadmill can be an efficient strategy to lose weight if done at the proper pace and time. Indoor walking is convenient because it allows you to exercise regardless of weather or outdoor limits.
Conclusion
Walking is a simple, adaptable, and successful strategy to lose weight while increasing your overall health. You can embark on a successful weight loss journey by knowing how walking leads to weight loss, investigating different types of walking, and developing a well-structured walking program. Remember to start at your current level of fitness, set realistic goals, and stay consistent. Walking, with dedication and determination, can result in significant weight loss and help you live a healthier, more active lifestyle.
Disclaimer: The information provided in this article is for educational purposes only and should not be considered as a substitute for medical advice. Consult a healthcare professional before implementing any home remedies or making significant changes to your lifestyle.