How does Pilates Help You Lose Weight?
Joseph Pilates invented Pilates, formerly known as "Contrology," in the early twentieth century as a system to improve physical fitness through regulated and exact movements. Pilates has evolved over time into a comprehensive fitness system that incorporates a wide range of motions, equipment, and beliefs. 
Introduction
Pilates is now known for its capacity to increase flexibility, strength, posture, and overall well-being. In recent years, an intriguing link between Pilates and weight loss has emerged, raising the curiosity of fitness enthusiasts looking for holistic techniques to lose excess pounds.
Understanding Weight Loss
To understand how pilates helps you lose weight, first understand the process of weight loss. Weight loss is a complex process involving both physiological and psychological variables. Achieving and maintaining a healthy weight necessitates a careful balance of energy intake and expenditure. Regular physical activity is essential for good weight management since it boosts metabolism, preserves muscle mass, and improves overall fitness levels.
Basic Principles of Pilates
Pilates is based on six key principles: breath, concentration, control, centering, precision, and flow. These principles direct practitioners' movements, which stress breath awareness, mindfulness, and regulated muscle engagement. The integration of these principles serves as the cornerstone of the weight loss benefits of Pilates.
How does Pilates Help You Lose Weight?
Pilates, a fitness practice renowned for its holistic approach to well-being, has evolved beyond its image as a posture-improving training regimen. The complicated mechanisms underpinning Pilates-induced weight loss have increased the interest and admiration of fitness enthusiasts looking for efficient and long-term weight management solutions. Pilates' mix of controlled movements, breath, and mindfulness produces a symphony of physiological changes that promote weight loss in a unique and profound way.
Increasing Metabolism through Muscle Activation
Pilates' emphasis on muscle activation and engagement is one of its pillars. Pilates exercises use regulated and intentional motions to target a variety of muscle groups, resulting in enhanced metabolic activity. Pilates routines are so detailed that even the smallest muscle fibers are stimulated, resulting in a larger energy expenditure during and after each session.
Muscle activation is a major contributor to an increased metabolic rate. Muscles require energy in the form of calories as they contract and release throughout Pilates movements. This increased energy demand causes an increase in the basal metabolic rate (BMR), which is the number of calories burned at rest by the body to maintain basic biological activities. Over time, this increased BMR translates to increased calorie expenditure, which aids in the weight loss process.
Increased Resting Metabolic Rate and Muscle Growth
Pilates has been found to enhance muscular building, which is essential for long-term weight loss and overall wellness. Muscle tissue is metabolically active, which means that it burns more calories at rest than fat tissue. The more lean muscle mass one has, the more energy the body requires to keep that muscle in shape, even when at rest.
Pilates exercises, especially those that target the core muscles, main muscle groups, and stabilizing muscles, promote muscle hypertrophy, which is the growth and strengthening of muscle fibers. As muscles acclimate to the controlled resistance Pilates movements provide, they become thicker and more metabolically active. This results in an increased resting metabolic rate, allowing people to burn more calories throughout the day even when they are not physically active.
Increasing Insulin Sensitivity and Blood Glucose Control
Insulin sensitivity is a measure of how efficiently cells respond to insulin, the hormone responsible for controlling blood glucose levels. It is an important element in weight management. Poor insulin sensitivity is linked to weight accumulation, particularly visceral fat, which accumulates around internal organs and contributes to metabolic dysfunction.
Pilates, because of its emphasis on controlled and purposeful movements, improves insulin sensitivity. Pilates has been proven to enhance glucose uptake by muscle cells, allowing for better blood sugar management. Pilates helps prevent excessive blood sugar rises and crashes by encouraging effective glucose utilization, lowering the chance of overeating and consequent weight gain.
Pilates also helps to reduce stress, which is another important element impacting insulin sensitivity and weight management. Chronic stress can raise cortisol levels, impair insulin sensitivity, and encourage fat deposition, particularly in the abdomen. Through breathing and relaxation techniques, the mind-body connection emphasized in Pilates helps control stress and cortisol levels, supporting better insulin sensitivity and contributing to a healthy weight reduction journey.
Cardiovascular Benefits of Pilates
Pilates, known for its emphasis on core strength, flexibility, and mindful movement, is frequently connected with laying a solid foundation for physical well-being. Pilates provides a variety of cardiovascular advantages that help improve overall heart health and fitness beyond its typical scope. In this segment, we delve into the symbiotic relationship between Pilates and heart health, shining light on the importance of attaining a balance of aerobic and anaerobic activity within the framework of a Pilates practice.
Pilates and Cardiovascular Health
While Pilates is not considered a severe cardiovascular activity like jogging or swimming, the benefits to heart health are apparent. Pilates sessions create significant cardiovascular reactions due to the controlled, rhythmic, and purposeful movements. These responses, while distinct from those seen during high-intensity cardio activities, help to increase cardiovascular endurance and function.
Pilates motions improve blood circulation throughout the body, allowing oxygen and nutrients to reach cells and tissues more efficiently. Pilates' controlled breathing practices promote deep diaphragmatic breathing, which improves lung capacity and oxygen exchange. This concerted effort of controlled motions and concentrated breathing engages the cardiovascular system, strengthening and promoting the overall health of the heart.
Furthermore, Pilates promotes the development of balanced muscular strength and posture, which leads to improved spine alignment and less strain on the heart. Pilates practice improves posture, which optimizes blood flow, minimizing needless stress on the heart and maintaining its optimal functioning.
Aerobic vs. Anaerobic Exercise
Finding the correct combination of aerobic and anaerobic exercise is critical to cardiovascular fitness. Aerobic exercise is defined as any activity that raises the heart rate for a sustained length of time, such as jogging, swimming, or cycling. Anaerobic exercise, on the other hand, involves short bursts of high-intensity activity, such as weightlifting or sprinting.
Pilates' practice incorporates a unique blend of aerobic and anaerobic aspects. While Pilates may not always result in the same heart rate elevation as a full-fledged aerobic workout, the fluid sequences and repetition of movements lead to a modest increase in heart rate, stimulating the cardiovascular system and building endurance.
Pilates can also be used to supplement regular aerobic workouts in a fitness plan. Pilates' regulated and precise movements can aid in the correction of muscular imbalances and the improvement of general body alignment, lowering the risk of injury during high-impact aerobic activities.
Furthermore, Pilates allows for interval training, which is a type of anaerobic workout. Intermittent high-intensity exercises combined with brief periods of active recovery result in an interval workout that stresses the cardiovascular system in a controlled manner. This interval training method based on Pilates principles improves cardiovascular fitness and heart health.
Mind-Body Connection as a Weight Loss Catalyst 
The strength of the mind-body link has emerged as a critical aspect in the pursuit of effective and long-term weight loss. Understanding and exploiting the delicate connection between mental and physical well-being, in addition to physical effort and nutritional adjustments, can dramatically influence one's capacity to shed excess pounds. This analysis dives into two important aspects of the mind-body connection: stress reduction and mindful eating habits, emphasizing their roles as catalysts for a successful weight loss journey.
Stress Reduction and Cortisol Control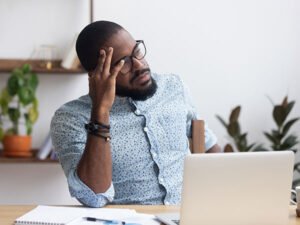 Chronic stress has become omnipresent in our fast-paced modern lives. Its impact on weight management, particularly via the hormone cortisol, has received a lot of attention. The adrenal glands release cortisol, also known as the "stress hormone," in response to stress, which triggers the body's fight-or-flight response. While cortisol is necessary for survival in high-stress conditions, its prolonged and excessive secretion can be harmful to weight and overall health.
Cortisol levels that are elevated are connected with greater abdominal fat accumulation since cortisol increases the storage of energy (in the form of fat) for potential future usage. The accumulation of visceral fat, in turn, increases the risk of obesity, metabolic syndrome, and other health issues. This is where the mind-body link comes into play.
Pilates, with its emphasis on controlled breathing, relaxation methods, and mindfulness, is a potent tool for stress and cortisol management. Pilates' methodical and attentive movements stimulate the parasympathetic nervous system, which is in charge of the body's "rest and digest" condition. This inhibits the stimulation of the sympathetic nervous system, which causes cortisol secretion. Individuals who practice Pilates on a daily basis can reduce the effects of chronic stress, improve relaxation, and contribute to healthy cortisol levels.
Portion Control and Mindful Eating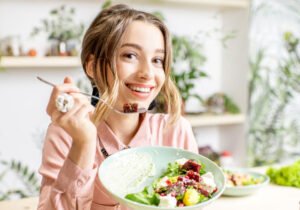 While the link between stress and weight gain is well recognized, the act of eating plays an important role in the mind-body relationship as well. Mindful eating, a mindfulness-based practice, entails being completely present and aware during meals. Individuals engage in a sensory experience, paying attention to flavor, texture, and satiety cues rather than mindlessly swallowing food.
Pilates teaches attention not only through exercise but also through eating. Pilates practice increases self-awareness, which encourages individuals to make deliberate and healthful meal choices at the dinner table. By practicing mindful eating, people can develop a stronger connection with their bodies' hunger and fullness signals, making it simpler to recognize actual hunger and avoid overeating.
Incorporating mindful eating principles into daily life goes hand in hand with portion control, which is a cornerstone of successful weight loss. Mindful eating helps people gain a better knowledge of portion sizes and avoid the problems of emotional eating and eating in response to stress. People can make informed food decisions thanks to Pilates' emphasis on the mind-body connection, which ultimately results in a more balanced and successful weight loss journey.
Pilates for the Different Stages of Weight Loss
Weight loss is a multidimensional task that demands dedication, perseverance, and a well-structured method. Pilates, because of its adaptability and versatility, provides a significant toolkit for people at various phases of their weight loss journey. Pilates has plenty to offer, whether you're just starting out, making progress toward your goals, or attempting to maintain your achievements. This book will look at how Pilates can be adapted to help people at various stages of their weight reduction journey: beginners, intermediate practitioners, and experienced participants.
For Beginners: Laying a Solid Foundation
For those who are new to Pilates, the emphasis is on laying a solid foundation that will serve as the foundation for future advancement. Pilates teaches key concepts like breathing, core engagement, and good body alignment, all of which are essential not just for efficient Pilates practice but also for a successful weight reduction journey.
At this stage, the emphasis is on learning the fundamental Pilates movements as well as comprehending the ideas that underpin the practice. While following the instructions of an experienced instructor, beginners gradually develop body awareness, muscular control, and coordination. These fundamental abilities lay the groundwork for future progress and success.
As newcomers learn about Pilates, they begin to see the subtle yet transformative advantages of the practice. Increased core strength, better posture, and a stronger mind-body connection pave the way for more efficient movement and provide the framework for more intense workouts in the intermediate and advanced stages.
Note: There might be affiliate links mentioned here. We may receive a commission if you purchase a product through an affiliate link. There is no additional charge for you. Please do your own research before making any online purchases.
Intermediate: Increasing Intensity
Intermediate practitioners are ready to advance their Pilates practice after laying a solid foundation. This stage of the weight loss journey entails the addition of more difficult exercises and sequences that target specific muscle groups while increasing total intensity.
Intermediate Pilates sessions frequently include the use of props and equipment like resistance bands, Pilates balls, and the reformer machine. These modifications provide more resistance and variety to exercises, activating muscles and driving improvement. Individuals who advance through intermediate Pilates routines report increased muscle activation, enhanced flexibility, and a higher sensation of body control.
The integration of cardiovascular components becomes more evident during this phase. Interval training, which consists of bursts of high-intensity movements separated by times of active recuperation, may be smoothly incorporated into Pilates programs. This combination of regulated motions and interval training promotes cardiovascular endurance and helps burn calories more effectively.
Advanced: Creating and Maintaining Your New Look
The advanced stage of the weight loss journey is characterized by refining and sculpting. Pilates at this level includes a variety of sophisticated and rigorous routines that will test even the most experienced practitioners. These exercises precisely target specific muscle areas, allowing for body shaping and toning.
Complex sequences and smooth transitions between movements are common in advanced Pilates sessions. The use of sophisticated Pilates equipment, such as the Cadillac and Wunda Chairs, increases the difficulty and variety of exercises. Practitioners who engage in these advanced programs report increased muscular strength, endurance, and control.
Pilates becomes an essential component of weight maintenance at this point. The emphasis switches from simply losing weight to sculpting and maintaining the effects. Advanced Pilates' dynamic and varied character develops lean muscle growth, which contributes to an elevated resting metabolic rate and ongoing calorie expenditure.
Unleashing the Full Potential of Pilates
Pilates, a holistic workout regimen known for its transforming effects, takes you on a journey of discovery and progress. While its benefits to weight loss and overall well-being are apparent, it is critical to acknowledge and address the potential problems and limitations. This in-depth investigation delves into common misconceptions, the flexibility of Pilates across various fitness levels, professional perspectives on Pilates and weight reduction, variants for optimal weight loss, and the incorporation of Pilates into a holistic lifestyle.
Clearing Up Common Misconceptions
Despite its demonstrated effectiveness, Pilates is not immune to misunderstandings that can limit its effectiveness. One prevalent misperception is that Pilates is only appropriate for people of specific ages or fitness levels. Pilates, in fact, is versatile and can be adjusted for people of different ages and abilities. Another common misunderstanding is that Pilates is only a "gentle" kind of exercise. While Pilates stresses control and precision, advanced versions can be demanding and intense. Dispelling these myths promotes a more comprehensive and accurate awareness of Pilates' potential.
Pilates Adaptation for Different Fitness Levels
Pilates' adaptability stems from its ability to suit a wide range of fitness levels. Pilates can be tailored to your specific needs, whether you're a novice or an experienced athlete. Certified instructors are essential in customizing exercises, altering motions, and providing progressions that are appropriate for an individual's abilities and goals. This versatility ensures that everyone, regardless of their starting point, can benefit from Pilates.
Pilates and Weight Loss Expert Opinions
The support of fitness professionals and specialists strengthens the role of Pilates in weight-loss programs. Experts' perspectives give insight on how pilates helps to lose weight with the scientific foundations of its impact on metabolism, muscle engagement, and overall well-being. These findings show the need to incorporate Pilates as a strategic component of a comprehensive weight-loss plan.
Pilates comes in a variety of forms, each with its own set of weight-loss advantages. Mat Pilates, a basic strategy that uses body weight, improves core strength and stability. Reformer Pilates uses specific equipment to add resistance, increasing muscular engagement and calorie burn. Traditional Pilates concepts are combined with aspects from various fitness disciplines in contemporary Pilates fusion, resulting in a dynamic and comprehensive training experience.
Mat Pilates serves as an introduction to the world of Pilates, laying the groundwork for body awareness and muscle activation. While it may appear to be less demanding than other versions, controlled motions require core strength and flexibility. Mat Pilates is an ideal place to start, especially for beginners, because it provides a gentle introduction to the mind-body connection and controlled muscle engagement.
Through the use of specialist equipment, Reformer Pilates adds a new depth to the practice. The adjustable resistance of the reformer allows for focused muscle activation and dynamic movement patterns. Reformer Pilates burns calories quickly while also encouraging muscular growth and toning. Its adaptability appeals to those looking for more intense and harder workouts, making it an excellent choice for those advancing beyond the beginner stage.
Modern Methodologies (Pilates Fusion)
Contemporary Pilates fusion pushes the envelope by combining Pilates concepts with components from other exercise disciplines. This combination results in a hybrid training experience that not only boosts weight loss potential but also keeps practitioners engaged and motivated. Pilates combined with aspects such as cardio, strength training, or dance increases calorie burn while injecting creativity into the program.
Pilates as Part of a Holistic Lifestyle
To truly reap the benefits of Pilates for weight loss and well-being, it must be integrated into a comprehensive lifestyle. Developing a consistent Pilates program is the foundation for progress and results. Combining Pilates with other forms of exercise, such as aerobic or resistance training, is a balanced approach. This collaboration results in a holistic workout plan that addresses several elements of fitness, ranging from muscle strength to cardiovascular health.
Creating a Consistent Routine
The foundation of every fitness quest is consistency. Setting aside particular periods for Pilates classes aids in the development of a routine that becomes engrained in daily life. By including Pilates into your routine on a daily basis, you may maximize its influence on weight loss and overall wellness.
Integrating Pilates and Other Forms of Exercise
While Pilates has distinct advantages, a well-rounded fitness plan incorporates a variety of workout techniques. Cardiovascular workouts, such as jogging or cycling, increase calorie burn, but resistance training promotes muscle building and increases metabolic rate. Integrating Pilates with other forms of exercise gives a well-rounded approach that meets a variety of fitness objectives.
FAQs
Can Pilates by itself result in significant weight loss?
While Pilates has many advantages, including improved muscular tone and flexibility, it may not result in significant weight loss on its own. Pilates, when paired with a healthy diet and regular aerobic activity, can help with effective and long-term weight management.
How often should I do Pilates for weight loss?
Consistency is essential. To see obvious improvements, aim for at least 3–4 Pilates sessions per week. To attain the best weight loss results, combine your Pilates regimen with other forms of exercise, such as aerobic workouts.
Can Pilates be used for weight loss by beginners with restricted fitness levels?
Without a doubt. Pilates is versatile and may be adapted for individuals with varying fitness levels. Beginners can begin with basic exercises and progress as their strength and flexibility improve.
Is Pilates appropriate for people who have pre-existing health conditions or injuries?
Pilates can be customized to assist people who have special medical issues or injuries. However, before beginning any new exercise regimen, it is critical to contact a healthcare practitioner, especially if you have pre-existing health concerns.
What is the difference between Pilates and regular cardiovascular activities for weight loss?
By emphasizing controlled movements, muscular engagement, and attention, Pilates provides a unique approach to weight loss. While Pilates does not burn calories at the same pace as hard aerobic workouts, it does improve muscular tone, posture, and total body awareness.
Can Pilates assist with spot reduction (weight loss in certain areas)?
There is a prevalent misperception about spot reduction. Pilates, like any other form of exercise, helps to reduce overall body fat. While focused exercises can tone certain muscles, long-term weight loss necessitates a combination of calorie restriction, aerobic exercise, and strength training.
Will Pilates help me get a lean and toned body?
Pilates is well-known for promoting lean muscle growth and toning. Pilates' regulated resistance and intentional motions help to define muscles and create a sculpted appearance.
Can Pilates help with emotional eating and hunger control?
Yes, the mindful awareness developed through Pilates can have a favorable impact on eating behaviors. Pilates-based mindful eating practices can help people better understand their bodies' hunger cues and prevent impulsive eating in reaction to emotions or stress.
Are there any Pilates movements that are more beneficial for weight loss than others?
While all Pilates exercises help to engage muscles and burn calories, certain exercises, such as the Hundred, Plank, and Leg Pull Front, are noted for their intensity and effectiveness in helping weight loss. A well-rounded Pilates exercise that stimulates numerous muscle groups, on the other hand, produces the best benefits.
Can Pilates help with stress management, which is a major contributor to weight gain?
Pilates does emphasize controlled breathing, relaxation methods, and mindfulness, which can help reduce stress and cortisol levels. Pilates indirectly aids weight-loss efforts by decreasing cortisol-induced fat storage and emotional eating.
Conclusion 
Pilates is a revolutionary training regimen that does more than just improve flexibility and posture. Pilates has emerged as a significant tool for people seeking a comprehensive approach to weight control due to its diverse contributions to weight loss. Pilates provides a road to achieving and maintaining a healthy weight, improving general well-being, and adopting a balanced and active lifestyle by leveraging the power of controlled movements, awareness, and muscular engagement.
Disclaimer: The information provided in this article is for educational purposes only and should not be considered as a substitute for medical advice. Consult a healthcare professional before implementing any home remedies or making significant changes to your lifestyle.