Best Ways to Stay Motivated to Lose Weight
Losing weight is a life-changing endeavor that requires effort, commitment, and perseverance. Maintaining motivation throughout the weight loss process can be difficult, especially when faced with failures and hurdles.
Introduction
In this comprehensive article, we will look at several strategies and techniques for staying motivated while losing weight. You can stay on track and achieve long-term success in your weight loss efforts by setting realistic goals, finding intrinsic motivations, cultivating a supportive environment, tracking progress, diversifying workouts, practicing self-care, using positive reinforcement, managing setbacks, and embracing mindset shifts.
Creating Realistic Goals for Long-Term Motivation
A successful weight-loss journey begins with setting realistic goals. Unrealistic objectives, such as attempting to shed a large amount of weight in a short period of time, can result in disappointment and dissatisfaction. Setting SMART goals—Specific, Measurable, Achievable, Relevant, and Time-bound—is vital for long-term motivation to lose weight.
Specific: Establish clear and explicit objectives. Instead of saying, "I want to lose weight," say how much you want to drop and by when.
Measurable: Select objectives that can be tracked and measured. This could include keeping track of your weight, body measurements, and fitness progress over time.
Achievable: Set goals that are within your reach. When assessing what is realistic for you, consider your existing lifestyle, commitments, and health status.
Relevant: Make sure your goals are relevant to your entire health and well-being. Concentrate on achieving goals that will improve your health, build your confidence, and improve your quality of life.
Time-bound: Give your ambitions a deadline. A deadline instills urgency and allows you to successfully track your progress.
Breaking down big goals into smaller, more attainable milestones is also important for weight loss motivation. Celebrate each milestone you reach because positive rewards reinforce your motivation to lose weight and your strength to keep working toward your greater goals.
For example, if your ultimate aim is to lose 50 pounds, set monthly targets of losing 5 pounds. Each 5-pound loss should be celebrated with non-food rewards, such as purchasing new training attire or treating yourself to a spa day. By enjoying these minor triumphs, you will gain momentum and confidence, which will feed your determination to keep going.
Discovering Your "Why" for Intrinsic Motivation to Lose Weight
Intrinsic motivation, or motivation that comes from inside, is a powerful force that can help you persevere through the ups and downs of your weight loss journey. Identifying your "why—the deep, personal motivations driving your desire to reduce weight—is critical for long-term motivation.
To discover your genuine reasons and determine the right ways to stay motivated to lose weight, ask yourself probing questions. Do you wish to lose weight to enhance your health and lower your risk of developing chronic diseases? Do you want to enhance your self-esteem and feel good in your own skin? Are you driven by the need to provide a good example for your children or other loved ones?
Connecting with your fundamental motivations aids in the development of a meaningful and emotionally charged purpose for your weight loss journey. Make a note of your "why" and refer to it frequently, especially when confronted with challenges or temptations. During challenging times, this strong reminder of your aims and desires can rekindle your determination and commitment.
Also, discovering intrinsic drive helps you redirect your focus away from external variables like societal expectations or the desire for external approval and toward inner contentment and self-improvement. When you have strong internal motivation to lose weight, you become more resilient and less vulnerable to external distractions that could hinder your progress.
Creating a Friendly Environment to Stay Motivated
Surrounding yourself with a supportive atmosphere can have a big impact on your motivation and success on your weight loss journey. Individuals who are encouraging, empathetic, and accountable can make your journey feel less solitary and more gratifying.
Begin by telling your close friends and family about your weight-loss ambitions. Discuss the ways to stay motivated to lose weight and explain how their assistance can help you stay motivated and devoted to your goals. Encourage open communication and be transparent about your triumphs and challenges. Their positive reinforcement and support can enhance your motivation to lose weight, boost your self-esteem, and make the journey more enjoyable.
Consider joining a weight-loss support group or participating in online groups as well. These groups provide a secure area for people to discuss their experiences, get advice, and be motivated by others who are on similar paths. Engaging with others who understand your problems can give you a sense of belonging and help you develop a supportive network.
However, be wary of soliciting assistance from people who may unintentionally undercut your efforts or offer discouraging remarks. Surround yourself with people who will motivate and inspire you to achieve your goals.
When it comes to motivation to lose weight in the digital era, social media can be both a blessing and a nightmare. While internet platforms can connect you to helpful communities, they can also expose you to unfavorable comparisons and excessive expectations. Be conscious of the information you read and follow accounts that encourage healthy and realistic weight loss strategies.
Keep in mind that a positive environment extends beyond external forces. It also entails being gentle with yourself and developing self-compassion. Provide yourself with the same degree of support and understanding that you would provide to a friend or loved one. Recognize that development is not always linear and that setbacks are an inevitable part of any journey. You establish a good and caring mental environment that preserves your motivation to lose weight by cultivating self-compassion.
Monitoring Progress and Celebrating Success
Tracking your progress is one of the most effective ways to stay motivated to lose weight. This approach creates a visual depiction of your efforts, allowing you to see changes and improvements over time.
There are several methods for measuring your weight loss progress, and you can select the one that best fits your interests and lifestyle. Here are some efficient tracking methods:
Food Journal

: Keep a daily food diary, including meals, snacks, and portion amounts. This can assist you in becoming more conscious of your eating patterns and identifying areas for change.

Fitness App or Tracker

: Track your workout habits, step count, heart rate, and other health indicators using a fitness app or wearable tracker. These devices can give you real-time feedback on your progress and motivate you to meet your fitness objectives.

Body Measurements: To track changes in your body composition, take regular body measurements such as your waist, hips, and thighs. The scale may not always precisely reflect your progress, but measures can provide a more complete view of your weight loss journey.
Photographs

: Take before-and-after images to commemorate your transformation. Progress images can be a powerful reminder of how far you've come, especially when you're feeling down.

Non Scale Successes: Commemorate non-scale successes such as increased energy, better sleep, and improved physical fitness. These accomplishments represent significant changes in your health and well-being that go beyond weight loss.
Tracking your success is about recognizing the great changes you're making in your lifestyle, not just the numbers. You can stay motivated, celebrate your triumphs, and identify opportunities for additional growth by visually observing your progress.
Remember to commemorate every achievement, no matter how minor. Each step forward, whether it's shedding a pound or sticking to your gym plan consistently, is progress to be celebrated. Celebrate your accomplishments with non-food rewards such as going to the movies, spending time with loved ones, or participating in a favorite hobby.
You build a sense of success and maintain your determination to continue making progress by rewarding positive actions and recognizing your hard work.
Workout Variations for More Engaging Fitness Routines
Exercise is an important part of any weight-loss plan, not only for burning calories but also for boosting general health and well-being. However, repeating the same training program day after day might become boring and lead to a loss of desire.
Consider varying your workouts to keep them interesting and pleasurable. Here are some workout-related ways to stay motivated to lose weight:
Include a Variety of Exercises: Experiment with several sorts of exercises 

to find activities that you truly enjoy. Enroll in a dance class, go rock climbing, or try a sport you've always wanted to try. By trying new things, you'll find what makes you happy and excited, making it simpler to stay motivated.
Include Strength Training in Your Routine

: Including strength training in your regimen can have several benefits. It not only promotes lean muscle mass, which increases metabolism, but it also improves bone density and general functional fitness.
Practice Yoga or Pilates: Yoga and Pilates are great ways to improve flexibility, balance, and mental health. They also aid in stress reduction, which can be advantageous on your weight loss journey.
Outdoor Exercises

: Take advantage of nature by exercising outside. Hike, ride your bike, or jog in a neighboring park. Exercising outside can provide a welcome change of scenery and energize your workout.
Attend Group Fitness Courses

: Attending group fitness courses may be both inspiring and enjoyable. The group dynamic fosters camaraderie and support, transforming workouts into a social event rather than a burden.
Establish particular fitness objectives, such as jogging a certain distance, learning a new workout, or completing a challenge, such as a 5K race or obstacle course. Working toward these objectives might provide you with a sense of purpose and accomplishment.
Change the Intensity and Duration of Your Workouts: Change the intensity and duration of your workouts. To avoid monotony, alternate between high-intensity interval training (HIIT) and steady-state cardio sessions or change the length of your exercises.
Diversify Your Workout Routine: Diversifying your routines keeps things fresh while also challenging different muscle groups and preventing overuse issues. Experiment with various activities to develop a fitness program that you truly enjoy. When exercise becomes a pleasure rather than a chore, it is easier to stay motivated to lose weight and keep putting effort into your fitness goals.
Self Care Practice for Mindful Progress
Weight reduction journeys can be emotionally and intellectually draining, so self-care is essential for staying motivated. Self-care entails taking care of your physical, emotional, and mental health to have the stamina and resilience to face the challenges of your weight loss journey.
Physical Self Care
Make Sleep a Priority

: Aim for 7-9 hours of quality sleep per night. Adequate rest helps regulate appetite hormones and promotes general well-being.
Drink Plenty of Water: Drink plenty of water throughout the day to stay hydrated and support your body's metabolic operations.
Note: There might be affiliate links mentioned here. We may receive a commission if you purchase a product through an affiliate link. There is no additional charge for you. Please do your own research before making any online purchases.
Self Care for Emotions
Mindfulness and Meditation: Use mindfulness and meditation practices to reduce stress and increase emotional well-being. Practicing deep breathing or guided meditation for a few minutes each day might help you stay grounded and focused.
Journaling

: Keep a journal to express yourself, reflect on your progress, and find opportunities for personal growth.

Positive Affirmations

: Make positive affirmations a part of your everyday practice. Repeat affirmations that boost your self-esteem and confidence.
Self Care for the Mind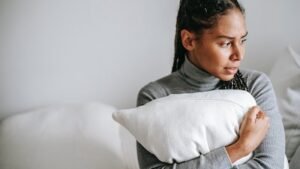 Reduce Negativity

: Reduce your exposure to negative influences, whether they are people, social media, or news channels. Surround yourself with positive, upbeat content.

Avoid Comparison

: Do not compare your progress to that of others. Remember that everyone's weight reduction journey is different, and you should concentrate on your own accomplishments and growth.

Establish Boundaries

: Establish boundaries to preserve your emotional health. Say no to commitments or situations that sap your energy or impede your success.
You can reduce stress and keep a positive outlook during your weight-loss journey by prioritizing self-care. Taking care of yourself puts you in the best mental position to face obstacles and stay motivated.
Positive Reinforcement and Reward System
Using a positive reinforcement system to keep you motivated during your weight loss journey is an excellent idea to stay consistent. Positive reinforcement entails praising yourself for positive behaviors, increasing the likelihood that they will be repeated.
Remember to focus on non-food rewards that correspond with your weight loss goals and promote healthy habits when creating a reward system. By selecting rewards that benefit your general well-being, you develop positive associations with your efforts and strengthen your commitment to a healthier lifestyle.
Here are some suggestions for developing a reward system:
Establish Milestones

: Divide your weight reduction journey into smaller goals and provide prizes for each one. After shedding the first ten pounds, for example, treat yourself to a peaceful spa day.

Fitness Goals

: Use fitness-related goals to base incentives on. When you reach a fitness goal, such as finishing a 5K run or doing 20 push-ups, treat yourself to new workout equipment or gear.

Non Scale Successes

: Reward yourself for non-scale successes such as increasing your flexibility or jogging longer distances. Consider taking a dance class or getting a massage to celebrate your accomplishments.

Accountability Partner

: Ask a friend or family member to serve as your accountability partner. When you reach your goals or maintain your healthy behaviors, celebrate with your family by doing something enjoyable and meaningful.

Make a Rewards Jar

: On small pieces of paper, write down several rewards and place them in a jar. When you reach a milestone, choose a reward at random from the jar. This element of surprise can add to the excitement of the prize.
Remember that rewards should never be used to justify engaging in unhealthy behavior. They should be used to recognize your efforts, promote healthy habits, and keep you motivated throughout your weight loss journey.
Overcoming Challenges and Difficulties
Setbacks and challenges are unavoidable components of every weight-loss quest. How you handle failures can have a big impact on your drive and performance. Rather than considering setbacks as failures, consider them opportunities for growth and learning.
Here are some weight loss motivation tips for dealing with failures:
Develop Resilience

: Develop resilience by accepting that setbacks are a regular part of the process. Instead of lingering on the setback, consider how you may learn from it and move on.

Examine the Situation

: Examine the circumstances that contributed to the setback. Identifying triggers and obstacles can assist you in developing tactics to avoid such setbacks in the future.

Seek Help

: When you face a setback, reach out to your support system. Share your thoughts and feelings with your support group, as they can offer encouragement and insight.

Reconnect with Your "Why": Reconnect with your core motives and remind yourself why you embarked on this road in the first place. Returning to your "why" might rekindle your desire and weight loss motivation.
Modify Your Goals

: If you face obstacles to your development, consider changing your goals or approach. Long-term success necessitates flexibility and adaptability.

Find Inspiration from Individuals: Seek inspiration from individuals who have successfully overcome setbacks and hurdles on their weight reduction journeys. Hearing their stories might provide insightful information and motivation.
Remember that your overall success is not defined by setbacks. Accept them as opportunities for learning and use them to move yourself forward. Use them to rectify your ways of staying motivated to lose weight. Each setback you overcome strengthens you and makes you more resilient in your weight loss journey.
Mindset Shift for Long Term Change
Staying motivated on your weight loss journey requires a positive and growth-oriented mindset. Transforming your mindest while following weight loss motivation tips allows you to confront self-limiting ideas, foster self-compassion, and establish a more empowering outlook on your body and aspirations.
Here are some mindset related weight loss motivation tips that can help you:
Reframe Setbacks as Learning Opportunities

: Rather than perceiving setbacks as failures, perceive them as chances to learn and grow. Each struggle teaches you essential lessons about how to deal with similar situations in the future.

Exercise Self-Compassion: Be gentle and understanding with yourself. Recognize that losing weight is a journey with ups and downs and that progress is not always linear. Treat yourself with the same care and support that you would extend to a friend.
Change Your Focus from Perfection to Progress: Change your focus from perfection to progress. Every step forward, no matter how tiny, should be celebrated. Every positive decision you make, whether it's choosing a nutritious breakfast or finishing a strenuous workout, is a step in the right direction.
Understand That Setbacks Do Not Define You: Recognize that setbacks do not determine your worth or talents. Regardless of the obstacles you confront on your weight loss journey, your worth as a person remains constant.
Believe in Yourself

: Develop confidence in your abilities to attain your goals. Visualize yourself excelling and accomplishing your goals. Positive imagery can increase your self-esteem and weight-loss motivation.

Rethink Your Relationship With Eating

: Change your perspective on eating from one of comfort or reward to one of nourishing your body and supporting your health. Adopt a mindful and balanced eating style.
You may establish a positive and empowered mindset by embracing these mental adjustments, which will drive your motivation and devotion to your weight loss goals.
FAQs
How can I keep motivated while my weight loss is slow?
It might be difficult to stay motivated when development is slow. Keep in mind that weight loss is not always linear, and plateaus are natural. Concentrate on the good adjustments you've made in your lifestyle, such as greater energy or strength. Celebrate non-scale accomplishments and keep your "why" in mind to stay dedicated to your goals.
What should I do if I encounter a setback or relapse?
Setbacks are unavoidable on any path. Rather than getting disheartened, view setbacks as chances to learn and improve. Determine the causes or problems that contributed to the setback and devise methods to overcome them. Seek help from your network and reconsider your underlying motives to rekindle your drive.
How can I regulate my desires and overcome emotional eating?
Emotional eating can stymie weight-loss efforts. To detect emotional eating triggers, practice mindfulness, and self-awareness. Find other ways to cope with your feelings, such as journaling, talking to a friend, or participating in a hobby. To avoid excessive hunger and cravings, plan balanced meals and snacks.
What are some good coping strategies for self-doubt and negative self-talk?
Replace negative self-talk with positive affirmations to combat it. Compassionately remind yourself of your accomplishments and progress. Surround yourself with people who will raise you and encourage you. If negative thoughts continue, seek professional assistance.
How do I deal with social circumstances and peer pressure while staying on track with my weight loss goals?
Inform your friends and family about your weight-loss goals so they can support you. Be firm in your refusal to eat harmful foods and promote healthier alternatives. Bring a healthy dish to social occasions to ensure there are healthy options. Remember that it is perfectly OK to prioritize your health and well-being.
What are some good weight-reduction strategies for avoiding burnout and maintaining consistency?
To avoid burnout, mix up your workouts and eating plans. Allow your body to recuperate by taking rest days. Set attainable goals and avoid overburdening oneself with unrealistic expectations. Pay attention to your body and modify your routine if you feel tired or anxious.
How can I stay motivated during stressful or hectic times?
Prioritize self-care and create time for good habits during busy times. To guarantee consistency, plan your workouts and meal preparation ahead of time. To handle stress and stay motivated, use stress-reduction strategies like meditation or deep breathing.
What is the importance of sleep for weight loss and motivation?
Sleep is critical for weight loss and overall health. Sleep deprivation can affect hormones that regulate hunger and satiety, leading to increased cravings and overeating. To help your weight loss efforts, aim for 7-9 hours of quality sleep per night.
How can I effectively track my development without becoming obsessive?
Select tracking methods that are compatible with your interests and lifestyle. Set distinct tracking periods, such as weekly or monthly, to avoid becoming obsessed with everyday variations. To retain a balanced viewpoint, focus on general trends rather than day-to-day fluctuations.
What should I do if I'm feeling disheartened and want to abandon my weight-loss goals?
It's natural to get discouraged, but keep in mind that setbacks are only temporary. Seek encouragement and motivation from your support network. Revisit your "why" and recall the good reasons for your weight loss goals. If necessary, seek professional help from a counselor or coach to work through your feelings and restore weight loss motivation.
Conclusion
Setting realistic goals, understanding your intrinsic motivations, creating a supportive environment, tracking progress, diversifying workouts, practicing self-care, implementing positive reinforcement, managing setbacks, and embracing mindset shift with the right weight loss motivation tips are necessary components for consistency in your weight loss journey.
Remember that your weight loss journey is a personal and one-of-a-kind experience. Maintain your patience, be gentle with yourself, and enjoy each step of your growth. You may achieve long-term success and live a healthier, happier, and more meaningful life by prioritizing self-care, cultivating a positive mindset, and remaining resilient in the face of obstacles. You can remodel your body and mind and embrace a new, brighter version of yourself with focus and determination. Maintain your focus, remain optimistic, and allow your weight loss journey to reflect your dedication, perseverance, and unwavering belief in your ability to reach your goals.
Disclaimer: The information provided in this article is for educational purposes only and should not be considered as a substitute for medical advice. Consult a healthcare professional before implementing any home remedies or making significant changes to your lifestyle.