Powerful Tips for Losing Weight After the Age of 40
Losing weight after the age of 40 might pose some challenges because of the natural changes that occur in our bodies as we age. As the metabolism slows, it becomes more difficult to burn calories and lose weight. However, with the appropriate strategy, losing weight beyond 40 is not only possible but easy to achieve.
Introduction
In this article, we will discuss the significance of losing weight after the age of 40, offer helpful ideas and methods. We will present a detailed guide to help you determine the best ways to lose weight after 40 and successfully navigate your weight loss path.
How to Lose Weight After 40
If you want to lose weight and have crossed the age of 40, then you need to make smart efforts for a successful weight loss journey. Here are some effective tips for losing weight after 40:
Importance of Weight Loss After 40
Let us share some insights about the importance of losing weight after 40.
Health Consequences of Excess Weight Gain
Excess weight gain in middle age might have serious health consequences. The increased chance of acquiring chronic illnesses such as high blood pressure, type 2 diabetes, and heart disease is one of the key concerns. Excess weight strains the cardiovascular system, resulting in greater blood pressure and an increased risk of heart attacks and strokes.
Obesity is also associated with insulin resistance and the development of type 2 diabetes. Excess body fat can impair the body's capacity to control blood sugar levels, resulting in insulin resistance. If left untreated, this illness might lead to type 2 diabetes. 
Excess weight can cause joint problems and musculoskeletal ailments, in addition to cardiovascular and metabolic complications. The added stress on the joints, particularly in weight-bearing areas like the knees and hips, can lead to the development of disorders like osteoarthritis. This can lead to chronic discomfort and reduced movement, lowering one's quality of life even further.
Obesity is also linked to an increased risk of some cancers, including breast, colon, and prostate cancer. Excess adipose tissue creates hormones and inflammatory chemicals that can stimulate cancer cell development.
Beyond Aesthetics: Mental and Emotional Advantages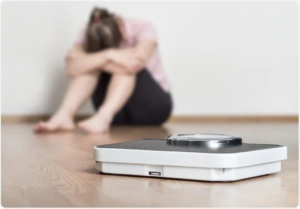 While the physical benefits of decreasing weight are well known, so are the mental and emotional benefits. Shedding excess weight can improve overall mental health, increase mood, and raise self-esteem.
Weight loss is frequently accompanied by increased energy and better sleep quality. A nutritious diet and regular physical activity can help regulate sleep patterns, resulting in greater overall rest. Sleep improvement can have a significant impact on mood, cognitive performance, and emotional well-being.
Losing weight can also help with mental health issues, including despair and anxiety. Endorphins, or "feel-good" hormones, are released during exercise and can help alleviate depression symptoms. Furthermore, meeting weight loss objectives can promote self-esteem and confidence, resulting in a more favorable body image and improved mental well-being.
Seeking the right solutions to how to lose belly fat after 40, setting goals, establishing strategies, and making good lifestyle adjustments are all common components of a weight loss journey. These behaviors promote a sense of accomplishment and self-efficacy, which promote a positive mentality and general emotional well-being.
Additionally, decreasing weight can improve social interactions and relationships. Improved self-esteem and body image can lead to a more active social life and increased engagement in social activities. Individuals may receive encouragement and good comments from friends, family, and peers, resulting in a positive cycle of social support.
Begin with a Healthy Diet and Regular Exercise routine
Here is some useful information to quell your curiosity about how to lose weight after 40.
Creating a Healthy and Balanced Diet
Adopting a nutritious and balanced diet is essential for successful weight loss after the age of 40. A well-balanced diet delivers essential nutrients while maintaining a calorie deficit for weight loss. Here are some crucial things to keep in mind when creating a diet plan:
Include fruits and vegetables in your diet

: Fruits and vegetables are high in vitamins, minerals, and fiber. They satisfy your hunger while being minimal in calories. Incorporate a variety of colorful fruits and vegetables into your everyday diet.

Select lean protein sources: Protein is essential for muscle maintenance and repair, especially when losing weight. Choose lean protein sources such as poultry, fish, lentils, and tofu. When compared to red meat, these options have less saturated fat.
Include whole grains

: Whole grains, such as quinoa, brown rice, and whole wheat bread, are high in fiber, which improves digestion and makes you feel full. They also deliver a constant supply of energy, keeping you going all day.

Watch your fat intake

: While fat is necessary for our bodies, it's crucial to choose healthier fats like avocados, almonds, and olive oil. Saturated and trans fats, which are typically present in processed and fried foods, should be limited or avoided.

Stay hydrated: Drinking enough water is essential for overall health and weight loss. Water assists digestion, regulates metabolism, and creates a feeling of fullness. Aim to consume 8 cups (64 ounces) of water per day.
It's crucial to remember that dietary requirements differ depending on individual factors, including age, gender, exercise level, and any underlying health concerns. A licensed dietician can offer specialized advice on how to lose weight after 40 and ensure that your food plan is matched to your specific needs and goals.
Exercise is an essential part of any successful weight-loss plan. It not only burns calories, but it also improves cardiovascular health, increases strength and endurance, and speeds up metabolism. Here are some relevant tips for losing weight after 40 regarding exercises:
Select activities you enjoy

: Find things that you actually enjoy to help you stick to your fitness schedule. Walking, jogging, cycling, swimming, dancing, or participating in group fitness courses are all options. When you enjoy the exercise, it is easier to stick to a regular program.

Begin gently and gradually raise intensity: If you are new to exercise or have not been active in a long time, it is critical to begin gently and gradually increase the intensity and duration of your exercises. This method aids in injury prevention and allows your body to adapt to the physical demands of exercise.
Make it a habit: When it comes to exercising, consistency is essential. Set up specified times for workouts and regard them as non-negotiable appointments with yourself to build a regular exercise regimen. Begin with attainable targets and progressively increase the frequency and duration of your workouts.
Include both cardio and strength training

: A well-rounded fitness regimen includes both cardiovascular and strength training routines. Cardiovascular exercises like brisk walking, jogging, or cycling help you burn calories and enhance your heart health. Strength training activities, on the other hand, serve to increase muscular mass, metabolism, and general body composition.

Stay active throughout the day

: In addition to scheduled workouts, try to incorporate more movement into your regular routine to stay active throughout the day. Take the stairs instead of the elevator, walk or bike short distances instead of driving, and take breaks from sitting to stretch and move around.
Before beginning any new exercise routine, contact your healthcare professional and seek appropriate solutions on how to lose weight after 40, especially if you have any underlying health conditions or concerns.
The Strength Training Advantage
If you are seeking suitable answers for 'how to lose weight over 40′, then you should know the tremendous advantages of strength training.
Sarcopenia is a natural loss of muscle mass that occurs as we age. This reduction in muscle mass contributes to a slower metabolism, making it more difficult to lose weight and sustain it. Resistance training, often known as strength training, is an effective strategy for preventing muscle loss and aiding weight loss. The following is how strength training affects weight loss:
Muscular growth: Strength training involves working against resistance, such as weights, resistance bands, or bodyweight exercises, to increase muscular mass. This resistance activates muscle fibers, encouraging muscular growth and bulk gain. Your metabolism increases when you gain muscle because muscles burn more calories at rest than fat.
Improved metabolism

: Strength training improves metabolism over time. It boosts the number of calories expended during and after exercise. This is because muscle repair and maintenance require a lot of energy. As a result, even when you're not actively moving, your body continues to burn calories.

Changes in body composition: Strength training not only aids in weight loss but also improves body composition. Your body becomes more toned and defined as you lose weight and add muscle. This can result in a smaller appearance and a higher proportion of lean muscle mass, resulting in a healthier overall physique.
Improved functional abilities: Maintaining muscle strength and function is critical for doing everyday activities comfortably and avoiding age-related mobility issues. Strength training improves balance, stability, and functional abilities, making daily chores easier to manage and lowering the chance of injury.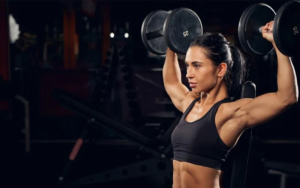 When it comes to weight loss strength training, a combination of compound exercises and focused muscle group workouts can be beneficial. Compound workouts demand more energy expenditure since they involve numerous muscle units, whereas focused exercises focus on a single muscle group. Here are some good strength-training exercises:
Squats: Squats 

are a compound exercise that primarily targets the lower body muscles such as the quadriceps, hamstrings, and glutes. They also work the core and necessitate stability, making them excellent calorie-burning exercises.

Squats are performed by standing with your feet shoulder-width apart. Bend your knees and drop your hips as if sitting in a chair. Maintain a straight back and a weight on your heels. Push through your heels and squeeze your glutes to return to your starting posture.

Push-ups: Push-ups are a multi-muscle exercise that works the chest, shoulders, triceps, and core. They can be tailored to different fitness levels. Begin in a high plank position with your hands shoulder-width apart to perform push-ups. Lower your chest to the floor while maintaining a straight line with your body. Return to your starting position by engaging your chest and arm muscles.
Lunges

: Lunges are a compound exercise that works the lower body muscles such as the quadriceps, hamstrings, and glutes. They also work to stabilize the core.

Step forward with one foot and lower your body until both knees are bent at a 90-degree angle to perform lunges. Maintain your front knee in line with your ankle and your back knee just above the ground. Return to the beginning position by pushing through the heel of your front foot, then repeat with the opposite leg.

Dumbbell Rows: Dumbbell rows are a focused exercise that primarily targets the upper back muscles, including the rhomboids and trapezius. They also work the biceps and the core muscles.

Place one knee and the corresponding hand on a bench or strong surface to conduct dumbbell rows. Hold a dumbbell in the opposite hand and hang your arm straight down. Bring the dumbbell up to your hip while maintaining your elbow close to your body. Lower the dumbbell with control and repeat on the opposite side.

Plank: A plank is a targeted exercise that targets the core muscles such as the abdominals, obliques, and lower back. Start in a high plank position with your hands just beneath your shoulders and your body in a straight line to complete a plank. Engage your core and hold the position for a predetermined amount of time, keeping your hips from sagging or lifting too high. 
Aim for 2-3 strength training sessions per week for appropriate rest and recovery time between exercises while including strength training in your weight loss routine. To keep your muscles challenged, gradually increase the weight or resistance as your strength develops.
The Importance of Sleep and Rest in Losing Weight
Let's delve deeper into the importance of adequate rest and sleep when it comes to losing weight after 40.
Adequate sleep is critical for general health and plays an important role in weight management. Sleep deprivation can interfere with hormone regulation, appetite control, and metabolism, potentially leading to weight gain and trouble reducing weight. The following is how sleep affects weight loss:
Hormone regulation

: Sleep deprivation can disturb the balance of hormones such as ghrelin and leptin, which govern hunger and fullness. Ghrelin, the hunger hormone, rises in response to sleep deprivation, resulting in increased appetite and desire for unhealthy foods. Leptin, the hormone responsible for signaling fullness, on the other hand, diminishes, perhaps leading to overeating.

Metabolic regulation

: Lack of sleep has been associated with altered glucose metabolism and insulin resistance, raising the risk of weight gain and type 2 diabetes. Sleep deprivation can also impair the body's capacity to utilize carbs for energy, resulting in higher blood sugar levels and fat storage.

Energy expenditure: Proper energy balance requires adequate sleep. It enables the body to recuperate, mend tissues, and regain energy. Inadequate sleep might leave you tired and unmotivated to engage in physical exercise, lowering overall calorie expenditure and impeding weight loss efforts.
Emotional well-being: Sleep deprivation can have an impact on mood and emotional control, resulting in increased stress, anxiety, and emotional eating. Sleep deprivation can impair cognitive function, decision-making, and impulse control, making it more difficult to stick to a balanced eating plan and make mindful food choices. 
Note: There might be affiliate links mentioned here. We may receive a commission if you purchase a product through an affiliate link. There is no additional charge for you. Please do your own research before making any online purchases.
Consider the following few tips for losing weight after 40 related to sleep and relaxation:
Create a consistent sleep schedule

: Try to go to bed and wake up at the same time every day, including weekends. This promotes greater sleep quality by regulating your body's internal clock.

Create a sleep-friendly environment

: Make your bedroom a peaceful and comfortable location. Ascertain that the room is dark, silent, and at an appropriate temperature. To reduce noise, consider using blackout curtains, earphones, or white noise devices.

Limit your exposure to electronic devices

: Blue light released by electronic gadgets such as smartphones, tablets, and computers has been shown to disturb sleep patterns. To lessen the influence of these devices, avoid using them at least an hour before bedtime or wear blue light-blocking glasses.

Establish a bedtime routine

: Before going to bed, engage in soothing activities to signal to your body that it's time to rest and prepare for sleep. Reading a book, taking a warm bath, practicing meditation or deep breathing techniques, or listening to calming music are all examples.

Limit coffee and alcohol consumption

: Coffee is a stimulant that can disrupt sleep, so avoid consuming it close to bedtime. Similarly, while alcohol may make you feel tired at first, it might impair your sleep quality and cause more frequent awakenings during the night.

Exercise on a regular basis

: Exercise can enhance sleep quality, reduce stress, and promote relaxation. However, it's critical to finish your workout at least a few hours before bedtime to give your body time to relax.

Manage stress

: Stress might impair sleep quality. Incorporate stress management practices into your daily routine, such as practicing mindfulness, writing, or engaging in fun and soothing hobbies.
You may help your weight loss journey and overall well-being by prioritizing quality sleep and making the necessary changes to improve your sleep habits.
Portion Control and Mindful Eating
Let us share the importance and tips for losing weight after 40 associated with portion control and mindful eating.
Adapting to Changing Caloric Requirements
Because of changes in metabolism and activity levels, our bodies require fewer calories as we age. It is critical to adjust to these fluctuating calorie needs to maintain a healthy weight and support weight loss efforts. Here's how you can change your eating habits:
Estimate your daily calorie needs

: Determine your daily calorie needs using online calculators or by consulting with a certified nutritionist based on parameters such as age, gender, height, weight, and activity level. This estimate can be used as a starting point for creating a healthy eating plan.

Consume nutrient-dense foods

: Prioritize nutrient-dense meals that supply important vitamins, minerals, and antioxidants while being low in calories. Fruits, vegetables, whole grains, lean meats, and healthy fats are examples of these. Nutrient-dense meals help you achieve your nutritional demands without consuming too many calories.

Be cautious of portion sizes

: After the age of 40, portion control becomes increasingly crucial in weight management. To assist in measuring acceptable serving sizes, use visual signals such as portion control plates or measuring cups. To avoid overeating, pay attention to hunger and fullness signs.

Make protein and fiber a priority: Protein and fiber are both important nutrients for weight loss and overall health. Protein promotes lean muscle mass preservation, satiation, and muscular rehabilitation. Protein-rich foods include lean meats, poultry, fish, lentils, and dairy products. Fruits, vegetables, whole grains, and legumes are high in fiber and give bulk while also promoting feelings of fullness and supporting digestive health.
Limit processed and sugary foods

: Processed foods, such as sugary snacks, beverages, and refined grains, are high in calories and low in nutrients. They can cause blood sugar surges, increased appetites, and weight gain. Limit your intake of these items and instead opt for whole, unprocessed options.
Mindful Eating Techniques
Mindful eating is a discipline that entails paying close attention to one's eating experience, focusing on the present moment, and tuning in to internal hunger and fullness cues. It can increase portion control and avoid overeating by fostering a healthier relationship with food. Here are a few mindful eating-related tips for losing weight after 40 that you can try:
Eat without distractions

: Avoid eating while watching TV, working, or doing something else. Create a tranquil and comfortable eating environment in which you can fully concentrate on your meal.

Take your time and savor each bite

: Take the time to thoroughly chew your food and appreciate the flavors, textures, and fragrances. Slow eating permits your body to detect fullness and contentment.

Pay attention to hunger and fullness cues

: Before eating, rate your hunger on a scale of 1 to 10. Rather than being ravenous, aim to eat when you're moderately hungry. Throughout the meal, check in with yourself to gauge your state of fullness. Stop eating when you are satisfied but not overstuffed.

Use your senses

: Focus on the sensory experience of eating. Take note of the colors, smells, and flavors of your food. Engage all of your senses to get the most delight and satisfaction out of your meals.

Practice portion control

: To help control portion sizes, use smaller plates, bowls, and utensils. Begin with smaller servings and permit yourself to take seconds if you're still hungry. Portion control can help you avoid overeating and better regulate your caloric intake.

Pay attention to your body's signals

: Learn to distinguish between bodily hunger and emotional or environmental stimuli. Eat when your body signals actual hunger and stop when you're physically content, even if there's still food on your plate.

Develop thankfulness and appreciation

: Before each meal, take a moment to express gratitude for the food and nourishment it provides. Appreciating the time and effort that went into preparing your meals can help you maintain a happy attitude and enhance your connection with food.
You may create a healthy relationship with food, improve portion management, and improve your overall eating experience by adopting mindful eating practices into your daily routine.
Seeking Help from Family and Friends
Don't hesitate to seek help from your friends and family to find the best ways to lose weight after 40.
Starting a weight-loss journey can be difficult, especially if you're doing it alone. That is why it is critical to seek help from friends and family on how to lose weight after 40. Here are some of the reasons why social support is essential for weight loss success:
Accountability: Sharing your weight loss objectives with others will help you stay on track. You're more likely to stay engaged and motivated if you have someone cheering you on and checking in on your progress.
Emotional Support: Losing weight might cause emotional ups and downs. When you have a support structure in place, you may lean on others during challenging times. They can provide support, understanding, and a listening ear, assisting you in navigating any emotional obstacles that may occur.
Practical aid: Friends and family members can offer practical aid in your weight loss journey. They can participate in physical activities with you, assist with food planning and preparation, and provide helpful insights and resources gleaned from their own health journeys.
Beneficial Influence

: Surrounding yourself with others who share your health goals or live a healthy lifestyle can have a beneficial impact on your decisions. Their routines and behaviors might inspire and motivate you on your quest.
Establishing a Support Network
Consider the following tactics to create a strong support system for your weight loss efforts:
Communicate your goals: Discuss your wish to lose weight and the reasons for doing so openly with your loved ones. Share your objectives, obstacles, and milestones with them and seek the best ways to lose weight after 40 so that they can better understand and assist you.
Find a workout partner

: Invite a friend or a family member to participate in physical activities with you. Having a workout partner can make training more fun, promote accountability, and provide an opportunity to spend quality time together.

Join a weight loss club or class: Think about joining a weight loss group, fitness class, or online community where you can meet other people with similar aims. These communities offer a supportive environment in which you may share your experiences, seek advice, and celebrate your accomplishments with others.
Seek professional assistance: In addition to friends and family, professional assistance can be quite beneficial. Consult a certified dietitian or a weight reduction coach for expert advice on how to lose weight after 40, customized meal plans, and encouragement to help you stay on track.
Have open and honest conversations

: Communicate with your loved ones about your progress, struggles, and achievements regularly. While expressing your wants and boundaries, be receptive to their recommendations and comments.

Celebrate your achievements

: Celebrate your achievements with your support system, whether it's dropping a certain number of pounds or attaining a fitness milestone. To commemorate your accomplishment, plan pleasant events or reward yourself with non-food delights.
Keep in mind that everyone's weight loss journey is different, and not everyone will understand or support your goals. Concentrate on surrounding yourself with people who inspire and motivate you, and seek help from those who genuinely want to see you succeed.
Medical Assistance and Weight Loss Surgery
If you are seeking medical assistance and looking forward to weight loss surgery to lose weight after 40, you should know a few crucial things before making a decision.
When Should You Seek Professional Assistance?
While lifestyle changes are frequently successful for weight loss, there may be times when professional assistance is required. Here are some signs that it might be time to seek professional help:
Lack of progress

: If you're not experiencing significant progress or are failing to break through weight reduction plateaus despite your best efforts, speaking with a healthcare professional can provide helpful insights and personalized recommendations.

Medical problems or medications: Weight loss can be influenced by medical illnesses such as hormone imbalances or thyroid abnormalities. Furthermore, some drugs may contribute to weight gain or impede weight loss efforts. These underlying issues can be identified and addressed by a healthcare practitioner.
Emotional or disordered eating patterns

: Seeking help from a therapist or counselor specialized in eating disorders might be beneficial if you are battling with emotional eating, binge eating, or disordered eating patterns. They can offer the assistance and resources needed to address the emotional and psychological components of weight reduction.

The need for tailored advice: Everyone's body is different, and what works for one person may not work for another. If you're confused about the best ways to lose weight after 40, speaking with a registered dietitian or weight loss specialist can provide individualized advice tailored to your exact situation.
Weight Loss Surgery as an Alternative
Individuals suffering from severe obesity may undergo weight loss surgery, often known as bariatric surgery. Weight reduction surgery can result in significant weight loss as well as improved obesity-related health issues. However, it is critical to thoroughly assess the benefits, dangers, and requirements of this surgical operation before assuming it is one of the best ways to lose weight after 40.
Consider the following tips for losing weight after 40 that are relevant to surgical options:
Eligibility and Evaluation

: Weight loss surgery is normally suggested for those with a BMI of 40 or higher (or a BMI of 35 or higher if they have obesity-related health problems). Candidates are subjected to a thorough evaluation before surgery to determine their physical and mental readiness, as well as their comprehension of the procedure and its long-term repercussions.

Weight Loss Surgery Types

: Weight loss surgery is classified into three types: gastric bypass, gastric sleeve, and gastric banding. Each method has its own set of benefits, drawbacks, and considerations. A healthcare practitioner who specializes in bariatric surgery can help you decide which choice is best for you.

Post-Surgery Support and Lifestyle Changes: Weight loss surgery is not a quick fix. It necessitates considerable lifestyle adjustments, including dietary alterations, regular physical activity, and continuing medical monitoring. To provide essential direction and support during the weight loss process, a multidisciplinary team, including dietitians, psychologists, and support groups, is generally involved.
Risks and Consequences

: Weight loss surgery, like any surgical operation, has risks and consequences. Infection, bleeding, vitamin deficiencies, gastrointestinal difficulties, and changes in the way your body absorbs medications are some of these. Before making a decision, it is critical to properly examine these risks with your healthcare professional.

Long-Term Success and Maintenance

: Weight loss surgery can result in significant weight loss in the months and years after the treatment. Maintaining long-term weight loss, on the other hand, necessitates dedication to lifestyle changes, continuing support, and regular follow-up with healthcare specialists.
Weight reduction surgery is a big decision that should be made in conjunction with a healthcare practitioner who specializes in bariatric surgery. They can conduct a thorough evaluation, clarify the risks and benefits, and assist you in determining whether it is the best decision for you.
As a result, seeking support from friends and family, as well as obtaining professional insights on how to lose weight over the age of 40, are critical components of effective weight loss. While lifestyle changes are typically beneficial, weight loss surgery may be an option for people who are severely obese. You may reach your weight loss objectives and enhance your overall health and well-being by making informed decisions, getting the correct assistance, and personalizing your strategy.
FAQs
Is it harder to lose weight after the age of 40?
Yes, the natural changes in metabolism make it more challenging to burn calories and lose weight.
Why is losing weight after 40 important?
Excess weight gain can lead to serious health issues like high blood pressure, diabetes, and heart disease.
Can losing weight after 40 improve mental health?
Yes, shedding excess weight can boost mood, self-esteem, and overall mental well-being.
What should I include in a healthy diet for weight loss after 40?
A balanced diet should include fruits, vegetables, lean protein, whole grains, and healthy fats.
How much water should I drink to support weight loss after 40?
Aim for 8 cups (64 ounces) of water per day to stay hydrated and assist with digestion and metabolism.
What exercises are effective for weight loss after 40?
Choose activities you enjoy, include both cardio and strength training, and incorporate movement throughout the day.
Can strength training help with weight loss after 40?
Yes, strength training builds muscle, increases metabolism, improves body composition, and enhances functional abilities.
How often should I do strength training for weight loss after 40?
Aim for 2-3 strength training sessions per week to allow for proper rest and muscle recovery.
How does sleep affect weight loss after 40?
Adequate sleep is crucial for hormone regulation, metabolic function, energy expenditure, and emotional well-being.
How can I improve sleep quality to support weight loss after 40?
Establish a consistent sleep schedule, create a sleep-friendly environment, limit electronic device use, and manage stress effectively.
Conclusion
We summarize the important points on how to lose belly fat after 40 mentioned throughout the article in the conclusion. We underline that reducing weight after the age of 40 is difficult but not impossible. Individuals can achieve their weight loss objectives and enhance their overall health and well-being by following the best ways to lose weight after 40, which include a balanced diet, combining exercise, particularly strength training, prioritizing sleep and rest, practicing mindful eating, seeking support, and contemplating professional aid when necessary. We hope the information provided here encourages you to embark on your weight-loss journey with commitment and patience.
Disclaimer: The information provided in this article is for educational purposes only and should not be considered as a substitute for medical advice. Consult a healthcare professional before implementing any home remedies or making significant changes to your lifestyle.