Understanding The Role of Chromium Polynicotinate in Weight Loss
Many people have struggled for a long time to find successful weight loss methods. With so many weight loss pills and supplements on the market, it can be difficult to determine which ones are genuinely effective and safe. Chromium Polynicotinate is one such supplement that has gained popularity in recent years. 
Introduction
Chromium Polynicotinate or Chromium Nicotinate has sparked attention and controversy in the health and fitness industry due to its possible weight loss benefits. This article seeks to provide a full analysis of chromium polynicotinate supplements, delving into the role of chromium polynicotinate in weight loss, the science behind their possible advantages, and the safety concerns that come with their use.
Overview of Chromium Polynicotinate
Chromium Polynicotinate, often known as Chromium Nicotinate, is a chemical molecule that has received a lot of interest in the world of health and dietary supplements. This chemical is generated from chromium, a trace mineral that is necessary for human health. Chromium is known for its role in many metabolic processes within the body and is commonly received through dietary sources such as whole grains, almonds, and broccoli.
Chromium Polynicotinate is a synthetic version of chromium that has been painstakingly bonded to niacin, a type of B-vitamin. This particular combination aims to increase chromium bioavailability, allowing the body to absorb and use it more effectively. As a result, Chromium Polynicotinate is frequently used in dietary supplements to address a variety of health concerns, with one of its most prominent applications being weight management.
The case for using Chromium Polynicotinate for weight loss stems from its ability to alter two essential areas of metabolic health: blood sugar management and insulin sensitivity. These mechanisms are the foundation of its alleged efficacy. We can better analyze Chromium Polynicotinate's possible role in weight loss by better understanding how it may alter these processes.
Science Behind Chromium Polynicotinate and Weight Loss
To understand the role of chromium polynicotinate in weight loss, let us understand the science behind it. 
The efficacy of Chromium Polynicotinate for weight loss is closely tied to its capacity to manage blood sugar levels. Chromium, a trace mineral, is needed for glucose metabolism, which is necessary for maintaining steady energy levels and managing hunger.
Glucose, also known as blood sugar, is our cells' major source of energy. Blood sugar levels that are too high or too low can cause a variety of health problems, including weight gain. Chromium is thought to improve insulin activity, a hormone that regulates the uptake and utilization of glucose by our cells.
According to some research, people who are deficient in chromium may be more prone to fluctuating blood sugar levels. Sugar cravings, overeating, and a proclivity to nibble on high-calorie, sugary foods can all result from this instability. As a result, an unbalanced blood sugar profile might contribute to excessive calorie consumption and weight gain.
One of the probable chromium polynicotinate benefits is that it assists in maintaining consistent blood sugar levels. It may reduce the onset of sugar cravings and overeating by boosting the body's ability to control glucose adequately, indirectly aiding in weight loss.
Greater Insulin Sensitivity
Chromium Polynicotinate is thought to help in weight loss by improving insulin sensitivity. Insulin is a critical hormone that regulates blood sugar levels and fat storage in the body. When the body's insulin sensitivity declines, it often requires more of the hormone to get glucose into cells. Insulin resistance is a condition that causes elevated blood sugar levels and fat gain.
One of the health benefits of Chromium Polynicotinate is hypothesized to combat insulin resistance by increasing the responsiveness of the body's cells to insulin. As a result, insulin can fulfill its functions more effectively, resulting in better blood sugar regulation and, potentially, less fat storage. It's worth noting that this effect could also help prevent the development of type 2 diabetes, which is closely linked to fat.
Another theory in favor of Chromium Polynicotinate for weight loss involves appetite regulation. Some proponents suggest that by balancing blood sugar levels, this supplement can help regulate hunger. When blood sugar levels soar and subsequently plummet, people commonly experience increased hunger and desires for sugary and high-calorie items.
The ability of Chromium Polynicotinate to minimize these severe blood sugar changes may lead to a reduction in calorie intake. It may lessen the risk of cravings and the temptation to consume excessive calories by promoting a more constant and consistent energy flow to the body.
The mechanisms determining Chromium Polynicotinate's effect on fat metabolism remain unknown. However, some studies indicate that it may have an effect on how the body processes fat. This potential health benefit of Chromium Polynicotinate may result in enhanced fat burning, which is an important part of weight loss.
It is important to note that fat metabolism is a complex process that involves numerous enzymes and metabolic pathways. While the precise mechanism of action for Chromium Polynicotinate in this context is still being researched, its ability to improve fat metabolism is one of the reasons it is being considered as a weight reduction tool.
Maintaining Lean Body Mass
Maintaining lean body mass while losing weight is crucial for general health. Muscles, organs, and other non-fat tissue comprise lean body mass, which is crucial for maintaining a healthy metabolism and minimizing nutrient loss.
Some research suggests that Chromium Polynicotinate may help people maintain lean body mass while decreasing weight. This is especially essential because many weight loss procedures, if not implemented correctly, can result in muscle loss as well as fat loss. Muscle loss can have a negative impact on metabolism, making it difficult to maintain weight and perhaps triggering other health problems.
The ability of Chromium Polynicotinate to preserve lean body mass while aiding fat loss is an appealing feature for those looking to lose weight. However, the precise processes underlying this impact must be investigated further through clinical study.
Research on Chromium Polynicotinate and Weight Loss
Some research and studies done to understand the role of chromium polynicotinate in weight loss are as follows: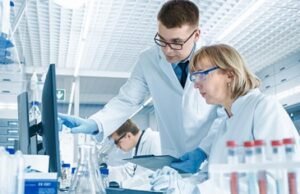 A number of clinical trials have been carried out to study the efficiency of Chromium Polynicotinate for weight loss. The results of these experiments, however, have been variable and frequently inconclusive. Some studies have found that taking Chromium Polynicotinate supplements will help you lose weight and lower your appetite. These findings have raised hopes for the incredible chromium polynicotinate benefits.
Participants in specific trials who ingested Chromium Polynicotinate reported lower feelings of hunger and a possible reduction in calorie consumption. While these findings are encouraging, it is important to note that not all clinical trials have had such positive results. Some studies have revealed that it has little effect on weight loss or appetite management. Variations in study design, participant characteristics, and duration may all contribute to these contradictory results.
Meta-analyses, which combine data from several studies to provide a more comprehensive picture, have likewise yielded conflicting results on Chromium Polynicotinate's effect on weight loss. A meta-analysis published in the journal "Obesity Reviews" in 2016 showed that Chromium Polynicotinate supplementation may result in modest weight loss, particularly in overweight and obese people. However, it raised concerns about the overall quality of the data, indicating that more research is needed to clearly corroborate these conclusions.
This uncertainty is exacerbated by differences in study designs, research method quality, and participant demographics across the papers included in the meta-analysis. While some data suggests a possible benefit, current limitations highlight the need for further rigorous and consistent research to establish a clear link between Chromium Polynicotinate and weight loss.
Animal studies have provided useful information about how Chromium Polynicotinate may effect weight loss. According to these investigations, the supplement can influence fat metabolism and insulin sensitivity in animals. However, it is critical to realize that the health benefits of Chromium Polynicotinate seen in animals do not necessarily translate directly to human consequences.
Because animal physiology differs greatly from human physiology, the dosages and treatment regimens employed in animal studies may not be directly comparable to human consumption. These studies, while providing a core understanding of probable pathways, do not give definitive proof of how Chromium Polynicotinate affects weight loss in humans.
Mechanistic Investigation
Much of the evidence supporting the involvement of Chromium Polynicotinate in weight loss comes from mechanistic studies. These studies look into the biological mechanisms underlying the health benefits of Chromium Polynicotinate. While mechanistic research provides useful insights into how Chromium Polynicotinate may function inside the body, it does not give direct evidence of weight loss benefits in real-world contexts.
These studies contribute to the understanding of the potential mechanisms by which Chromium Polynicotinate may influence weight regulation, such as blood sugar control and hunger management. They do not, however, decisively demonstrate its efficiency in reaching weight loss results.
Observational population studies in diverse populations have looked at the association between chromium polynicotinate benefits and obesity rates. These researchers' findings have likewise been mixed. Some studies have found a correlation between higher chromium intake and reduced obesity rates, indicating a possible link between chromium status and weight management.
Other population studies, however, have not shown a significant association. Dietary habits, genetic characteristics, and lifestyle variables that differ between communities may all have an impact on these variances. Population studies, like other types of research, cannot demonstrate a definitive causal association between Chromium Polynicotinate supplementation and weight loss.
Considerations for Safety and Security
As with any dietary supplement, approaching Chromium Polynicotinate with a careful knowledge of potential safety problems and considerations is crucial. While Chromium Polynicotinate is usually considered safe when used according to the directions, individuals should proceed with caution and contact a healthcare practitioner before introducing these supplements into their weight loss plan. Here are a few important safety considerations to maximize the health benefits of Chromium Polynicotinate and minimize the risks:
Dosage: The best dose of Chromium Polynicotinate for weight loss is unknown. While chromium is a necessary trace mineral, too much of it can be harmful. Skin rashes, mood disturbances, disorientation, and nausea may occur in high doses. As a result, it is critical to adhere to suggested dose levels, which might vary depending on characteristics such as age, gender, and individual health demands.
Chromium Polynicotinate may interact with some medications, including insulin and diabetes treatments. The supplement may enhance the effects of certain drugs, resulting in hypoglycemia (low blood sugar). It may also interfere with the absorption of antacids, reducing their effectiveness. If you are using drugs for diabetes or other diseases, you should see your doctor before beginning consuming Chromium Polynicotinate for weight loss. Your doctor can advise you on suitable dosage adjustments and evaluate your progress.
Allergic Reactions: Although uncommon, some people may be sensitive or allergic to chromium. Allergic responses can cause skin rashes, itching, and even breathing difficulties. If you develop any of these symptoms after starting Chromium Polynicotinate supplementation, stop immediately and seek medical attention.
Note: There might be affiliate links mentioned here. We may receive a commission if you purchase a product through an affiliate link. There is no additional charge for you. Please do your own research before making any online purchases.
Gastrointestinal Problems: High chromium dosages can cause gastrointestinal discomfort, including stomach distress and digestive difficulties. If you have these symptoms, reduce your chromium consumption or divide the dose into smaller pieces to enhance tolerance. Staying hydrated may also help alleviate intestinal discomfort.
Pregnancy and Breastfeeding Safety: There has been little study on the safety of chromium supplementation during pregnancy and breastfeeding. As a result, it is best to talk with a healthcare expert before using these supplements during these times. The nutritional needs of the developing fetus and breastfeeding child must be considered, and healthcare professionals can advise on the appropriateness of supplementing at this vital time.
Health Issues: People with certain underlying health issues, particularly kidney illness, should use chromium supplements with caution. The kidneys are primarily responsible for eliminating chromium, so excessive consumption may put additional strain on these organs. Individuals with kidney problems should consult their doctor to see if chromium supplementation is safe and acceptable for them. This approach helps in gaining the best health benefits of Chromium Polynicotinate with reduced side effects. 
Long-Term Use: The safety of long-term chromium supplementation is currently being studied. While short-term usage within prescribed dosages is generally deemed safe, the impact of long-term use has yet to be firmly demonstrated. As a result, if individuals intend to use chromium supplements as part of their weight management approach for a lengthy period of time, they should do so under the advice and supervision of a healthcare expert. Regular health checks can aid in maximizing health benefits and detecting any potential side effects connected with long-term use.
It is crucial to note that Chromium Polynicotinate supplements should not be regarded as a miracle weight-loss treatment. They should be considered as part of a complete weight-loss plan. This strategy should include a well-balanced and nutritionally sound diet, regular physical activity, lifestyle changes, and a focus on long-term, sustainable changes.
FAQs
What exactly is Chromium Polynicotinate, and how does it differ from other chromium supplements?
Chromium Polynicotinate is a chromium derivative that is linked to niacin (a B vitamin). This one-of-a-kind combination is intended to improve chromium absorption and utilization in the body. It differs from other chromium supplements, such as chromium picolinate and chromium chloride, in that it has the potential for enhanced bioavailability.
Can Chromium Polynicotinate supplements be used in place of a healthy diet and exercise to help you lose weight?
Chromium Polynicotinate should not be used in place of a nutritious diet and frequent physical activity. It should be viewed as a possible supplement to these lifestyle improvements. A balanced diet and exercise are the cornerstones of success in a holistic approach to weight management.
Is it safe to take Chromium Polynicotinate supplements?
While Chromium Polynicotinate is usually regarded as safe, some people should avoid it. It may interact with pharmaceuticals, particularly insulin and diabetic treatments, resulting in low blood sugar. Before taking chromium supplements, those with kidney illness, chromium allergies, and pregnant or breastfeeding women should visit their doctor.
What is the recommended Chromium Polynicotinate dosage for weight loss?
The appropriate dosage is yet unknown and can vary depending on individual circumstances. To establish the optimal dose for your unique needs, it is critical to follow the dosage guidelines indicated on the supplement label and speak with a healthcare practitioner.
Are there any adverse effects to taking Chromium Polynicotinate supplements?
While many people absorb chromium supplements well, large amounts might cause skin rashes, mood changes, dizziness, nausea, and gastrointestinal discomfort. It is critical to monitor your response and get medical attention if you develop any side effects.
Can supplements containing Chromium Polynicotinate assist with sugar cravings?
The ability of Chromium Polynicotinate to manage blood sugar levels may indirectly help some people lessen sugar cravings. Blood sugar levels that are stable can reduce the desire to munch on sweet foods.
Are Chromium Polynicotinate dietary sources available?
Chromium Polynicotinate is a synthetic chemical that does not occur naturally in food. Whole grains, almonds, broccoli, and various meats are good sources of chromium.
Is Chromium Polynicotinate safe to take for an extended period of time?
The long-term safety of chromium supplementation is still being researched. It is best to utilize chromium supplements under the supervision of a healthcare practitioner, especially if you intend to use them for a lengthy period of time. Regular health checks can aid in the detection of any side effects linked to long-term use.
Is Chromium Polynicotinate suitable for everyone in terms of weight loss?
The efficacy of Chromium Polynicotinate varies from person to person. While some people may see minor weight loss benefits, it is not a definite answer for everyone. Individual metabolism, diet, and lifestyle can all have an impact on its efficacy.
Can I combine Chromium Polynicotinate with other weight loss products or medications?
Taking numerous vitamins or drugs for weight loss might be dangerous, especially if they mix. It is critical to speak with a healthcare expert before mixing Chromium Polynicotinate with other weight reduction products or drugs to ensure safety and efficacy.
Conclusion
Because of their impact on blood sugar regulation, insulin sensitivity, and appetite control, chromium polynicotinate supplements have gained attention as a potential weight loss tool. While there is some scientific evidence linking chromium supplementation to minor weight loss, the findings have been variable and unconvincing. It is critical to proceed with caution and check with a healthcare practitioner before using these supplements, especially if you have underlying health concerns or are taking drugs.
Finally, the role of Chromium Polynicotinate in weight loss is still being researched and debated. While it may provide some benefits for some people, it is not a definite treatment for weight loss. A well-balanced diet, regular physical activity, and other evidence-based practices remain the most effective approaches to obtaining and maintaining a healthy weight. As our understanding of Chromium Polynicotinate and its effects on weight loss evolves, it is critical to stay informed and make informed decisions regarding its use in your weight loss journey. 
Disclaimer: The information provided in this article is for educational purposes only and should not be considered as a substitute for medical advice. Consult a healthcare professional before implementing any home remedies or making significant changes to your lifestyle.