How to Lose Weight without Feeling Hungry
Losing weight is a popular goal for many individuals, but it can be difficult to accomplish if you get frequently hungry. Hunger is a natural physiological response to a lack of food, but it can sabotage your weight loss attempts if it leads to binge eating or overeating.
Introduction
There are various methods for losing weight without feeling hungry. In this comprehensive article, we'll look at some of the most efficient ways to lose weight while feeling content and nourished.
Brilliant Tips on How to Lose Weight Without Feeling Hungry
If you want to lose weight fast without feeling hungry, you must consider the following factors for your weight loss management: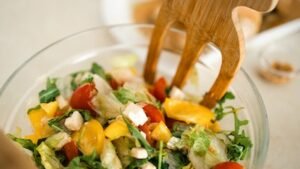 Consume More Fiber
Incorporating additional fiber into your diet is a vital way to lose weight quickly without feeling hungry. Fiber is an indigestible carbohydrate present in plant-based meals that has a variety of health benefits, including inducing satiety and assisting with weight management.
Fiber-rich foods add bulk to your meals, allowing you to feel satiated for extended periods of time. They also break down at a slower rate, resulting in a slower release of nutrients and energy into your bloodstream. Slower digestion can help manage blood sugar levels, minimizing spikes and crashes that can cause hunger and cravings. 
Focus on including fruits, vegetables, whole grains, legumes, nuts, and seeds in your meals and snacks to enhance your fiber consumption. These foods offer the best way to get more fiber as well as vital vitamins, minerals, and antioxidants. For example, you may have a bowl of oatmeal with fresh berries and a sprinkling of chia seeds for breakfast, a colorful salad with mixed veggies and beans for lunch, and a handful of almonds or a piece of fruit as a snack in between meals.
Aim for 25–30 grams of fiber per day, increasing your consumption gradually to allow your body to acclimate. Drink plenty of water as you increase your fiber intake to improve digestion and prevent constipation.
It's crucial to remember that fiber works best when combined with plenty of water. Fiber and water together add weight to your diet and promote a feeling of fullness, reducing the likelihood of overeating. Choose the best ways to get more fiber, drink water, and eat water-rich meals like fruits and vegetables to stay hydrated throughout the day.
A high-fiber diet, in addition to aiding weight loss, has several health benefits, such as improved digestion, lower cholesterol levels, and a lower chance of chronic diseases such as heart disease, diabetes, and certain types of cancer.
Always seek and rely on the best ways to get more fiber. Increased fiber consumption from a range of plant-based meals can thereby improve feelings of fullness, aid in weight loss, and contribute to general well-being. Remember to gradually increase your fiber intake, remain hydrated, and eat a variety of fiber-rich foods for the best outcomes on your weight loss journey without feeling hungry.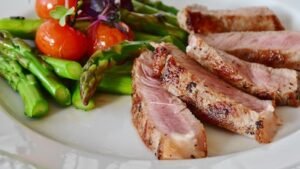 Choose Protein Rich Foods
Incorporating protein-rich meals into your diet is an efficient way to lose weight without feeling hungry. Protein is essential for weight management because it regulates hunger, promotes fullness, and aids in the maintenance of lean muscle mass.
Protein consumption causes the production of hormones that communicate feelings of fullness and contentment. Furthermore, protein has a stronger thermic impact, which means it takes more energy to digest than carbohydrates or fats. This increased energy expenditure can help with weight loss attempts even more.
To add additional protein to your diet, choose lean proteins such as poultry, fish, eggs, dairy products, lentils, and tofu. These meals are high in protein as well as other necessary elements. For dinner, you could have grilled chicken breast with steamed vegetables, Greek yogurt with mixed berries as a snack, or lentils in a hearty vegetable soup. 
To improve fullness and reduce appetite, eat a source of protein at each meal. You're giving your body the building blocks it needs for muscle repair, maintenance, and growth. This is especially crucial during weight loss since it helps to maintain lean muscle mass and prevents a drop in metabolic rate.
It's important to remember that protein should be balanced with other macronutrients and overall calorie consumption. While protein is vital, eating too much of it might cause an imbalance in your diet. Consult a healthcare expert or a qualified dietitian to understand how to lose weight without being hungry and discover the best protein consumption for your unique needs and weight loss objectives.
Aside from aiding weight loss, eating enough protein provides other advantages such as improved muscle tone, faster post-exercise recovery, and improved overall body composition.
When it comes to protein sources, remember that variety is crucial. Investigate various options to keep your meals interesting and to guarantee you get a variety of necessary amino acids. If you follow a vegetarian or vegan diet, try plant-based protein sources such as quinoa, chia seeds, hemp seeds, or seitan.
You may effectively regulate hunger, improve muscle health, and enhance your weight loss efforts by emphasizing protein-rich meals in your diet. Maintain a well-balanced diet overall by including a range of lean protein sources in your meals to lose weight fast without feeling hungry.
Consume Plenty of Water
Staying hydrated is a simple yet effective way to lose weight without feeling hungry. Water is not only necessary for good health, but it can also help you regulate your appetite, increase fullness, and achieve your weight loss objectives.
Feelings of hunger can sometimes be confused with thirst. Staying hydrated will help you avoid excessive snacking and minimize those misleading hunger signals. Furthermore, drinking water before a meal can make you feel fuller and may help you consume fewer calories during the meal.
Aim for at least eight glasses of water every day and vary your intake according to your activity level, climate, and personal needs. If you engage in strenuous physical activity or are in hot conditions, you may require more water to compensate for increased fluid loss through sweating.
If you find plain water uninteresting, try infusing it with natural ingredients like lemon slices, cucumber slices, or mint leaves. Herbal teas, both hot and iced, can also help you meet your daily fluid requirements while also providing a range of flavors without adding calories.
Certain beverages, such as sugary sodas, fruit juices, and sweetened coffee or tea, can contribute to excessive calorie intake while not giving the same amount of satiety as whole foods. It's better to limit or avoid these calorie-laden beverages in favor of water or other low-calorie options.
Water, in addition to increasing satiety, has various other weight-loss benefits. It assists digestion, promotes normal metabolic activity, and aids in the removal of waste materials from the body.
Pay attention to your body's thirst signals and drink when you feel thirsty to stay appropriately hydrated. Carry a reusable water bottle with you throughout the day to serve as a reminder to stay hydrated.
Keep in mind that hydration is essential not only for weight loss but also for overall health and well-being. You may support your weight reduction journey, avoid excessive snacking, and encourage optimal biological processes by making water your beverage of choice and remaining well hydrated.
Consume Whole Foods More
When trying to lose weight without feeling hungry, incorporating more whole foods into your diet can be really useful. Whole foods are lightly processed, so their essential nutrients, fiber, and satiating characteristics are preserved. You can encourage weight loss while feeling full and nourished by including more whole foods in your meals.
Fruits and vegetables, whole grains, legumes, nuts and seeds, and other whole foods are high in important vitamins, minerals, antioxidants, and dietary fiber. The combination of these nutrients aids in the regulation of hunger hormones, the slowing of digestion, and the sensation of fullness.
Including a range of colorful fruits and vegetables in your meals not only enhances flavor and texture, but also increases nutritional value. These fiber-rich foods add weight to your meals while also supplying critical nutrients. To assist your weight loss objectives, aim to fill half of your plate with non-starchy veggies such as leafy greens, broccoli, bell peppers, and tomatoes.
Whole grains such as quinoa, brown rice, oats, and whole wheat bread are good sources of fiber and enhance satiety. They provide more nutrients and fiber than refined grains, which have been processed to eliminate the bran and germ. Include whole grains in your meals to give them substance and keep you going all day.
Legumes, such as beans, lentils, and chickpeas, are high in plant-based protein and offer the best way to get more fiber. They give you a feeling of fullness and help you control your hunger. To increase the nutritional value of your meals and increase satiety, add beans to soups, salads, stews, or as a side dish. 
Nuts and seeds are high in nutrients, including healthy fats, protein, and fiber. They are delicious as a snack or in salads, yogurt, or smoothies. A tiny amount of nuts or seeds in your diet will help you feel full while also providing critical nutrients in your quest to lose weight fast without feeling hungry.
By focusing on whole foods, you automatically limit your consumption of processed foods, which are generally high in added sugars, harmful fats, and empty calories. Because whole foods provide higher satiety per calorie, you can consume a satisfying amount of food while ingesting fewer calories.
Even while eating whole foods, remember to exercise portion control. Even though they are healthy, overeating might stymie weight-loss efforts. To avoid overeating, practice mindful eating, savor each bite, and pay attention to your body's hunger and fullness signs.
Including more whole foods in your diet is a healthy and sustainable way to lose weight without feeling hungry. You may maximize your nutritional intake, enhance satiety, and support your overall health and well-being by eating foods in their natural form.
Avoid Skipping Meals
Skipping meals may appear to be an excellent way to cut calories, but it might really work against you when it comes to losing weight fast without feeling hungry. Skipping meals frequently results in increased hunger, cravings, and overeating later in the day, which can sabotage your weight loss attempts. Instead, focus on eating frequent, well-balanced meals to give your body continuous energy and sustenance.
Eating three balanced meals per day, plus healthy snacks as needed, helps stabilize blood sugar levels and keeps your metabolism running at peak performance. When you skip meals, your body enters "starvation mode" and attempts to conserve energy, lowering your metabolism. This can make it more difficult to burn calories and lose weight.
Start your day with a good breakfast to avoid skipping meals. A well-balanced breakfast with protein, fiber, and healthy fats will jumpstart your metabolism and keep you satisfied all morning. Options such as eggs with whole wheat toast and avocado or porridge with nuts and berries provide a healthy nutritional balance.
Aim for a combination of lean protein, nutritious grains, and plenty of vegetables for lunch and dinner. Protein-rich foods, such as chicken breast, fish, tofu, or lentils, aid in satiety and muscle mass preservation. Whole grains, such as quinoa, brown rice, or whole wheat pasta, provide long-lasting energy, while veggies supply fiber and important nutrients. 
Incorporate nutritious snacks into your schedule if you find yourself feeling hungry between meals. To help regulate hunger and keep you satiated, choose snacks that mix protein, fiber, and healthy fats. Greek yogurt with cherries, almonds, or carrot sticks with hummus are all good options.
Remember to watch your portion sizes and pay attention to your body's hunger and fullness cues. Eating consciously and being present during meals might assist you in tuning in to your body's demands and avoiding overeating. Chew your food carefully, taste the flavors, and quit eating when you're satisfied.
You may maintain steady energy levels, regulate appetite, and avoid excessive cravings by avoiding skipping meals and supplying your body with regular nourishment. Eating balanced meals throughout the day helps you lose weight by keeping your metabolism active and giving your body the nutrition it requires for optimal operation.
Note: There might be affiliate links mentioned here. We may receive a commission if you purchase a product through an affiliate link. There is no additional charge for you. Please do your own research before making any online purchases.
Mindful Eating
Mindful eating is an effective method for losing weight without feeling hungry. Paying attention to your food, relishing each bite, and listening to your body's hunger and fullness cues are all part of mindful eating. You can build a healthier relationship with food, avoid overeating, and improve the overall satisfaction of your meals by practicing mindful eating.
Being present during meals is an important element of mindful eating. Distractions such as television, smartphones, and working while eating should be avoided. Create a tranquil dining atmosphere where you can concentrate on the sensory experience of your food.
Take a moment before you begin eating to savor the appearance, aroma, and texture of your meal. Engage all of your senses and pay attention to the flavors as you chew and swallow each bite. Slowing down your eating rate permits your brain to detect satiety signals and prevents overeating.
Take note of your body's hunger and fullness signs. Rather than eating until you're overly full, eat when you're physically hungry and stop when you're pleasantly content. Pay attention to tiny changes in your hunger and fullness levels during the meal and respect your body's cues.
Mindful eating also entails becoming aware of emotional and environmental factors that might lead to mindless eating. Recognize whether you're eating out of boredom, stress, or habit, and look for other ways to deal with those feelings or situations that don't involve food. To handle emotional desires, go for a stroll, write in a notebook, or talk to a friend.
Another part of mindful eating is portion control. Avoid eating directly from large packages or containers, as this can make it harder to evaluate how much you've consumed. Instead, divide your food into portions on a plate or dish and savor each bite.
Mindful eating can help you develop a stronger appreciation for the food you eat and increase your overall contentment with your meals. You may avoid overeating, make better choices, and enjoy your food more thoroughly by paying attention to your body's cues.
Begin by incorporating mindfulness into your eating pattern, one meal at a time. Concentrate on being fully present, relishing each meal, and paying attention to your body's cues to lose weight fast without feeling hungry. Mindful eating will become a natural habit that will support your weight loss objectives and help you develop a positive relationship with food over time.
Get Enough Sleep
Getting enough sleep is sometimes underestimated, yet it plays an important part in losing weight without feeling hungry. Sleep deprivation can throw off the balance of hunger-regulating hormones, resulting in increased appetite and cravings, particularly for high-calorie and carbohydrate-rich foods. Prioritizing adequate sleep can help control these hormones and help you lose weight.
The body heals and rejuvenates itself when sleeping, including regulating numerous metabolic processes. Sleep deprivation can upset the balance of hormones that influence appetite and fullness, such as ghrelin and leptin. When you don't get enough sleep, your ghrelin levels rise, signifying hunger, while your leptin levels fall, signaling fullness.
Aim for 7-8 hours of quality sleep each night to help with weight loss and appetite management. Establish a regular sleep routine by going to bed and waking up at the same time every day, even on weekends. This consistency aids in the regulation of your body's internal clock and promotes a better sleep-wake cycle.
Make a peaceful nighttime routine to tell your body it's time to rest and prepare for sleep. Relaxing activities include reading a book, taking a warm bath, and practicing deep breathing or meditation. Limit your use of electronic devices because the blue light that their displays emit can interfere with the production of sleep-inducing hormones like melatonin.
Make sure your sleeping environment is favorable to good sleep. Maintain a dark, calm, and pleasant environment in your bedroom. To reduce noise, consider using blackout curtains, earphones, or white noise devices. Choose a mattress that is supportive and comfy to promote healthy sleep.
Aside from aiding weight loss, sufficient sleep has various other health benefits. It strengthens the immune system, improves cognitive function and mood, and increases overall well-being. By putting sleep first, you not only improve your weight loss journey but also your general health.
If you have sleep problems, such as insomnia or sleep apnea, you must consult with a healthcare expert. They can offer advice and treatment alternatives to help you improve your sleep quality and lose weight. They can offer personalized and effective advice on how to lose weight without being hungry and manage your sleep quality.
You can manage hunger hormones, minimize cravings, and have the energy and mental clarity to make appropriate eating choices if you get adequate quality sleep. Make sleep a priority in your quest to lose weight fast without feeling hungry, and you'll reap the rewards of better overall health and more successful weight management.
Manage Your Stress
Stress is a prevalent component that can sabotage weight loss efforts while also contributing to feelings of hunger and overeating. When you are stressed, your body produces hormones such as cortisol, which can boost your appetite and desires, especially for high-calorie and sugary meals. As a result, successfully controlling stress is critical for losing weight without always feeling hungry.
Relaxation techniques are an excellent strategy to handle stress. Deep breathing techniques, meditation, and yoga are all effective in the body's relaxation response and lowering stress levels. Using these approaches on a regular basis can help reduce emotional eating and build a healthier connection with food.
Another helpful stress management method is regular physical activity. Exercising releases endorphins, which are natural mood boosters that relieve tension and anxiety. Find physical activities that you enjoy, such as going for a walk, participating in a sport, or taking a dance class. To help manage stress and support your weight loss objectives, aim for at least 30 minutes of moderate-intensity exercise most days of the week.
Incorporating self-care activities into your routine is also essential for stress management. Find activities that make you happy and calm you, such as reading a book, having a bath, listening to music, or participating in a hobby. Make self-care a priority and a non-negotiable aspect of your routine to lose weight fast without feeling hungry.
If stress is a serious concern for you, consider obtaining help from a therapist or counselor who can assist you in developing healthy coping processes and stress management skills. They can offer advice and help that is tailored to your specific needs.
Recognizing and resolving emotional eating is another crucial element of stress management. Emotional eating is the use of food to cope with emotions rather than to satisfy physical hunger. Recognize your emotional eating triggers and look for alternate strategies to manage your feelings, such as journaling, talking to a supportive friend, or practicing relaxation techniques.
You may reduce emotional eating, prevent cravings, and help your weight reduction journey by handling stress correctly. Stress management tactics boost not just your weight reduction efforts but also your general well-being and mental health.
Remember that stress management is a constant practice. Incorporate stress management techniques into your daily routine and emphasize self-care to develop a healthy, balanced lifestyle that promotes both physical and emotional well-being.
Make a Meal Plan
Meal planning is an effective method for losing weight without feeling hungry. You have more control over your food choices and portion sizes when you plan your meals ahead of time, which reduces the risk of impulsive and unhealthy eating.
You can guarantee that you have a variety of healthy and balanced options accessible by planning your meals for the week ahead. This keeps you from reaching for convenience foods or harmful options when you're hungry. Planning also helps you include a variety of protein, fiber, healthy fats, and carbohydrates in each meal, which provides continuous energy and promotes satiety.
Begin by making a weekly menu plan for breakfast, lunch, dinner, and snacks. When choosing recipes and ingredients, keep your schedule, lifestyle, and nutritional preferences in mind. Look for dishes that incorporate healthy foods, lean proteins, and lots of vegetables. You can get ideas from cookbooks and internet sites, or you can make your own dishes using your favorite healthy components.
Make a detailed grocery list after you have your meal plan to ensure you have all of the necessary products on hand. This helps to avoid last-minute shopping trips and lowers the temptation to buy unhealthy items. Stick to your grocery list and choose fresh, complete foods from the perimeter of the store, where produce, lean proteins and whole grains are often found.
Make time for meal planning and batch cooking. Preparing meals and snacks ahead of time not only saves time but also guarantees that you have nutritious options on hand when hunger strikes. Cook grains and meats, chop veggies, and put meals into containers for quick grab-and-go options throughout the week.
A meal plan might also help you stay on track with your weight-loss goals. It lowers decision fatigue and keeps you from making rash, unhealthy choices that can derail your progress. When you have a plan in place, you can approach each meal with purpose, knowing that you have nourishing options.
Remember that meal planning is a versatile tool that may be tailored to help you lose weight quickly without feeling hungry. Allow for flexibility and diversity by experimenting with new recipes and different flavors and tailoring meals to your preferences. The goal is to follow a disciplined meal plan while still enjoying the process and flavors of the foods you eat.
You can stay on track with your weight loss objectives, avoid unnecessary hunger, and make informed decisions that promote your overall well-being by planning your meals ahead of time. Meal planning provides structure, organization, and a sense of control, allowing you to make healthier choices.
Using Herbal Appetite Suppressants
By suppressing hunger pangs and encouraging satiety, herbal appetite suppressants can be a natural and efficient aid in weight loss efforts. These herbs have qualities that aid in the regulation of appetite hormones, the increase of sensations of fullness, and the suppression of cravings. Incorporating these herbal appetite suppressants into your routine may assist you in meeting your weight loss objectives without feeling continuously hungry.
Garcinia cambogia is a popular herbal appetite suppressor. This tropical fruit contains hydroxy citric acid (HCA), which has been shown to decrease hunger and prevent carbohydrate conversion to fat. Garcinia cambogia supplements come in a variety of formats, including capsules and extracts. Before introducing this herb into your routine, make sure to follow the appropriate dosage and speak with a healthcare practitioner.
Green tea extract is another herbal appetite suppressor. Green tea includes catechins, which have been demonstrated to boost metabolism and improve fat oxidation. Furthermore, green tea can help suppress appetite and lower calorie intake. You can take green tea extract as a supplement or drink a cup of freshly brewed green tea every day.
Hoodia gordonii is a South African succulent plant that has traditionally been used as an appetite reducer. It contains a chemical known as P57, which is thought to notify the brain that you are full, decreasing your desire to eat. Hoodia gordonii supplements are widely available; however, it is critical to purchase from a reliable source.
Ginger is a multipurpose herb that can also be used to decrease hunger. It has been demonstrated to improve fullness and decrease hunger. Add fresh ginger to meals, sip ginger tea, or take ginger pills to incorporate ginger into your diet.
Fenugreek is another plant to consider. Fenugreek seeds are high in soluble fiber, which creates a gel-like material in the stomach, increasing fullness and decreasing hunger. Fenugreek can be consumed by soaking the seeds overnight and eating them the next day, or by cooking with fenugreek powder.
It's vital to remember that herbal appetite suppressants should be taken sparingly and as part of a healthy lifestyle overall. Before incorporating herbal supplements, always discuss with a healthcare practitioner how to lose weight without being hungry, especially if you have underlying health concerns or are using drugs. 
While herbal appetite suppressants can be beneficial, they are not a miracle weight loss treatment. They work best when combined with a balanced diet, regular exercise, and other healthy habits.
It's also critical to pay attention to your body's cues and eat thoughtfully. Pay attention to portion amounts, eat gently, and stop when you're satisfied. Remember that long-term lifestyle adjustments, rather than relying entirely on appetite suppressants, are required for long-term weight loss.
FAQs
What role does fiber play in reducing weight without feeling hungry?
Fiber is essential for weight loss because it improves satiety, slows digestion, and regulates blood sugar levels. It bulks up meals, keeping you satisfied for longer and avoiding overeating.
How might eating protein-rich foods help you lose weight without feeling hungry?
Protein aids in appetite regulation, satiety, and muscle mass maintenance. Including lean protein sources in your meals will help you control your hunger, boost your feelings of fullness, and lose weight.
Is it possible to lose weight without feeling hungry if you drink enough water?
Yes, staying hydrated can help manage your appetite and keep you from overeating. Thirst can be confused with hunger at times, so drinking water throughout the day helps keep you hydrated and avoid excessive munching.
How do whole foods help you lose weight without feeling hungry?
Whole foods are minimally processed, nutrient-dense, and, thanks to their fiber content, create a feeling of fullness. You can encourage weight loss and satisfaction by integrating whole foods such as fruits, vegetables, whole grains, and legumes into your meals.
Is it advisable to miss meals to lose weight?
No, skipping meals increases hunger, cravings, and overeating later in the day. To maintain steady energy levels and avoid excessive hunger, it is critical to consume balanced meals and incorporate nutritious snacks.
How does eating thoughtfully help you lose weight without feeling hungry?
Paying attention to your food, eating deliberately, and stopping when you're comfortably satisfied are all aspects of mindful eating. This technique teaches you to notice your body's hunger and fullness cues, which helps you avoid overeating and promotes satisfaction. 
Why is getting enough sleep essential for losing weight without feeling hungry?
Adequate sleep regulates appetite hormones like ghrelin and leptin, which control hunger and satiety. Sleep deprivation can increase appetite and desires, making it difficult to lose weight without feeling hungry.
How does stress management aid in weight loss without hunger?
Stress can lead to emotional eating and cravings for unhealthy foods. You can reduce emotional eating and support your weight reduction goals by managing stress with relaxation techniques, regular exercise, and self-care activities.
How does meal planning help you lose weight without feeling hungry?
Meal planning enables you to make healthier food choices, limit portion sizes, and always have nutritious meals on hand. By planning your meals ahead of time, you can avoid impulsive and unhealthy eating, which leads to improved weight management.
Can herbal appetite suppressants aid in weight loss without causing hunger?
Garcinia cambogia, green tea extract, Hoodia Gordonii, ginger, and fenugreek are herbal appetite suppressants that may help reduce hunger and induce satiety. They should, however, be consumed in moderation and as part of a healthy lifestyle that includes a well-balanced diet and regular exercise.
Conclusion
It is possible to lose weight without feeling constantly hungry by incorporating strategies such as increasing fiber consumption, choosing protein rich foods, drinking plenty of water, eating whole foods, avoiding meal skipping, practicing mindful eating, getting enough sleep, managing stress, meal planning, and considering herbal appetite suppressants. These approaches can aid in the promotion of satiety, weight loss, and overall well-being. Remember that lasting weight loss requires patience and consistency, so be patient and persistent in your efforts. By following these recommendations on how to lose weight without being hungry, you can accomplish your weight loss objectives while also feeling satisfied and nourished.
Disclaimer: The information provided in this article is for educational purposes only and should not be considered as a substitute for medical advice. Consult a healthcare professional before implementing any home remedies or making significant changes to your lifestyle.