What are Some Common Mistakes People Make When Trying to Lose Weight?
Losing weight is a journey that takes commitment, patience, and a well-balanced approach. Unfortunately, there are various myths and misconceptions that people frequently fall into while trying to lose weight.
Introduction
In this detailed article, we will look at the most common weight loss mistakes people make and offer valuable advice on how to prevent them.
Common Mistakes People Make When Trying to Lose Weight
Relying on Fad Diets
Fat diets are often promoted as appealing alternatives for those seeking rapid weight loss. These diets promise quick and dramatic effects by restricting certain food groups or severely reducing calories. However, their attraction frequently conceals the underlying truth: they are unsustainable and might harm your health in the long run.
While fad diets may result in initial weight loss due to a calorie deficit, they typically fail to provide the critical nutrients your body needs for proper functioning, making them one of the most common weight loss mistakes. Diets that exclude whole food groups, such as carbs or lipids, can result in nutrient shortages and imbalances. To sustain energy levels, support physical processes, and promote general well-being, the body relies on a varied array of nutrients.
Extremely low-carb diets, for example, might result in decreased fiber consumption, which can contribute to digestive difficulties and poor nutritional absorption. Similarly, too-low-fat diets may impair the absorption of fat-soluble vitamins and important fatty acids, which are essential for brain health and other physiological activities.
Rather than succumbing to the appeal of fad diets, try implementing a well-rounded and balanced eating plan. This contains a wide range of meals from all food groups, supplying your body with the nutrients it requires for long-term health and weight loss. A licensed dietician can provide tailored help in developing a diet plan that is consistent with your weight loss objectives while also ensuring your body receives the nutrition it requires. Remember that lasting weight loss is a slow process that entails supporting your body rather than depriving it.
Skipping Meals
It's a popular myth that skipping meals, especially breakfast, is a good way to lose weight. This method is based on the notion that eating less will result in faster weight loss. However, skipping meals can harm both metabolism and overall health. Avoid this mistake during the weight loss journey for success.
When you miss meals, your body views it as a condition of deprivation, and as a defensive measure, it may cause a metabolic slowdown. Furthermore, skipping meals frequently leads to increased hunger later in the day, causing you to overeat or make bad food choices. To avoid making this weight-loss mistake, focus on developing a daily pattern of regular, balanced meals and snacks.
Incorporating a variety of fruits and vegetables, lean proteins, whole grains, healthy fats, and whole grains can give continuous energy and help stabilize blood sugar levels. This method not only helps you lose weight, but it also guarantees your body gets the nutrition it needs to function properly.
Ignoring Portion Control
Portion control is an important but often overlooked part of successful weight loss. Even if you eat healthy foods, eating larger portions can quickly lead to exceeding your calorie intake objectives.
It's easy to lose sight of acceptable portion proportions in today's society of big meals and value deals. This frequently leads to inadvertent overeating, which impedes weight loss efforts. Avoid such mistakes when losing weight. Mindful eating is an effective method for avoiding this weight-loss mistake. Eat carefully and relish each bite, paying attention to your body's hunger and fullness signs.
Using smaller plates, bowls, and utensils can also help with visual portion control. Remember that your body takes time to signal fullness, so strive to eat until you're comfortably satisfied rather than too full. By adopting these tactics into your eating habits, you will improve your ability to maintain proper portion sizes and promote better weight management.
Ignoring Physical Activity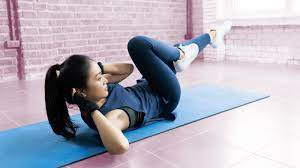 Many people who are trying to lose weight focus primarily on dietary modifications, ignoring the impact of physical activity. However, both parts are necessary for attaining the best results. Regular exercise not only helps burn calories but also provides a plethora of other benefits that contribute to general health and well-being.
Physical Activity Has Many Advantages
Physical activity is more than just burning calories; it is a comprehensive approach to improving your health. Regular exercise can increase metabolism, enhance cardiovascular health, strengthen muscles and bones, and even improve mood by releasing endorphins, the body's natural feel-good chemicals.
To achieve well-rounded fitness, you must incorporate a range of workouts into your program. Walking, jogging, swimming, or cycling raise your heart rate and help you burn calories, boosting weight loss and cardiovascular fitness. Strength training, on the other hand, is essential for gaining lean muscle mass. Muscles are metabolically active tissue; therefore, having more muscle increases your resting metabolic rate, which aids in weight management.
Flexibility and Balance are Critical
Don't forget the importance of flexibility and balance exercises when you begin your weight loss journey. Yoga and Pilates, for example, increase flexibility and posture and induce calm. These exercises not only help with physical well-being, but they also help with the mental component of your trip by lowering stress and encouraging mindfulness.
It is critical to select exercises that are meaningful to you and provide you with delight. Participating in activities that you actually enjoy boosts your chances of adhering to your fitness plan in the long run. Finding activities that make you feel invigorated and inspired, whether it's dancing, hiking, practicing martial arts, or engaging in group fitness courses, can change exercise from a chore into a joyful part of your daily routine.
Setting Unrealistic Goals
When starting a weight loss program, many people want to see quick results. Setting unreasonable goals might lead to dissatisfaction and disappointment. Rapid weight loss frequently leads to unsustainable habits and may end in a yo-yo dieting cycle in which you regain weight soon after dropping it. Setting realistic goals helps overcome that mistake during the weight loss journey.
Importance of Realistic Expectations
Setting attainable weight-loss goals is critical for sustaining motivation and commitment. A safe and sustainable weight loss pace is usually around 1-2 pounds per week. Remember that weight reduction is not a straight line; it might fluctuate from week to week due to factors such as water retention, hormone swings, and muscle gain.
Setting attainable goals creates a positive feedback loop that increases your confidence and determination. Celebrate each accomplishment, whether it's fitting into a smaller size or completing a difficult workout. These triumphs affirm your efforts and motivate you to keep going.
Keep in mind that the journey is as important as the destination. Making moderate and long term changes to your lifestyle, diet, and exercise program is the key to long term weight loss. Instead of focusing exclusively on the number on the scale, consider the overall improvements you're experiencing, such as higher energy, improved exercise, better sleep quality, and a general sense of well-being.
Accept the process of self-discovery and progress as you move through your weight loss journey. Take satisfaction in the positive decisions you make every day and recognize that each step forward is a win in and of itself. You will not only achieve your ideal weight but also lay the groundwork for lifelong health and fitness if you prioritize realistic goals and cultivate a positive mindset.
Ignoring Emotional and Psychological Factors
Weight loss is not just a physical transformation but also an emotional and psychological journey. Neglecting these aspects can seriously damage your efforts and impair your capacity to produce long-term results.
Importance of Emotional Eating
Emotional eating is one of the most common weight loss mistakes that many people make when trying to manage their weight. The impulse to consume comfort foods might be triggered by stress, boredom, melancholy, or other emotions. This frequently leads to overeating or selecting unhealthy options, which hinder your efforts.
It is critical to build good coping mechanisms to avoid this weight-loss mistake. The first stage is to become mindful of your emotions and realize when you're eating for emotional reasons rather than hunger. Participate in stress-relieving activities such as yoga, meditation, or deep breathing exercises. Seeking help from a therapist or counselor can also provide useful techniques for dealing with emotional triggers, avoiding mistakes during weight loss, and developing resilience.
Self Esteem and Body Image Issues
Ignoring self-esteem and body image concerns may sabotage your weight loss efforts. Many people associate their self-worth with their physical appearance and the number on the scale. This thinking can lead to an unhealthy relationship with food and exercise, perpetuating a cycle of guilt and shame.
Remember that your worth as a person is not defined by your weight or appearance. Concentrate on the positive adjustments you're making to improve your health and overcome mistakes when losing weight. Treat yourself with love and kindness, just as you would a friend. Celebrate your accomplishments in areas other than weight loss, such as increased energy, an improved attitude, and improved fitness.
Impact of Psychological Well-Being
Accepting emotional and psychological well-being is critical for long-term weight loss and maintenance. A positive mindset helps you make good decisions and deal with problems successfully. By recognizing and resolving emotional and psychological concerns, you lay the groundwork for a long-term weight loss journey.
Relying on Supplements and Detoxes
In a world where quick cures and instant results are often sought, many people make the mistake of relying on supplements and detoxes for weight loss. The weight loss business is overwhelmed with items that claim to accelerate fat loss and cleanse the body. However, these products must be approached with caution because their usefulness and safety are frequently questioned.
Note: There might be affiliate links mentioned here. We may receive a commission if you purchase a product through an affiliate link. There is no additional charge for you. Please do your own research before making any online purchases.
Inadequate Scientific Evidence
Supplements and detox products are sold with alluring claims, but many lack reliable scientific proof to back up their efficacy. The human body is a complicated system, and losing weight requires a combination of elements such as nutrition, activity, genetics, and metabolism. Using supplements or detox teas merely to attain weight loss goals oversimplifies the process and may lead to failure.
Importance of a Healthy Diet
Rather than relying on supplements or detoxes, a well-balanced and nutrient-dense diet is essential for long-term weight loss. Fruits, vegetables, lean meats, whole grains, and healthy fats are examples of whole foods that contain important nutrients that promote general health and well-being. These foods provide your body with vitamins, minerals, fiber, and antioxidants, all of which are important for metabolism, digestion, and energy production.
A well-balanced diet also aids in hunger regulation and eliminates vitamin deficits caused by stringent detox plans. Instead of looking for shortcuts and avoiding mistakes when losing weight, consider eating a range of nutrient-dense foods in proper portions to adequately nourish your body.
Detox teas and liquid diets may promise quick results, but they frequently result in temporary water weight loss rather than actual fat loss. While hydration is important for both weight loss and overall health, stick to plain water as your primary beverage. Water aids in the regulation of metabolism, digestion, and hunger management. Drinking enough water throughout the day can also help you differentiate between actual hunger and thirst.
Not Getting Enough Sleep
Sleep is frequently overlooked as an important component of overall health in the pursuit of weight loss. Poor sleep not only impacts your mood and energy levels, but it also has a significant impact on your body's capacity to efficiently manage weight.
Relationship Between Sleep and Hormones
Sleep is essential for regulating hormones that affect appetite and metabolism. Sleep deprivation can upset the balance of hormones that control hunger and fullness, such as leptin and ghrelin. This disruption frequently results in increased appetite and desires, making it more difficult to reject harmful food choices.
Furthermore, lack of sleep can change insulin sensitivity, potentially leading to weight gain and the development of insulin resistance, a precursor to type 2 diabetes. It can also cause an increase in cortisol, a stress hormone linked to fat storage, particularly around the abdomen.
Effect on Energy and Physical Activity
Inadequate sleep might affect your energy levels and drive to exercise, thwarting your weight loss efforts. Lack of sleep and fatigue can make physical activity seem overwhelming, leading to a drop in overall activity levels. Furthermore, poor sleep quality might limit muscle recovery and reduce the benefits of exercise.
Prioritizing Sleep Quality
Making sleep a priority is critical for weight loss success and overall well-being. Experts recommend getting 7-9 hours of decent sleep per night. Establish a regular sleep routine by going to bed and waking up at the same time every day, even on weekends.
Developing a soothing sleep ritual might assist in signaling to your body that it is time to unwind. Spend time reading, having a warm bath, or practicing relaxation techniques such as deep breathing or meditation.
Additionally, restrict screen time before going to bed because the blue light emitted by electronic devices might interfere with the generation of melatonin, a hormone that governs sleep. Maintain a restful sleeping environment by keeping your bedroom dark, quiet, and at a reasonable temperature.
Comparing Your Progress with Others
In this day and age of social media and constant comparison, it's easy to compare your weight reduction progress to that of others. However, due to factors such as heredity, metabolism, and lifestyle, each person's body responds differently to weight loss efforts.
When you compare yourself to others, you may experience feelings of inadequacy, irritation, and even abandonment of your own ambitions. Avoid this weight loss mistake. Keep in mind that everyone's journey is different, and what works for one person might not work for another.
Rather than focusing on external comparisons, track your own growth and celebrate your accomplishments, no matter how tiny they may appear. Maintain a journal or use a fitness app to track your accomplishments, such as increased exercise time, higher fitness levels, or healthier eating habits. You'll stay inspired and devoted to your weight loss objectives if you focus on your individual path and make modest progress.
Failure to Monitor Progress
Not recording progress is one of the most common weight loss mistakes that might undermine the success of your weight management. Starting a weight-loss journey without a tool to track your progress can lead to confusion and demotivation. Tracking progress provides useful insights into whether your strategies are effective, allows you to avoid mistakes during weight loss, and allows you to make educated changes to your strategy.
Why is Progress Tracking Important?
Tracking progress acts as a reality check, allowing you to objectively measure the effectiveness of your efforts. Having actual statistics to evaluate can provide a clear picture of your path, whether your aim is to lose weight, improve fitness, or adopt better habits. It can also improve your drive by showcasing your progress, even if the changes aren't immediately obvious.
Methods for Monitoring Progress
Several approaches can be used to effectively track your development. A frequent strategy is to weigh yourself on a scale on a regular basis. However, it is critical to remember that weight swings are typical owing to factors such as water retention, hormone changes, and muscle gain. As a result, it's critical to avoid becoming hooked on daily changes and instead concentrate on long-term trends.
Taking body measurements is another way to get a more complete picture of your development. Even if your weight remains stable, measurements of your waist, hips, chest, arms, and legs can reflect changes in your body composition. This is especially essential because muscle weighs more than fat, and your body may be changing for the better even if your weight doesn't drop dramatically.
Keeping a diet and exercise journal can also help you understand your actions and spot mistakes during weight loss. Recording what you eat, portion sizes, and exercise routines can help you identify areas for improvement and make changes to your habits.
Quitting Too Soon
Patience is not only a virtue on the road to weight loss; it is a requirement. Giving up too soon is one of the most disappointing weight loss mistakes because people expect quick and dramatic results. Weight loss is a complex process driven by a number of factors, and long-term changes take time to emerge.
Weight loss necessitates the coordination of several complicated physiological systems within your body. Your body responds to food and lifestyle changes by changing its metabolism, fat accumulation, and energy expenditure. These changes do not happen instantly; they take time and consistency to become visible.
It's critical to understand that healthy weight loss entails losing fat while maintaining lean muscle mass. Rapid weight reduction often results in muscle loss, which can impair metabolism and cause a rebound effect when you resume normal eating patterns. You allow your body to adjust and retain general functionality by focusing on gradual, lasting alterations.
Maintaining Patience and Consistency
Maintaining your weight loss commitment demands a combination of patience and consistency. Set attainable goals that recognize the progressive nature of the process. Celebrate little victories along the way, like greater energy, stamina, or better-fitting clothes. These non-scale successes show that your efforts are having a positive effect on your entire health and well-being.
If you notice that your progress has slowed or stopped, fight the impulse to give up. Determine the weight-loss mistakes to rectify. Consider making changes to your diet and workout program instead of quitting. Consultation with a healthcare practitioner, licensed nutritionist, or fitness expert can provide useful information and personalized advice.
FAQs
What are fad diets, and why should I avoid them when trying to lose weight?
Fad diets are extremely restrictive eating regimens that promise quick results. They frequently lack critical nutrients and might be damaging to your health over time.
Is skipping meals a healthy way to lose weight?
Skipping meals can reduce metabolism and lead to later overeating. To assist your weight loss objectives, avoid this weight loss mistake and eat balanced meals and snacks throughout the day.
How important is portion management for losing weight?
Portion control is quite important. When portions are overly large, even nutritious foods might lead to an excess of calories. Mindful eating and using smaller dishes can aid with portion control and help overcome this mistake when losing weight.
Can I lose weight just by exercising?
While exercise is important for overall health, weight loss also necessitates a well-balanced diet. Exercise burns calories, increases metabolism, and improves fitness, all of which help you lose weight.
How important is sleep for weight loss?
Adequate sleep is necessary for weight loss. Bad sleep alters hunger hormones, resulting in increased cravings and bad food choices, making weight management more difficult.
Are weight-loss supplements and detoxes effective?
Using only vitamins and detoxes is neither sustainable nor effective. For safe and long-term weight loss, prioritize a well-balanced diet rich in whole foods.
How crucial is measuring weight reduction progress?
Progress tracking allows you to stay on target and make smart modifications. It increases motivation by providing insights into the effectiveness of your efforts.
Is it appropriate to compare my success to that of others?
Comparing yourself to others can be demoralizing. Stay motivated by focusing on your individual journey and celebrating your own accomplishments.
What effect does setting unrealistic weight-loss goals have?
Unrealistic aspirations can lead to disappointment and anger. Setting attainable goals boosts motivation and aids in the avoidance of undesirable habits.
How can I resist emotional eating while losing weight?
Practicing mindfulness and developing good coping techniques can aid in the management of emotional eating. Seeking the assistance of a therapist or counselor might also be beneficial.
Conclusion
Losing weight is a multidimensional task that necessitates a well-balanced strategy and a thorough awareness of your body's requirements. By avoiding these typical blunders, you can ensure a successful and long-term weight loss journey. Remember that obtaining and maintaining a healthy weight requires patience, consistency, and self-care.
Consulting with healthcare specialists, certified dietitians, and fitness experts can provide customized advice based on your specific requirements and goals. Accept the trip as an opportunity for personal development, self-discovery, and well-being, and you'll be well on your way to a better and happier you.
Disclaimer: The information provided in this article is for educational purposes only and should not be considered as a substitute for medical advice. Consult a healthcare professional before implementing any home remedies or making significant changes to your lifestyle.