Effective Ways for Losing Weight for Lazy People
Being branded as "lazy" might be perceived as a bad trait in a world that continuously promotes productivity. However, when it comes to losing weight for lazy people, being a little idle can actually work in their favor. 
Introduction
Due to their hectic schedules and lack of motivation, many people struggle to stick to a consistent exercise routine or strict diets. But what if there were weight loss tips designed specifically for those who prefer a more relaxed way of life? This article will look at various strategies and lifestyle changes for "lazy" people who want to lose weight without drastically changing their routines. Get perfect answers to "How do lazy people lose weight?" 
Recognizing Your Laziness
Before seeking the best ways for lazy people to lose weight, it's critical to first understand laziness. Contrary to popular belief, the term "lazy" does not imply a lack of motivation or ambition. In reality, the driving force behind it is the desire to save energy for more enjoyable and fulfilling activities. This distinction is critical since it impacts the weight loss plan that works with such natural tendencies.
Lazy people often find traditional weight loss methods intimidating or unsustainable. Being a fitness fanatic or sticking to a strict diet can seem overwhelming and unattainable. Understanding your temptation to conserve energy, can be the first step in achieving your weight loss goals.
Recognizing your laziness as a choice rather than a flaw is liberating. It enables you to approach weight loss in a way that is genuine and long-term for you. You can modify your efforts according to your natural characteristics rather than forcing yourself into a mold that doesn't fit.
If you prefer to save energy, you can choose lower intensity exercises such as leisurely walks, moderate yoga, or casual swimming. These exercises can help you burn calories without overdoing it or feeling like you're depleting your energy reserves. Similarly, you can adopt moderate dietary modifications that don't disturb your regular routine, such as substituting water for sugary beverages or including more fruits and vegetables in your meals.
Setting Realistic Goals for Losing Weight for Lazy People
When embarking on a weight loss journey, setting realistic goals is important to your success, particularly for individuals who identify as having a "lazy streak." The importance of this stage cannot be stressed enough. Unrealistic expectations, such as wanting to lose an excessive amount of weight in a short period of time, can lead to disappointment, demotivation, and eventually, failure. To make your weight loss journey reasonable and lasting, follow these principles for goal-setting.
Well-defined Goals: Start by identifying clear and defined objectives. Instead of a generic objective like "losing weight," define the quantity you want to lose, such as "losing 10 pounds." This clarity provides a concrete target to aim toward.
Measurable Goals: Make sure your goals are measurable so that you can track your progress. For instance, if your objective is to improve physical activity, you could aim to walk 10,000 steps a day or spend 30 minutes exercising three times a week. Measurable goals help you accurately analyze your accomplishments.
Achievable Goals: Set reachable goals to avoid setting yourself up for failure. Unrealistic goals, such as losing a large amount of weight quickly, are frequently impossible and can lead to frustration. Instead, concentrate on slow, steady improvement that is consistent with your abilities and lifestyle.
Set a Timeline: Be conscious of your timeline. Rapid weight loss can be harmful and difficult to maintain. Set a realistic timeframe for your goals rather than looking for immediate results. For example, strive to lose 1-2 pounds every week, which is a safe and manageable rate.
Adjustable Goals: Recognize that your weight loss path may have challenges and setbacks. While following the best ways for lazy people to lose weight, it is critical to be adaptable and open to changing your goals as needed. Life is unpredictable, and changing your goals allows you to stay on track even when faced with difficulties.
You can keep your weight loss journey practical, motivating, and sustainable by adhering to these goal-setting concepts. Setting precise, measurable, achievable, realistic, and adjustable (SMART) goals is a tried-and-true technique for making steady progress without becoming overwhelmed.
Prioritize Sleep for Losing Weight for Lazy People
For individuals with a "lazy streak," prioritizing sleep may be the simplest and most enjoyable step toward attaining your weight loss objectives. It can be considered one of the best ways for lazy people to lose weight. Contrary to popular belief, sleep plays an important role in weight management and fits perfectly with a leisurely lifestyle. Here are some of the reasons why making adequate sleep a priority is critical for your weight reduction journey:
Recovery and Restoration: During sleep, your body goes through essential recovery and restoration processes. It heals and rebuilds tissues, boosts the immune system, and restores energy levels. Adequate sleep ensures that your body functions properly, which aids in weight loss attempts.
Hormonal Regulation: Sleep is essential for regulating hunger and appetite hormones such as leptin and ghrelin. When you don't get enough sleep, your hormones become unbalanced, increasing your hunger and increasing your chances of overeating, especially on calorie-dense, unhealthy meals.
Stress Reduction: Lazy people may be more prone to stress-related eating. Sleep deprivation can increase stress levels, making it more difficult to resist comfort foods. Prioritizing sleep can help reduce stress and the desire to eat unhealthy snacks.
Aim for 7-9 hours of quality sleep per night to make sleep a priority for optimal weight loss. Setting a regular sleep schedule, creating a pleasant sleeping environment, and practicing relaxation techniques before bed can all help with sleep quality. Prioritizing sleep improves not only your weight reduction efforts but also your entire well-being, making it an ideal fit for a "lazy" lifestyle.
Mindful Eating for Losing Weight for Lazy People
For people who identify as "lazy," the notion of tight diets or intricate meal plans might be intimidating. However, mindful eating is a simple and successful strategy for weight management that fits perfectly with a laid-back lifestyle. Mindful eating entails developing a strong bond with your food, paying close attention to every detail of your meal, and exercising awareness throughout the eating process. This method can considerably contribute to weight loss without requiring extreme willpower or drastic adjustments to your routine.
Use All of Your Senses: Mindful eating begins with using all of your senses. Take a moment to savor your food's colors, textures, and scents. This sensory awareness not only improves the dining experience but also helps you connect with what you're eating.
Savor Every Bite: Lazy people can benefit from reducing their eating rate. Instead of hurrying through a meal, take your time and enjoy each bite. Chew your food fully and taste it. This not only increases your enjoyment of the meal, but it also allows your body to sense fullness more effectively.
Recognize Hunger and Fullness: Mindful eating teaches you to pay attention to your body's hunger and fullness cues. Before you eat, consider whether you're actually hungry or eating out of habit or boredom. Pay attention to your body's cues during the meal, and stop eating when you feel pleasantly satisfied rather than too full.
Remove Distractions: Lazy people may eat while watching television or using a computer while distracted. Mindful eating urges you to turn off all distractions and concentrate entirely on your food. This increases your chances of enjoying your food and recognizing when you've had enough.
Reduce Emotional Eating: Emotional eating is a typical issue, especially for individuals who prefer a more relaxed way of living. Mindful eating teaches you to become more aware of your emotions and how they influence your eating habits. You can find alternative strategies to handle emotional demands instead of turning to food for solace.
Mindful eating can have a significant impact on your weight reduction journey if you incorporate it into your daily practice. It does not necessitate major effort or drastic lifestyle changes, making it a perfect strategy for individuals who want a more easygoing way of life. You may naturally reduce overeating, make better choices, and reach your weight reduction objectives in a sustainable and pleasurable manner by becoming more conscious of your food choices and eating patterns.
Dietary Changes for Losing Weight for Lazy People
Weight loss may not necessarily require drastic dietary changes or significant limitations. Lazy people can accomplish huge effects by adopting minor, long-lasting modifications to their dietary habits. These modest changes can result in consistent weight loss over time without the need for drastic lifestyle changes. Here are some measures you may take to incorporate nutritional adjustments into your everyday routine:
Hydration Habits: Instead of sugary drinks, try water, herbal tea, or infused water. Staying hydrated is important for general health and can aid in appetite control.
Whole Grains vs. Refined Grains: Choose whole grains over refined grains. Whole grain options like brown rice, quinoa, and whole wheat bread are higher in fiber and minerals, so they keep you satiated for longer.
Include More Fruits and Vegetables: Lazy people can gradually increase their fruit and vegetable consumption. Try to incorporate a portion of fruits or vegetables into each meal, whether it's a handful of berries for breakfast or a side salad for dinner.
Mindful Snacking: Be mindful of your snacking habits. Instead of grabbing harmful snacks mindlessly, keep nutritious options like nuts, yogurt, or cut-up veggies on hand for when hunger strikes between meals.
Portion Control: People who are sluggish can practice portion control without feeling deprived. To organically reduce portion sizes while still enjoying your favorite dishes, use smaller plates, bowls, and utensils.
Cook at Home: When you cook at home, you have more control over your food. Lazy people can begin with easy, quick recipes and gradually develop their culinary knowledge.
Prepare Balanced Meals: Prepare balanced meals from a variety of dietary groups. Incorporate lean protein, healthy grains, and a variety of fruits and vegetables into your regular diet.
These minor dietary modifications may appear to have a mild impact, but when combined and followed consistently with the best way for lazy people to lose weight, they can have a major impact on your weight loss journey. Lazy people can relax knowing that these changes are manageable and sustainable, fitting effortlessly into their lifestyle. You'll probably see good changes in your physique and overall well-being over time without feeling like you've drastically changed your eating habits.
Weight Loss Benefits of Slow Eating for Lazy People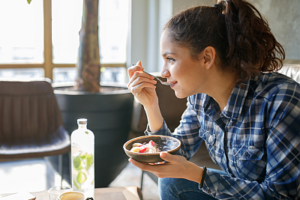 Slowing down during meals may appear contradictory to people who are prone to laziness. After all, why eat more when you could be relaxing or doing something more enjoyable? Slow eating, on the other hand, can be a lazy person's secret weapon for attaining weight loss goals.
Avoiding Overeating: One of the key advantages of eating slowly is that it helps to avoid overeating. When you eat too rapidly, your body may not have enough time to signal that it is full. Because of the lag in communication between your stomach and brain, you may consume more calories than necessary. Slowing down allows your body to identify satiety, allowing you to naturally lower your calorie intake.
Increasing Pleasure: Lazy people might discover immense pleasure in the act of enjoying their food. Slowing down allows you to completely appreciate your meals' flavors, textures, and scents. This enhanced sensory experience can elevate even the most mundane dishes, resulting in increased satisfaction with smaller servings.
Mindful Eating: Eating slowly naturally promotes mindfulness during meals. It encourages you to be more conscious of what you're eating, fostering a stronger bond with your food. This mindfulness includes noticing hunger indicators and eating in response to true physical hunger rather than emotional or environmental stimuli.
Less Willpower Required: For many people, losing weight requires a large amount of willpower to prevent overindulging in enticing meals. Slowing down your eating pace minimizes the demand for tenacity. Instead of relying on willpower to stop eating, you stop when you are satisfied, making the process less mentally exhausting.
Along with the best ways for lazy people to lose weight, begin incorporating slow eating into your habit. Remove any distractions, such as television or smartphones, and concentrate completely on your food. Take modest, leisurely bites and rest your utensils between bites. Allow for intervals between mouthfuls by conversing with your dinner mates. You may leverage the power of slow eating as an effective weight loss method that fits your laid-back lifestyle by making some incremental changes to your eating patterns.
Note: There might be affiliate links mentioned here. We may receive a commission if you purchase a product through an affiliate link. There is no additional charge for you. Please do your own research before making any online purchases.
Advantages of Hydration for Weight Loss for Lazy People
Proper hydration is an important component of general health, and for people who are prone to laziness, it can be a simple yet extremely successful weight loss method. Hydration is a fantastic tool on the weight loss path for lazy people because they often seek practical and low-effort solutions. Always stay hydrated while following the best ways for lazy people to lose weight.
Appetite Control: Drinking water before meals might be a sluggish person's secret weapon in the battle against overeating. Water takes up space in your stomach, so drinking it before a meal might give you a feeling of fullness, lowering your chances of overindulging on calorie-dense meals. This easy method suppresses your hunger without requiring much effort.
Calorie Reduction: Staying hydrated might minimize calorie consumption unknowingly. Lazy people who replace sugary drinks or high-calorie beverages with water or herbal tea reduce their daily calorie intake. It's a subtle method to cut calories without imposing rigid dietary limits.
Improved Metabolism: Maintaining a healthy metabolism requires proper hydration. When your body is properly hydrated, it can process and burn calories more efficiently. Dehydration, on the other hand, might lower your metabolism and make weight reduction more difficult.
Keep a water bottle within reach throughout the day to stay hydrated during your weight loss journey. Drink water on a regular basis, not only when you're thirsty, because thirst is sometimes a sign of dehydration. Herbal teas and infused water can add diversity and enjoyment to your hydration routine. Staying hydrated not only benefits your general health, but it also creates an easy and effective tool for weight management, which fits in nicely with a lazy person's lifestyle.
Easy Exercises for Weight Loss for Lazy People
When it comes to weight loss, the prospect of hard gym sessions or grueling workouts can be a huge deterrent for individuals who are prone to lethargy. Fortunately, losing weight does not have to include difficult workout regimens. Lazy people can choose low-effort exercises that effectively burn calories and reduce pounds without feeling like an impossible chore. The goal is to choose an exercise that you truly enjoy, as this will make it easier to incorporate into your regular routine.
Walking: Walking is one of the most convenient and effective workouts when it comes to losing weight for lazy people. It requires no specific equipment or training, making it great for the indolent. Begin with short walks and progressively increase the length and pace. A stroll in your neighborhood or a gorgeous park can help you burn calories while also providing tranquility and fresh air.
Swimming: Swimming is a low-intensity activity that is easy on the joints, making it ideal for lazy people who avoid high-intensity activities. It works various muscle areas, increasing calorie burn and toning. Swimming, whether performing laps in a pool or floating leisurely, can be a fun method to reduce weight.
Cycling: Another wonderful low-effort exercise choice is cycling. You can get out and burn calories without the effort of a rigorous bike ride. Consider riding to nearby attractions or simply pedaling around your neighborhood to relieve stress and lose weight.
Yoga: Yoga is a diverse workout option that includes soothing and restorative activities as well as some difficult practices. It can be considered one of the best ways for lazy people to lose weight. Lazy people can begin with beginner-level yoga sessions that emphasize flexibility, balance, and relaxation. Yoga not only assists weight loss but also mental well-being.
Dancing: Dancing is a great way to burn calories without feeling like you're exercising. It's a terrific way to stay active while having fun, whether you love dancing at home to your favorite music or taking low-intensity dance lessons.
Gardening: If you prefer a more relaxed approach, gardening can be a great way to incorporate movement into your daily routine. Planting, weeding, and caring for your garden can give you a low-intensity workout while also maintaining your green space.
You can make physical activity more fun and sustainable in your daily life by choosing low-effort workouts that match your interests. Remember that consistency is essential; even minor amounts of regular exercise can result in significant weight loss over time. Furthermore, the leisurely nature of these activities assures that you will not feel overwhelmed or fatigued, making them ideal for individuals who prefer a more peaceful way of life.
Including Physical Activities in a Lazy Lifestyle
Lazy people frequently struggle with the thought of devoting time to planned workout regimens or going to the gym on a regular basis. Weight loss, on the other hand, does not always necessitate strenuous exercise. Incorporating activity into your everyday routine can be a realistic and effective technique for losing weight for individuals who prefer a more relaxed way of living. You can gradually and effortlessly work toward your weight loss objectives by looking for opportunities to move without making it a distinct activity.
Choose Stairs Over Elevators or Escalators: Choosing stairs over elevators or escalators is a simple yet efficient way to incorporate activity into your routine. Taking the stairs is an easy way to burn extra calories while going about your day, whether you're at work, in a shopping mall, or in your apartment building.
Park Further Away: When driving to a destination, park further away from your destination. This minor modification doubles the distance you must walk, adding more steps to your day with no further effort.
Active Commuting: Instead of driving or taking public transportation, consider walking or bicycling to work. This not only helps you lose weight but also minimizes your carbon footprint and helps the environment.
Domestic Duties: Lazy people might use domestic duties as a form of exercise. Vacuuming, sweeping, gardening, and other household duties can help you burn calories while keeping your home neat.
Active Hobbies: Engage in activities that require movement. Dancing, hiking, playing recreational sports, or taking leisurely bike rides can all help with weight loss while also being enjoyable.
Walking Pets: If you have pets, take advantage of their walks to get some exercise. Take long walks with your dog or play with them in a nearby park.
You can make weight loss a natural and seamless part of your lifestyle by including movement into your everyday routine. These modest changes may not seem like traditional exercise, but they pile up over time and contribute to calorie expenditure, allowing you to reach your weight reduction objectives without substantially affecting your relaxed lifestyle.
Creating the Ideal Workout Environment at Home
Setting up a nice training area at home can be a game changer for people who prefer the comfort and convenience of their own home. This method eliminates the need to go to a gym, reduces potential barriers to exercise, and can make working out more enticing and accessible. Here's how to create a welcoming at-home workout environment:
Dedicate a Space: Designate a particular corner or area in your home as your workout zone. This area should be clear of clutter and distractions so that you can concentrate on your training practice. It does not have to be enormous; a modest area will suffice.
Purchase Basic Equipment: You don't need a large home gym to get started. Depending on your fitness interests, consider getting a few key pieces of equipment, such as a yoga mat, resistance bands, dumbbells, or kettlebells. These adaptable pieces of equipment can provide a variety of workout possibilities.
Establish a Routine: Create a regular fitness program that fits your lifestyle. Consistency is essential for reaching your weight loss objectives. Having a defined time for exercise, whether in the morning, during lunch breaks, or in the evening, ensures that you prioritize it.
Why Variety is Important: To avoid boredom, mix up your workouts. To keep things fresh and difficult, alternate between different sorts of exercises and fitness programs.
You may remove typical hurdles to exercise and remain on track with your weight reduction goals by creating a pleasant and appealing training space at home. The ease of access and comfort of your personal fitness hideaway can be great motivation, particularly for those who prefer a more relaxed approach to physical activity.
Portion Control for Weight Loss
Portion management is a simple yet extremely successful approach for managing calorie intake and weight loss, making it one of the best ways for lazy people to lose weight without making major lifestyle changes. This method allows you to continue eating your favorite meals while keeping portion amounts in mind. Here's how to efficiently practice portion control:
Smaller Plates and Bowls: Using smaller plates and bowls is one of the simplest ways to reduce portion proportions. When you serve meals on smaller dishware, it seems like a larger portion, deceiving your brain into thinking you're full with less food.
Mindful Serving: Before you begin eating, consider the portion size on your plate. Consider whether it is appropriate for your nutritional objectives. When serving your meals, keep portion proportions in mind and resist the urge to pile on extra servings.
Plate Half Vegetables: Include vegetables or salad on at least half of your plate. Vegetables are high in fiber and low in calories, so they can help you feel full and satisfied without consuming too many calories.
Avoid Second Helpings: Resist the impulse to order more. If you're still hungry after your first serving, give your body a few minutes to recognize satiety. You can discover that you don't require any additional food.
Divide Snacks: If you like snacks like chips, nuts, or trail mix, part them out into tiny containers or bags instead of consuming them from the main package. This keeps you conscious of how much you're consuming.
Share Desserts: When dining out or indulging in dessert, think about splitting it with a friend or family member. This not only cuts calories but also allows you to enjoy a treat without going overboard.
Eat Slowly: Eating slowly and savoring each bite allows your body to sense satiety. Enjoy your food's flavors and textures, and put your fork or spoon down between mouthfuls.
Portion control does not necessitate complicated calculations or dietary restrictions. It's a versatile method that can be easily integrated into your regular routine. You can maintain a balanced diet, minimize overeating, and build a sustainable route toward weight loss by being attentive to your portions, all with no effort, making it a great strategy for individuals who prefer a more laid-back approach to health and fitness.
Purchase Healthy Snacks
Snacking can be a major roadblock to losing weight for lazy people. When hunger strikes, the appeal of convenience store chips or sweet goodies can be powerful, but there is a wiser way to satisfy your appetites without jeopardizing your goals. Lazy people can be proactive by stocking up on nutritious snacks that are both readily available and delicious. Here's how to stock your pantry with healthy snacks to help you lose weight:
Fresh Fruits: Fruits are nature's ideal snack. They're high in vitamins, minerals, and fiber, which help you stay full while providing essential nutrients. Keep a variety of fruits on hand, such as apples, bananas, and berries, for a quick, guilt-free snack.
Greek Yogurt: Greek yogurt is a high-protein snack that will keep you satisfied. Choose plain, nonfat Greek yogurt and customize it with honey, fresh fruit, or a sprinkle of nuts.
Nuts and Seeds: Nuts and seeds are nutrient-dense snacks that contain healthy fats and protein. Almonds, walnuts, and chia seeds are all good options. However, because they are high in calories, portion sizes should be considered.
Dried Fruit: While dried fruit should be consumed in moderation due to its increased sugar level, when paired with a small piece of almond, it may be a pleasant and fulfilling snack.
Dark Chocolate: Dark chocolate with a high cocoa content (70% or more) can satisfy sweet tooth demands while containing less sugar than milk chocolate.
To make smart snacking even easier, split your snacks into small containers or baggies ahead of time. Having these pre-portioned snacks on hand in your cabinet or fridge will help you fight the urge to reach for harmful options when lethargy hits. You can fulfill your desires and stay on track with your weight loss goals without making significant dietary adjustments if you choose healthy and nutritious snacks along with the best ways for lazy people to lose weight.
Limit Processed Food Consumption
Because of their convenience and long shelf life, processed foods have become a staple in many diets. Individuals aiming to lose excess weight, particularly those who prefer a more relaxed approach to lifestyle changes, may find that limiting processed foods is a critical step toward achieving their weight loss goals. Here's why and how to gradually cut back on processed foods in favor of whole, unprocessed alternatives:
Nutrient Density: Processed foods frequently lack essential nutrients that whole foods contain. These nutrient-deficient options may leave you feeling unsatisfied and prone to overeating. Whole foods, on the other hand, are packed with vitamins, minerals, and fiber that promote satiety and support overall health.
Caloric Awareness: Processed foods tend to be calorie-dense while lacking the satiety that whole foods provide. This can lead to unintentional overconsumption of calories, hindering weight loss progress. Whole foods, such as fruits, vegetables, and lean proteins, offer lower calorie density and greater satiety.
Less Sugar and Salt: To increase flavor, processed meals frequently have added sugar and excessive salt. These chemicals might cause weight gain and other health problems. Whole foods allow you to better control your sugar and salt intake.
Long Term Weight Loss: Substituting whole meals for processed foods can result in long-term weight loss. This strategy does not necessitate radical changes in your eating habits, making it more accessible to individuals who prefer a more relaxed way of living.
You can accelerate your weight loss rate while remaining relaxed about lifestyle changes by gradually decreasing the consumption of processed meals and integrating more full, unprocessed options into your diet. This method allows you to eat nutritious and satisfying meals without having to adhere to strict dietary restrictions, making it a sustainable way to achieve your ideal weight.
Stress Management
Stress is a normal and often unavoidable element of modern life, and its impact on weight gain and emotional eating can be difficult for people who are naturally lazy. However, appropriately managing stress is important not only for your mental health but also for maintaining a healthy weight. Implementing stress management techniques is critical for people trying to lose weight without putting in too much effort. Here's how to incorporate relaxation methods into your routine to reduce stress levels and increase general well-being:
Deep Breathing: Deep breathing exercises are a quick and accessible technique to reduce stress. Whenever you feel overwhelmed or anxious, take a few minutes to focus on your breath. Deeply inhale through your nose, allowing your abdomen to rise, and slowly exhale through your mouth. This easy technique can help calm your nervous system and lessen tension.
Meditation: Meditation is an extremely effective practice for stress reduction and awareness. You don't have to devote hours to meditation; even a short daily practice can help. To begin, use guided meditation apps or videos, and gradually expand your meditation regimen.
Yoga: Yoga mixes physical movement with mindfulness, making it an effective stress-reduction technique. There are different yoga types to choose from, depending on your fitness level and interests. Regular yoga practice can increase flexibility, reduce stress, and aid in weight loss.
Nature Walks: Leisurely walks in natural settings might aid the lazy. Nature walks allow you to decompress, unplug from daily stresses, and experience the calming affects of being outside. Aim for short, easy walks through parks or attractive regions.
Social Relationships: Maintain social relationships with friends and loved ones. Sharing your emotions and experiences with trusted people can provide emotional support and reduce stress.
Seek Expert Help: If stress becomes unbearable or chronic, consult a mental health specialist. Therapy or counseling can provide useful tools and strategies for efficiently managing stress. Seek appropriate answers to "How do lazy people lose weight?" and proceed accordingly. 
It is critical to realize that stress management is not a one-size-fits-all solution. Experiment with several stress-relief tactics to see which ones work best for you. To reap the full advantages of stress management strategies, include them in your everyday routine. You can help your weight loss efforts while also improving your general quality of life by minimizing stress.
Seek Professional Help
Weight reduction journeys can be intimidating, especially for people who prefer a more relaxed approach to lifestyle changes. If you're having trouble meeting your weight loss goals on your own, getting expert help can be a game changer. Registered dietitians and certified personal trainers are industry specialists who can provide specialized guidance and support based on your specific needs and preferences. Find the best solutions to "How do lazy people lose weight?" and implement them in your routine. Here are some of the reasons why seeking professional assistance can make a major difference in the weight loss journey of lazy people:
Customized Regimens: Professionals such as qualified dietitians can build personalized dietary regimens that correspond to your laziness. They take into account your lifestyle, food preferences, and goals to create a sustainable eating strategy that you can easily incorporate into your everyday routine. This personalized approach makes it easier to keep good habits going over time.
Knowledge and Experience: Professionals bring a plethora of knowledge and experience to the table. They keep up with the most recent research in nutrition and exercise science, ensuring that their advice is founded on evidence-based practices rather than fads or trends.
Accountability: Checking in with a professional can add an added layer of accountability. Knowing you have visits or consultations scheduled will help you stay motivated in your weight loss attempts.
Problem Solving: Losing weight can be difficult, and specialists are excellent at overcoming roadblocks along the way. They can provide techniques to overcome these obstacles, whether it's breaking through a weight loss plateau or managing emotional eating.
Inspiration: Professionals can provide inspiration and encouragement. They recognize your accomplishments, no matter how minor, and provide constructive comments to keep you on track.
When seeking professional advice, it is critical to choose a provider who shares your goals and values. Investigate their credentials, check reviews, and consider scheduling an initial appointment to discuss your needs and determine compatibility.
FAQs
How might putting sleep first help lazy people lose weight?
Prioritizing sleep can boost metabolic rate and decrease hunger, assisting with weight loss attempts.
How much sleep is advised for people, and why is it vital for weight loss?
Adults should strive for 7-9 hours of sleep per night because sleep deprivation can lead to weight gain.
How does eating slowly help people who are lazy lose weight?
Eating slowly allows your brain to perceive fullness, lowering your chances of overeating.
What exactly is mindful eating, and how might it help lazy people lose weight?
Mindful eating entails paying attention to the flavor and texture of food, which can help minimize overeating and emotional eating.
How may drinking water help lazy people lose weight?
Water consumption boosts metabolic rate, decreases appetite, and may result in fewer calories ingested.
How can people who are sedentary add physical activity to their everyday routine?
Lazy people can incorporate physical activity by climbing the stairs, walking more, and completing housework.
What are some examples of healthy snacks? Why should lazy individuals pick healthier snacks?
Healthy snacks can help you reduce your appetite and calorie intake. Fruits, vegetables, nuts, and seeds are among the examples.
What are the advantages of meal planning for lethargic people who want to lose weight?
Meal preparation saves time, lowers the availability of harmful foods, and ensures that better meals are easily available.
Conclusion
Losing weight as a "lazy" person does not have to be an impossible task. You can reach your weight loss goals without resorting to harsh diets or tough workouts. It can accomplished by embracing your natural tendencies and making incremental, consistent changes to your lifestyle. Prioritizing sleep, practicing mindful eating, staying hydrated, and choosing pleasant kinds of exercise are just a few of the tactics that can help you lose weight while still living a relaxed lifestyle. Remember that the key is consistency and patience, as slow progress toward a healthy you is still progress.
Disclaimer: The information provided in this article is for educational purposes only and should not be considered as a substitute for medical advice. Consult a healthcare professional before implementing any home remedies or making significant changes to your lifestyle.