The Best Meal Plan to Lose Fat Faster
The quest for a healthy and fit body is now more crucial than ever before. Many people want to best meal plan to lose weight faster and get a better body. While exercise is key, nutrition is equally important when it comes to losing fat.
Introduction
In this detailed article, we will look at the best meal plan to lose fat faster, taking into account both the science of fat loss and practical dietary techniques that can help you achieve your goals.
Understanding Fat Loss
Before we get into the specifics of a fat loss meal plan, it's important to first understand the fundamentals of fat loss. Fat loss happens when you consume fewer calories than your body requires, causing it to use stored fat for energy. To achieve this calorie deficit, you can cut your calorie intake, increase your physical activity, or, for best results, combine both measures.
However, it is critical to approach fat loss in a healthy and long-term manner. Crash diets and high calorie limits may produce immediate results, but they are often unsustainable and can be harmful to your general health. The best meal plan to lose fat faster should comprise nutrient-rich meals, have a balanced macronutrient mix, and be long-term maintainable.
Macronutrient Equilibrium
There are three key macronutrients that comprise the majority of your diet: carbs, proteins, and fats. To optimize fat loss while maintaining muscle mass and overall health, a well-balanced fat loss meal plan should address the right distribution of these macronutrients.
Carbohydrates are the body's principal energy source. Carbohydrates are broken down into glucose and used for immediate energy or stored as glycogen in the muscles and liver when consumed. To reduce fat effectively, you must limit your carbohydrate intake.


Complex Carbohydrates: Focus on whole grains (brown rice, quinoa, whole wheat pasta), legumes, and vegetables as complex carbohydrates. These foods give continuous energy and aid in blood sugar stabilization, reducing insulin spikes that can lead to fat formation.

Reduce Simple Carbohydrates: Limit your consumption of simple carbohydrates such as sugary snacks, soda, and white bread. These can trigger blood sugar increases and encourage fat storage.
Protein is an important macronutrient for fat loss since it helps maintain muscle mass, keeps you satisfied, and has a stronger thermic effect (calories burned during digestion) than carbohydrates and fats.
Lean Protein Sources: Include lean protein sources such as chicken breast, turkey, lean beef, fish, tofu, tempeh, and low-fat dairy items in your diet.
Plant-Based Protein: If you're a vegetarian or vegan, include plant-based protein sources in your diet, such as legumes, quinoa, lentils, and soy products.
Dietary fat is necessary for many body functions and should not be completely eliminated from your diet. It is critical, however, to choose healthy fats over saturated and trans fats.
Healthy Fats: Choose avocados, nuts, seeds, olive oil, and fatty fish (salmon, mackerel, sardines) as sources of healthy fats. These fats can help with weight loss and overall wellness.
Limit Saturated and Trans Fats: Limit your consumption of saturated fats, which can be found in red meat, butter, and full-fat dairy products. Trans fats, which are found in many processed and fried meals, are harmful to one's health.
Establishing a Calorie Deficit
To lose weight quickly, you must generate a calorie deficit. This involves eating fewer calories than your body needs to stay at its current weight. Aim for a daily caloric deficit of 500 to 1000 calories, which can result in a sustainable weight loss of 1 to 2 pounds per week.
Here's how to figure out how many calories you need each day:
BMR (Basal Metabolic Rate): Determine your BMR, which is the quantity of calories your body requires at rest. There are numerous online formulas available to estimate your BMR based on characteristics such as age, gender, weight, and height.
Activity Level: To account for your daily physical activity, double your BMR by your activity level factor. This factor normally runs between 1.2 (sedentary) and 2.5 (very active).
Calorie Deficit: To create a calorie deficit for weight loss, subtract 500 to 1000 calories from your predicted daily calorie needs.
Unless overseen by a healthcare professional, women should not consume less than 1200 calories per day, and men should consume no less than 1500 calories per day. Strict diets can cause dietary deficits and have a detrimental impact on your metabolism.
Advantages of a Healthy Meal Plan
Before we determine the best meal plan to lose fat faster, it's critical to know the numerous benefits that a good diet can offer to your life. Good diet plans for losing weight fast can improve your general health and well-being in a variety of ways, not simply through weight loss.
Let's take a closer look at these advantages:
One of the most obvious advantages of following a healthy diet plan for weight loss is its ability to manage weight. You can generate a calorie deficit favorable to weight loss by actively choosing nutrient-dense foods and controlling portion sizes. This managed approach to calorie intake is a long-term technique to achieve and maintain a healthy weight.
The best meal plan to lose fat faster can have a significant impact on your cardiovascular health. A diet high in fruits and vegetables, whole grains, lean proteins, and healthy fats can help lower cholesterol and lower blood pressure. As a result, the risk of heart disease, heart attacks, and strokes is reduced. You are taking proactive measures toward a longer and healthier life by prioritizing heart-healthy foods.
The food you eat provides fuel for your body. A healthy food diet plan for weight loss ensures that you're giving your body the correct combination of nutrients, which leads to more energy. Balanced meals of carbohydrates, proteins, and fats provide consistent energy throughout the day, avoiding the energy dumps associated with high-sugar or high-fat diets. With more energy, you'll find it easier to do everyday duties and participate in physical activities.
Psychological Health and Well-Being
Researchers and healthcare professionals are increasingly recognizing the link between food and mental health. The best meal plan to lose fat faster can improve your mood and general mental health. Nutrient-rich diets, particularly those high in omega-3 fatty acids (found in fatty fish like salmon and walnuts), have been associated with a reduction in depression and anxiety symptoms. Furthermore, a well-nourished brain is better suited to deal with stress and adversity, which contributes to increased resilience.
Improved Digestive Health
Your digestive system is extremely important to your overall health. A healthy food diet plan for weight loss that includes high-fiber foods such as fruits, vegetables, whole grains, and legumes can help with digestion. Fiber promotes regular bowel movements, helps prevent constipation, and lowers the risk of digestive problems. Good diet plans for losing weight fast also aid in the maintenance of a healthy gut flora, which has far-reaching implications for your immune system and overall health.
Digestive difficulties such as bloating, gas, and indigestion can be a source of discomfort and difficulty for many people. A healthy food diet plan for weight loss that emphasizes whole, minimally processed foods can help alleviate these issues. Processed and high-sugar diets can upset the equilibrium of gut bacteria, causing digestive discomfort. You are less likely to develop bloating and other digestive disorders if you eat natural, unprocessed meals.
Best Diet to Lose Fat Quickly
Here is a detailed diet food plan to lose weight fast. It comprises meals from all food groups, is low in calories, and delivers the nutrients you require to stay healthy yet lose fat quickly.
Breakfast (300-350 calories)
Oatmeal with Fruit: Mix 1/2 cup oats, 1/2 cup water, and 1/2 cup skim milk. Microwave on high for 2-3 minutes. 1/2 cup sliced fruit, such as bananas, berries, or apples, on top.
Greek Yogurt Parfait: Layer 1/2 cup plain Greek yogurt, 1/2 cup sliced fruit, and 1/4 cup granola in a serving dish.
Veggie Omelet: Whisk together 2 eggs and 1/4 cup diced vegetables such as peppers, onions, and spinach. Cook in a nonstick skillet with 1 teaspoon olive oil.
Smoothie: Combine 1/2 cup low-fat milk, 1/2 cup frozen fruit, and 1/2 cup spinach or kale in a blender.
Note: There might be affiliate links mentioned here. We may receive a commission if you purchase a product through an affiliate link. There is no additional charge for you. Please do your own research before making any online purchases.
Grilled Chicken Salad: Toss 2 cups mixed greens with 4 oz. grilled chicken. of grilled chicken, 1/2 cup of cherry tomatoes, 1/4 cup of sliced cucumber, and 1/4 cup of shredded carrots. 1 tbsp olive oil and balsamic vinegar over top.
Turkey Wrap: Roll 4 oz. In a whole-grain wrap, combine 1/2 cup of mixed greens, 1/4 cup of sliced tomatoes, and 1 tablespoon of hummus.
Tuna Salad: Combine 4 oz. 1 tbsp light mayo, 1/4 cup diced celery, and 1/4 cup diced red onion. Serve with 2 cups of mixed greens.
Lentil Soup: Serve 1 cup lentil soup with 2 whole-grain crackers.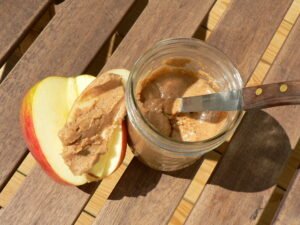 Almond Butter Apple: Slice 1 apple and serve with 1 tbsp almond butter.
Hummus with Carrots: Combine 1/4 cup hummus and 1 cup baby carrots.
Greek Yogurt with Berries: Combine 1/2 cup plain Greek yogurt and 1/2 cup mixed berries in a mixing bowl.
Peanut Butter Rice Cake: Spread 1 tbsp peanut butter on top of 1 rice cake.
Dinner (400-450 calories)
Grilled Salmon with Vegetables: 4 oz. Serve salmon with 1 cup roasted veggies like broccoli, carrots, and bell peppers.
Turkey Chili: Mix 4 oz. 1 cup canned diced tomatoes, 1 cup canned kidney beans, 1/4 cup diced onions, and chili powder to taste. Cook until the turkey is thoroughly cooked in a saucepan.
Veggie Stir Fry: Combine 1 cup of mixed vegetables (mushrooms, broccoli, and peppers) with 4 oz. of tofu and 1 tbsp of soy sauce.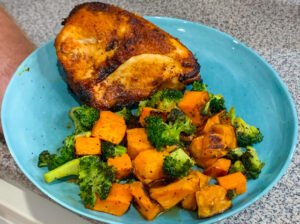 Grilled Chicken with Sweet Potato: Grill 4 oz. of grilled chicken with sweet potato. Bake 1 medium-sized sweet potato with the chicken.
How to Make a Personalized Meal Plan
Developing a tailored meal plan is an important step toward achieving your health and fitness objectives, whether they are weight loss, enhanced nutrition, or simply maintaining a balanced diet. Consider the following guidelines when creating a meal plan tailored to your specific needs and preferences:
Determine Your Calorie Requirements
Before you begin planning good diet plans for losing weight fast, first determine your daily calorie requirements. Calorie calculators, which are widely available on health and fitness websites, can help you estimate your calorie needs based on parameters such as age, gender, weight, height, activity level, and weight loss goals.
Setting a daily calorie goal is critical since it offers structure for your diet food plan to lose weight fast. It assists you in creating a calorie deficit if your objective is to lose weight or guarantees that you meet your maintenance calorie needs if your goal is to maintain your weight. If you want to lose weight, for example, you can schedule your meals to supply 500 to 1000 fewer calories than your anticipated daily requirement for slow and sustainable fat loss.
Choosing foods that you actually enjoy is one of the most important components of the success of your diet food plan to lose weight fast. A meal plan that incorporates foods you enjoy not only makes the journey more fun, but it also helps you stick to it. Diets that force you to consume items you don't enjoy can be tough to stick to in the long run.
Consider including your favorite foods in your meal plan, but balancing them with healthier alternatives. If you enjoy pasta, use whole wheat or legume-based pasta and serve it with a range of vegetables and lean protein sources. This way, you can enjoy your favorite flavors while still meeting your dietary requirements.
Meal planning and preparation are essential for having nutritious meals on hand, especially on busy days when fast food or unhealthy options may be more appealing. Make time each week for food preparation and planning. Here's where to begin:
Make a Weekly Menu: Plan out your week's meals, including breakfast, lunch, dinner, and snacks. Having a clear menu allows you to create more effective grocery lists.
Prepare Ahead: Prepare items ahead of time by washing, chopping, and portioning ingredients such as vegetables, fruits, and proteins. To make meal preparation easier, store them in containers.
Batch Cooking: Cooking large batches of meals and freezing individual pieces for later use is an option. This is especially beneficial for making homemade soups, stews, and casseroles.
Pack Ahead: If you have a hectic schedule, pack your lunches and snacks the night before to avoid making bad choices at the last minute.
Experiment with Different Foods
Variety is not only the spice of life, but it is also an essential component of a well-balanced diet food plan to lose weight fast. Trying new foods can broaden your palate, keep you from becoming bored with your diet, and provide a wider spectrum of nutrients. Include a variety of fruits, vegetables, grains, and proteins in your meals on a daily basis.
For example, if you've never tried quinoa, try it as a salad base, a side dish, or a breakfast grain substitute. Analyze various cuisines to learn about new flavors and cooking techniques that can liven up your meals while still adhering to your nutritional goals.
While preparing your major meals is important, don't forget about nutritious snacks. Including nutritious snacks in your diet food plan to lose weight fast will help you maintain consistent energy levels throughout the day and avoid overeating at meals. Focus on snacks that mix protein, fiber, and healthy fats to keep you full and satisfied.
Greek yogurt with berries, a handful of mixed nuts, carrot sticks with hummus, or apple slices with almond butter are all examples of healthful snacks. Preparing snacks ahead of time can also help minimize mindless snacking on less nutritious options.
FAQs
Why is nutrition so crucial to losing fat quickly? 
Diet is important for fat reduction since it helps establish a calorie deficit, which is necessary for losing extra fat. When you consume less calories than your body requires, it is forced to use stored fat for energy.
How can I ensure a healthy, long-term strategy to fat loss? 
To lose fat in a healthy and sustainable way, prioritize nutrient-dense foods, build a balanced macronutrient mix, and avoid excessive calorie limitations.
What are macronutrients and why do they matter in a fat reduction diet? 
Macronutrients (macros) include carbohydrates, proteins, and lipids. They are necessary in a fat reduction diet because they give energy, maintain muscle mass, and promote general health.
What are complex carbs, and why should I prioritize them in my diet? 
Complex carbs, such as whole grains and vegetables, give long-lasting energy and help balance blood sugar levels, preventing excessive insulin spikes that can lead to fat storage.
Can I incorporate fats in my fat-loss food plan? 
Yes, you should include healthy fats in your diet, such as avocados, almonds, and olive oil. These fats aid in weight loss and overall wellness.
How can I figure out the daily calorie deficit required for fat loss? 
Determine your Basal Metabolic Rate (BMR), consider your exercise level, and deduct 500 to 1000 calories per day to generate a calorie deficit for slow and sustainable fat loss.
Is it healthy for women to consume less than 1200 calories per day and males to take less than 1500 calories per day? 
Going below these calorie thresholds is not advised unless under the supervision of a healthcare professional, as it can lead to nutrient deficits and metabolic disorders.
What are the other advantages of a healthy eating plan aside from weight loss? 
A nutritious meal plan can boost energy levels, improve mental well-being, support digestive health, and reduce bloating and digestive discomfort.
How can I design a customized food plan based on my goals and preferences? 
To establish good diet plans for losing weight fast, assess your calorie needs, select foods you enjoy, plan ahead, try new foods, and include healthy snacks to keep you content.
Can you share a sample fat-loss meal plan? 
Yes, here's a sample diet food plan to lose weight fast:
Oatmeal with Fruit for Breakfast
Grilled Chicken Salad for Lunch
Snack: Almond Butter Apples
Grilled Salmon with Vegetables for Dinner
Conclusion
Fat loss does not have to be difficult. A nutritious meal plan that contains meals from all food groups will help you lose weight, enhance your overall health, and give you the energy you need to get through the day. You can construct a personalized meal plan that matches your particular needs and helps you attain your weight loss goals by following the meal plan and advice provided in this article.
Disclaimer: The information provided in this article is for educational purposes only and should not be considered as a substitute for medical advice. Consult a healthcare professional before implementing any home remedies or making significant changes to your lifestyle.