Best Tips for Meal Planning for Weight Loss
A balanced diet is a critical component of weight loss. It requires careful food selection and meal planning ahead of time to ensure that you consume the appropriate quantity of calories and nutrients to aid in weight loss. Meal planning is an important part of living a healthy lifestyle and is an efficient strategy to reach your weight loss objectives.
Introduction
Losing weight can be difficult, especially if you don't know what to eat, when to eat, or how much to consume. The secret to successful weight loss is to properly organize your meals and stick to your plan. In this article, we will go over meal planning for weight loss in depth, giving you all the crucial information you need for a simple meal plan to lose weight and achieve your weight loss goals.
Benefits of Meal Planning for Weight Loss
Many people want to achieve and maintain a healthy weight, but it is often difficult due to factors such as busy schedules and the availability of tempting, calorie-laden foods. Meal planning, on the other hand, is a great method for assisting you on your weight loss journey. Meal planning is more than just picking what to eat; it is a planned technique that provides several benefits, making it a valuable tool for your weight loss. In this comprehensive article, we will go into the different benefits of meal planning for weight loss, emphasizing how it may alter your approach to nutrition and wellbeing.
Controlled Calorie Consumption
One of the key advantages of meal planning for weight loss is the ability to properly limit your calorie consumption. You have the opportunity to make conscious choices about the foods you consume when you plan your meals. This includes choosing foods that are both pleasant and low in calories yet high in nutrients. By doing so, you ensure that you ingest the appropriate number of calories to aid in your weight loss quest.
Weight loss is based on a simple equation: calories in against calories out. To lose excess weight, you must generate a calorie deficit, which means consuming fewer calories than your body burns. Meal planning helps with this by allowing you to prepare meals that correspond to your calorie goals. You may compute your daily calorie requirements for a simple meal plan to lose weight. This kind of control is difficult to achieve when making impulsive meal selections, where you may accidentally ingest too many calories.
Increased Nutrient Consumption
Effective weight loss involves not only cutting calories but also fueling your body with critical nutrients. Meal planning ensures that you consume a balanced meal that contains all of the elements your body requires for optimal health. This means that your body gets the vitamins, minerals, fiber, and other nutrients it needs to function properly. A well-rounded diet naturally improves overall health and wellbeing, making meal planning a vital asset in your weight loss journey.
Consider the alternative of indulging in low-calorie foods instead of sugary snacks and processed junk food to appreciate the value of nutrient-rich meals. While these foods are low in calories, they are deficient in vital nutrients that your body needs. Such food choices can result in nutritional shortages and impair your weight loss attempts over time. Meal planning allows you to make informed choices about the foods you eat, ensuring that every bite contributes to your health and weight loss goals.
Meal planning is an environmentally friendly approach to nutrition because it helps reduce food waste. When you plan your meals, you are effectively making a shopping list for the week. This rigorous approach reduces the possibility of impulse purchases and guarantees that you only buy foods that you want to use. As a result, perishable products are less likely to go to waste in the back of your refrigerator.
Reducing food waste benefits not just your budget but also the environment. Food production and disposal increase greenhouse gas emissions, and food waste exacerbates the problem. Meal planning helps you become a more responsible consumer, reducing your carbon footprint and helping to save resources.
Time is a valuable commodity in our fast-paced world. Meal planning provides the crucial benefit of saving time. You can prepare your meals ahead of time once you've developed a weekly meal plan. This eliminates the need for you to spend time each day determining what to eat and then making your meals from scratch. Instead, you can streamline your cooking process to make it more effective and controllable.
The time-saving advantages of a simple meal plan to lose weight are especially appealing to busy individuals or families. Imagine returning home from a long day at work to find dinner freshly prepared or easily constructed from prepped components. This ease not only makes it easier to stick to your nutritional objectives, but it also eliminates the temptation to order takeout or dine out, both of which frequently provide less nutritious options.
Your mental condition is crucial to your overall health and weight loss success. Meal planning can improve your mental health by decreasing the stress and anxiety associated with mealtime decisions. You can approach meals with confidence when you have a well-thought-out strategy, knowing that you are making healthy choices that correspond with your goals.
Making last-minute meal decisions can be stressful, leading to impulsive decisions that may not be in accordance with your weight loss goals. The guilt or regret that comes with poor eating decisions might make this tension worse. Meal planning allows you to avoid this loop and enjoy your meals without the anxiety of making poor choices.
Meal planning also allows for greater diversity and creativity in your diet. With a simple meal plan to lose weight, you have the opportunity to try out different recipes, ingredients, and cooking techniques. This culinary adventure may liven up your meals, making healthy eating more pleasurable and sustainable.
Step-by-Step Guide for Preparing a Simple Meal Plan to Lose Weight
It's not only about what you eat when it comes to losing weight; it's also about how you organize your meals. A well-structured meal plan can be your secret weapon for weight loss. It enables you to make informed decisions, limit your calorie intake, and maintain a healthy diet. In this detailed guide, we'll go through the steps you need to take to effectively plan your meals for weight reduction, assisting you in developing a sustainable and nutritious eating plan that corresponds with your goals.
Determine Your Calorie Requirements
A firm grasp of your calorie requirements is the core of any successful weight loss meal plan. This is an important step since it sets the tone for the remainder of your meal preparation procedure. To establish your calorie requirements, use a calorie calculator or consult a trained nutritionist for specialized advice.
To estimate your daily caloric requirements, the calorie calculator considers characteristics such as your age, gender, weight, height, and activity level. Because the number of calories required differs from person to person, this estimate provides a specific starting point for your weight loss journey.
Once you've determined your daily calorie goal, you can schedule your meals and snacks appropriately, ensuring that your total calorie consumption complements your weight loss objectives. It is critical to achieve a balance, as excessive calorie restriction might be unproductive and unsustainable in the long run.
Select a Healthy Diet
Weight loss meal planning should not focus only on deprivation or exclusion. Instead, it should emphasize the need for a well-balanced diet that includes items from all food categories. A well-balanced diet includes the following foods:
Fruits: Fruits, which are high in vitamins, minerals, and fiber, provide critical nutrients while satisfying your sweet tooth. To increase diet diversity, aim for a colorful assortment of fruits.
Vegetables: Vegetables are high in nutrients and low in calories. They provide fiber, vitamins, and antioxidants, which promote fullness and overall health.
Whole Grains: Whole grains such as brown rice, quinoa, and whole wheat pasta provide complex carbs for sustained energy as well as fiber for satiety.
Lean Protein: Including lean protein sources in your meals, such as chicken, turkey, fish, tofu, beans, and legumes, helps you retain muscle mass while reducing hunger.
Healthy Fats: Healthy fats from avocados, nuts, seeds, and olive oil are necessary for nutrient absorption and overall health. They also aid in keeping you pleased.
Attempt to diversify your plate by including foods from each food group in your meals. This not only ensures that you get a diverse range of nutrients, but it also makes your meals interesting and pleasant.
Plan Your Meals in Advance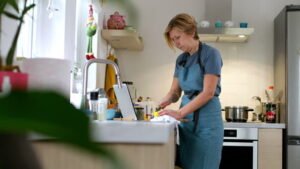 Foresight is one of the secrets to successful meal planning for weight loss. Planning your meals ahead of time is critical since it reduces the likelihood of making impulsive, unhealthy food choices. To begin, plan out your week's meals for breakfast, lunch, dinner, and snacks. Making a food plan not only helps you lose weight but also saves you time and worry during the week.
Begin by creating a weekly meal plan. When planning your meals, keep your daily schedule in mind, including work hours, workouts, and other responsibilities. This assists you in allocating suitable portions and food types to meet your energy demands throughout the day.
After creating your meal plan, prepare a complete grocery list based on the products required for your planned meals. This methodical technique guarantees that you buy the proper foods and reduces food waste, which aligns with your weight loss and environmental goals.
Plan Your Meals Ahead of Time
The magic of a simple meal plan to lose weight actually comes to life during meal preparation. Preparing your meals ahead of time has various benefits for weight loss:
Time Saving: By batch-cooking your meals, you save time throughout the week. When hunger comes, simply reheat your planned meal, reducing the need for rash, sometimes unhealthy decisions.
Portion Regulate: Planning your meals ahead of time allows you to regulate portion sizes, preventing overeating and assisting you in sticking to your calorie objectives.
Healthy Options: When you have healthy, pre-prepared meals on hand, you are less likely to reach for fast food or takeout, which can be heavy in calories and low in nutrition.
Persistent Approach: Consistency is essential in any weight loss quest. Preparing your meals ahead of time helps you consume foods that support your goals on a consistent basis.
Depending on your intended consumption schedule, you can store your cooked meals in the refrigerator or freezer. Purchase airtight containers to ensure freshness and quantity control.
Monitor Your Progress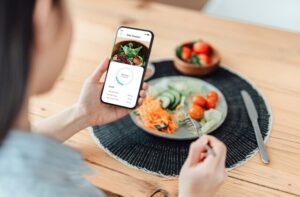 Meal planning for weight loss does not end with meal preparation. Tracking your progress is critical for maintaining momentum and ensuring you're on the right track. There are multiple components to this:
Note: There might be affiliate links mentioned here. We may receive a commission if you purchase a product through an affiliate link. There is no additional charge for you. Please do your own research before making any online purchases.
Weight Monitoring: Weigh yourself on a regular basis to track changes over time. While weight alone may not tell the whole story, it might provide useful information about your progress.
Measuring Body Fat Percentage: Measuring your body fat percentage provides a more thorough picture of your body composition changes than simply weighing yourself. Skinfold calipers and bioelectrical impedance scales are two examples of such approaches.
Keeping a Food Diary: Keeping a food diary will help you stay accountable and discover areas where you may need to make changes. Keep track of everything you eat and drink, including portion quantities and cooking methods.
Recognizing Achievements: Don't forget to recognize your accomplishments, whether big or small. Recognizing your accomplishments, whether it's attaining a specific weight goal or sticking to your diet plan consistently, can enhance motivation.
Changing Your Strategy: Weight loss is not always linear, and plateaus and fluctuations are normal. Prepare to make changes to your meal plan as needed, whether it's increasing portion sizes, changing meal times, or getting personalized advice from a certified dietitian.
10 Expert Tips for Mastering Weight Loss Meal Planning
It's not only about the food items you consume to lose weight; it's also about how you organize your meals. Meal planning is an effective technique for achieving weight loss goals while promoting healthy eating habits. In this segment, we'll look at ten professional guidelines to ensure that your meal planning efforts result in long-term success on your weight loss journey.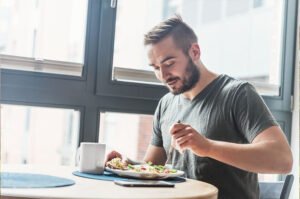 Starting a weight loss journey might be daunting, especially if you're unfamiliar with meal planning. Begin with a simple meal plan to lose weight to ensure your success. Starting small allows you to gradually adjust to the process, gain confidence, and improve your meal planning skills over time.
Begin by arranging just a few weekly meals, such as breakfast and dinner. As you gain confidence, you can broaden your planning to cover all meals and snacks. Keep in mind that growth is incremental, and it's completely natural to take tiny steps toward more extensive meal planning.
Foresight is one of the most important aspects of successful meal planning. Planning your meals for the entire week ahead gives you a clear path to follow, making it less likely that you'll make poor choices when hunger hits.
Begin by making a weekly meal plan. Consider your calendar, which includes work, exercise, and social obligations. Set aside specific meals and snacks for each day, taking your calorie objectives and nutritional requirements into consideration. With a defined plan in place, you lessen the likelihood of making rash, unhealthy judgments.
Batch Cooking for Efficient Results
When it comes to meal planning for weight reduction, batch cooking is a game changer. It entails cooking huge amounts of food at once and then freezing parts for future meals. This strategy saves time while also ensuring that you always have nutritious selections on hand.
Choose a weekday when you have some extra time for batch cooking. Prepare a lot of lean proteins (chicken, turkey, tofu), whole grains (brown rice, quinoa), and roasted vegetables. Place these goods in separate containers and place them in the refrigerator or freezer. When you're hungry during the week, you can easily put together nutritious, calorie-controlled meals.
Experiment with Different Cooking Methods
Keeping your meals interesting and varied is essential for long-term meal planning success. Experiment with a variety of cooking methods to keep your taste buds engaged. This variety enriches your meals and makes healthy eating pleasurable.
Prepare your ingredients by baking, grilling, roasting, steaming, or stir-frying. Each technique adds distinct flavors and textures to your cuisine. Grilling, for example, adds smokey char, while roasting brings out the natural sweetness of vegetables. Experimenting with different approaches may turn meal preparation into a gourmet adventure.
Always Have Healthy Snacks on Hand
Snacking is a common stumbling block on the road to weight loss. Keep a supply of healthy snacks on hand to avoid falling into unhealthy snacking. When you are hungry between meals, having healthy snacks on hand will help you avoid reaching for less nutritious options.
Snacks such as fresh fruits and vegetables with hummus, unsalted nuts, and seeds should be kept in your cupboard and refrigerator. These choices include necessary nutrients, fiber, and protein to keep you full. Portion control is essential, so divide snacks into smaller servings to avoid overeating.
Stay Away from Processed Foods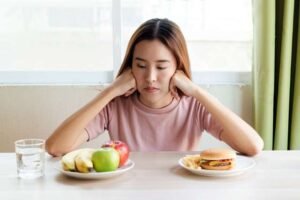 Processed meals, which are frequently high in calories, sugar, and bad fats, might sabotage your weight loss attempts. Rather than relying on packaged convenience foods, choose complete, nutrient-dense foods. Whole foods are less processed and have their original nutritional content preserved.
Create a simple meal plan to lose weight that includes nutritious grains, lean proteins, and plenty of vegetables. Reduce your intake of sugary beverages, highly processed snacks, and fast meals. Whole foods are not only more nutritious, but they are also more filling, allowing you to better control your calorie consumption.
Skipping meals is a popular assumption in weight loss, but it can be harmful in the long run. When you skip meals, your body tries to compensate for the lost calories by overeating later in the day. This might cause blood sugar fluctuations and a desire for unhealthy meals.
Eat three balanced meals a day and incorporate healthy snacks as needed to maintain a consistent energy level and control your hunger. Meal timing consistency can help control your metabolism and reduce severe hunger, making it simpler to stay on track with your calorie objectives.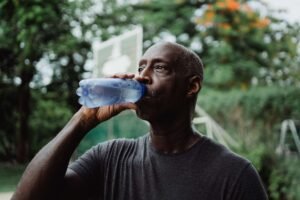 Proper hydration is frequently disregarded in weight loss efforts, yet it is critical to your success. Drinking adequate water can help you regulate your appetite because thirst can be confused with hunger. Drink at least eight glasses of water every day, and more if you exercise.
Consider drinking a glass of water before each meal to help fill your stomach and limit your chances of overeating. Furthermore, because water is required for many biological activities, including digestion and metabolism, staying hydrated contributes to overall well-being.
While meal planning gives structure and guidance, it is critical to keep your approach flexible. Life is unpredictable, and there will be times when you cannot stick to your plan precisely. The trick is to not let minor detours discourage or disrupt your efforts.
Don't berate yourself if you have a bad day or find yourself in a circumstance where your planned lunch is unavailable. Instead, concentrate on making the finest options available to you at the time. The beauty of meal planning is that it allows you to return to your planned approach the next day, maintaining long-term consistency.
Starting a weight loss journey can be difficult, but you don't have to do it alone. Seek assistance from family, friends, or experts who can assist you in remaining motivated and accountable.
Consider joining a weight loss support group where you can share your experiences, setbacks, and successes with others who are going through the same thing. Working with a registered dietitian, on the other hand, provides personalized guidance, allowing you to tailor your meal planning efforts to your specific needs and goals.
FAQs
What is meal planning, and how can it help you lose weight? 
Meal planning requires selecting and scheduling your meals ahead of time. It aids in weight loss by assisting you in controlling your calorie intake and making nutritious choices, resulting in the calorie deficit required for weight loss.
How does meal preparation improve nutrient intake? 
Meal planning ensures that you consume a well-balanced diet rich in all essential nutrients. By consciously choosing nutrient-dense foods, you can improve your overall health while working toward your weight loss goals.
How does meal planning help cut down on food waste? 
Meal planning helps you create a shopping list based on your planned meals, which reduces food waste. This means purchasing only what you require, reducing the likelihood of perishable items going to waste.
How might meal planning help you save time? 
Meal planning allows you to prepare meals ahead of time, which saves time. Cook in larger batches and freeze portions to simplify your daily cooking routine and eliminate the need for impromptu meal decisions.
Can meal planning enhance mental health? 
Yes, meal planning can improve mental health by reducing the stress and anxiety associated with mealtime decisions. Having a structured plan eliminates the worry of unhealthy choices and promotes confidence in your dietary decisions.
How does meal planning encourage variety in the diet? 
Meal planning encourages variety by allowing you to experiment with different recipes, ingredients, and cooking methods. This culinary exploration makes healthy eating more enjoyable and sustainable.
Is it essential to determine daily calorie needs for effective meal planning? 
Yes, determining your daily calorie needs is essential for effective meal planning. It serves as the foundation for preparing meals that match your weight loss goals while ensuring you don't overly restrict your calorie consumption.
What is a balanced diet, and why is it important in meal planning for weight loss? 
A balanced diet includes a variety of foods from different food groups, such as fruits, vegetables, whole grains, lean protein, and healthy fats. It's crucial in meal planning as it provides essential nutrients, promotes satiety, and supports overall health.
Why is tracking progress important in meal planning for weight loss? 
Tracking progress helps you stay accountable and make necessary adjustments to your meal plan. It entails keeping track of your weight, measuring your body fat percentage, keeping a food diary, celebrating your accomplishments, and adapting your plan as needed.
How can seeking help contribute to successful weight loss meal planning? 
Seeking help from family, friends, or professionals can help you stay motivated and accountable. Weight loss support groups and registered dietitians provide guidance tailored to your specific needs, making meal planning easier and more enjoyable.
Conclusion
Meal planning for weight loss is an essential aspect of a healthy lifestyle. It involves selecting nutrient-dense foods, planning meals ahead of time, and preparing meals in advance. Successful meal planning for weight loss requires patience, commitment, and a willingness to make healthy choices.
By following the tips outlined in this article, you can create a meal plan that supports your weight loss goals and helps you achieve optimal health and well-being. Remember to start small, be flexible, and stay focused on your goals. With time and effort, you can achieve your weight loss goals and enjoy a healthier, happier life.
Disclaimer: The information provided in this article is for educational purposes only and should not be considered as a substitute for medical advice. Consult a healthcare professional before implementing any home remedies or making significant changes to your lifestyle.