Excellent Tips for Weight Loss for People with Joint Problems
Excess weight can place extra strain on joints and worsen pain and inflammation; therefore, losing weight is commonly recommended for people with joint disorders like arthritis. 
Introduction
Weight loss for people with joint problems can be a difficult endeavor because exercise can be difficult and uncomfortable for them. This article will go through weight loss strategies that are specifically designed for people who have joint problems.
Benefits of Weight Loss for People with Joint Problems
Weight loss is a transformative journey that can provide a plethora of benefits for people suffering from joint pain. Reducing excess weight might give relief and increase vitality to those who suffer from the everyday misery of aching and sore joints. Weight loss benefits go far beyond appearance; they also improve joint health, reduce discomfort, and improve overall well-being.
The biggest benefit of weight loss for people with joint problems is that it relieves stress on their joints. Excess weight puts a significant strain on the body's weight-bearing joints, including the knees, hips, and lower back. This added strain can hasten joint wear and tear, leading to disorders such as osteoarthritis. Losing weight reduces the burden on these joints, reducing friction and pressure, which contribute to discomfort and inflammation.
Weight loss can help reduce the severity of joint pain and stiffness. The joints face reduced mechanical stress during regular tasks such as walking, climbing stairs, or even standing when the body's bulk lowers. For people who are used to dealing with continual joint pain, this reduction in strain might provide immediate relief. Individuals may find it simpler to engage in physical activities and exercise with less pain, which contributes to joint health and overall well-being.
Weight loss has broader health benefits in addition to joint improvements. People who successfully lose excess weight frequently have better cardiovascular health, a lower risk of diabetes, and lower blood pressure. These systemic advantages not only improve the quality of life but also increase longevity. Weight loss can reduce the risk of acquiring chronic illnesses such as heart disease, which can exacerbate the health concerns faced by people with joint problems.
Effective Methods for Weight Loss for People with Joint Problems
Weight loss can be a difficult task, especially for people who have joint problems like arthritis. Weight gain puts unnecessary strain on weight-bearing joints such as the knees, hips, and lower back, increasing pain and inflammation. However, specialized weight loss and joint pressure programs can assist these patients in losing weight, reducing discomfort, and improving their general well-being. 
Seek the Advice of a Healthcare Practitioner
Starting a weight loss journey with joint difficulties involves doing your research. The first step should be to consult with a healthcare expert, such as your doctor or a qualified physical therapist. Their knowledge and experience can provide crucial advice tailored to your individual situation for losing weight and reducing joint pain. They can evaluate the severity of your joint difficulties, take into account any underlying medical illnesses, and discuss any drugs you may be taking that may interfere with your weight loss efforts.
Your healthcare professional can assist you in setting realistic weight reduction goals and advising you on the best weight loss tactics. They may suggest dietary changes, appropriate workouts, and potential changes to your current treatment plan to ensure that your weight reduction journey coincides with your overall health goals.
They can also give you advice on how to manage pain and inflammation while losing weight. They may recommend pain management techniques or drugs to keep you active and dedicated to your weight loss plan. You can ensure a safe and productive weight loss journey that prioritizes your joint health by working with a healthcare expert.
Prioritize Low-impact Workouts
When joint pain is a part of your everyday life, finding the correct fitness program is critical. Running and jumping, for example, can aggravate joint pain and stiffness. Instead, prioritize low-impact exercises that are easy on your joints while still helping you lose weight.
Swimming, walking, and cycling are all wonderful activities. Swimming, in particular, provides the advantages of an aerobic workout as well as joint-friendly resistance. It's a great choice for people seeking appropriate weight loss exercise with knee pain. Walking and cycling are both easily accessible and adaptable to your fitness level. These low-impact activities burn calories and help you lose weight without putting undue strain on your joints.
As your fitness improves, remember to start slowly and progressively increase the intensity and duration of your workouts. Always pay attention to your body and avoid overexertion, as pushing too hard might result in joint strain. 
Add Strength Training to Your Routine
Individuals with joint difficulties can benefit from strength training as part of a weight loss program. By providing additional support to the damaged areas, muscle building can improve joint stability and lessen pain. To avoid worsening joint discomfort, conduct strength training with caution and begin with small weights.
Strength training routines can be adjusted to target specific muscle groups while minimizing joint stress. A physical therapist or professional trainer can assist you in developing a strength training program that meets your needs while minimizing the risk of injury. When done correctly, these workouts can be an important component of your road toward better joints and weight loss.
Use Resistance Bands
Resistance bands are flexible tools for people who have joint pain and want to add strength training to their exercise program. These bands are a low-impact alternative to traditional weights for building muscle and improving joint stability without putting additional strain on your joints. If you are seeking a comfortable weight loss exercise with knee pain, these are the suitable choices for you. 
Resistance bands come in a variety of resistance levels, allowing you to gradually increase the difficulty as you gain strength. They are lightweight and portable, making them ideal for at-home or on-the-go training. Resistance bands allow you to perform a variety of exercises that target different muscle areas, giving you a flexible and joint-friendly strength training choice.
Note: There might be affiliate links mentioned here. We may receive a commission if you purchase a product through an affiliate link. There is no additional charge for you. Please do your own research before making any online purchases.
Engage in Moderate Yoga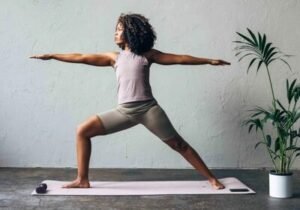 Yoga is well-known for its potential to increase flexibility, decrease stress, and promote general well-being. It can be especially helpful for people who have joint difficulties. However, it is critical to choose a moderate yoga style that focuses on stretching and relaxation rather than one that contains difficult positions that may aggravate joint pain.
Poses that emphasize flexibility and joint mobility are common in gentle yoga programs. These lessons emphasize calm and controlled movements, allowing you to practice yoga without feeling too strained. Yoga can help you lose weight and reduce joint pain by lowering muscular tension around problematic areas.
It is best to inform your instructor about your joint difficulties before beginning any yoga practice so that they may make the necessary modifications and provide assistance specific to your requirements.
Adjust Exercises as Needed
It's critical to stay versatile and attentive to your body's signals while losing weight with joint difficulties. If you encounter joint stiffness or soreness while performing a specific weight loss exercise with knee pain or other joint pain, adapt it or look into alternative exercises. 
For example, if regular lunges are too uncomfortable for your joints, try modified lunges or squats instead. These workouts might be gentler on your joints while still stimulating the muscles you want to work on. Always seek and do comfortable weight loss exercises with knee pain; otherwise, you may injure yourself. Making such changes ensures that you can keep a consistent workout schedule without increasing joint concerns.
Remember that there are countless exercise variations and adaptations available, so you can always find one that meets your level of comfort and fitness goals. The goal is to prioritize your joints' long-term health while pursuing weight loss success.
Prioritize a Nutritious Diet
While exercise is necessary for weight loss, it must be combined with a healthy and balanced diet. Paying close attention to what you eat can have a big impact on your weight loss and general joint health.
Incorporate more fruits and vegetables, lean protein sources, and whole grains into your diet. These foods contain critical nutrients that contribute to your general health and well-being. They also help to maintain a healthy weight by providing necessary vitamins and minerals without consuming too many calories. Furthermore, the fiber content of these foods can aid in appetite control and lessen the temptation to overeat.
On the other hand, avoid processed foods, sugary drinks, and high-fat, high-sugar snacks. These foods can sabotage your weight loss attempts and increase inflammation in your body, perhaps exacerbating joint problems. Staying hydrated is also important for losing weight and reducing joint pain, so drink plenty of water throughout the day.
A licensed dietitian can tailor a dietary plan to your unique needs and goals, which is often beneficial. They can provide advice on portion control, meal planning, and appetite management tactics, all of which can be beneficial in your weight reduction journey with joint difficulties.
Hire a Personal Trainer or a Physical Therapist
Enlisting the help of a skilled personal trainer or physical therapist can be beneficial if you're navigating the challenges of weight reduction while suffering from joint pain. These experts have the knowledge to design personalized fitness routines and weight loss strategies that are tailored to your specific needs.
A personal trainer can create programs that target your individual joint difficulties while also encouraging weight loss. They can provide you with correct form and technique guidance, ensuring that you workout safely and successfully. Furthermore, they can monitor your progress, make any adjustments, and provide motivation and support along your trip.
Physical therapists specialize in the treatment of musculoskeletal issues, making them excellent partners in your quest for weight loss while suffering from joint pain. They can not only advise on safe and effective activities but also provide therapeutic interventions to reduce pain and inflammation. Their advice can help you achieve your weight loss objectives while also protecting your joint health.
FAQs
Why is weight loss crucial for those who have joint problems?
Excess weight puts additional strain on weight-bearing joints, including the knees and hips, exacerbating pain and inflammation. Weight loss can help lessen this tension, resulting in better joint health and less discomfort.
If I have joint difficulties, may I begin a weight loss program without first visiting a healthcare professional?
Before beginning any weight loss program with joint difficulties, it is strongly advised to check with a healthcare professional, such as a doctor or physical therapist. They can give you specific advice and assure your safety.
What are low-impact workouts, and why are they recommended for those suffering from joint pain?
Low-impact workouts such as swimming, walking, and cycling are easy on the joints. They help you burn calories without placing too much strain on your joints, making them perfect for people who have joint difficulties.
How does strength training help those who have joint difficulties while losing weight?
Strength training increases muscle mass, which improves joint stability and decreases pain. To avoid increasing joint discomfort, begin with light weights and perfect form.
What are resistance bands, and how may they help people with joint difficulties lose weight?
Resistance bands are lightweight, flexible equipment that provides low-impact strength training. They help strengthen muscles and enhance joint stability without putting strain on the joints, making them ideal for people who have joint problems.
Is yoga appropriate for those who have joint difficulties, and if yes, what kind of yoga is best?
Gentle yoga, with a focus on stretching and relaxation, can be good for people who have joint difficulties. Avoid difficult poses and notify your instructor about any joint issues so that appropriate modifications can be made.
What should I do if I develop joint pain while exercising?
If you feel joint pain while exercising, adapt the workout or attempt a different exercise that targets the same muscle area. Seek advice from a trainer or therapist.
Why is a balanced diet, in addition to exercise, vital for weight loss with joint problems?
A good diet promotes weight loss by supplying needed nutrients and assisting in calorie control. It can also help with joint health by reducing inflammation.
Where can I locate a personal trainer or physical therapist to help me lose weight?
You can find licensed personal trainers or physical therapists in your region by searching online directories or asking your healthcare provider for referrals.
Can I lose weight while suffering from joint discomfort, or should I concentrate entirely on pain relief?
You can lose weight while dealing with joint pain. In fact, losing weight can help relieve joint discomfort and improve overall joint health. Consult a healthcare professional to develop a safe and effective plan that is suited to your specific needs.
Conclusion
Losing weight can be difficult for people with joint difficulties, but it is a vital step toward better joint and general health. You can successfully reduce weight without increasing joint discomfort and inflammation by focusing on low-impact workouts, combining strength training and yoga, changing exercises as needed, and eating a balanced diet. To avoid injury and burnout, check with a healthcare expert and listen to your body. You may reach your weight loss objectives while also improving your joint health and general well-being if you work hard and consistently.
Disclaimer: The information provided in this article is for educational purposes only and should not be considered as a substitute for medical advice. Consult a healthcare professional before implementing any home remedies or making significant changes to your lifestyle.