Everything You Need to Know About Walking vs Running for Weight Loss
Given the growing worry about obesity and related health problems, weight loss has received a lot of attention in recent years. While there are numerous weight loss solutions, exercise remains a critical component of the majority of weight loss approaches. Walking and running are two of the most accessible and effective types of exercise, and they are easy to include in daily routines.
Introduction
Walking vs running for weight loss is not a one-size-fits-all situation. Individuals have varying demands, fitness levels, and preferences. In this comprehensive article, we will look at the benefits and drawbacks of walking and running for weight loss, giving you the information you need to make an informed decision about which activity is best for you.
Science Behind Weight Loss 
Before we go into the intricacies of walking vs running for weight loss, it's important to first grasp the science of weight loss. The main driving force behind weight loss is a simple idea: you must burn more calories than you consume. This is referred to as a calorie deficit. When you generate a calorie deficit through diet and exercise, your body begins to utilize stored fat as energy, which results in weight loss.
Weight reduction is essentially a balance of calorie intake and calorie expenditure. To lose weight efficiently and persistently, you must either cut your calorie intake or raise your calorie expenditure through physical exercise, or, preferably, combine both methods.
Walking Can Help You Lose Weight
When it comes to losing weight, many people equate it with high-intensity workouts and sweaty gym sessions. However, the basic act of walking, which most of us do on a daily basis, has a plethora of benefits when it comes to losing weight and boosting overall health. In this extensive analysis, we will discover the multiple benefits of fast walking for weight loss.
Ease of Access and Inclusion
Walking is a brilliant example of an exercise that is both accessible and inclusive. It does not make any distinctions based on age, fitness level, or physical condition. Walking is a type of exercise that welcomes everyone, whether you're a sprightly youth or a mature citizen, an expert athlete or a complete novice.
Walking's beauty rests in its simplicity. You don't need any specific equipment or a gym membership. All you need is a comfortable pair of shoes and an open road, making it an excellent alternative for those who are just starting their fitness journey or who may have physical restrictions that prevent them from partaking in more demanding exercises.
Walking's low-impact nature is one of its distinguishing characteristics as a weight-loss workout. Walking is an example of a low-impact activity because it puts little strain on your joints. This makes it a good alternative for anyone who has joint problems, arthritis, or is recovering from an injury.
In comparison, higher-impact activities like jogging can be hard on the joints, perhaps resulting in soreness or damage. Walking's soft, fluid pace allows people to exercise on a regular basis without worrying about the wear and tear on their bodies.
Walking has plenty of it, which is the secret ingredient in the recipe for long-term weight loss success. Sustainable workout routines are those that can be followed for an extended period of time without creating physical or mental exhaustion. Walking, with its inherent simplicity and low intensity, is ideal for this purpose.
Because fast walking for weight loss is less physically taxing than running or other vigorous exercises, more people are likely to do it. Walking can also be easily incorporated into daily life. Walking to work, having a post-dinner stroll, or going for a leisurely walk in the park are all delightful ways to include walking into your routine and ensure that you stay with it in the long run.
While walking does not burn calories as quickly as more strenuous sports such as jogging or high-intensity interval training (HIIT), it is an excellent approach to boosting fat loss. The idea is to keep a quick pace during your walks.
Fast walking for weight loss raises your heart rate and activates your muscles, which causes your body to use stored fat for energy. This can lead to a gradual but constant drop in body fat over time, helping you get closer to your weight loss goals.
Weight loss is about more than just burning calories and losing pounds; it is also about creating a complete sense of well-being. Walking's mental health benefits attest to its effectiveness as a weight loss and overall health workout.
Walking, for example, causes the release of endorphins, the body's natural mood enhancers. These molecules can help alleviate stress, anxiety, and depression, giving your emotional well-being a pleasant boost. When you're in good mental health, it's easier to stay committed to your weight reduction quest and make healthy diet and lifestyle choices.
Reduced Risk of Overuse Injuries
When it comes to walking vs running for weight loss, walking is a safer alternative for people concerned about the dangers of overuse injuries. Overuse injuries can be disappointing setbacks on the weight loss journey because they disturb your exercise routine and hinder your progress.
Walking's low-impact nature reduces repetitive stress on your joints, lowering your risk of shin splints, stress fractures, and tendonitis. This means you can stick to your weight loss goal while being less likely to get injured.
Starting a weight loss journey can be daunting, especially if you're new to fitness or have led a sedentary lifestyle. Walking is an excellent introduction to fitness for beginners, allowing them to gradually lay a firm foundation.
Walking's smoothness makes it less intimidating than more strenuous exercises. Beginners can begin at their own pace, gradually increasing the duration and intensity of their walks as their fitness level increases. This progressive approach not only decreases the danger of injury but also increases confidence and stamina, laying the groundwork for more difficult activities if desired.
Walking is thus an extremely effective workout for weight loss and overall wellness. Its ease of use, low-impact nature, sustainability, and mental health advantages make it a versatile and useful option for people of different backgrounds and fitness levels. Walking can be your trusted companion on the route to a better you, whether you're aiming to lose a few pounds, maintain a healthy weight, or simply improve your well-being.
Disadvantages of Walking for Weight Loss
While walking definitely has multiple benefits for weight loss and overall health, it is important to recognize that it may not be the best option for everyone or for all weight loss goals. In this section, we'll look at some of the disadvantages of choosing walking over running for weight loss.
One of the biggest disadvantages of walking as a weight loss workout is that it burns fewer calories than more intense exercises like running. While walking does help you burn calories, the rate at which you do so is far slower than with more rigorous exercises.
This means that in order to burn the same amount of calories as running, you may need to devote more time to your walking sessions. This can be a considerable disadvantage for people who have hectic lives and little time for exercise. The time commitment required for significant calorie burn from walking alone may not be compatible with modern life's expectations.
Walking's lower intensity may result in slower weight reduction results when compared to more vigorous workouts such as jogging or high-intensity interval training (HIIT). Weight loss occurs when there is a calorie deficit, or when you burn more calories than you consume. Given that walking burns calories at a slower rate, it may take longer to see obvious improvements.
Individuals who have a significant amount of weight to shed or who want to see speedy changes in their bodies may find that depending exclusively on walking does not give the desired speed of transformation. For individuals looking for more instant gratification, the progressive nature of weight loss by walking can be discouraging.
Another disadvantage of fast walking for weight loss is the likelihood of plateauing. The benefits of a regular walking regimen may decline with time as your body adapts to it. This adaptive process, termed the "plateau effect," occurs frequently in fitness.
To maintain meaningful weight loss outcomes from walking, you may need to increase the duration, intensity, or frequency of your walks on a regular basis. This progressive method may be difficult for some people, particularly those who are already straining their physical limitations or who have few opportunities to raise the intensity of the exercise.
Breaking through plateaus generally necessitates some creativity and diversity in your workouts, such as including hills, increasing weights, or modifying your pace, which may be more difficult with walking than with more versatile types of exercise.
Limited Muscle Engagement
While walking utilizes many muscle groups, especially those in the lower body, it does not provide the same level of muscular development as sports such as running or resistance training. Running, for example, significantly activates muscles not only in the legs but also in the core and upper body.
Walking may not contribute as considerably to muscular tone and definition as other exercises due to the minimal muscle engagement. While losing weight frequently entails eliminating extra fat, it is equally critical to maintain and grow lean muscle mass. Muscle not only boosts your metabolic rate, allowing you to burn more calories at rest, but it also helps you get a more shaped and toned physique.
Individuals seeking not only weight loss but also enhanced muscle definition may discover that walking alone does not adequately fulfill their fitness goals.
Remember that, while walking has undeniable benefits for weight loss and overall health, it is critical to be aware of its limitations. Walking has some negatives, including lesser calorie burn, slower outcomes, the possibility of plateaus, and reduced muscular engagement.
Walking, on the other hand, can still be a beneficial component of a comprehensive weight loss approach. Many people combine it with other exercises, such as running, resistance training, or high-intensity interval workouts, to create a well-rounded fitness regimen that addresses both the disadvantages and benefits of walking, ensuring a more balanced and effective approach to weight loss.
Benefits of Weight Loss Through Running
Running, widely regarded as the greatest cardiovascular workout, has a distinct position in the domain of weight loss exercise. This high-intensity aerobic activity has a unique mix of benefits that make it a popular choice for people looking to lose weight and improve their general fitness. In this complete analysis, we will discover the several advantages that running provides as a weight loss workout.
Running's great calorie-burning capability is one of its most notable characteristics. Few workouts can compete with running in terms of calories burned per minute. Because of the high intensity of this sport, you will burn a lot of calories during your sessions.
Running can be a powerful ally if you want to maximize calorie burn and accelerate your weight loss journey. Because of its ability to burn calories at a faster rate, your efforts for weight loss through running can produce significant results in less time than lower-intensity activities like walking.
Effective Time Management
Time is a valuable commodity in today's fast-paced world. Running, because of its ability to swiftly burn calories, allows you to make the most of your limited exercise time. This efficiency is a blessing for people with hectic schedules who want to include exercise in their daily routine.
Running can be a lifesaver for those who are constantly on the go and unable to spend long periods of time training. A 30-minute run can deliver a significant calorie burn and contribute significantly to your weight loss objectives, making it an excellent option for individuals with limited time.
Excess Post-Exercise Oxygen Consumption (EPOC)
Running contains a hidden gem known as excess Post-Exercise Oxygen Consumption (EPOC), often known as the "afterburn effect." EPOC is a metabolic gift that continues to give long after your run has ended.
Following a high-intensity run, your body continues to burn calories as it strives to replace oxygen stores, repair tissues, and restore physiological processes to pre-exercise levels. Depending on the intensity and duration of your run, this post-exercise calorie burn might linger for hours or even days. Running, in essence, continues to burn calories even when you are at rest, which is a huge benefit for weight loss.
Improved Cardiovascular Fitness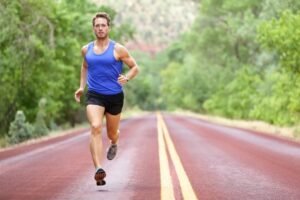 Along with the primary goal of weight loss through running, it's important not to neglect the larger consequences of exercise on general health and well-being. Running excels in this category because it considerably improves cardiovascular fitness. 
Running on a regular basis raises your heart rate and challenges your cardiovascular system, resulting in increased endurance and aerobic capacity. A strong cardiovascular system not only improves oxygen transport and nutrient delivery throughout the body, but it also reduces the risk of heart disease, stroke, and other cardiovascular disorders.
Running is a total-body workout that works a wide range of muscles throughout your body. While it mostly works on your legs, it also works on your core, upper body, and even your back. This all-around muscular involvement helps to increase muscle tone and definition.
In comparison, walking, while a wonderful exercise in its own right, mostly focuses on the lower body muscles. Running's ability to activate a wider range of muscle groups is a big benefit for those looking for not only weight loss but also a more sculpted and toned appearance.
Possibility of High-Intensity Intervals
Running's adaptability extends to its compatibility with high-intensity interval training (HIIT), a popular workout approach in recent years. Short bursts of intense exercise and shorter rest periods make up HIIT. This method has been proven to be quite beneficial in terms of fat loss and overall fitness.
Running provides an excellent foundation for HIIT training. During your sessions, you can mix strong sprints or uphill runs with times of gentler jogging or walking to recover. This not only increases your calorie burn during the activity, but it also causes the EPOC effect, which results in more calorie expenditure after you've done your run.
As a result of its high calorie burn, time efficiency, EPOC impact, cardiovascular advantages, muscle activation, and capacity for high-intensity intervals, running emerges as a winner among similar workouts. Weight loss through running provides a complete strategy for weight control that goes beyond calorie restriction, contributing to increased fitness and general health.
However, it's critical to proceed with caution when running, especially if you're new to the sport or have any underlying health concerns. Consult with a healthcare provider or fitness professional to develop a running plan that is safe and effective for your weight reduction goals and physical condition. Running may be a powerful tool in your weight loss arsenal, pushing you toward your fitness goals with the right advice and perseverance.
Negative Effects of Running for Weight Loss
Running, while often regarded as a dynamic and highly successful weight loss exercise, does have several downsides that may not suit everyone's needs or tastes. While there are various benefits to running, it is critical to understand these restrictions before making an informed decision about including it in your weight loss plan.
One of the most obvious disadvantages of weight loss through running is its high-impact nature. Running puts a lot of strain on the joints, particularly the knees and hips. This is because the repeated hammering of the feet against the ground can generate large impact forces.
Running's high-impact nature can be a serious problem for anyone who has pre-existing joint difficulties, arthritis, or is prone to injuries. Overuse injuries can occur if sufficient care and attention to form and footwear are not taken.
Shin Splints: Pain and swelling at the front of the lower leg.
Tension Fractures: Minor fissures in bones caused by repeated tension.
Tendonitis: Tendon inflammation, most typically affecting the Achilles tendon.
Runner's Knee: Overuse pain around the kneecap.
These injuries can be both painful and disruptive to your weight loss journey and overall fitness routine. While going for weight loss through running, it is critical to prioritize joint health and take precautions to reduce the risk of these injuries.
Running may appear to be a simple activity, but achieving proper form and technique can be more difficult than it appears. Maintaining proper form is critical for avoiding injuries and maximizing weight loss through running.
For beginners, mastering the art of running with proper form may involve a learning curve. Proper running form consists of factors such as stride length, foot striking, posture, and arm movement. Incorrect form can cause discomfort, inefficiency, and an increase in the likelihood of injury.
To address this disadvantage, beginners are recommended to seek advice from experienced runners or fitness professionals who can offer ideas, feedback, and recommendations on how to run correctly. Investing time in learning the fundamentals of running technique can improve your running experience while lowering your risk of injury.
Running's intensity might be scary for people who are new to training or who are not in good cardiovascular form. Running, as opposed to walking or other low-intensity activities, requires a higher level of cardiovascular fitness and stamina.
Starting a jogging program can be intimidating for someone who hasn't engaged in regular physical activity or has led a sedentary lifestyle. For beginners, the sudden increase in heart rate and breathing rate during a run can be overpowering, potentially discouraging them from using running as their primary activity for weight loss.
Overcoming this fear element frequently necessitates a slow and systematic strategy. Starting with walk-run intervals, in which you alternate between walking and running, can be an effective method for gradually increasing endurance and confidence. Setting attainable objectives and focusing on incremental progress can also help reduce the intimidation factor associated with running.
Running's intensity, if not carefully regulated, can lead to burnout or overtraining. Overtraining occurs when people push themselves too hard, too often, without allowing enough time for rest and recovery. This can lead to physical and mental exhaustion, performance plateaus, and an increased risk of injury.
The drive to reach weight loss objectives quickly can often encourage people to overcommit to running without giving their bodies enough time to adjust and recuperate. Burnout can stymie weight loss progress by requiring extended breaks from exercise, which disrupts the consistency required for sustainable weight loss.
To reduce the danger of burnout, add rest days to your running program, listen to your body's signals, and be aware of overtraining symptoms such as chronic fatigue, diminishing performance, and mental changes. Cross-training with lower-impact activities such as swimming or cycling can also provide a pleasant reprieve from the high impact of running while maintaining overall fitness.
As a result, while weight loss through running provides numerous benefits, such as increased calorie burn, efficiency, EPOC, improved cardiovascular fitness, muscle engagement, and the ability to perform high-intensity intervals, it is critical to recognize its drawbacks. The high-impact nature of running, the learning curve involved with perfect technique, the intimidation aspect for novices, and the possibility of burnout are all disadvantages.
Consider addressing these downsides with tactics such as appropriate form coaching, moderate progression, and a balanced strategy that involves rest days and cross-training to make running a safe and productive element of your weight reduction plan. By doing so, you can maximize the benefits of running while reducing its negatives, ensuring a long-term and effective weight loss journey.
Which is Better for Losing Weight: Walking or Running?
In the quest for weight loss and better fitness, the decision between walking and running is a critical one. Both activities have distinct advantages and disadvantages, and selecting walking vs running for weight loss according to your objectives necessitates careful study. In this in-depth examination, we will explore the instances in which walking or running may be the better option for your weight loss quest.
Note: There might be affiliate links mentioned here. We may receive a commission if you purchase a product through an affiliate link. There is no additional charge for you. Please do your own research before making any online purchases.
When is Walking Beneficial?
Beginning an Exercise Journey: For people who are new to exercise or have led a sedentary lifestyle, walking can be a welcoming introduction to physical activity. It enables beginners to begin their fitness journey at a moderate pace, gradually acclimating their bodies to the rhythm of regular activity without becoming overwhelmed.
Creating a Foundation: Walking allows you to gradually establish a solid foundation of fitness and stamina. This slow increase allows people to acclimate to the demands of exercise, laying the groundwork for more difficult activities in the future. It's a wonderful approach to developing the habit of regular exercise, which is critical for long-term weight loss and overall health achievement.
Lower Risk of Injury: The low-impact nature of walking results in a lower risk of injury as compared to higher-impact exercises such as jogging. It puts little strain on the joints, making it a safer option for people who have joint problems, arthritis, or are recovering from trauma. Walking can be a useful way to stay active without aggravating joint discomfort or jeopardizing the healing process.
You Prefer a Long Term Routine
Long-Term Commitment: Long-term commitment is essential for successful weight loss and general wellness. Many people begin their weight loss journeys with the goal of making long-term lifestyle improvements. Walking succeeds in this category because it provides a long-term workout program that can be maintained. It is less physically taxing than running, so people are more inclined to engage in it on a regular basis.
Integration into Daily Life: Because of its versatility and simplicity, walking may be easily integrated into daily routines. You can choose to walk to work, take a leisurely stroll after supper, or go on a weekend excursion to discover nature. Walking's ease of incorporation into daily life increases the likelihood of maintaining an active lifestyle over time.
You Want Mental Health Advantages
Holistic Well-Being: Weight loss is about more than just the numbers on the scale; it also includes emotional health. Fast walking for weight loss can be a therapeutic experience that enhances emotional and mental well-being. The calming effects of nature and the opportunity to clear one's mind while walking can reduce stress, anxiety, and depression, supporting weight loss efforts indirectly by fostering a positive mental state.
Stress Reduction: Stress management is an essential component of any weight loss process. Stress can cause emotional eating and stymie growth. Walking is a stress-reduction activity that allows people to unwind and decompress from the stresses of daily life.
Leisurely Pace: For people who have the time to devote to exercise and prefer longer, more leisurely sessions, strolling might be a beneficial option. While walking burns fewer calories per minute than running, it can still contribute significantly to weight loss. The emphasis here is on having fun while traveling and staying consistent.
When May Running Be Beneficial?
You Desire Quicker Results
Increased Calorie Burn: When it comes to calorie burn, running is unrivaled. Because of its higher intensity, it burns more calories per minute than walking. Running can help you achieve your weight loss goals in a shorter timeframe if you want to speed up your weight loss journey and achieve results more quickly and efficiently.
Time Management: In today's fast-paced world, time is frequently a limited resource. Running's ability to burn calories quickly makes it a time-efficient option for people with hectic schedules. Running can be an excellent choice if you need to maximize calorie expenditure in a short amount of time.
You Have Cardiovascular Health Goals
Improving Cardiovascular Fitness: While many people prioritize weight loss, overall health should not be overlooked. Running at moderate to high intensity improves cardiovascular fitness significantly. This is important not only for weight loss but also for lowering the risk of heart disease, increasing endurance, and improving overall health and longevity.
Cardiovascular Advantages: Running raises your heart rate and challenges your cardiovascular system, resulting in improved oxygen transport, nutrient delivery, and circulation. Running's cardiovascular benefits can have far-reaching positive effects on your health that go beyond weight loss.
You're at Ease with High Intensity
Embracing High Intensity: High-intensity workouts are synonymous with running. Running is a good option if you enjoy pushing your physical limits and engaging in strenuous exercise. It helps you mentally and physically challenge yourself, giving you a sense of accomplishment and improving your confidence.
High-Intensity Intervals: The high intensity of running allows for the incorporation of high-intensity interval training (HIIT). HIIT entails alternating between short bursts of intensive jogging and rest periods. This method has been shown to be extremely effective for losing weight and improving fitness.
You Wish to Improve Muscle Tone
Comprehensive Muscle Engagement: Running works a greater variety of muscles compared to walking. While walking primarily targets the lower body muscles, running works the muscles in the legs, core, and upper body at a larger level. This all-around muscular involvement helps to increase muscle tone and definition.
Aesthetic Goals: For individuals who are not only focused on weight loss but also seek a toned and sculpted figure, running might fit with their aesthetic goals. The muscle engagement and calorie expenditure associated with running can contribute to a more defined and athletic image.
Optimizing Exercise Time: In a world where schedules are typically jam-packed, optimizing exercise time becomes vital. Running can be a more time-efficient choice for calorie expenditure compared to walking. In a very short time, a high-intensity run can deliver a large calorie burn, allowing you to make the most of your limited workout time.
Therefore, the choice between walking and running for weight loss is not one-size-fits-all. It depends on several things, including your fitness level, physical condition, ambitions, and personal preferences. Both pursuits provide unique advantages and cons, and the trick is to align your choice with your individual circumstances.
Remember that consistency, sustainability, and fun are keys to any effective weight loss journey. Whether you pick walking, running, or a combination of both, the key component is to stay active, establish a calorie deficit through a balanced diet, and make modest, sustainable progress toward your weight loss objectives. Moreover, consider talking with a fitness professional or healthcare physician to receive individualized counsel and recommendations that suit your specific requirements and objectives. Ultimately, the journey to weight loss is a personal one, and the path you take should be one that resonates with you and helps you reach your desired results while prioritizing your health and well-being.
Combining Walking and Running to Lose Weight
Choosing between walking vs running for weight loss is not an exclusive option. Instead, many people found that a combination of these activities, intelligently integrated into a balanced fitness routine, was the most beneficial strategy. By combining walking with running, you may reap the benefits of both while increasing your weight loss potential. This dynamic technique can be incorporated into your weight loss plan in the following ways:
Interval training is an effective approach for combining the advantages of walking and running. It entails alternating between high-intensity exercise (running) and low-intensity recovery (walking). This method can greatly increase calorie burn while also allowing for active recovery. Here's how to efficiently implement interval training:
Warm up and prepare your muscles by starting your workout with a brisk walk.
Begin a short sprint or a faster-paced running segment for a set length or distance.
After the running session, recover by returning to a brisk walk or slower speed.
Repeat this cycle throughout your session, alternating between walking and running intervals.
Adjust the intensity of your intervals according to your fitness level and goals. As your fitness increases, you can progressively increase the duration or speed of your running intervals.
Track your progress by keeping track of the length, distance, and pace of your running and walking intervals. Your endurance and calorie burn will most likely improve with time.
Interval training not only increases calorie burn during the workout, but it also causes the Excess Post-Exercise Oxygen Consumption (EPOC) effect, which results in increased calorie expenditure in the hours after your workout.
Alternating between walking and running on different days of the week is another good method. This method allows you to mix up your workout regimen while maximizing the benefits of each activity:
On certain days, concentrate on brisk walking for a lengthy period of time. This is very useful for increasing endurance, boosting cardiovascular health, and increasing sustainability.
Depending on your fitness level and goals, prioritize covering distances or maintaining a brisk pace.
Set aside particular days for running to increase calorie expenditure and participate in high-intensity cardiovascular activities.
These running sessions can be shorter in duration but more intense than your walking days.
Alternating your workout regimen not only keeps it interesting and unique, but it also allows for active recuperation on walking days, lowering the risk of overuse issues associated with continual high-impact running.
Cross-training is another great strategy to incorporate walking and running into your weight loss regimen. Cross-training entails varying your exercise program by including different types of physical activity. Here's how you can benefit from cross-training:
Walk as a type of active recovery on rest days or in between more intense running sessions.
Walking is a low-impact exercise that allows your muscles and joints to recover while keeping you active and helping you lose weight.
Incorporate other activities into your schedule, such as swimming, cycling, or even dancing. These activities might help break up the monotony of a regular walking or running routine and keep your workouts fun.
Reduce the Risk of Overuse
Cross-training lowers the risk of overuse injuries caused by repetitive motions. You may retain consistency in your fitness plan while reducing the possibility of injury by varying your workouts.
Long walks can be an important part of your combined walking and running strategy. These long, leisurely walks are excellent for days when you have more time to devote to your workout. Long walks can help you lose weight in the following ways:
Therapeutic and Relaxing Effects
Long walks allow you to unwind and de-stress, which contributes to your general well-being. Reduced stress levels can help you lose weight by reducing emotional eating and improving your sleep quality.
Use these walks to concentrate on covering longer distances or maintaining a steady pace. The emphasis is on endurance and having fun along the way, which can strengthen your commitment to long-term fitness.
Make long walks social and enjoyable by inviting friends or family to join you. Social support can be a motivating factor in sticking to an exercise routine.
Including long walks in your weight loss journey provides a holistic approach that addresses not only the physical but also the mental and emotional aspects of well-being.
As a result, combining walking and running can be a highly effective weight loss strategy. It enables you to maximize calorie burn, diversify your workouts, reduce the risk of overuse injuries, and tailor your workouts to your specific fitness level and preferences. The key is to create a well-rounded routine that promotes consistency, sustainability, and overall health, whether you choose interval training, alternate days, cross-training, or long walks. You can embark on a balanced and rewarding weight loss journey that aligns with your goals and contributes to your long-term well-being by combining the benefits of walking and running.
FAQs
Is walking an effective weight-loss exercise?
Walking can be really effective for weight loss. While it may not burn calories as quickly as high-intensity workouts, when done consistently, it promotes gradual and steady fat loss.
How frequently should I walk in order to lose weight?
Health experts recommend at least 150 minutes of moderate-intensity walking per week. Most days of the week, this can be divided into 30-minute walks.
Can walking help me lose weight in specific areas, such as my stomach?
Walking is a full-body activity that can help with fat loss. While spot reduction isn't successful, frequent walking can help remove fat from all parts of your body, including your belly.
Is it necessary to walk at a fast pace to lose weight?
Walking at a quick pace that boosts your heart rate is excellent for weight loss, but the intensity should be comfortable for you. The key is consistency; attempt to walk at a pace that challenges you without creating discomfort.
Are there any specific walking strategies or advice to maximize weight reduction benefits?
Maintain appropriate posture, swing your arms, and walk with a heel-to-toe motion. You may also use inclines or hills to improve intensity and calorie burn.
Can I combine walking with other workouts for improved weight reduction results?
Yes, many people combine walking with other exercises like strength training or cycling to build a well-rounded fitness routine that increases weight loss and general fitness.
Does walking have any age restrictions?
No, walking is suitable for individuals of all ages, from youngsters to the elderly. It's a low-impact activity that may be modified for various fitness levels.
How long does it take to observe visible weight loss by walking?
The timetable for weight loss differs from individual to individual. Generally, you may start to notice changes in a few weeks to a few months, depending on your consistency and other factors like nutrition.
Can I walk indoors on a treadmill and still obtain weight loss benefits?
Absolutely. Treadmill walking has the same benefits as outside walking. It lets you manage aspects like pace and elevation, making it a convenient option.
Is it necessary to follow a certain diet while walking for weight loss?
While diet plays a vital part in weight loss, walking can complement a balanced eating plan. Combining regular walks with a healthy diet can result in more successful and long-term weight loss.
Conclusion
There is no one-size-fits-all solution to the debate between walking vs running for weight loss. Both hobbies have distinct advantages and disadvantages, and the ideal option is dependent on your own circumstances and aspirations. Remember that consistency, durability, and enjoyment are all essential components of any effective weight loss program.
If you're not sure which activity is best for you, talk to a fitness professional or a healthcare physician to understand the complexities of walking vs running for weight loss. They can evaluate your exercise, physical condition, and weight loss goals to make tailored recommendations.
Finally, establishing a workout plan that you can stick to in the long run is the key to successful weight loss. The most important thing is to keep active, establish a calorie deficit through a balanced diet, and make slow, sustainable progress toward your weight reduction objectives, whether you choose walking, running, or a combination of the two.
Disclaimer: The information provided in this article is for educational purposes only and should not be considered as a substitute for medical advice. Consult a healthcare professional before implementing any home remedies or making significant changes to your lifestyle.