Should You Track Calories or Macros for Weight Loss?
Individuals who want to lose weight often follow numerous strategies, and two popular approaches are calorie counting and macro tracking. Calorie tracking entails keeping track of the quantity of calories consumed each day, whereas macro tracking is concerned with the percentage of macronutrients (carbohydrates, proteins, and fats) in one's diet.
Introduction
Calorie counting and macro tracking, both approaches have advantages and drawbacks. In this detailed article, we will analyze each method in detail, assess the pros and cons, and help you decide which way is best for your weight loss journey. Also, we will discuss the significance of consistency, patience, and long-term lifestyle adjustments to attain success in weight management.
Understanding Calorie Tracking
Let us go through some crucial insights before you proceed to track calories for weight loss.
What Exactly is Calorie Tracking?
Calorie tracking is a popular weight loss approach that involves keeping track of the number of calories consumed each day. Calorie tracking is based on the fundamental premise of creating a calorie deficit, which occurs when the number of calories lost through daily activities and metabolism exceeds the number of calories taken. This deficit causes the body to use stored fat for energy, resulting in weight loss over time.
You can track calories for weight loss in a variety of ways. One popular method is to keep a food diary, in which people record the types and quantities of food they consume throughout the day. This method enables manual calorie intake computation. Another method to track calories for weight loss is to utilize calorie tracking apps, which allow you to log meals, snacks, and beverages while automatically calculating the overall number of calories consumed. Furthermore, many packaged goods now offer calorie information on the label, allowing people to estimate their intake based on portion proportions.
Advantages of Calorie Tracking
Calorie tracking has various advantages, making it a popular choice for individuals looking for a simple way to manage their weight.
Drawbacks of Calorie Tracking
While calorie counting has its advantages, there are some disadvantages to consider:
To address these drawbacks, always track calories for weight loss carefully. Prioritizing nutrient-dense foods, avoiding extreme calorie restriction, and being aware of the potential psychological repercussions of tracking are all critical.
Understanding Macro Tracking
Let us go through the details regarding macros before you begin tracking macros for weight loss.
What Exactly is Macro Tracking?
Macro tracking, also known as macronutrient tracking, is the practice of keeping track of the proportions of macronutrients (carbs, proteins, and fats) in one's daily diet. Unlike calorie counting, which focuses on the total energy content of foods, macronutrient tracking focuses on the balance of macronutrients to improve weight loss and overall well-being.
Advantages of Macro Tracking
Drawbacks of Macro Tracking
Making the Best Decision to Track Calories or Macros
Several factors influence the decision to track calories or macros. When making a decision, individuals should consider the following factors:
Note: There might be affiliate links mentioned here. We may receive a commission if you purchase a product through an affiliate link. There is no additional charge for you. Please do your own research before making any online purchases.
Which One Should You Pick?
Finally, the decision between counting calories or macros to lose fat is based on personal preferences, goals, and lifestyle. Both strategies can be helpful for weight loss if they are used consciously and with nutritional quality in mind.
Calorie Counting: If you prefer a simpler, less time-consuming strategy, go with calorie counting. To achieve general health and long-term weight loss, prioritize nutrient rich foods while staying under your calorie limit.
Macro Tracking: Use macro monitoring if you want to fine-tune your diet and reach certain body composition goals. Use this method if your goal is to increase satiety, promote general well-being, and balance macronutrient ratios while being conscious of food choices.
Crucial Factors for Long Term Success
Whether you choose to count calories or macros to lose fat, keep the following factors in consideration for ultimate success:
The key to good weight management is commitment. Regardless of the tracking method chosen, developing and sticking to a consistent routine will yield greater outcomes over time. Extreme calorie shortages or macronutrient imbalances should be avoided because they might have a severe impact on metabolism and general health.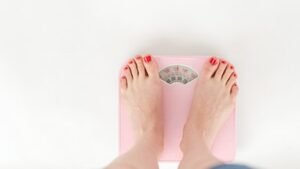 Weight loss is a gradual process with regular plateaus and fluctuations. Patience and consistency are required to get through difficult times. Avoid the temptation to seek fast cures, as they rarely produce long-term outcomes.
Emphasizing Long Term Lifestyle Changes
Instead of focusing entirely on counting calories or macros to lose fat, turn your focus on making long term lifestyle adjustments. This involves engaging in regular physical activity, eating healthy, reducing stress, and getting enough sleep. These modifications are critical for long-term weight management and overall well-being.
FAQs
What are the primary distinctions between calorie and macro tracking?
Calorie tracking only monitors the number of calories consumed per day, whereas macronutrient tracking monitors the proportion of macronutrients (carbohydrates, proteins, and fats) in the diet. Calorie counting is easier and more flexible in terms of dietary options; macro counting provides a tailored approach to weight loss and overall wellness.
Can I combine calorie and macro tracking to achieve better results?
Yes, you can mix the two strategies for weight loss. Some people may find that starting with calorie tracking to establish portion awareness and then transitioning to macro tracking to fine-tune their nutrient balance is advantageous. The goal is to pick a method that works for you and your lifestyle.
Will calorie counting help me lose weight even if I eat harmful foods?
Calorie counting can help you lose weight even if you eat unhealthy meals, as long as you maintain a calorie deficit. However, relying entirely on bad meals may result in nutritional deficiencies and harm general health in the long run. Prioritizing nutrient-dense foods is critical for improved results and well-being.
Is macronutrient monitoring appropriate for people who have certain dietary limitations, such as vegans or gluten-free diets?
Macro tracking can be customized to accommodate various dietary limitations. While it may take some more planning and care, it is possible to fulfill macronutrient requirements while eating vegan or gluten-free. The idea is to select nutrient-dense meals that correspond to your dietary preferences and constraints.
How can I determine my optimal macro ratios for macro tracking?
Consider your weight, height, age, exercise level, and fitness goals when calculating your optimum macronutrient ratios. Based on these parameters, several online calculators and macro-monitoring apps can assist you in determining the optimal quantities of carbohydrates, proteins, and fats.
Can calorie counting cause metabolic adaptation and weight reduction plateaus?
Prolonged calorie restriction may result in metabolic adaptation, in which the body adjusts to lower caloric intake by decreasing metabolism. This could lead to weight-loss plateaus. To counteract this, avoid extreme calorie deficits and integrate frequent refeeds or caloric intake changes.
Will macro-monitoring assist me in gaining muscle and improving my body composition?
When paired with adequate strength training or resistance workouts, macro-monitoring can help preserve muscle and enhance body composition. Consuming enough protein and eating a well-balanced diet can help you build lean muscle while decreasing body fat.
Is it important to measure calories or macronutrients indefinitely to maintain weight loss?
Tracking calories or macros might be beneficial in attaining weight loss goals, but it is not always necessary. You can switch to intuitive eating while continuing to make healthier food choices once you've developed mindful eating habits and an awareness of portion sizes.
How can I keep from becoming fascinated with numbers and food?
It is crucial to have a balanced approach to nutrition to avoid becoming obsessed with tracking. Allow for diet flexibility, enjoy occasional treats, and focus on general well-being more than numbers. Consider obtaining help from a certified nutritionist or mental health expert if you find yourself becoming unduly focused.
Which is better for the long term: counting calories or macros to lose fat?
Individual preferences and adherence determine the efficiency of both techniques for long-term weight management. Some people may find calorie tracking easier to maintain, but others may like the tailored approach of macro tracking. Regardless of the tracking method used, the key to long-term success is consistency, moderation, and a focus on sustainable lifestyle improvements.
Conclusion
Calorie counting and macronutrient monitoring are both successful weight loss approaches, but they cater to different interests and aims. Calorie tracking is simple and flexible, whereas macro tracking focuses on optimal weight loss and dietary balance. Individual considerations such as preferences, lifestyle, and dietary constraints should be considered. Whatever strategy is chosen, the key to success is to retain consistency, practice patience, and focus on long-term lifestyle changes for greater overall health and well-being.
Disclaimer: The information provided in this article is for educational purposes only and should not be considered as a substitute for medical advice. Consult a healthcare professional before implementing any home remedies or making significant changes to your lifestyle.