Best Tips on Nutrition for Weight Loss
Nutrition is really important for weight loss. Food not only provides energy but also aids in the maintenance of a healthy body weight. Proper nutrition and a well-balanced diet can go a long way toward assisting people in reaching their weight loss objectives. 
Introduction
With so much information available on the internet, deciding what to eat and what to avoid can be difficult. In this article, we'll go over the basics of weight loss nutrition, as well as offer practical advice on how to attain your weight loss goals through good eating habits.
What Exactly is Nutrition?
Nutrition is the process of obtaining and utilizing nutrients from the food we eat in order to keep our bodies healthy and functioning properly. Nutrients are our body's building blocks, and they aid in the growth, repair, and maintenance of tissues and organs. Carbohydrates, proteins, lipids, vitamins, minerals, and water are the six fundamental nutrients that human bodies require.
Carbohydrates are the primary source of energy for our body. They can be found in bread, rice, pasta, and fruits. Proteins are necessary for tissue and organ growth and repair. They can be found in meat, fish, eggs, and dairy products. Fats are required for energy production as well as vitamin absorption. They can be found in butter, oils, nuts, and seeds. Vitamins and minerals are essential for the body's systems to work properly. They can be found in fruits and vegetables, as well as whole grains. Water is required for several bodily functions, including digestion, absorption, and nutrient transfer.
Why is a Weight Loss Nutrition Plan Necessary?
Weight loss is a multidimensional path that focuses on the core principle of creating a calorie deficit – consuming fewer calories than you expend. However, the complexities of this process extend far beyond calorie counting. The caloric quality of your diet is also important in determining the success of your weight loss attempts. It's not just about cutting calories; it's about cutting the appropriate kind of calories. Understanding how the weight loss nutrition plan is critical for anyone looking to lose weight and live a healthier, more sustainable lifestyle.
One of the most common misconceptions about losing weight is that simply cutting calories will ensure success. While calorie restriction is clearly important, the source of those calories is crucial. Processed foods, sugary snacks, and saturated fats are high in empty calories and can disrupt your weight loss efforts. These empty-calorie culprits may cause a temporary decrease in caloric intake, but they have negative consequences for your overall health and weight management.
The secret to successful and long-term weight loss is in your eating choices. Nutrient-dense foods should be the foundation of your weight loss nutrition plan. These foods provide your body with essential nutrients while also keeping your overall calorie intake in check. Nutrient-rich foods are typically high in vitamins, minerals, fiber, and protein, making them invaluable components for weight loss.
Fruits and vegetables are excellent sources of nutrients. They are high in vitamins and minerals that support bodily functions, as well as fiber, which aids digestion and gives you a feeling of fullness, which helps you avoid overeating. Another important category is whole grains, which include quinoa, brown rice, and oats. They not only provide complex carbohydrates, but also essential nutrients and dietary fiber. Lean proteins, such as chicken breast, turkey, tofu, and legumes, satisfy hunger while also promoting muscle preservation during weight loss. Finally, healthy fats such as those found in avocados, nuts, and olive oil are important for overall health and can even help with appetite control.
Incorporating nutrient-dense foods into your weight loss nutrition plan can help you manage weight while also improving your overall health. These foods can enhance your immune system, promote better digestion, and reduce the risk of chronic diseases such as heart disease, diabetes, and certain cancers. By focusing on these nutritional powerhouses, you not only create the foundation for a successful weight loss journey but also pave the way for a healthier, more vibrant life.
Furthermore, proper nutrition extends beyond food choices; it comprises meal timing, portion control, and dietary balance. Eating at regular intervals throughout the day can help maintain stable blood sugar levels and prevent overeating during later meals. Portion control ensures that you consume appropriate amounts of nutrient-dense foods without excessive calorie intake. Following a balanced weight loss nutrition plan that includes a variety of nutrient-rich foods ensures that your body receives all the essential nutrients it needs for optimal functioning.
Practical Suggestions for Nutrition and Weight Loss
Manage both nutrition and weight loss with effective strategies for long-lasting health benefits. Keep the following suggestions regarding nutritional foods for weight loss in mind for the best results.
Planning your meals in advance is a strategic step toward achieving your nutrition and weight loss goals. By taking the time to create a meal plan and grocery list, you set yourself up for success. This approach not only helps you make healthier food choices but also minimizes the chances of impulsive, less nutritious options. When you have a plan, you'll purchase only the items you need, reducing food waste and saving money.
Additionally, meal prep can be a game-changer. Spending some time on the weekend preparing meals or portioning out ingredients for the week ahead can save valuable time during busy weekdays. It also acts as a safety net, preventing you from resorting to fast food or takeout when you're pressed for time. A well-thought-out meal plan keeps you on track, making it easier to stick to your weight loss goals.
Whole foods are nutritious powerhouses that can greatly contribute to your weight loss journey. These foods are either unprocessed or little processed, comprising fruits, vegetables, whole grains, lean proteins, and healthy fats. They're filled with critical nutrients, including vitamins, minerals, fiber, and protein, all while being relatively low in calories.
When you emphasize whole foods, you'll realize that they have the unique potential to keep you feeling full for extended periods of time. This satiety factor is crucial in reducing the temptation to overeat or snack on unhealthy options. By making whole foods the core of your diet, you ensure a consistent supply of nutrients that support your general health while aiding in your weight loss efforts.
Avoid Sugary and Processed Foods
To maintain a healthy weight, it's crucial to steer clear of sugary and processed foods. These items are loaded with empty calories, devoid of essential nutrients, and can swiftly lead to weight gain. Moreover, consuming sugary and processed foods can wreak havoc on your blood sugar levels, triggering cravings and encouraging overindulgence.
Instead, choose natural sweeteners like honey or maple syrup and replace artificial snacks with complete, unprocessed alternatives. This change toward more natural and nutritional choices might help regulate your energy levels and lessen the urge to indulge in empty-calorie indulgences.
Even nutrient-dense foods might contribute to weight gain if portion sizes remain unchecked. Portion control is a vital part of successful weight management. Simple tactics like using smaller plates or bowls, measuring serving sizes, and avoiding distractions while eating (such as watching TV or using a computer) will help you be attentive to your food consumption.
Being attentive to portion sizes ensures that you consume a fair quantity of calories, especially when eating nutrient-rich foods. It minimizes unplanned overeating and keeps you connected with your weight loss goals.
Water is an often underrated ally in the battle for weight loss. Staying appropriately hydrated not only keeps your body operating effectively but also aids in clearing out pollutants. Moreover, drinking water can help lessen hunger sensations and create a sense of fullness, minimizing the likelihood of overeating.
Aim to drink at least eight glasses of water a day. By opting for water over sugary beverages like soda or energy drinks, you not only save on empty calories but also support your body's natural functions, making your weight reduction journey more effective and durable.
Incorporate Physical Activity
Physical activity is an essential component of any weight-loss plan. It not only burns calories but also helps to create lean muscular mass, which boosts your metabolism. Engage in an activity that you truly enjoy, whether it's jogging, swimming, cycling, or any other type of exercise, and commit to at least 30 minutes every day.
Regular physical activity not only aids in weight loss but also offers numerous other health benefits. It elevates your mood, improves your cardiovascular health, and improves your general well-being.
Seek Professional Assistance
If you are having difficulty meeting your weight loss goals or are dealing with medical issues that are impeding your progress, it may be useful to seek expert help. Registered dietitians and professional personal trainers are excellent sources of information. They can offer specialized advice, modify food and activity routines to meet your specific needs, and provide continuing support throughout your weight loss journey. Their knowledge and experience can assist you in overcoming barriers and achieving the long-term results you seek. Remember that it is acceptable to seek assistance when striving for better health and fitness.
Common Nutrition and Weight Loss Mistakes to Avoid
Avoid some common mistakes related to nutrition while on a weight loss journey. Keep the following things in mind that you should avoid.  
Eliminating Whole Food Groups
One of the most common nutrition and weight loss blunders is removing whole food groups from one's diet, such as carbohydrates or fats. While certain diets advocate for such omissions, this strategy can lead to many problems. Most notably, it can lead to nutrient deficiencies and an unbalanced diet, as each food group contains different essential nutrients that our bodies require.
Carbohydrates, for example, are a primary source of energy and provide essential nutrients such as fiber, vitamins, and minerals. Similarly, fats provide essential fatty acids that support various bodily functions when chosen wisely. By avoiding these food groups, you risk depriving your body of essential nutrients, which can lead to long-term health problems.
Consuming nutrient-rich foods from a range of food groups is a more effective method. Balance is essential in nutritional foods for weight loss. Instead of fully eliminating carbohydrates or lipids, consider healthier alternatives within those categories. Choose whole grains over refined carbohydrates, and unsaturated fats found in avocados and almonds over saturated fats. This balanced approach to nutritional foods for weight loss ensures that your body gets the nutrients it needs without jeopardizing your weight loss goals.
Note: There might be affiliate links mentioned here. We may receive a commission if you purchase a product through an affiliate link. There is no additional charge for you. Please do your own research before making any online purchases.
Excessive Reliance on Supplements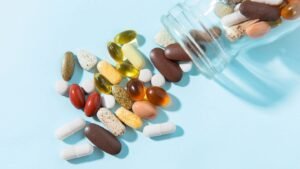 Another common mistake people make when trying to improve their nutrition and lose weight is relying too heavily on supplements. While supplements can help fill nutrient gaps, they should never be used in place of a healthy diet. Whole foods provide a complex interplay of nutrients, fiber, and other bioactive compounds that supplements cannot match.
Supplement overuse can also have unintended consequences. Excessive consumption of certain vitamins and minerals can cause toxicity, potentially resulting in health problems. Furthermore, the financial expense of taking multiple supplements can quickly pile up, making it an unsustainable method.
It is always preferable to obtain your nutrients from whole foods. These foods contain a variety of nutrients that work together to benefit your health. The core of your nutrition plan should be a well-balanced diet, with supplements used sparingly and under the supervision of a healthcare expert when there are specific deficits or health issues.
Using fad diets is one of the most common and harmful mistakes in the world of nutrition and weight loss. These diets frequently promise rapid weight loss through unsustainable eating patterns. While they may be effective in the short term, they are rarely effective in the long run.
Fad diets can be dangerous because they frequently remove entire food groups, severely restrict calorie intake, or promote the use of only specific foods. Nutrient shortages, muscle loss, and metabolic abnormalities can result from such behaviors. Furthermore, they are often unsustainable, making it probable that individuals will revert to their former eating patterns after the diet stops, resulting in weight gain. Always seek nutritional foods for weight loss instead of quick fixes.
A better and more lasting strategy for weight loss and improved nutrition requires making tiny, incremental changes to your food and lifestyle. Focus on building habits for the long term. Incorporate a variety of nutrient-dense foods, practice portion control, and engage in regular physical activity. Sustainable weight loss is about creating a balanced and enjoyable relationship with food rather than resorting to extreme measures that ultimately do more harm than good. By making lasting changes to your eating habits, you can achieve and maintain your desired weight while supporting your overall health and well-being.
FAQs
What is the role of nutrition in weight loss? 
Nutrition plays a pivotal role in weight loss as it involves consuming the right balance of nutrients to create a calorie deficit. This deficit occurs when you burn more calories than you consume, leading to weight loss.
What are the essential nutrients our body needs for proper functioning? 
Carbohydrates, proteins, lipids, vitamins, minerals, and water are the six fundamental nutrients that human bodies require. Each has a distinct role in overall health and the support of numerous physiological functions.
What effect do carbohydrates have on weight loss? 
Carbohydrates are our body's principal source of energy. Choosing complex carbs from complete meals such as grains, fruits, and vegetables will help you maintain your energy levels and avoid overeating.
Can fats be included in a weight-loss diet? 
Yes, fats are necessary for energy synthesis and nutrient absorption. Healthy fats, such as those found in avocados and almonds, can also help with hunger management.
How does water intake affect weight loss? 
Water is vital for weight loss as it keeps the body hydrated, washes away toxins, and suppresses hunger. Drinking enough water will help prevent overeating and support your weight loss attempts.
What role does meal planning play in weight loss? 
Meal planning allows you to make healthier food choices, avoid rash judgments, and cut down on food waste. It also saves time and reduces the need for fast food or takeout.
Why are whole foods vital in a diet for weight loss? 
Whole foods are high in nutrients and contain necessary vitamins, minerals, fiber, and protein while being low in calories. They induce a feeling of fullness and aid in weight loss.
What effect do sugary and processed foods have on weight loss? 
Sugary and processed foods contain a lot of empty calories and can cause weight gain. They also cause blood sugar fluctuations, which contribute to cravings and overeating.
What is the significance of portion control in weight management? 
Portion management ensures that you consume an adequate number of calories, even when eating nutrient-dense foods. It inhibits inadvertent overeating and aids in the maintenance of a calorie deficit.
When should a person seek professional weight reduction assistance? 
Consider obtaining professional help if you are having difficulty meeting your weight loss goals or if you have underlying medical concerns that are impeding your success. Registered dietitians and certified personal trainers can offer personalized guidance and support for long-term weight loss.
Conclusion
Nutrition is really important for weight loss. You can reach your weight loss objectives in a healthy and sustainable way by eating nutrient-dense foods, limiting quantities, staying hydrated, and embracing physical activity. It is critical to avoid frequent blunders such as eliminating entire food groups, leaning too much on supplements, and following fad diets. You can achieve long-term weight loss success and enhance your entire health and well-being by making small, lasting changes to your food and lifestyle.
Disclaimer: The information provided in this article is for educational purposes only and should not be considered as a substitute for medical advice. Consult a healthcare professional before implementing any home remedies or making significant changes to your lifestyle.