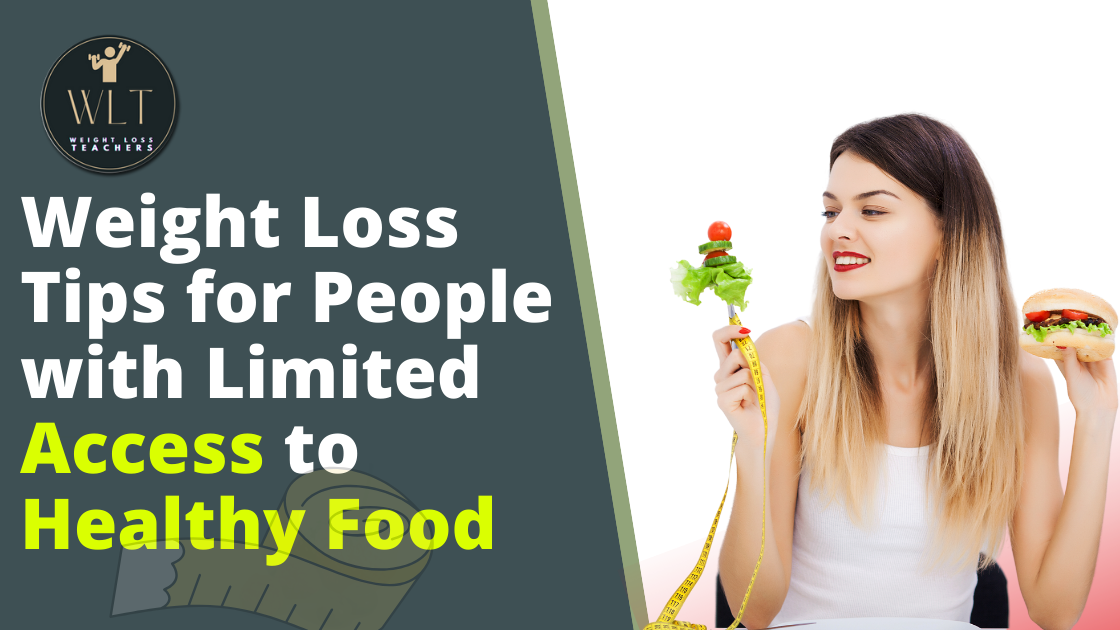 Weight Loss Tips for People with Limited Access to Healthy Food
Achieving and maintaining a healthy weight is a popular goal for many people because it is associated with general well-being and a lower risk of chronic diseases. Weight loss goals might be difficult to achieve for people who have limited access to healthy eating options. 
Introduction
Access to fresh fruits and vegetables, lean proteins, and other nutritional foods might hamper weight-loss efforts. This article attempts to provide useful insights and practical weight loss suggestions for people who have limited access to nutritious foods. Keep reading to discover healthy meals for weight loss on a budget.
Understanding the Problem
Living in food deserts, suffering financial issues, or having limited time for meal preparation due to a hectic lifestyle can all result in limited availability of healthy food. Food deserts are locations with a scarcity of fresh, healthy, and affordable food that are commonly found in low-income neighborhoods. Individuals may rely significantly on convenience stores, fast-food restaurants, and processed foods in these circumstances, all of which are often rich in calories, harmful fats, and sugars.
Despite these obstacles, it's vital to remember that losing weight is attainable for everybody, regardless of the availability of nutritious foods. Individuals can strive toward their weight loss objectives by making informed decisions, adopting healthy habits, and efficiently utilizing available services. They need to seek out and consume cheap, easy, and healthy meals on a budget.
Weight Loss Tips to Tackle Limited Access to Healthy Food
Achieving and maintaining a healthy weight is a goal that often poses difficulties. These problems can be much more overwhelming for people who have limited access to healthy meals. Weight loss is still possible with careful preparation and the correct tactics. This detailed guide will look into numerous weight loss methods and recommendations suited to persons with restricted access to nutritious eating options.
Make a Plan and Set Priorities
The art of planning is one of the crucial stages of successful weight management, regardless of food access limits. It is critical to develop a weekly meal plan that focuses on healthy meals for weight loss on a budget. When possible, this strategy should highlight foods like fruits and vegetables, nutritious grains, and lean proteins. Planning ahead not only helps you make smarter choices, but it also keeps you from making rash, unhealthy ones.
Meal planning allows you to take control of your diet and tailor it to your specific needs. Begin by establishing specific goals for your weight loss quest. Then, assess your existing food habits and find areas where you may improve. Making a meal plan ensures that healthy selections are easily available, limiting the temptation to choose less healthy alternatives.
Begin by calculating your daily caloric requirements depending on your weight loss objectives and degree of activity. With this information, you may allocate your calorie consumption to various food groups. When planning your meals, keep the following crucial principles in mind:
Balance: While seeking healthy meals on a budget, make sure they contain a good mix of macronutrients (carbohydrates, proteins, and fats). This balance can aid in the stabilization of blood sugar levels and provide a consistent supply of energy throughout the day.
Variety: Include a wide variety of meals in your meal plan to ensure you get a wide range of critical nutrients. Diverse foods provide diverse vitamins, minerals, and antioxidants, all of which are essential for overall health.
Portion Control: Watch your portion proportions to avoid overeating. To correctly portion your food, use measuring cups or a kitchen scale.
Snacking: Plan for healthy snacks in between meals to keep hunger at bay and avoid overeating at big meals. Choose nutrient-dense foods such as almonds, yogurt, or fresh fruits.
Hydration: Drink plenty of water throughout the day to keep yourself hydrated. Thirst is sometimes mistaken for hunger, resulting in unnecessary snacking.
Accept Frozen and Canned Produce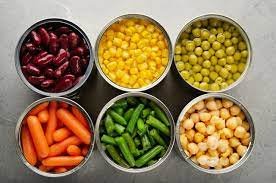 While fresh produce is often seen as the gold standard for a healthy diet, frozen and canned fruits and vegetables can be good substitutes, particularly for people looking for healthy meals on a budget. These items are usually less expensive and have a longer shelf life, lowering the chance of spoilage and waste.
Prefer products with no added salt or sugar when purchasing frozen or canned produce while looking for healthy meals for weight loss on a budget. These goods are just as nutritious as fresh ones and can be added to your meals to boost your intake of key nutrients. Here are some suggestions for maximizing the use of frozen and canned produce:
Read Labels: When purchasing canned products, pay particular attention to the ingredient list. Choose goods with few additional ingredients and low salt or sugar levels.
Rinse Canned Foods: Before cooking, rinse canned veggies under cold water to remove extra salt.
Add Them to Recipes: Incorporate frozen or canned produce into soups, stews, stir-fry dishes, and casseroles. They can also be blended into smoothies or used with oatmeal or yogurt as a topping.
Frozen Berries: For a blast of flavor and antioxidants, frozen berries can be added to cereal, yogurt, or used in baking.
Even if you have limited access to fresh fruit, you can maintain a diet rich in critical vitamins and minerals by embracing these practical options as cheap, easy, and healthy meals on a budget.
Intermittent fasting (IF) is a dietary method that has gained popularity in recent years due to its potential weight loss and health benefits, making it a helpful strategy for people who don't have easy access to healthy food. IF entails cycling between eating and fasting times, with several ways available, such as the 16/8 method (16 hours fasting, 8-hour eating window) or the 5:2 approach (eating normally on five days and dramatically cutting calorie intake for two non-consecutive days). Make sure you consume healthy meals on a budget while following it.
Intermittent fasting has various advantages for people who have limited access to nutritious food options:
Ease of Use: IF is simple to implement, requiring no special foods or pricey materials. It focuses on when you eat rather than what you consume, making it suitable for people who have restricted food options.
Lower Calorie Consumption: IF naturally reduces the amount of time available for eating, which may result in lower overall calorie consumption. This is especially useful for weight loss when there is a lack of a range of healthy foods.
Intermittent fasting has been demonstrated to improve insulin sensitivity, reduce inflammation, and stimulate fat reduction, all of which contribute to better metabolic health.
Lean Muscle Preservation: During fasting periods, the body uses stored fat for energy while retaining lean muscle mass, allowing individuals to maintain their metabolic rate.
While intermittent fasting can be an effective weight-loss method, it is critical to check with a healthcare expert or dietitian before beginning any fasting routine, especially if you have underlying health concerns. Furthermore, to maximize the benefits of intermittent fasting and improve overall well-being, it is critical to focus on healthy meals for weight loss on a budget.
Make Use of Food Assistance Programs
Many countries provide food assistance programs to assist low-income people and families in gaining access to healthy meals on a budget. In the United States, for example, the Supplemental Nutrition Support Program (SNAP) offers financial support for grocery shopping. These organizations aim to reduce food insecurity and provide everyone with access to necessary nutrients.
If you are suffering financial difficulties and have limited access to healthy food, look into food aid programs in your area. Applying for such programs can greatly reduce the financial burden of acquiring nutritious groceries. To begin, follow these steps:
Investigate Eligibility: Look into the qualifying requirements for food aid programs in your country or region. Income, household size, and assets are frequently used to determine eligibility.
Application Procedure: Follow the program's application procedure. This could include completing forms, presenting documentation, and attending interviews.
Seek Advice from Professionals: Seek advice from social workers, community organizations, or government institutions that specialize in food assistance programs. They can offer useful information and help with the application process.
By employing these tools, you can have access to healthy food options even if you are in a difficult financial situation, making it simpler to stay on track with your weight loss goals.
When buying cheap, easy, and healthy meals on a budget, it's critical to be strategic and make every dollar count. Smart shopping includes comparing prices, looking for sales and discounts, and choosing cost-effective store brands where savings are available. Here are some helpful hints for savvy shopping:
Make a Shopping List: Before going shopping, create a detailed shopping list based on healthy meals for weight loss on a budget. Stick to your list to avoid impulse purchases.
Discounts and Offers: Look for coupons and discounts in newspapers, online, or through store loyalty programs. Take advantage of sales and discounts, especially on staple items.
Buy in Bulk: Buy in bulk for non-perishable items such as rice, pasta, canned goods, and frozen vegetables to save money in the long run.
Shop Seasonally: Buy fruits and vegetables in season because they are often less expensive and fresher. Farmers' markets can also be a low-cost source of seasonal produce.
Compare Unit Prices: When comparing similar products, pay attention to the unit price (price per ounce, pound, or item). Buying in bulk can sometimes be more cost effective.
Avoid Snacks: Avoid impulse purchases of snacks, sugary beverages, and processed foods that are not on your shopping list. These items can quickly add up to your grocery bill while providing little nutrition.
Plan Your Shopping Trips: Limit your grocery store visits to reduce the temptation to buy unnecessary items. Shopping once a week with a well-planned list can help you stay within your budget.
Look into discount stores like Aldi or Lidl, which frequently offer competitive prices on everyday groceries like fresh produce.
Portion control is an essential component of weight management, regardless of the type of food available. It entails being conscious of how much food you consume, which can have a big impact on your calorie intake and, as a result, your weight loss progress.
Here are some effective approaches to portion control:
Use Smaller Plates: Opt for smaller plates and bowls to provide the illusion of a fuller plate, making it simpler to control portion sizes while consuming low budget healthy meals.
Measure Your Food: Use measuring cups, a kitchen scale, or visual cues to measure acceptable portion sizes. Familiarize yourself with recommended serving sizes for different foods.
Listen to Your Body: Pay attention to your body's hunger and fullness signs. Eat slowly and relish each bite, allowing your brain time to recognize that you're content.
Avoid Mindless Eating: Avoid eating in front of the TV or computer, as distractions can contribute to overeating. Instead, focus on your meal and enjoy it without rushing.
Pre-Portion Foods: While following a diet with healthy meals for weight loss on a budget, divide them into single-serving portions to avoid eating immediately from a bigger box, which can lead to mindless nibbling.
Share Meals: When dining out or getting takeout, try sharing a meal with a friend or family member. Restaurant portions are often bigger than necessary.
By implementing portion management into your eating habits, you may maintain a healthy caloric intake, even with low budget healthy meals.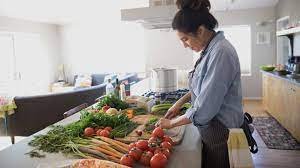 Cooking your meals at home is a fantastic method for weight loss and overall wellness. Not only does it allow you to manage the contents, but it also saves money compared to dining out or ordering takeout often. By investing time in learning easy, healthy recipes that require minimum ingredients, you can take ownership of your diet and make nutritious meals accessible.
Here's how to make home meal preparation work for you:
Make a Weekly Meal Plan: As previously said, construct a weekly meal plan that corresponds with your weight loss goals and includes easily accessible, healthy products.
Batch Cooking: On days when you have more time, consider batch cooking. Make more of your favorite recipes and freeze individual amounts for later use.
Cook in Bulk: Cooking staple foods in bulk, such as rice, quinoa, or beans, can save time and provide various options for meals throughout the week.
Meal Prep Containers: Purchase meal prep containers to portion out your weekly meals and snacks. When you're short on time, this makes it simple to grab a pre-prepared, healthy option.
Online Resources: Look for tutorials and inspiration on recipe websites, cooking blogs, and YouTube channels. You'll find a plethora of healthy dishes that are both inexpensive and require little culinary experience.
Cooking Classes: To improve your culinary skills and acquire new, healthy dishes, consider taking local or online cooking classes.
Making meal preparation a regular part of your routine will guarantee that you always have nutritious, cooked meals on hand, even if you have limited access to good food options.
Make Healthy Substitutions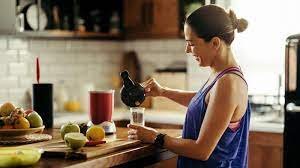 Even if you have limited access to a variety of nutritious foods, you can make minor but significant improvements to your diet by making healthier replacements. These substitutions can help you cut calories while also improving the nutritional quality of your meals. Here are some healthy meal swap suggestions:
Drinks: Replace sugary beverages like soda and energy drinks with water, herbal tea, or homemade fruit-infused water. These alternatives are low in calories and high in water content.
Grains: When possible, choose whole grains over refined grains. Whole grains, such as brown rice, whole wheat bread, and quinoa, are higher in fiber and minerals.
Protein: Choose skinless fowl, fish, tofu, tempeh, or legumes (beans, lentils, and chickpeas) as lean protein sources. These alternatives are lower in saturated fat and frequently less expensive than fatty types of beef.
Dairy: If you eat dairy, pick low-fat or fat-free varieties over full-fat varieties. Consider dairy-free milk substitutes such as almond, soy, or oat milk.
Snacks: While choosing healthy meals for weight loss on a budget, try air-popped popcorn, raw veggies with hummus, or a piece of fruit with nut butter instead of processed snacks like chips and cookies.
Condiments: Keep in mind that condiments might add extra calories and sugar to your meals. While looking for low budget healthy meals, choose mustard or spicy sauce over mayonnaise, and flavor using herbs and spices rather than high-sugar sauces.
Cooking Methods: Instead of deep-frying, choose healthier cooking methods such as grilling, baking, steaming, or stir-frying with less oil.
You may progressively enhance the nutritional quality of your diet while working toward your weight loss goals by making these simple modifications.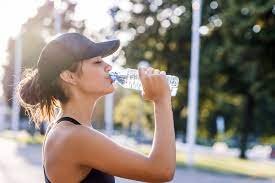 Hydration is essential for general health and plays an important role in weight loss efforts. Water consumption can help control hunger, avoid overeating, and support a variety of biological functions. Here's how to stay well hydrated:
Create a Water Schedule: Create a schedule for drinking water throughout the day. Begin with a glass of water in the morning, drink water before meals, and finish with a glass before bedtime.
Keep a Reusable Water Bottle With You: Carry a reusable water bottle with you throughout the day as a reminder to stay hydrated. This is especially vital in hot weather or if you're doing physical activity.
Fruit Flavoring: If plain water doesn't appeal to you, add slices of lemon, lime, cucumber, or berries to infuse it with natural flavor without adding sugar.
Herbal Tea: Served hot or cold, herbal teas offer a hydrating and tasty alternative to ordinary water. In the evenings, opt for caffeine-free beverages.
Limit Sugary Drinks: Avoid or severely restrict your consumption of sugary beverages such as soda, fruit juices, and energy drinks, which can contribute to an increase in calorie intake.
Monitor Urine Color: Keep an eye on the color of your urine. Urine that is pale yellow or light straw-colored indicates adequate hydration.
Remember that thirst can be confused with hunger, leading to unnecessary snacking. Staying hydrated allows you to distinguish between actual hunger and the temptation to eat out of thirst or habit.
Note: There might be affiliate links mentioned here. We may receive a commission if you purchase a product through an affiliate link. There is no additional charge for you. Please do your own research before making any online purchases.
Being fully present during meals, relishing each bite, and paying attention to your body's hunger and fullness cues are all part of mindful eating. This method can assist you in making healthier food choices, avoiding emotional eating, and efficiently controlling portion sizes.
Here's how to include mindful eating into your daily routine:
Remove Distractions: Create a separate eating area devoid of distractions such as TV, smartphones, or computer screens. Concentrate only on your meal.
Slow Down: Take your time eating and savoring each bite while eating healthy meals for weight loss on a budget. Put your utensils down between bites to help you eat more slowly.
Use Your Senses: Notice the colors, textures, and scents of your food. Chew your food fully and taste it.
Pay Attention to Your Body: Pay attention to your body's hunger and fullness signs. Eat until you're full, not until you're stuffed.
Beware of Emotional Eating: Be mindful of emotional triggers that cause you to eat when you aren't actually hungry. Find new ways to deal with stress, boredom, and other emotions.
Keep a Food Journal: Keep a food journal to keep track of your eating habits, moods, and hunger levels. This might assist you in identifying patterns and triggers.
Practice Gratitude: Before you begin your meal, take a moment to be grateful for the food in front of you and the sustenance it gives.
You may create a healthier relationship with food, make better choices, and improve your overall eating habits by practicing mindful eating, even if you have limited access to healthy options.
Physical activity is an essential component of any successful weight loss journey, and it is especially critical for people who don't have easy access to nutritious foods. Exercise on a regular basis can help you burn calories, increase your metabolism, and improve your general well-being. Here's how to stay active while staying within your budget:
Choose Activities You Enjoy: Find physical activities that you actually enjoy, such as walking, jogging, dancing, gardening, or participating in a sport. This raises your chances of sticking with them in the long run.
Set Achievable Fitness Goals: Set fitness objectives that are in line with your current fitness level and lifestyle. As you progress, gradually increase the intensity and duration of your workouts.
Make Physical Activity a Habit: Include physical activity in your everyday routine. Take the stairs instead of the elevator, for example, or walk or cycle to local places or indulge in short workouts during breaks.
Home Workouts: If you don't have access to a gym, look into home workout choices. There are several online sites and apps that provide guided workouts for people of all fitness abilities and goals.
Involve Friends and Family: Participate in physical activities with friends or family. This not only motivates you, but it also makes exercise more fun.
Maintain Consistency: Maintaining consistency is essential for getting the benefits of physical activity. Aim for at least 150 minutes of moderate-intensity exercise each week, according to health professionals.
Remember that exercise has various other health benefits than weight loss, such as improved mood, less stress, improved cardiovascular health, and greater muscle strength.
Starting a weight loss journey can be difficult, especially when you have to rely on low budget healthy meals. Seeking assistance from friends, family, or support groups can provide encouragement, accountability, and useful suggestions. Here's how to discover and use help along the way:
Communicate with Friends and Family: Discuss your weight loss goals with family and friends. They can encourage you, join you in healthful activities, and offer emotional support.
Online Communities: Participate in weight loss and healthy living forums or social media groups. These communities provide a forum for people to share their stories, ask questions, and find inspiration.
Accountability Partners: Team up with a friend or family member who also wants to lose weight. Maintain accountability by checking in on a regular basis, setting goals together, and recognizing successes.
Professional Assistance: For personalized advice, see a certified dietitian, nutritionist, or personal trainer. They can design a plan that is tailored to your specific requirements.
Support Groups: Look for local or online support groups as well as weight loss clubs. These organizations foster a sense of community and common aims.
Remember that getting help does not imply weakness; rather, it demonstrates your dedication to reaching your health and weight loss goals. Sharing your trip with others might make it more pleasurable and long-lasting.
FAQs
Is it possible to lose weight when I don't have easy access to healthy foods?
Yes, even with restricted access to healthful meals, it is possible to lose weight. While it may bring additional hurdles, careful planning, portion control, and the adoption of healthy habits can assist you in reaching your weight loss objectives.
What are food deserts, and how do they affect my weight loss efforts?
Food deserts, which are commonly located in low-income neighborhoods, are locations with limited availability of fresh, healthy, and affordable food. They can make it more difficult to discover nutritional selections, but with the correct tactics, it is still feasible to make good choices.
How can I plan my meals properly when I have limited access to nutritious foods?
It is critical to plan your meals. Begin by establishing specific weight loss objectives, developing a meal plan that includes the healthiest options available, and prioritizing foods such as fruits, vegetables, whole grains, and lean proteins.
Can frozen and canned fruits and vegetables be as healthy as fresh fruits and vegetables?
Yes, frozen and canned produce can be just as nutritious as fresh ones if they are free of added salt and sugar. They are convenient substitutes, particularly when fresh produce is scarce.
Is intermittent fasting a viable weight-loss strategy in this case?
Intermittent fasting is a useful method since it emphasizes when you eat rather than what you consume. It may assist you in naturally lowering your calorie intake, improving your metabolic health, and losing weight.
How can I get access to food aid programs if I'm on a tight budget?
Investigate the eligibility criteria in your country or region to gain access to food aid programs. Follow the program's application process and get advice from relevant experts or organizations.
What are some helpful hints for smart buying on a tight budget?
Making a list, using coupons and discounts, buying in bulk when possible, shopping seasonally, comparing unit prices, limiting impulse purchases, planning your shopping trips, and considering discount stores are all part of smart shopping.
What role does portion control play in weight management?
Portion control helps you manage your calorie intake by making you aware of how much food you consume. While following low budget healthy meals, it can have a significant impact on your weight loss progress.
Is cooking at home a viable option for someone who leads a busy life and has limited access to healthy foods?
Even with a hectic schedule, cooking at home can be convenient and cost-effective. You can make and enjoy cheap, easy, and healthy meals on a budget by investing time in learning simple, healthy recipes and meal prep techniques.
What are some simple ways to practice mindful eating, and how can it help you lose weight?
Eliminating distractions, eating deliberately, engaging your senses, listening to your body's cues, staying aware of emotional eating triggers, keeping a food journal, and expressing gratitude for your meals are all part of practicing mindful eating. It enables you to make better choices and successfully regulate portion amounts while following a diet full of low budget healthy meals.
Conclusion
Weight loss is a difficult but attainable goal, even for people who have limited access to healthy eating options. You can take charge of your nutrition, make informed decisions, and move toward a healthier weight by applying the principles provided in this thorough article. While focusing on cheap, easy, and healthy meals on a budget, remember that even tiny changes can have a big impact on your overall health and well-being. You may overcome hurdles and reach your weight loss goals with careful planning, smart purchasing, portion management, meal preparation, and encouragement from friends and professionals. Maintain your focus, consistency, and dedication to your health and well-being.
Disclaimer: The information provided in this article is for educational purposes only and should not be considered as a substitute for medical advice. Consult a healthcare professional before implementing any home remedies or making significant changes to your lifestyle.