10 Best Diet Tips to Accelerate Weight Loss and Improve Health
Diet is the most important aspect of our health. What you consume heavily affects your health and well-being. Diet also plays a significant role in weight management and weight loss plans. If you are obese or overweight, you need to keep several diet-based factors in consideration to accelerate your weight loss and enhance your health.
Introduction
While on a weight loss journey, you can't expect to achieve the desired weight by ignoring your diet. Maximize the impact of your weight loss efforts by following effective diet tips to lose weight and improve health. Here are a few of the best ways and tips to lose weight while keeping your diet in focus. 
Consume Fiber
One of the best ways to lose weight is to lose belly fat. Soluble fiber helps reduce appetite; consuming a sufficient amount of fiber can help you do that. As you suppress your appetite with the help of fiber, you reduce your calorie intake, which helps you lose weight. Lentils, pears, celery, leafy greens, and oatmeal are all high in fiber. Incorporate them into your diet for quick weight loss. 
Avoid Added Sugar
Reducing your intake of added sugar can improve your overall health. It helps you maintain a moderate weight and keep blood sugar levels in control. Cutting back on added sugar reduces the risk of certain health conditions, including fatty liver, type 2 diabetes, and heart disease. Avoid consuming excessive sugar through soda, candy, sweetened baked goods, sugary breakfast cereals, and more.
Eat Whole Foods
Food is necessary for our survival and eating nutritious foods paves the way to a healthy life. Concentrating on whole foods like fruits and vegetables leaves less room for higher-calorie, higher-fat food choices, so it helps in losing weight. Make your diet full of fruits, vegetables, whole grains, and legumes while limiting the amount of processed food.
Consume Healthy Fat
When it comes to weight loss, it turns out fat isn't the enemy. Your balanced diet should include healthy monounsaturated and polyunsaturated fats. Some of the most common high-fat foods that offer great health benefits are avocados, cheese, dark chocolate, whole eggs, fatty fish, nuts, chia seeds, and extra virgin olive oil. Also, limit the amount of saturated fat in the diet to less than 10% of total calories.
Eat Protein-Rich Meals
Protein is unarguably the most important nutrient for weight loss and a better physique. Increasing the amount of protein you eat may help regulate certain hormones and make you feel fuller longer, which bestows you with other benefits. This phenomenon aids your weight loss efforts. Black beans, lima beans, salmon, broccoli, cauliflower, Chinese cabbage, eggs, and beef are a few of the high-protein foods.
Note: There might be affiliate links mentioned here. We may receive a commission if you purchase a product through an affiliate link. There is no additional charge for you. Please do your own research before making any online purchases.
Cut Back on Refined Carbs
Carbohydrates are an important part of most diets. However, cutting back on carbohydrates in certain circumstances may provide some real health benefits. Low carb diets help with weight loss and allow for better management of diabetes or prediabetes in adults. Prefer non-starchy vegetables; cut back on refined grain bread; use sugar alternatives; start your day with an egg or low sugar yogurt; nut butter on celery sticks; or use low carb bread.
Cook More at Home
If you are sincere about your weight and health, avoid processed food as much as possible. Consume home made food and cook at home as much as you can. Individuals who cook dinner at home six or more times a week consume an average of 140 fewer calories per day in comparison to those who cook dinner at home only once or twice per week. You also get better control over the nutrients you are consuming and can easily adopt healthier food choices. 
Avoid Fad Diets
Fad dieting is one diet based phenomenon you don't need in your life, especially if you are looking for long term weight loss benefits without hampering your health. These diets promise quick results and you may also observe a drastic change in your weight, but they are not the best ways and tips to lose weight. Always look for gradual and long-lasting lifestyle and dietary changes to accomplish your weight loss journey in a healthy way. 
Stay Hydrated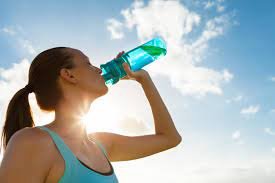 Hydration is key for many body functions, including digestion and muscle function. It is also crucial for losing weight since water is naturally calorie-free. Drinking more water reduces calorie intake and lowers the risk of weight gain. To stay hydrated,  males need around 13 cups and females need around 9 cups of water per day. Drinking adequate water is crucial to losing weight and improving health, no matter what kind of diet or weight loss plan you may be following.
Practice Mindful Eating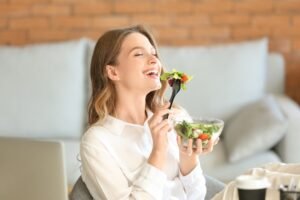 It doesn't matter how much protein you are eating or how many calories you are cutting back on if you are not practicing mindful eating. Always take ample time to chew and gulp your food. Mindful eating reduces stress and optimizes metabolism. Avoid distractions like television or a mobile phone while eating your food. Be mindful and try to put your whole focus on your food while consuming it.
Conclusion
Food is necessary for our survival and plays a crucial role in weight loss and fitness. Consume whole foods with more fiber and healthy fat for better health. Also, avoid sugary and processed foods to avoid the intake of sugar and bad fat. Stay away from fad diets and cook food in your home as much as possible. Stay hydrated and practice mindful eating to maximize the impact of your diet on your weight loss and overall well-being.
Disclaimer: The information provided in this article is for educational purposes only and should not be considered as a substitute for medical advice. Consult a healthcare professional before implementing any home remedies or making significant changes to your lifestyle.