How to Lose Weight with a Desk Job
Due to the dominance of desk jobs in the modern economy, many people spend a large portion of their day seated. Prolonged sitting has been linked to obesity and other health problems. However, it is feasible to effectively lose weight while working a desk job by taking a strategic approach that involves good behaviors and thoughtful decisions.
Introduction
The purpose of this article is to provide readers with actionable advice on how to lose weight and improve their health while working a desk job.
How Being Seated All Day Affects Your Weight
Let us elaborate on how your sedentary lifestyle affects your weight.
Catch-22 of a Non-Active Lifestyle
Long periods of sitting at a desk result in lower energy expenditure and less muscle use. Weight gain, a higher risk of chronic diseases, and metabolic malfunction can all result from a lack of movement. Realizing the risks associated with inactivity is crucial for people to make positive lifestyle changes to lose weight while working a desk job.
Health Risks Due to Desk Jobs 
Obesity, heart disease, type 2 diabetes, several malignancies, and premature death are all linked to inactivity. Insulin resistance and poor glucose metabolism are only two of the ways it wreaks havoc on metabolic health. Keeping these dangers in mind might help you put your health and weight-management goals first.
Why Weight Control is Crucial
For optimal health and happiness, it's crucial to keep the weight within the optimal range. Being overweight raises one's chances of developing a number of diseases and lowers their standard of living. Improving your cardiovascular health, metabolic function, vitality, and self-confidence can be as simple as losing a few pounds or sticking to a healthy weight.
Establishing an Optimal Work Setting
Here are some crucial tips to create an optimal workspace that allows you to lose weight while working a desk job.
Increased Productivity and Happiness Through Ergonomics
Creating an ergonomic workspace has been shown to improve worker satisfaction, output, and health. Adjust your workspace so that you can sit up straight, avoid unnecessary muscle tension, and work in comfort and ease. This includes your chair, desk, and computer monitor.
Standing Desks and Treadmill Desks
If you're looking to get some exercise while you work, a standing desk or treadmill workstation might be just what you need. Standing or walking can lessen the health risks associated with prolonged sitting.
Physical Activity During Breaks
The harmful consequences of a sedentary lifestyle can be mitigated by taking many brief breaks during the workday to move and stretch. To increase your vitality, blood flow, and muscle activation, set alarms to remind you to get up and move around every so often.
How Diet Affects Weight Loss
Proper nutrition is essential for losing weight with a desk job. Eat a variety of nutritious foods like lean meats, veggies, fruits, whole grains, and healthy fats. Reduce your caloric intake below your energy expenditure to lose weight while working a desk job.
Mindful Eating and Healthy Diet
Paying attention to serving sizes and selecting healthy options are great ways to practice mindful eating. Eat off of smaller plates, limit your serving sizes, and increase the variety of foods you eat. Listen to your body to determine when you're actually hungry or full. 
Healthy Snacking at the Office
Pick healthy munchies to keep you fueled and avoid getting too hungry during the day. Choose healthy snacks like fruits, vegetables, almonds, yogurt, or homemade protein bars if you want to lose weight with a desk job. Snacking on sugary and processed foods can cause energy loss and weight gain, so it's best to stay away from them.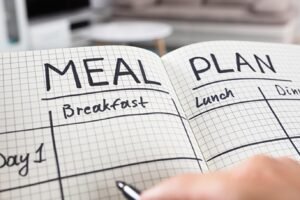 To maintain good eating habits for losing weight with a desk job, plan and prepare meals in advance. Make a week's worth of healthy meals and snacks by cooking a wide range of foods high in essential nutrients. Time is conserved, portion sizes are reduced, and unhealthy options are avoided because of meal preparation.
Unique Eating Habits and Diets
Let us suggest some unique diet plans that can help you lose weight with a desk job.
To lose weight, you should follow a low-calorie diet, which entails eating fewer calories than your body requires on a daily basis. It restricts daily caloric intake to between 1,200 and 1,500 calories, with an emphasis on nutrient-dense foods. Avoiding nutritional deficiencies requires caution, so it's best to get expert advice before getting started.
A low-carb diet decreases carbohydrate intake and enhances protein and healthy fats. It stimulates weight loss and stabilizes blood sugar levels through ketosis. The recommended daily allowance for carbohydrates is 20–100 grams. Complex carbs from veggies and healthy grains are advised. Consultation with a professional is recommended.
Intermittent fasting involves alternating periods of fasting and eating. It does not prescribe dietary selections but focuses on when to eat. Dietary strategies range from the 16:8 (16 hours of fasting, then an 8-hour eating window) to the 5:2 (5 days of regular eating, then 2 days of calorie restriction) to alternate-day fasting. Weight loss and other health advantages may be possible with intermittent fasting. It's best to talk to an expert first, because it might not be right for you.
Incorporating Physical Activity in Your Routine
Here are some effective tips regarding physical activity to help you lose weight with a desk job.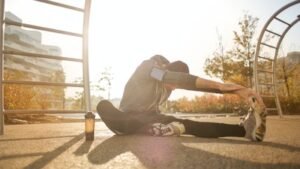 Workout During the Commute
Utilize your time in transit productively by working out. Walk or bike to work to lose weight at a desk job, if possible, or try parking farther away from your job to add extra steps to your day. Engaging in exercise while commuting can help increase calorie expenditure and enhance cardiovascular health.
Desk Workouts, Stretching, and Yoga
To combat the harmful effects of prolonged sitting, try doing some light exercises and stretches at your workplace. Try exercises like desk push-ups, leg lifts, and neck stretches in addition to chair squats. You could also use your lunch break to do some desk yoga or join a virtual fitness class.
In order to lose weight at a desk job and get in better shape, you need to do cardiovascular activities on a regular basis outside of work. Burning calories, enhancing cardiovascular health, and elevating mood are just some of the benefits of exercise.
Resistance Exercises and Strength-Building
Strength training should be incorporated to enhance muscle mass, metabolic rate, and overall body composition. Use resistance bands, dumbbells, or just your body to strengthen your key muscle groups. Strength training should be performed twice or three times weekly.
Exercise or Physical Activity During Midday Breaks
Get some exercise during your midday break to lose weight with a desk job. To counteract the effects of a sedentary lifestyle and boost your fitness, try going for a brisk walk, joining a gym class, or taking part in some fun activities.
Relaxation and Enough Sleep
Both lack of sleep and chronic stress have been linked to weight gain and make it harder to lose weight at a desk job. Cortisol, a hormone released in response to stress, is associated with both increased hunger and fat storage. Adequate sleep is critical for maintaining good health and controlling eating.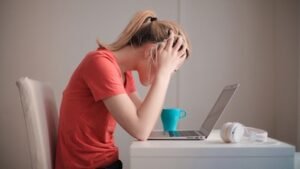 Workplace stress can be managed through practices including deep breathing, meditation, mindfulness, and taking frequent brief breaks. Take some time at breaks or lunch to do something relaxing, like taking a walk or listening to some music.
Maintaining a healthy weight can be aided by making sleep a top priority. Get between 7 and 9 hours of sleep every night. Make your bedroom a place you look forward to spending time in, restrict your screen time in the hours leading up to bed, and eliminate any potential distractions to guarantee a good night's sleep.
Note: There might be affiliate links mentioned here. We may receive a commission if you purchase a product through an affiliate link. There is no additional charge for you. Please do your own research before making any online purchases.
Importance of Water in Weight Loss Journey
There are many weight loss benefits from drinking enough water. Water helps to reduce hunger, speed up the metabolism, aid digestion, and boost health in general. If you work in a hot environment or do rigorous physical exercise, you should drink even more water than the recommended eight glasses per day.
Drink More Water at the Office
If you want to make sure you drink enough water during the day, keep a bottle on your desk. Infuse your water with flavors like lemon, cucumber, or berries, and commit to a regimen that encourages you to drink more water. Sugary drinks should be avoided or consumed in moderation because of their potential to promote weight gain.
Transform Your Attitude and Way of Life
Your mindset towards your life is crucial for weight loss management with a sedentary lifestyle. Transform your attitude with the following tips:
Make health and weight loss objectives that you can actually achieve. Goals are more likely to be achieved if they are broken down into smaller, more attainable chunks. Instead of looking for short-term fixes, understand how to lose weight with a desk job and try to make changes that will last.
Journals and Digital Tools for Monitoring Development
Use a journal, a fitness app, or both to record your daily food consumption, exercise, and improvement. You'll be able to see trends more clearly and hold yourself more accountable if you do this. Get a fitness tracker or a smartwatch to keep tabs on your exercise routine and see how far you've come.
Creating a Healthy Attitude Towards Both Food and Exercise
Reframing your thinking about food and exercise can help you adopt a more healthy outlook. Think of food as fuel rather than something to be earned or avoided, and find satisfaction in doing physical things you like. Create a setting that motivates you to maintain a healthy routine.
Tips for Eating Healthy When Eating Out
As mentioned above, your diet is a crucial part of your weight-loss journey. While eating outside, keep the following aspects in mind:
Ordering Healthier Foods Out
Select grilled or baked foods, order smaller servings, and avoid fried or high-calorie menu items when dining out. Vegetables and lean proteins should take precedence over dressings and sauces.
Eating Healthy at Professional and Social Functions
Focus on portion management, choose healthier options when possible, and eat mindfully to make the most of professional and social gatherings. If you're trying to lose weight, cutting back on alcohol may help.
Establishing a Foundation of Support
Creating a support system can be helpful for your weight-loss endeavors.
Create a network of people who will hold you accountable and encourage you while you work to lose weight. Commit yourself and tell someone else about it so they can help you stay motivated and accountable.
Motivating Colleagues to Adopt Healthier Lifestyles
Organize wellness events for your workplace, such as team workouts, walking meetings, and healthy potluck lunches. Encourage a good and health-conscious workplace environment.
Seeking Outside Help From Experts Like Nutritionists and Trainers
Nutritionists, dietitians, and personal trainers are available to offer individualized assistance depending on your requirements and goals. They can give you individualized recommendations for diet and fitness programs. Consult them to understand how to lose weight with a desk job.
FAQs
How can sitting all day affect one's weight?
Prolonged sitting decreases metabolic rate and muscle activity, which can lead to weight gain and an increased risk of developing chronic diseases.
How hazardous to one's health are routine office hours?
Being inactive raises the odds of developing cardiovascular disease, diabetes, several forms of cancer, and premature death.
Why is it crucial for office workers to maintain a healthy weight?
Being at a healthy weight has numerous health benefits, including enhanced cardiovascular health, metabolic function, energy levels, and confidence.
What steps should I take to make my office a healthy place to lose weight?
The harmful impacts of sedentary employment can be reduced by employing an ergonomic workplace, switching to a standing or treadmill desk, and taking frequent movement breaks.
When trying to shed pounds, how important is proper nutrition?
Consuming fewer calories than you burn every day is the most effective way to lose weight. This means eating a diet rich in nutritious foods such as lean meats, fruits, vegetables, whole grains, and healthy fats.
What strategies can I use to eat consciously at the office?
Watch what you eat, eat from smaller plates, and eat a wide variety of foods. Listen to your body to determine when you're actually hungry or full.
What are some good options for healthy desk snacking?
Pick healthy foods like fruits and vegetables, almonds, yogurt, or homemade protein bars to keep you going throughout the day and stave off hunger pangs.
How can I break up my day at the office and get some exercise?
Do cardiovascular and strength training regularly, take advantage of active lunch breaks, and exercise while commuting.
How do I manage stress to lose weight?
Cortisol, a hormone released in response to chronic stress, promotes overeating and fat storage. Relaxation techniques like deep breathing and mindfulness have been shown to aid in the management of weight.
How does water intake influence weight loss?
Water aids in hunger control speeds up metabolism, enhances digestion, and improves general health. Try to get eight glasses of water a day, and flavor it as you like to make it more appealing.
Conclusion
Working at a desk does not make weight loss impossible. It is possible to make healthy lifestyle adjustments and lose weight even if you have a desk job by following the advice in this article. Keep in mind that the secret to success is persistence, patience, and a focus on one's total health. Enjoy the ride and savor your successes, no matter how tiny. You can take charge of your health and weight management right where you are, at your workplace. All it takes is a little bit of effort today.
Disclaimer: The information provided in this article is for educational purposes only and should not be considered as a substitute for medical advice. Consult a healthcare professional before implementing any home remedies or making significant changes to your lifestyle.