How to Lose Weight After Menopause
Menopause is a natural stage in a woman's life that happens as she gets older. It is distinguished by a decrease in estrogen levels, which can cause a variety of symptoms, including weight gain. Shedding those extra pounds after menopause may be difficult, but it is certainly doable with a few lifestyle changes.
Introduction 
This in-depth article will delve into the best ways to lose weight after menopause, providing a thorough understanding of the topic as well as practical advice to help women in achieving their weight loss goals.
Understanding Menopause and Weight Gain
Let us share some crucial insights to understand menopause and weight gain.
Menopause is a natural biological process that occurs when a woman's reproductive years come to an end. It is usually diagnosed after a woman has gone 12 months without having a menstrual period. Perimenopause, or the transition into menopause, is characterized by hormonal fluctuations and can last several years before the final onset of menopause.
Estrogen levels begin to fall during perimenopause, resulting in a variety of physical and emotional changes. Weight gain is a common concern for women during this period. While weight gain is not unavoidable for all women, it is a common problem for many during the menopausal transition.
Factors Contributing to Menopausal Weight Gain
Weight gain during menopause is caused by a number of factors, including:
Caloric Expenditure and Metabolism Slowdown

: As estrogen levels fall, the body's metabolic rate slows. This means that fewer calories are burned while at rest, making weight gain easier. Reduced physical activity and changes in body composition, such as muscle mass loss, also contribute to a decrease in caloric expenditure.

Loss of Muscle Mass and Its Influence on Weight: With aging, there is a normal reduction in muscle mass known as sarcopenia. This loss of muscle tissue leads to a decrease in basal metabolic rate (BMR), which is the number of calories the body needs to maintain basic bodily functions at rest. As a result, less energy is burned, and weight gain becomes more likely.
Hormonal Changes and Increased Hunger: Fluctuations in hormones, particularly estrogen and progesterone, can impact appetite regulation. Some women experience an increase in hunger and cravings during menopause, making it challenging to maintain the best diet for postmenopausal weight loss. The combination of hormonal changes and increased hunger can lead to overeating and weight gain.
Addressing Menopausal Symptoms Holistically
To effectively manage weight gain during menopause, it is crucial to adopt a holistic approach that addresses the underlying causes and supports overall well-being. This involves focusing on the best ways to lose weight after menopause that encompass the best diet for it menopausal weight loss, exercise, sleep, stress management, and potential treatment options.
By understanding the factors contributing to weight gain and taking a comprehensive approach, women can navigate through menopause with the best weight loss tips after menopause and achieve greater success in maintaining a healthy weight.
Diet to Lose Weight After Menopause
Let us find out more details regarding the best diet for menopausal weight loss. These insights will be helpful in determining the best ways to lose weight after menopause.
Diet plays a pivotal role in weight loss, regardless of age or stage of life. However, during menopause, choosing the best diet for post menopausal weight loss becomes even more critical to supporting weight management and overall health.
Understanding Caloric Intake and Expenditure
To lose weight, you must generate a calorie deficit, which means you must consume fewer calories than you burn. With the metabolic slowing that occurs after menopause, it is vital to review calorie intake. Calculating and tracking daily calorie needs based on age, exercise level, and weight goals can aid in weight maintenance.
Importance of Nutrient-Rich Foods
Nutrient-rich foods are necessary additions to a diet to lose weight after menopause. Choosing nutrient-dense foods is critical for giving needed nutrients to the body while controlling weight. Focus on including whole grains, lean meats, fruits, veggies, and healthy fats to create the best diet for post menopausal weight loss. These foods offer a diverse spectrum of vitamins, minerals, and antioxidants, promoting general health and weight management.
Balancing Macronutrients: Protein, Healthy Fats, and Fiber
Balancing macronutrients is crucial for a diet to help women lose weight after menopause. Including adequate protein in each meal helps preserve muscle mass and support metabolism. Healthy fats, such as avocados, nuts, and olive oil, provide satiety and support hormone production. Additionally, high-fiber foods, like whole grains, legumes, and vegetables, promote feelings of fullness and regulate digestion.
Specific Considerations for Best Diet for Post Menopausal Weight Loss
Menopausal women can benefit from the best diet for post menopausal weight loss to supporting weight management and overall health.
As estrogen levels decline during menopause, there is an increased risk of bone loss and osteoporosis. Calcium-rich foods, such as dairy, leafy greens, and fortified foods, promote bone health and weight management. Calcium has been linked to weight loss, decreased fat absorption, and improved metabolism.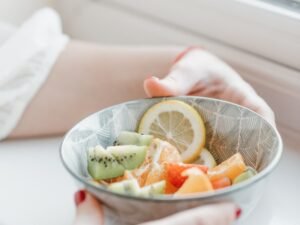 Benefits of Plant-Based Diets for Menopausal Women
Menopausal women can benefit from a plant-based diet to lose weight after menopause. This diet includes fruits, vegetables, whole grains, legumes, and plant proteins. These diets are generally lower in calories, saturated fats, and processed foods, resulting in weight loss and a lower risk of chronic diseases.
Role of Phytoestrogen in Menopause and Weight Management
Plant chemicals with a structure comparable to human estrogen are known as phytoestrogens. Soybeans, flaxseeds, and chickpeas, which are high in phytoestrogens, may help to balance hormonal swings during menopause. While the data on their impact on weight loss is conflicting, integrating moderate amounts of phytoestrogen-rich foods into a healthy diet for menopausal women can be beneficial.
Healthy Eating and Long-Term Weight Loss Strategies
Implementing good eating methods is critical for maintaining a healthy weight during menopause.
Meal preparation can assist women in making healthier food choices and controlling portion sizes. Meal preparation supports a balanced diet and prevents impulsive, harmful food choices. Portion management is similarly important, as it helps limit caloric intake and promotes mindful eating.
Practicing mindful eating involves paying attention to the sensory experience of eating, such as the taste, smell, and texture of food. It encourages slowing down, savoring each bite, and understanding satiety signs. By engaging in mindful eating while following a diet to lose weight after menopause, women can create a healthy connection with food, avoid overeating, and make more conscientious food choices.
Understanding Food Cravings and Emotional Eating
During menopause, hormonal imbalances and higher stress levels can contribute to food cravings and emotional eating. Understanding the motivations behind cravings and finding alternate ways to satisfy emotional needs, such as engaging in hobbies, practicing self-care, or seeking assistance, can help women control their weight more effectively.
By incorporating the best diet for postmenopausal weight loss into their daily routine, menopausal women can achieve sustained weight loss and improve their overall well-being.
Exercise and Menopause
Exercise is crucial for weight loss after menopause. Let us get into more details to aid your quest to find the best ways to lose weight after menopause.
Exercise is an important component of weight loss, particularly for menopausal women. Regular physical activity helps boost metabolism, burn calories, and build lean muscle mass. It also has other benefits such as improved cardiovascular health, higher bone density, and enhanced mood.
For optimal weight management, menopausal women should engage in a combination of cardiovascular activity and strength training.
Walking, jogging, cycling, swimming, and dancing are all cardiovascular exercises that help burn calories and enhance cardiovascular health. Aim for 150 minutes of moderate-intensity aerobic activity each week or 75 minutes of vigorous-intensity aerobic activity.
Strength training exercises, such as weightlifting or resistance training, are critical for maintaining and increasing muscle mass. Women naturally lose muscle as they age, which can reduce metabolism. Strength training slows muscle loss, boosts metabolism, and improves overall body composition. Aim for at least two days of strength training per week, focusing on all major muscle groups.
Establishing an Exercise Routine
Creating a consistent fitness plan is essential for reaching weight loss goals during menopause.
Begin Small and Increase Intensity Gradually
Start carefully if you're new to exercise or haven't been physically active in a while to avoid damage. Begin with low-impact activities and progressively increase the intensity and duration of your workouts over time. Pay attention to your body and alter the intensity as necessary.
Participate in Activities You Enjoy
Choose exercises that you enjoy to keep your motivation and adherence high. Finding activities that bring you joy, whether it's dancing, swimming, hiking, or joining a group fitness class, will make it simpler to stick to your workout program.
Include a Variety of Activities in Your Routine
Changing up your workout regimen not only keeps you from becoming bored but also guarantees that you're exercising different muscle groups and challenging your body in new ways. In order to keep your workouts interesting and effective, consider incorporating activities like yoga, Pilates, or interval training.
Including Physical Activity in Everyday Life
Finding ways to stay physically active throughout the day, in addition to scheduled workouts, can help with weight loss during menopause.
Increase Movement in Daily Activities
Look for ways to become more active in your daily life. Take the stairs instead of the elevator, walk or cycle instead of driving short distances, or engage in strenuous home duties. Every small bit of movement adds up and helps burn calories.
Sitting for long periods of time can have a bad impact on metabolism and weight management. Every hour, try to stand up, stretch, or go for a little stroll to break up extended periods of sitting.
Maintain Consistency and Accountability
Accountability can help you stick to a fitness plan. Consider exercising with a friend or family member, joining a fitness group, or tracking your progress with a fitness tracker or app. As you work toward your fitness goals, these tools will give you motivation, encouragement, and a sense of accomplishment.
Menopausal women can effectively manage weight gain and improve their overall health and well-being by combining regular exercise, staying consistent, and choosing things that offer them joy.
Menopause and Sleep
Let us understand the importance of sleep and the sleep-based challenges you may face after menopause.
Getting enough quality sleep is essential for weight loss and overall health, particularly for menopausal women. Sleep deprivation can disturb hormone balance and cause metabolic changes that make losing weight more difficult. It can also lead to increased appetite, cravings, and a greater proclivity to make bad eating choices.
Understanding Menopausal Sleep Changes
Menopause can cause a variety of sleep problems that impact both the quality and quantity of sleep. Determine these changes and apply the best weight loss tips after menopause accordingly.
Night Sweats and Hot Flashes
Hot flashes and nocturnal sweats are frequent symptoms of menopause that can impair sleep patterns. The rapid temperature changes and discomfort can make it difficult to fall asleep or wake up frequently during the night.
Hormonal Changes and Sleep Disorders
Hormonal variations, notably lowering estrogen levels, might contribute to insomnia or difficulty sleeping. Women may have difficulty falling asleep, waking up repeatedly during the night, or experiencing early morning awakenings.
Sleep Disruptions and Mood Disorders
Menopause is frequently associated with mood changes, such as increased worry or depression, which can impair sleep quality. These emotional disruptions might make it difficult to relax and sleep well.
Ways to Improve Sleep Quality During Menopause
Implementing appropriate sleep habits and treating sleep interruptions can have a major impact on menopausal weight management.
Establish a Regular Sleep Schedule
Establishing a consistent sleep pattern aids in the regulation of the body's internal clock and promotes better sleep. Even on weekends, try to go to bed and wake up at the same time every day. Consistency helps to maintain the body's natural sleep-wake cycle.
Establish a Restful Bedtime Routine
Relaxing activities should be done before bed to communicate to your body that it is time to unwind and prepare for sleep. Create a peaceful sleep routine that includes activities such as reading, having a warm bath, practicing relaxation techniques, or listening to soothing music.
Make Your Environment Sleep-Friendly
Make your sleeping environment comfy and sleep-inducing. Make sure your room is cool, dark, and quiet. To eliminate distractions, use blackout curtains, earphones, or a white noise machine.
Limit the Use of Stimulants and Electronic Devices
Caffeine and nicotine, for example, should be avoided close to bedtime because they might disrupt sleep. Limit your evening exposure to electronic devices such as cell phones, tablets, and PCs. These devices' blue light can reduce the generation of melatonin, a hormone that governs sleep.
Handle Night Sweats and Hot Flashes
If hot flashes and night sweats are interfering with your sleep, try following these management measures: Wear light, breathable sleepwear, use moisture-wicking bedding, keep a fan nearby, or look into alternative therapies like hormone therapy or herbal cures. Consult with a healthcare expert to determine the best treatment choices for these symptoms.
Seek Medical Attention for Sleep Disorders
Consider seeking professional assistance if sleep difficulties persist and have a major impact on your quality of life. A sleep specialist can assess your sleeping habits, identify any underlying sleep disorders, and propose relevant treatments or therapies.
Menopausal women can improve sleep quality, support weight control, and improve general well-being by prioritizing sleep, developing a nighttime routine, and managing sleep disorders.
Note: There might be affiliate links mentioned here. We may receive a commission if you purchase a product through an affiliate link. There is no additional charge for you. Please do your own research before making any online purchases.
Menopause and Stress
Stress can have a substantial impact on weight management, especially in postmenopausal women. When the body is stressed, it produces cortisol, a hormone that increases appetite, promotes fat storage, and leads to weight gain, particularly around the abdomen. Stress management is critical for good weight loss during menopause.
Stress reduction tactics can assist women in overcoming the challenges of menopause while also supporting their weight loss attempts.
Mindfulness and Meditation Practices
Meditation and mindfulness activities can aid in relaxation, stress reduction, and emotional well-being. Women can manage stress more successfully by taking a few minutes each day to sit quietly, focus on their breath, and cultivate present-moment awareness.
Yoga and tai chi are types of mild exercise that incorporate movement, breath control, and awareness. These techniques not only have physical advantages, but they also help reduce stress, enhance flexibility, and generate a sense of serenity and balance.
Exercises in Deep Breathing
Deep breathing exercises, such as diaphragmatic breathing or box breathing, stimulate the relaxation response in the body and reduce stress. These techniques can be used at any time and in any location to quickly calm the mind and body.
Participating in Physical Activity
Regular physical activity is an effective stress management tool in and of itself. Endorphins, which are natural mood boosters and stress relievers, are released during exercise. Walking, dancing, or participating in sports that you enjoy can provide an outlet for stress and boost general well-being.
Using Relaxation Techniques
Relaxation techniques such as progressive muscle relaxation, guided imagery, and aromatherapy can help reduce stress and increase relaxation. Finding relaxation techniques that you enjoy and incorporating them into your routine can improve your physical and emotional health.
Stress-Reducing Lifestyle Changes
Certain lifestyle changes can also help with stress reduction and weight management during menopause.
Make Self-Care a Priority
Self-care is critical for stress management and overall well-being. Reading, taking a bath, practicing a hobby, or spending time in nature are all activities that can refresh the mind and body.
Stress can be reduced by developing a strong support network and maintaining social interactions. Activities with friends or family, joining support groups, or seeking professional counseling can all provide outlets for expressing emotions, obtaining direction, and receiving support during the menopausal transition.
Prioritization and Time Management
Setting priorities and managing time properly can help alleviate stress. Learning to distribute responsibilities, say no when necessary, and set realistic expectations will help you feel more in control and less overwhelmed.
Effective Coping Mechanisms
Find healthy coping strategies that work for you. Journaling, practicing gratitude, engaging in creative outlets, or engaging in activities that offer joy and relaxation are all examples of this. Instead of succumbing to unhealthy habits like emotional eating or excessive alcohol usage, these tactics can help you manage stress constructively and productively.
Menopausal women can better manage stress, support weight loss attempts, and improve their overall quality of life by using stress reduction techniques, making lifestyle changes, and adopting healthy coping mechanisms.
Menopause and Hormone Replacement Therapy
HRT (hormone replacement therapy) is a treatment option for menopausal symptoms. It entails the use of hormone-containing drugs, such as estrogen and progesterone, to replenish the body's diminishing hormone levels following menopause.
HRT's Impact on Weight Management
HRT may affect weight control during menopause.
Hormone Levels and Metabolism
Weight gain might occur as a result of hormonal shifts during menopause. HRT can aid in hormone regulation, potentially enhancing metabolic function and assisting with weight management.
The decrease in estrogen levels that occurs during menopause is linked to a change in body composition, including an increase in belly fat. HRT may assist in attenuating this effect by promoting a more even distribution of body fat.
Appetite and Cravings for Food
Hormonal changes during menopause can cause an increase in hunger and food desires, making it difficult to maintain a healthy diet. HRT may help regulate appetite and reduce cravings, making it easier to make weight-loss-friendly dietary choices.
Before adopting HRT, speak with a healthcare physician about the potential benefits, hazards, and individual suitability.
Individualized Treatment Strategy
HRT is not a one-size-fits-all treatment option. To identify the best treatment approach, healthcare practitioners look at each woman's medical history, symptoms, and risk factors. Age, overall health, and the presence of certain medical disorders will all be considered.
HRT is available in a variety of forms, including oral pills, patches, creams, gels, and vaginal rings. Individual needs and preferences influence treatment selection.
Dangers and Adverse Effects
HRT has dangers and side effects that should be carefully examined. These include a higher risk of blood clots, stroke, breast cancer, and cardiovascular disease. However, the dangers and benefits of HRT therapy can vary based on factors such as length and timing.
Women receiving HRT must have regular monitoring and follow-up with a healthcare provider. This helps to ensure that the medication is effective, that the dosage is suitable, and that any potential side effects or concerns are addressed as soon as possible.
Alternative therapeutic alternatives for menopausal symptoms and weight management are available for women who are unable or reluctant to explore HRT.
Certain drugs, such as selective serotonin reuptake inhibitors (SSRIs) or selective norepinephrine reuptake inhibitors (SNRIs), may be recommended to help relieve certain menopausal symptoms, such as hot flashes or mood swings. These drugs do not directly affect weight reduction, but they can alleviate symptoms that may have an indirect impact on weight control.
Even without hormonal therapies, implementing the lifestyle modifications suggested previously in this article, such as a balanced diet, regular exercise, appropriate sleep, and stress management, can have a positive impact on weight management during menopause.
Alternative and Complementary Therapies
Complementary and alternative therapies have helped some women find respite from menopausal symptoms. Herbal supplements, acupuncture, and relaxation techniques are examples of these. However, it is critical to consult with a healthcare expert about these choices to confirm their safety and effectiveness.
Women should consult with their healthcare providers to decide the best treatment options for their specific requirements, taking into account potential benefits, risks, and alternatives.
Menopause and Supplements
Supplements can help manage menopausal symptoms while also supporting overall health and well-being. It is crucial to highlight, however, that supplements should not be used in place of a balanced diet to lose weight after menopause or a healthy lifestyle but rather to supplement them.
Calcium and vitamin D are crucial elements for bone health, which is especially significant after menopause due to an increased risk of osteoporosis. Adequate calcium consumption, when paired with vitamin D to aid absorption, can promote bone health and lower the incidence of fractures.
The omega-3 fatty acids eicosapentaenoic acid (EPA) and docosahexaenoic acid (DHA) have been linked to a variety of health advantages. They can help reduce inflammation, promote heart health, and possibly treat symptoms like hot flashes and mood swings.
Black cohosh is an herb that has traditionally been used to treat menopausal symptoms. It is thought to contain estrogenic characteristics, which may aid with hot flashes and nocturnal sweats. More research, however, is required to completely understand its effectiveness and safety.
Soy isoflavones are plant chemicals that mimic estrogen. They are found in soybeans and soy products, and their possible effects on menopausal symptoms have been researched. Some women get relief from hot flashes and other symptoms by eating soy foods or using soy isoflavone supplements. Individual responses may vary, so it's crucial to talk to your doctor before starting any new supplements.
Red clover is another herbal supplement that contains isoflavones, which are comparable to those found in soy. It has traditionally been used as a natural treatment for menopausal symptoms such as hot flashes and night sweats. Before using this or any other herbal product, talk with a healthcare provider.
Consultation with a Medical Professional
It is critical to contact a healthcare provider before beginning any supplements, especially if you have any underlying health concerns or are using drugs. They can advise you on the safety of the medication, the proper dosage, and any potential interactions with other prescriptions or supplements.
Considerations for Quality and Safety
When selecting supplements, it is critical to prioritize quality and safety. Look for reputable brands that have their purity, potency, and quality control tested by a third party. Reading customer reviews and seeking advice from healthcare professionals can also assist in making informed decisions.
Supplement selection should be tailored to specific needs, symptoms, overall health, and a diet to lose weight after menopause. What works for one person might not work for another. A healthcare provider can evaluate your specific situation and make recommendations based on your specific needs.
Remember that supplements should always be used in conjunction with a holistic approach to menopausal treatment, which includes a good diet, regular exercise, stress reduction, and proper sleep.
FAQs
Is weight gain unavoidable during menopause?
Weight growth is typical, but it is not inevitable. It is possible to properly manage weight with lifestyle adjustments.
What causes weight increase during menopause?
Low estrogen levels slow metabolism, decrease muscle mass and cause hormonal changes that might increase hunger and cravings.
How can I deal with menopausal symptoms in a holistic way?
Consider a multifaceted strategy that includes food, exercise, sleep, stress management, and various treatment alternatives.
What is the greatest diet to lose weight after menopause?
For weight loss after menopause, a nutrient-dense diet rich in whole grains, lean meats, fruits, vegetables, and healthy fats is advised.
How might calcium-rich meals aid in weight loss?
Calcium-rich diets improve metabolism and reduce fat absorption, promoting bone health and weight management.
Can a plant-based diet aid with postmenopausal weight loss?
Yes, a plant-based diet can help you lose weight since it has fewer calories, less saturated fat, and less processed food.
What role do phytoestrogens play in menopausal weight management?
Soybeans and flaxseeds, which are high in phytoestrogens, may help balance hormonal changes during menopause and aid in weight management.
What role does exercise have in weight loss after menopause?
Exercise speeds up metabolism, burns calories, increases lean muscle mass, and improves general health, making it essential for weight loss.
How does sleep impact menopausal weight management?
Sleep deprivation can affect hormone balance, increase hunger and cravings, and make weight reduction more difficult.
Can you recommend any stress-reduction practices for menopausal women?
Mindfulness, meditation, yoga, deep breathing, and physical activity can all assist in reducing stress and promote weight loss attempts.
Final Thoughts
Losing weight after menopause might be difficult, but with the correct lifestyle adjustments and tactics, you can achieve your weight loss objectives. Understanding the influence of menopause on weight gain and using good weight-management techniques can make a substantial difference throughout this life change.
In this article, we looked at the impact of hormonal changes on weight loss after menopause, the importance of a balanced diet, the role of exercise, the impact of sleep and stress, the potential benefits of hormone replacement therapy (HRT), and the use of supplements. Individual experiences may vary; therefore, it is always best to talk with a healthcare expert and determine the best ways to lose weight after menopause before making any significant changes to your lifestyle or beginning any new treatments or supplements.
To summarize the best weight loss tips after menopause:
Understanding menopause and weight gain: Hormonal changes during menopause can reduce metabolism, cause muscle loss, increase hunger and cravings, and contribute to weight gain.
Personalized diet to lose weight after menopause: Eating a nutrient-dense diet rich in protein, healthy fats, and fiber will help improve metabolism and encourage weight loss. Calcium-rich foods may also help with weight loss and bone health.
Regular exercise: Including cardiovascular exercise and strength training in your routine, can boost metabolism, burn calories, and help maintain muscle mass during menopause. To avoid overexertion, gradually increasing the exercise intensity and duration is crucial.
Sleep and menopause: Adequate sleep is essential for weight management. Sleep deprivation can disrupt hormones, increase hunger and cravings, and make it difficult to maintain a healthy diet.
Stress and menopause: It is critical for weight loss to manage stress using approaches such as meditation, yoga, and deep breathing exercises. Stress can affect hormones and lead to weight gain.
HRT and menopause: HRT is a treatment option that can help ease menopausal symptoms, potentially promote weight management by regulating hormones, and reduce hunger and cravings. It is not, however, appropriate for everyone and should be reviewed with a healthcare specialist.
Menopause and supplements: Some supplements, such as calcium, vitamin D, omega-3 fatty acids, black cohosh, and soy isoflavones, may help with weight management and reduce menopausal symptoms. Before beginning any supplements, it is critical to consult with a healthcare expert.
In conclusion, losing weight after menopause requires a holistic approach that includes the best ways to lose weight after menopause, including a good diet, regular exercise, sufficient sleep, stress management, and maybe the consideration of hormone replacement treatment or supplements. It is vital to engage closely with a healthcare physician to build an individualized strategy that takes into consideration your specific needs, health conditions, and goals.
Remember, weight loss should not be the main focus. Embracing a healthy lifestyle, enhancing general well-being, and maintaining a positive body image are equally vital components of the menopausal journey. With patience, tenacity, and a dedication to self-care, you can manage menopause with confidence and achieve a healthy weight.
Disclaimer: The information provided in this article is for educational purposes only and should not be considered as a substitute for medical advice. Consult a healthcare professional before implementing any home remedies or making significant changes to your lifestyle.