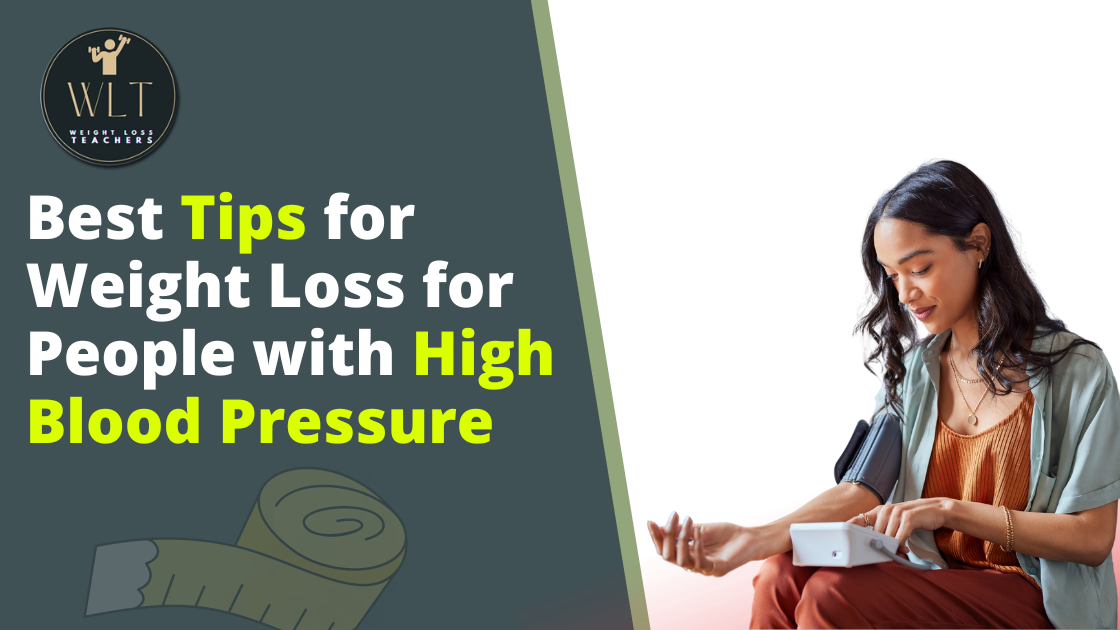 Best Tips for Weight Loss for People with High Blood Pressure
High blood pressure, often known as hypertension, is a prevalent health problem that affects millions of individuals throughout the world. It is a dangerous condition that can result in a variety of health issues, including heart disease, stroke, and renal failure. 
Introduction
People with high blood pressure must take extra precautions to protect their health, and one of the most important things they can do is maintain a healthy weight. In this article, we will explore insights on weight loss with high blood pressure as well as provide helpful ideas for achieving and maintaining a healthy weight.
Understanding High Blood Pressure
Before we get into details regarding weight loss and blood pressure, it's important to understand high blood pressure and its consequences for the body. Blood pressure is the force of blood pushing against the artery walls while the heart beats. When this pressure is continually high, it can cause artery damage, leading them to narrow and stiffen. This can result in a variety of health issues, including heart disease, stroke, and renal failure.
Genetics, lifestyle choices, and underlying medical conditions are just a few of the causes of the common illness known as high blood pressure. High blood pressure is most commonly caused by poor dietary habits, a lack of exercise, smoking, and excessive alcohol use.
Relationship Between Weight Loss and Blood Pressure
The interaction of genetic and lifestyle factors is what causes hypertension, a widespread medical issue worldwide. The role of excess weight and obesity in the development and worsening of high blood pressure cannot be overemphasized. The body's extra weight demands a higher blood flow to effectively sustain the extra tissue, resulting in increased pressure imposed against artery walls. This increased pressure strains the cardiovascular system, laying the groundwork for the beginning or progression of hypertension.
Furthermore, adipose tissue, generally known as fat, is more than just a passive storage unit. It is, rather, a dynamic, metabolically active entity with control over the body's complicated regulatory mechanisms. This includes the orchestration of hormones and molecules, particularly those managing blood pressure, that have the ability to upset the body's natural equilibrium. Adipose tissue's complicated relationship with hormonal signaling and its ability to upset established physiological norms show how important it is as a key part of the complex web that connects being overweight, changes in hormones, and the delicate balance of blood pressure regulation.
Benefits of Weight Loss on Blood Pressure
In the ongoing battle against the silent threat of high blood pressure, new evidence highlights the critical role that weight loss plays in reducing its negative effects. The complex relationship between weight and blood pressure has served as the inspiration for numerous scientific studies, which continue to show the amazing benefits that even a small reduction in body weight can have on cardiovascular health. This article digs into the significant influence of weight loss on blood pressure levels, elucidating the physiological reasons underpinning its beneficial effects.
High blood pressure, sometimes known as hypertension, is a global health concern that affects cardiovascular health. It is a condition that puts strain on the heart and blood vessels because of persistently high blood pressure against artery walls. This disorder is frequently the result of a genetic predisposition combined with lifestyle decisions, and it is the leading risk factor for heart disease, stroke, and renal dysfunction.
The relationship between hypertension, excess weight, and obesity is crucial to comprehending the intricate tapestry of hypertension. Scientific research has constantly revealed the compelling link between weight loss and blood pressure. As people embark on a weight-loss journey, a series of physiological changes occur, resulting in concrete improvements in blood pressure management.
Exploring the Advantages
Consider the heart to be a never-ending pumping engine that propels life-sustaining blood throughout the body's sophisticated network of blood capillaries. When excess weight remains, the workload of this critical organ increases. The heart is forced to work harder to meet the increased demands imposed by extra adipose tissue. Weight loss emerges as a ray of hope, allowing the heart to function more efficiently. As weight loss occurs, the heart's workload lowers, resulting in a noticeable drop in pressure imposed against the artery walls. This reprieve from overexertion results in a more harmonious circulatory system in which the heart can work efficiently without the constraints of extra weight.
Better Endothelial Function
The endothelium is the innermost layer of blood vessels, similar to the gossamer lining within a precious vessel. It serves as a watchdog for cardiovascular health, coordinating the delicate balance of blood vessel dilation and contraction. Excess weight can cast a shadow on this delicate ballet, compromising endothelial function and creating an environment favorable to the establishment of hypertension. Weight reduction, like a rejuvenating balm, restores the endothelium's ability to enable healthy blood flow. As weight loss occurs, the endothelium regains its flexibility, allowing for effective vasodilation and constriction. As a result, blood pressure returns to normal, and the cardiovascular symphony resumes with renewed vigor.
Increased Insulin Sensitivity
Obesity frequently coexists with insulin resistance, a complex interplay that can exacerbate blood pressure dynamics. Insulin resistance impairs the body's ability to use glucose properly, causing a chain reaction of metabolic dysfunction. Weight loss functions as a catalyst for change, sparking a shift that improves insulin sensitivity. Improved sensitivity makes the body's cells more susceptible to the call of glucose, increasing optimal consumption. As insulin sensitivity improves, the complicated web that connects blood pressure and metabolic homeostasis is rewoven, perhaps leading to a decrease in blood pressure levels.
Lowering of Inflammatory Markers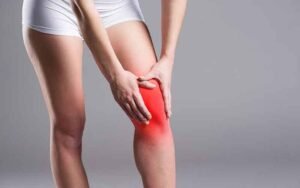 Excess weight causes an insidious undercurrent of persistent low-grade inflammation in the human body, which is a tapestry of interrelated systems. This hidden enemy, inflammation, can impair blood vessel integrity and raise blood pressure. Weight loss emerges as a strong foe, defusing the inflammatory ticking time bomb. With each pound lost, the body's inflammatory indicators recede, allowing for healthier blood vessels and lower blood pressure. The path to a leaner body culminates in a symphony of controlled inflammation, nourishing the cardiovascular system with a serenade of wellness.
Note: There might be affiliate links mentioned here. We may receive a commission if you purchase a product through an affiliate link. There is no additional charge for you. Please do your own research before making any online purchases.
The Way Forward: A Wellness Journey
The path to weight loss is highlighted in the pursuit of improved cardiovascular health by the science-backed benefits it confers on blood pressure management. However, this is not a sprint; it is a marathon that requires devotion, persistence, and a multidimensional approach. Adopting a balanced diet rich in whole foods, engaging in regular physical activity, controlling stress, and prioritizing sleep all contribute to a comprehensive approach for weight loss with high blood pressure.
Consulting Healthcare Professional
Seeking advice from healthcare professionals is essential before going on a weight loss journey, especially if you have high blood pressure or other health concerns. These professionals provide individualized guidance, recommending appropriate nutrition and exercise regimens based on your specific circumstances. Their supervision guarantees that your approach to weight loss with high blood pressure is in sync with your overall health goals. You may navigate your trip with precision by collaborating with these qualified guides, protecting both your well-being and your goal of a healthier weight.
Monitoring the Progress and Celebration of Success
Progress monitoring is the compass that directs you towards success in your journey of weight loss with high blood pressure. Monitoring your progress, like a diligent navigator, is a crucial activity that gives direction, accountability, and the drive needed to overcome obstacles and go on.
On this weight loss journey, your faithful companion will be a personal notebook. It acts as a canvas for you to paint the bright strokes of your daily choices on. Keep thorough records of your food intake, noting the quality and quantity of nutrients consumed. Documenting your exercise habits provides insight into the progress you're making and captures the time and effort you put into caring for your body. This record of your efforts becomes a powerful tool, highlighting patterns, areas for growth, and triumphant moments.
The importance of this notebook goes beyond the logistics of your weight loss journey. It becomes a mirror that reflects your journey, reminding you of the steps you've taken and the path you still have to travel. As the ink runs, it depicts not only your physical exertions but also your emotional terrain. It becomes a canvas for new insights, challenges overcome, and moments of resilience. Each submission is a monument to your dedication, a whisper of hope on days when motivation falters.
In the midst of this journey, pausing to rejoice becomes an act of respect for your hard-won accomplishments. Every accomplishment, whether it's the delight of losing a few pounds, attaining a fitness milestone you thought was unreachable, or noticing modest changes in your blood pressure readings, is a stepping stone towards your ultimate goals. Celebrations don't have to be elaborate; they can be as simple as treating yourself to a nutritious meal you've made or spending some quiet time to reflect on your dedication.
These tiny and frequent festivities act as beacons of hope. They serve as a reminder that your efforts are meaningful, your progress is visible, and your goals are within grasp. These joyful experiences fuel the fire of perseverance, strengthening your resolve to persevere even when problems emerge.
Progress tracking and celebration are the threads that weave together a story of perseverance and growth in the big tapestry of transformation. Allow your diary to be a conduit that carries your objectives and efforts as you traverse the intricacies of managing your weight and blood pressure. Allow festivities to serve as lighthouses, illuminating the route ahead and instilling meaning in your trip. With each documented stride and celebrated accomplishment, you honor your dedication to your well-being and build an indelible link between your current efforts and the better future you're constructing.
FAQs
What is high blood pressure, and why is it a health concern? 
High blood pressure, also known as hypertension, is a condition in which the force of blood against the artery walls is consistently excessive. This strain can cause artery damage, which can lead to major health issues such as heart disease, stroke, and renal failure.
How does being overweight affect blood pressure? 
Excess weight puts extra strain on the circulatory system, requiring the heart to work harder to provide blood to the extra tissue. This increased effort causes increased pressure on artery walls, which is a primary contributor to hypertension's development.
How are weight loss and blood pressure related? 
Even modest weight loss can drastically reduce blood pressure. It lessens the workload on the heart, improves blood vessel function, increases insulin sensitivity, and decreases inflammation, all of which contribute to better blood pressure regulation.
What is the relationship between blood pressure and the endothelium? 
The inner lining of blood vessels is known as the endothelium. Excess weight can affect its function, resulting in aberrant blood vessel dilatation and constriction. Weight loss promotes healthier blood flow and lowers blood pressure by restoring healthy endothelium function.
How does losing weight help with insulin sensitivity and blood pressure? 
Obesity is frequently associated with insulin resistance, a disease that can raise blood pressure. Weight loss increases insulin sensitivity, allowing cells to utilize glucose more efficiently, which can help lower blood pressure and support metabolic health.
Why is inflammation linked to obesity and high blood pressure? 
Excess weight produces persistent low-grade inflammation, weakens blood vessels, and increases blood pressure. Weight loss lowers inflammation markers, resulting in healthier blood vessels and lower blood pressure.
What are the practical advantages of speaking with a healthcare expert before losing weight? 
Healthcare specialists provide individualized advice based on your medical history, prescriptions, and pre-existing diseases. They guarantee that your approach to weight loss with high blood pressure is consistent with your overall health objectives and assist in mitigating potential dangers.
How can I effectively track my weight-loss progress? 
Keeping a journal that details your food consumption, exercise routines, and even blood pressure variations will help you along the way. It acts as a motivator, displaying trends and victories along the way.
Why is it vital to celebrate accomplishments throughout a weight loss journey? 
Celebrations provide encouragement and validation for your efforts. Celebrating these milestones, whether it's losing weight, reaching a fitness goal, or seeing better blood pressure readings, can enhance your confidence and determination.
How can you incorporate progress tracking and celebrations into a successful weight loss journey? 
Progress monitoring provides direction and accountability, while celebrations recognize your efforts. They work together to tell a story of perseverance and progress, inspiring you to persevere in the face of adversity and reinforcing your commitment to a healthier future.
Conclusion
Weight loss can help manage high blood pressure and lower the risk of related health issues. Individuals with hypertension can take care of their health and well-being by adopting a comprehensive weight loss strategy that includes a balanced diet, frequent physical activity, stress management, and appropriate sleep. Remember that attaining and maintaining a healthy weight is a journey that involves perseverance, consistency, and the assistance of medical specialists. With commitment and determination, you can make significant strides toward a healthier life with better control of your blood pressure.
Disclaimer: The information provided in this article is for educational purposes only and should not be considered as a substitute for medical advice. Consult a healthcare professional before implementing any home remedies or making significant changes to your lifestyle.