Easy and Effective Keto Diet Plan For Weight Loss
The keto diet, also known as the ketogenic diet, has grown in popularity in recent years because of its efficiency in weight loss and overall health improvement. This low-carb, high-fat diet has been shown to be a beneficial way to accomplish weight loss objectives while also providing a variety of other benefits.
Introduction
In this extensive article, we will go deeper into the specifics of the keto diet for weight reduction, examining how it works, and its multiple benefits, along with providing helpful tips on how to get started and stay successful with an easy keto diet plan for weight loss.
What Exactly is The Keto Diet?
The ketogenic diet is a dietary plan that emphasizes the consumption of healthy fats while limiting carbohydrate intake. The body is driven into a metabolic condition known as ketosis by dramatically lowering carbohydrates and boosting fat consumption. Ketosis is a natural process that occurs when the body's glucose supplies are depleted, resulting in fat breakdown and ketones synthesis. These ketones replace glucose as an alternate energy source for the body.
The keto diet's principal purpose is to convert the body from using carbohydrates for energy to using fats. When the body is in ketosis, it becomes extremely effective at burning stored fat for fuel. You can choose a keto diet plan to lose weight fast. This procedure not only aids in weight loss but also has several health benefits.
Weight Loss Advantages of Keto Diet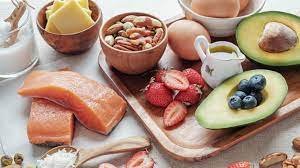 When you rely on ketones for weight loss, you gain many advantages. Some of the prominent benefits are listed below.
The keto diet's capacity to induce quick weight loss is one of its most significant advantages. You can opt for a keto diet plan to lose weight fast. The body is encouraged to enter a state of ketosis by decreasing carbohydrate intake and boosting fat ingestion, resulting in the efficient utilization of stored fat for energy. This can result in significant weight reduction, especially in the early stages of the diet.
Another advantage of following an easy keto diet plan for weight loss is that it suppresses hunger. The diet's high fat content keeps you satiated for extended periods of time, minimizing the desire to snack or overeat. This can help with diet adherence and, as a result, aid in weight loss.
Greater Insulin Sensitivity
Following a keto diet can improve insulin sensitivity, which is advantageous for people who have prediabetes or type 2 diabetes. The diet helps manage blood sugar levels and minimizes insulin surges by limiting carbohydrate intake. This can result in better blood sugar management and, in some cases, a reduction in the need for medication.
The keto diet helps the body switch from using glucose as its major fuel source to burning fat for energy. The body becomes a more efficient fat-burning machine when in ketosis. This can result in enhanced fat loss, especially in difficult places like the abdomen.
Unlike other diets that can cause muscle loss in addition to fat loss, the keto diet has been demonstrated to help preserve lean muscle mass. This is advantageous for both aesthetics and overall health, as muscle mass is essential for metabolism and physical function.
Many people experience enhanced energy levels and improved mental clarity after fully adapting diets to aid ketones for weight loss. This is due to the body's excellent use of fat as an energy source, which provides a consistent and maintained supply of fuel throughout the day.
Chronic inflammation has been linked to a variety of health problems, including obesity, heart disease, and certain types of cancer. When you choose ketones for weight loss, inflammation is reduced. The keto diet has been found to have anti-inflammatory properties, potentially lowering inflammation indicators and increasing overall health.
Keto Diet Plan for Weight Loss Beginners
Before starting the keto diet plan for weight loss beginners, talk with your doctor or a certified dietitian to see if it is right for you based on your individual health needs and objectives. Their knowledge will contribute to a safe and effective transition to this nutritional plan.
Following professional advice, the next stage is to start planning your meals. To be successful on the keto diet plan for weight loss beginners, you must prioritize healthy fats while avoiding high-carbohydrate foods. Avocados, almonds, seeds, olive oil, coconut oil, and fatty fish such as salmon and tuna are all excellent sources of healthy fats.
It is also critical to include a variety of low-carbohydrate vegetables in a keto diet plan for weight-loss beginners. Vegetables such as leafy greens, broccoli, cauliflower, zucchini, and bell peppers are low in carbs and high in critical vitamins and minerals, making it easier to meet daily nutrient requirements.
In addition to fats and vegetables, a sufficient amount of protein should be included in the keto diet plan for weight loss beginners. On the keto diet, good protein sources include poultry, fish, eggs, and plant-based protein alternatives like tofu and tempeh.
How Can You Quickly Enter Ketosis?
It takes time and varies from person to person to enter ketosis, the metabolic state in which your body burns fat for fuel. However, there are a few ways you can go into ketosis faster with an easy keto diet plan for weight loss:
Reduce Carbohydrate Consumption
To get into ketosis, you must drastically limit your carbohydrate intake. Aim for less than 50 grams of net carbs per day, or perhaps as little as 20–30 grams for a faster changeover. Consume low-carb, non-starchy vegetables while avoiding foods high in sugar, wheat, and starches.
Increase Consumption of Healthy Fats
If you have chosen a keto diet plan to lose weight fast, increase your consumption of healthy fats to provide your body with its major source of fuel. Include avocados, olive oil, coconut oil, nuts, seeds, and lean cuts of meat in your diet. Including healthy fats in your diet promotes ketone generation and aids in the transition to ketosis.
Moderate Protein Consumption
While protein is an important macronutrient, eating too much of it can interfere with ketosis. Protein should be consumed in moderation to maintain muscular mass and support bodily processes, but not in excess. Aim for 0.6–1.0 grams of protein per pound of lean body mass as a general guideline.
Intermittent Fasting (IF)
Intermittent fasting can speed up the process of entering ketosis. By increasing the duration between meals, you allow your body to deplete glycogen stores and transition more swiftly to fat burning. Consider fasting for 16–18 hours and condensing your meals into a shorter eating window.
Hydration is essential during the keto shift. Drinking enough water supports numerous biological functions and aids in the removal of pollutants. It is especially necessary to restore electrolytes because carbohydrate restriction might have a diuretic effect. Consider taking electrolytes or eating electrolyte-rich foods such as avocados and leafy greens.
Regular physical exercise can assist in depleting glycogen levels and accelerating the onset of ketones' effects on weight loss. To reap the most benefits, combine cardio and strength training routines in your program. However, bear in mind that your energy levels may fluctuate throughout the early phases of keto adaptation, so listen to your body and modify your workout intensity as needed.
Think About Exogenous Ketones
Exogenous ketones, such as ketone salts or ketone esters, might provide the body with a direct source of ketones, thereby accelerating the shift into ketosis. These supplements are not required for everyone, but they may be beneficial, especially in the early stages.
It's important to note that entering ketosis may cause temporary side effects such as fatigue, headaches, and brain fog, referred to as the "keto flu." These symptoms are usually transient and can be managed by staying hydrated, replenishing electrolytes, and giving your body time to adjust.
Remember that everybody is different, and the time it takes to enter ketosis can vary. Before making any big dietary changes, it's best to consult with a healthcare practitioner or a qualified dietician, especially if you have any underlying health disorders or concerns.
Foods to Avoid During Ketogenic Diet 
Certain foods must be eliminated from your diet to establish and sustain ketosis. Bread, pasta, rice, and potatoes, as well as sweet foods such as candies, pastries, and soda, are forbidden. Fruit consumption should be limited as well, as many fruits contain high levels of carbs. Instead, eat low-carbohydrate foods like berries and tiny amounts of citrus fruits.
Processed foods, quick foods, and any products containing added sugar or refined carbs should also be avoided. These foods can greatly impede keto diet success and prevent the body from entering or maintaining a state of ketosis.
Ketogenic Diet Success Tips
While following keto for weight loss, you need to consider the following things to make it successful:
Careful planning and preparation are required for long-term success on the keto diet. Preparing your meals and snacks ahead of time will help you avoid temptations and ensure that you are meeting all of your nutritional needs. To vary your meals and keep things interesting, consider researching and compiling a list of keto-friendly dishes.
While on the keto diet, it is critical to stay hydrated. Drink enough water throughout the day to improve your overall health, digestion, and satiety. Additionally, staying hydrated might help lessen some of the usual adverse effects of shifting to the keto diet, such as the "keto flu."
While on keto for weight loss, keeping track of your macronutrient consumption is critical. Aim for 70–75% of your daily calories to come from healthy fats, 20–25% from protein, and only 5–10% from carbohydrates. This will help you stay in ketosis and receive all of the benefits of the diet.
While food modifications alone can result in weight loss, including regular physical activity can improve your outcomes and general well-being. To enhance fat reduction, maintain muscle mass, and boost your metabolism, combine cardiovascular exercise and strength training with keto for weight loss.
Consider joining keto-specific online networks or support groups. Interacting with like-minded people can provide you with helpful insights, encouragement, and motivation during your ketogenic journey for weight loss. Sharing your progress and challenges with friends and family can also help build a good support system.
Finally, keep in mind that patience and endurance are essential components of the keto diet for weight loss. While it may be difficult at first, sticking to ketones for weight loss will get easier with time and experience. You will begin to see the multiple benefits of this strong weight loss strategy if you remain consistent and determined about following an easy keto diet plan for weight loss.
Note: There might be affiliate links mentioned here. We may receive a commission if you purchase a product through an affiliate link. There is no additional charge for you. Please do your own research before making any online purchases.
Sample Keto Diet Meal Plans
Let us share some meal plans to help you choose the easiest keto diet plan for weight loss according to your lifestyle.
Meal Plan 1
Scrambled eggs in olive oil with sautéed spinach and avocado slices for breakfast

Lunch: Grilled chicken breast with roasted broccoli and a mixed green salad with an olive oil and vinegar dressing.

Snack: Almonds. 

Dinner: baked fish with lemon butter sauce, steamed asparagus, and cauliflower rice.

For dessert, try sugar-free dark chocolate. 
Meal Plan 2
Breakfast: A low-carb protein powder smoothie mixed with unsweetened almond milk, spinach, avocado, and almond butter.

Tuna salad lettuce wraps with mayo, celery, and chopped pickles for lunch Serve alongside cucumber slices.

Snack: celery sticks dipped in cream cheese.

Dinner: grilled steak with sautéed mushrooms on the side and a Caesar salad (no croutons). Dessert: low-carb cheesecake with an almond flour crust and sugar-free sweetener. 
Meal Plan 3
Bacon and eggs with sliced tomatoes and avocado for breakfast

Lunch: pesto zucchini noodles (zoodles), cherry tomatoes, and grilled chicken. Snack: A protein bar that is keto-friendly.

Dinner: Baked chicken thighs with garlic butter, paired with roasted Brussels sprouts and an olive oil and lemon juice-dressed side salad.

Dessert: Chia pudding with coconut milk and fresh berries
Meal Plan 4
Keto pancakes cooked with almond flour and topped with sugar-free syrup and a dab of whipped cream for breakfast With bacon on the side, serve.

Lunch: spinach salad with grilled shrimp, cherry tomatoes, feta cheese, and olive oil drizzle. Cucumber slices with guacamole for a snack

Dinner: Baked fish in a lemon-dill sauce, served with steamed broccoli and cauliflower mash.

Keto-friendly almond flour cookies for dessert. 
Meal Plan 5
Keto-friendly crustless quiche with eggs, spinach, mushrooms, and cheese for breakfast

Lunch: Grilled chicken Caesar salad with romaine lettuce, Parmesan cheese, and homemade Caesar dressing (prepared with keto-friendly mayonnaise and anchovy paste).

Snack: Sliced cucumbers with ranch dressing on the side.

Dinner: Baked cod fillets in a lemon-butter sauce, served with steamed broccoli and a salad of mixed greens.

Sugar-free gelatin with whipped cream for dessert
 Meal Plan 6
Keto-friendly coconut flour pancakes with sugar-free maple syrup and sliced strawberries for breakfast

Lunch: Stir-fry beef with low-carb vegetables (bell peppers, broccoli, and snow peas) cooked with coconut aminos or soy sauce.

Snacks: hard-boiled eggs

Grilled lamb chops with roasted Brussels sprouts and cauliflower purée for dinner Keto-friendly peanut butter fat bombs for dessert. 
Meal Plan 7
Smoked salmon and cream cheese roll-ups with cucumber slices for breakfast

For lunch, make a taco salad using seasoned ground beef, shredded lettuce, diced tomatoes, shredded cheese, guacamole, and sour cream instead of tortilla chips.

Dinner: Baked chicken thighs with a Parmesan and almond flour crust, accompanied by steamed asparagus and a side salad.

For dessert, make a keto-friendly chocolate mousse with heavy cream, cocoa powder, and a sugar alternative.
Remember to tailor your portion sizes and macronutrient ratios to your individual dietary needs and goals. These meal plans are intended to give you a rough concept of how to structure your meals on a keto diet, but feel free to tweak and adjust them to suit your preferences and needs. Make assessments in the keto diet plan to lose weight fast as per your needs.
FAQs
Is the keto diet good for losing weight?
Yes, the keto diet works for weight loss by increasing fat burning and decreasing appetite.
What exactly is ketosis?
Ketosis is a metabolic state in which the body uses fat as its major energy source rather than carbs.
Does the keto diet aid in the preservation of muscular mass?
Yes, unlike other diets, the keto diet has been demonstrated to maintain lean muscle mass while losing weight.
Does the keto diet boost insulin sensitivity?
Yes, the keto diet can improve insulin sensitivity, making it useful for people with type 2 diabetes or prediabetes.
How does the ketogenic diet help to lower inflammation?
The keto diet has anti-inflammatory qualities, which can aid in the reduction of inflammation markers and the improvement of overall health.
What should a keto diet plan for weight loss include?
Healthy fats, low-carbohydrate vegetables, and enough protein sources should all be included in a keto diet plan.
How can I enter ketosis more quickly?
Reduce carbohydrate consumption, increase healthy fat intake, practice intermittent fasting, and keep hydrated to enter ketosis faster.
What are the most typical negative effects of going into ketosis?
Fatigue, headaches, and brain fog are common side effects known as the "keto flu," and they are usually transitory.
What foods should I avoid while following a ketogenic diet?
Bread, pasta, rice, sweets, and processed foods with added sugars or refined carbs should be avoided.
How can I ensure keto diet success?
Meal planning, staying hydrated, managing macronutrients, engaging in physical activity, and finding help from online networks or support groups are all success tips.
Conclusion 
The keto diet is a highly successful method for losing weight and improving general health. Individuals can induce ketosis and drive the body to use fat as its primary source of energy by following a low-carb, high-fat diet.
The keto diet's advantages go beyond weight loss and include improved blood sugar control, lower blood pressure, reduced inflammation, and potential benefits for certain neurological diseases. Individuals can embark on a successful keto journey that puts them closer to their weight loss objectives and improves their overall well-being by consulting with healthcare specialists, carefully planning meals, avoiding high-carbohydrate foods, and following important success recommendations.
Disclaimer: The information provided in this article is for educational purposes only and should not be considered as a substitute for medical advice. Consult a healthcare professional before implementing any home remedies or making significant changes to your lifestyle.