How to Lose Weight with Hypothyroidism
Hypothyroidism is a condition characterized by an underactive thyroid gland, which results in a decrease in thyroid hormone production. Thyroid hormones, including triiodothyronine (T3) and thyroxine (T4), are critical in regulating the body's metabolism. When these hormones are not produced in sufficient quantities, the metabolism slows, leading to a variety of symptoms such as weight gain, weariness, sadness, and constipation.
Introduction
The thyroid gland, located in the front of the neck, regulates several body functions, including metabolism, growth, and development. It secretes hormones that aid in the regulation of the pace at which cells turn food into energy. In hypothyroidism, the thyroid gland does not generate enough hormones, resulting in a decrease in metabolic activity.
If you are looking for the best ways to lose weight with hypothyroidism, you have just arrived at the right place. Keep reading to get your answers.
Hypothyroidism and Weight Gain
Weight gain is a typical sign of hypothyroidism and can be discouraging for people who are trying to shed weight. A sluggish metabolism caused by an underactive thyroid results in fewer calories burned at rest. Excess calories are thus stored as fat, resulting in weight gain. Furthermore, hypothyroidism can result in water retention, which contributes to weight gain and bloating.
It is crucial to realize that while hypothyroidism might make losing weight more difficult, it is not impossible. Individuals with hypothyroidism can still lose weight if they use the appropriate remedies for hypothyroidism and weight loss.
Dietary Considerations During Hypothyroidism
A well-balanced diet is considered one of the most crucial ways to lose weight with hypothyroidism. Consuming nutrient-rich foods can aid in metabolic optimization and healthy weight management. Here are some food suggestions for people seeking suitable dietary choices to handle weight loss with thyroid issues
Adequate Protein Consumption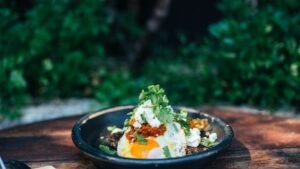 Protein is a necessary macronutrient that aids in the formation and repair of tissues, promotes muscle growth, and adds to a sensation of fullness. Incorporating lean protein sources like poultry, fish, lentils, and tofu into your diet can help enhance metabolism and aid in weight loss.
Healthy Fats
Including healthy fats in your diet is beneficial to your general health and weight management. Choose unsaturated fat sources such as avocados, nuts, seeds, and olive oil. These fats offer one of the best ways to lose weight with hypothyroidism because they provide critical nutrients and aid in keeping you full.
Fiber Rich Foods
Eating enough fiber is essential for controlling digestion and increasing feelings of fullness. Include fruits, vegetables, whole grains, and legumes in your diet to obtain enough fiber. Fiber-rich meals are also lower in calories, which can help with weight loss.
Foods High in Iodine
Iodine is an essential ingredient for thyroid function. Iodine-rich foods, such as seaweed, iodized salt, salmon, and dairy products, can help maintain thyroid health. However, excessive iodine consumption can be dangerous; therefore, moderation is essential.
Reduce Consumption of Processed Foods and Added Sugars
Processed foods and added sugars can lead to weight gain and inflammation. These foods frequently lack vital nutrients and may result in an increase in calorie intake. When possible, choose whole, unprocessed foods and limit your sugar intake.
Remember that speaking with a healthcare practitioner or registered dietitian who can provide individualized dietary recommendations based on your specific needs and medical history is always a smart option to determine the best ways to lose weight with hypothyroidism.
Exercises to Lose Weight with Hypothyroidism

Regular exercise is essential for weight loss with thyroid issues, and it can be especially useful for people with hypothyroidism. Exercise improves insulin sensitivity, boosts metabolism, and improves general well-being. Here are some exercises to lose weight with hypothyroidism that can be considered to add to your routine:
Begin Cautiously
If you're new to fitness or have been sedentary for a long time, begin exercises for hypothyroidism to lose weight cautiously and gradually increase their intensity and duration. This method allows your body to adapt while lowering the risk of overexertion or damage.
Combine Cardiovascular and Strength Training
Combining cardiovascular workouts like brisk walking, jogging, cycling, or swimming with strength training exercises will produce the best weight loss outcomes. Cardiovascular activity burns calories, whereas strength training increases lean muscle mass, which can raise metabolism.
Think About Low Impact Activities
Hypothyroidism can cause joint pain or muscular stiffness. Low-impact workouts such as yoga, Pilates, or water aerobics can be softer on the joints while still providing the benefits of physical activity in such circumstances.
Pay Attention to Your Body
Notice how your body reacts to activity. If you feel too tired or have chronic muscle pain, it may be an indication that you need to reduce your intensity or take rest days. Proper recuperation is necessary for your body to repair, adapt to exercise, and yield the desired results from remedies for hypothyroidism and weight loss.
Maintain Consistency
When it comes to exercise and weight loss, consistency is essential. Aim for at least 150 minutes of moderate-intensity aerobic activity per week or 75 minutes of vigorous-intensity aerobic activity per week, as well as two or more days of strength training exercises per week. Find activities that you enjoy and incorporate them into your daily routine.
Remember to check with your doctor before beginning new exercises for hypothyroidism to lose weight, especially if you have any underlying health conditions or concerns.
Function of Sleep in Hypothyroidism
Adequate sleep is critical for overall health and well-being, including weight control. Individuals with hypothyroidism, on the other hand, may experience sleep problems. Here are some of the reasons why sleep should be prioritized:
Hormonal Regulation
Sleep is essential for hormonal regulation, which includes hormones involved in hunger control. Sleep deprivation can disturb hormone balance, leading to increased hunger and cravings and an increased risk of overeating.
Energy Levels
One of the most prevalent symptoms of hypothyroidism is fatigue. Getting adequate, quality sleep will help you recharge your energy and fight exhaustion during the day. You are more likely to engage in physical exercise and make healthier dietary choices when you are well-rested.
Stress Reduction
Lack of sleep can increase stress levels, which can impair weight management. Stress causes the release of cortisol, a hormone linked to weight gain, particularly in the abdomen area. Prioritizing sleep can help reduce stress and aid weight loss efforts.
To improve sleep quality, do the following:
Create a consistent sleep schedule by going to bed and getting up at the same time every day.

Establish a soothing sleep routine to communicate to your body that it is time to unwind. This could include reading, taking a warm bath, or practicing relaxation techniques.

Make your bedroom sleep-friendly by keeping it dark, quiet, and at a suitable temperature.

Limit your exposure to electronic gadgets, especially before bedtime, because the blue light emitted by displays can disrupt your sleep.

Avoid caffeine use and stimulating activities close to bedtime.
If you continue to have sleep difficulties, you should see a healthcare expert for further examination and guidance.
Stress Management During Hypothyroidism
Stress can have a substantial impact on weight loss efforts, especially in hypothyroid patients. Chronic stress causes the release of cortisol, a hormone that can cause weight gain, particularly in the abdomen. Stress management is critical for weight loss with thyroid issues. It is counted among the best ways to lose weight with hypothyroidism.
Here are some stress-reduction remedies for hypothyroidism and weight loss:
Mindfulness and Meditation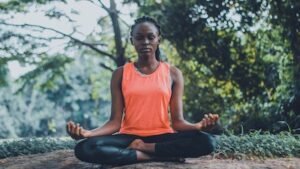 Mindfulness and meditation practice can help reduce stress and increase relaxation. Focusing your attention on the present moment allows you to let go of nervous thoughts and fears.
Yoga or Tai Chi
Gentle, low-impact exercises such as yoga or Tai Chi integrate physical movement with mindfulness and deep breathing, providing a comprehensive approach to stress management.
Deep Breathing Techniques
Deep breathing techniques, such as diaphragmatic breathing or belly breathing, can stimulate the body's relaxation response and aid in stress management.
Engage in Relaxing Activities
Look for activities that will help you unwind and relax. This could be taking a bath, reading a book, listening to soothing music, or engaging in an enjoyable pastime.
Seek Help
Speaking with a trustworthy friend, family member, or therapist can provide emotional support and help relieve tension. Sharing your worries and emotions can frequently bring a new perspective and insights into stress management.
It is critical to remember that stress management techniques are highly personalized, and what works for one person may not work for another. Investigate several stress management and weight loss tactics to see what works best for you.
Note: There might be affiliate links mentioned here. We may receive a commission if you purchase a product through an affiliate link. There is no additional charge for you. Please do your own research before making any online purchases.
Medication as a Hypothyroidism Treatment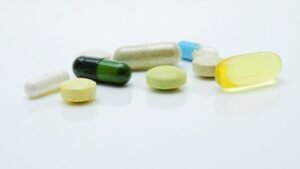 The primary treatment for hypothyroidism is medication. Thyroid hormone replacement therapy involves supplementing the body's low hormone levels with synthetic thyroid hormones, often in the form of levothyroxine. Here's how medication can help you lose weight:
Restoring Hormonal Balance
Thyroid hormone replacement therapy aids in the restoration of T3 and T4 hormone balance in the body. Medication promotes regular metabolic functioning, which is critical for weight management, by delivering the required hormones.
Boosting Metabolism
Thyroid hormone levels must be high enough for a healthy metabolism. Medication aids in metabolic optimization, allowing the body to burn calories more efficiently.
Increased Energy
Hypothyroidism can lead to lethargy and poor energy levels, which can stymie weight loss efforts. Medication can help ease these symptoms by boosting thyroid function, allowing people to engage in physical exercise and live an active lifestyle.
It is critical to take medicine as directed by your healthcare provider and to have regular check-ups to monitor thyroid hormone levels and, if required, alter medication dosage. Thyroid function can alter over time, and regular testing ensures that medicine continues to be beneficial in assisting with weight loss and overall well-being.
Supplements to Treat Hypothyroidism
Individuals with hypothyroidism may benefit from vitamins, but it is critical to contact a healthcare expert before beginning any new supplements. Here are several supplements that have been linked to improved thyroid function:
Selenium
Selenium is a mineral that is necessary for thyroid hormone metabolism. It is an antioxidant that aids in the conversion of T4 to T3 hormones. However, excessive selenium use can be dangerous; therefore, it's advisable to contact a healthcare practitioner for proper dosing.
Zinc
Another mineral that aids thyroid function and hormone production is zinc. It participates in the conversion of T4 to T3 hormones and helps to maintain appropriate immunological function. Adequate zinc levels are critical for thyroid health.
Vitamin D
A lack of vitamin D has been linked to autoimmune thyroid illnesses, which can lead to hypothyroidism. Vitamin D supplementation may help promote thyroid function, especially in people who have low amounts of this vitamin. However, it is critical to get your vitamin D levels checked before beginning supplementation, as too much vitamin D can be harmful.
It's critical to remember that supplements should not be used in place of thyroid hormone replacement treatment or medication recommended by a doctor. They should be viewed as complementary and used under the supervision of a specialist.
Herbal Treatment for Weight Loss for Hypothyroidism Patients
It is crucial to remember that herbal remedies for hypothyroidism and weight loss should not be used in place of medical treatment or medicine for hypothyroidism. However, when combined with a healthy lifestyle, certain herbal medicines may help with weight loss and thyroid issues.
Here are a few plants that have traditionally been used for weight loss:
Ashwagandha
Ashwagandha is an adaptogenic herb that may aid with thyroid function and hormone regulation. It can also help with stress reduction and energy levels, which can help with weight loss efforts. Individuals with hypothyroidism, on the other hand, should seek the advice of a healthcare practitioner before consuming ashwagandha, as it may interact with certain drugs or worsen symptoms in some situations.
Bladderwrack
Bladderwrack is a form of seaweed high in iodine, a nutrient required for thyroid function. It could aid in thyroid hormone production and metabolism. However, it is recommended to use bladderwrack with caution because too much iodine can be dangerous. Before integrating bladderwrack into your routine, consult with a healthcare expert.
Guggul
Guggul is a resin derived from the Commiphora mukul tree that has been used in Ayurvedic medicine to help with weight loss. It may aid in thyroid function and metabolic rate improvement. Guggul also contains anti-inflammatory qualities that may be beneficial to hypothyroid patients. However, before using guggul, consult with a healthcare practitioner because it may interfere with some drugs.
Green Tea
Green tea contains antioxidants and substances such as catechins, which have been linked to improved fat oxidation and metabolism. It may help with weight loss by increasing metabolism and aiding in fat burning. Other health benefits of green tea include increased brain function and a lower risk of chronic diseases.
Turmeric
Turmeric includes curcumin, an active chemical with anti-inflammatory and antioxidant properties. While it may not immediately contribute to weight loss, lowering inflammation in the body can help with general health and may help with weight control.
Before utilizing any herbal therapies, it is critical to check with a healthcare professional, such as a naturopathic doctor or herbalist, especially if you have hypothyroidism or are on medication for it. They can advise you on suitable dosages and potential interactions and keep track of your progress.
Remember that herbal therapies should only be used as a supplement to medical treatment or prescribed medication for hypothyroidism. Prioritizing a holistic strategy for weight management, including a balanced diet, regular exercise, adequate sleep, stress management, and medical monitoring, is critical.
FAQs
Can hypothyroidism make losing weight difficult?
Yes, hypothyroidism can cause metabolism to slow, making weight loss more difficult.
What dietary changes can aid in weight loss and hypothyroidism?
A well-balanced diet that includes enough protein, healthy fats, fiber-rich foods, and iodine-rich foods can help you lose weight.
Can exercise help with weight loss in hypothyroidism?
Exercise that combines cardiovascular and strength training on a regular basis can enhance metabolism and aid in weight loss.
What effect does sleep have on weight loss in hypothyroidism?
Adequate sleep aids in hormone regulation, enhance energy levels, reduces stress, and aids in weight control.
Does stress have an effect on weight loss in hypothyroidism?
Stress can sabotage weight reduction by raising cortisol levels. Stress-reduction practices such as mindfulness, yoga, and deep breathing can be beneficial.
Is medicine required for weight loss in hypothyroidism?
Thyroid hormone replacement therapy, for example, restores hormonal balance, enhances metabolism, and increases energy levels.
Can supplements help hypothyroid patients lose weight?
Supplements such as selenium, zinc, and vitamin D may help with thyroid function, but they should only be used under the supervision of a doctor.
Are there any herbal remedies for weight loss in hypothyroidism?
Some herbs, such as ashwagandha, bladderwrack, guggul, green tea, and turmeric, may help with weight loss; however, before using them, visit a healthcare expert.
Is it possible to lose weight while hypothyroid?
Weight loss is possible with a holistic strategy that includes nutrition, exercise, sleep, stress management, medication, and professional advice.
What is the key to weight loss success with hypothyroidism?
Patience, determination, and a dedication to a healthy lifestyle, as well as personalized counsel from healthcare professionals, are essential for success.
Conclusion
Losing weight while hypothyroid is difficult, but it is doable with the correct lifestyle modifications and support. A nutrient-dense diet, regular exercise, proper sleep, stress management, and medication adherence can all contribute to weight loss and improved overall health.
While hypothyroidism may hinder weight loss efforts, it is critical to approach weight management holistically and with reasonable goals. Consult with healthcare specialists, such as your primary care physician, an endocrinologist, or a qualified dietitian, who can provide tailored advice based on your unique requirements.
Remember that patience and persistence are essential. It may take some time to find the ideal combination of techniques for you. Individuals with hypothyroidism can reach their weight loss objectives and enhance their overall well-being by committing to a healthy lifestyle.
Disclaimer: The information provided in this article is for educational purposes only and should not be considered as a substitute for medical advice. Consult a healthcare professional before implementing any home remedies or making significant changes to your lifestyle.