Your Comprehensive Guide For the Best Weight Loss Teas
Many people would like to lose weight, but doing so might be difficult. The increasing cases of overweight and obesity can be attributed partially to the modern lifestyle, which is characterized by inactivity, easy access to poor food options, and high levels of stress.
Introduction
Now people have started looking for healthy ways to lose weight and enhance their health and teas have emerged as a popular choice. 
Rise of Popularity Teas for Weight Loss
In recent years, there has been a lot of buzz about weight-loss teas as a possible option. There are many people who are interested in using these teas because they are promoted as a simple and natural solution to aid in weight loss. Weight loss teas have entered the market as an apparently affordable and healthful option, riding the wave of interest in herbal cures and natural products.
The goal of this article is to provide readers with a thorough understanding of weight loss teas, including their advantages, hazards, and factors to consider when making a purchase. Our goal is to provide a fair assessment of the best teas for weight loss by examining the evidence from studies, anecdotes from real people who have used them, and commentary from experts. This article will provide a comprehensive look at the best tea to drink for weight loss by dividing the subject into distinct sections.
What are Weight Loss Teas?
Let us help you with crucial insights for your search for the best tea for weight loss.
Definition of Weight Loss Teas
Herbal infusions promoted as aids for weight loss are often called as weight loss teas, slimming teas, or diet teas. Herbs, fruits, and spices are just some of the natural ingredients that are required for the preparation of these teas, all of which are thought to have qualities that aid with weight management. Weight loss teas that work fast use these ingredients because of their potential to aid the body's metabolic processes and boost the weight loss rate.
Typical Components of Teas Promoted for Weight Loss
Many substances with possible benefits for metabolism, digestion, and hunger are incorporated into weight-loss teas. The following are examples of commonly used ingredients: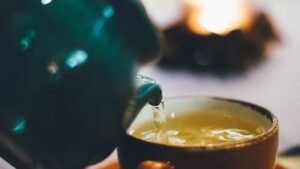 Green Tea: Green tea is a popular ingredient in weight-reduction drinks since it is made from the Camellia sinensis plant. It contains a lot of catechins, especially epigallocatechin gallate (EGCG), which may help with weight loss because it boosts fat oxidation and thermogenesis.
Oolong: Oolong tea is a partially fermented tea that is intermediate in oxidation level between black tea and green tea for weight loss. It has ingredients that have been shown to increase metabolic rate and stimulate fat burning. Oolong tea's polyphenols have been linked to higher metabolic rates and fat burning, which could make it useful for weight loss.
Ginger: Ginger is a popular spice that has been shown to have thermogenic characteristics, making it a popular addition to teas aimed at weight loss. It has been hypothesized that ginger can aid in weight management by increasing energy expenditure and fat burning.
Dandelion: Due to its diuretic characteristics, dandelion is a popular ingredient in herbal teas for weight loss. It may aid with temporary weight loss by getting rid of extra water weight and reducing bloating.
Hibiscus: The hibiscus flower, known for its diuretic properties, is a common ingredient in teas marketed for weight loss. In addition, hibiscus tea may have a slight effect on weight control and is linked to better lipid profiles.
Herbal Ingredients and Their Importance for Weight Loss
The herbs used in weight-loss teas are selected for their purported capacity to hasten the process of losing weight. Unfortunately, studies proving the effectiveness of these herbal teas for weight loss are generally scant. Extracts and isolated components are often used in research in place of whole herbs. This is why it's important to view the claims made for the best teas for weight loss with skepticism and in the broader context of the scientific literature in this area.
How Does Tea Help in Weight Loss?
Let us understand how tea helps with weight management to determine the best tea to drink for weight loss.
Increasing metabolic rate is one of the claims made for herbal teas for weight loss. Green and oolong teas, for example, both include chemicals that have been linked to increased fat burning and a faster metabolic rate. Weight reduction teas could help with diet and exercise by increasing the amount of calories the body burns during rest.
Appetite suppressants are a common selling point for the best teas for weight loss, which promise to cut down on food cravings while making you feel full. The benefits of substances like ginger and green tea on appetite have been well documented. However, the magnitude and consistency of these effects may differ from person to person, so more study is required to confirm their usefulness.
Increased Digestive Efficiency
Ingredients with possible digestive advantages can be found in several herbal teas for weight loss. For instance, some people use ginger to help with digestion and stomach pain. Weight loss teas may cause a short-term loss of weight by improving digestion, which in turn reduces bloating and water retention.
There are teas that claim to aid in weight loss by detoxifying the body of harmful substances. Dandelion and hibiscus are two common herbs used in detox drinks because of their purported ability to aid the body's elimination of toxins. The efficiency of these teas in removing toxins, however, remains a subject of discussion because the concept of detoxification in this context is not scientifically well-defined.
Since many diet teas contain fewer calories than drinks like soda and juice, they may be a good choice for those watching their weight. A calorie deficit, which is necessary for weight loss, can be created when people swap sugary or calorie-dense drinks for weight-loss teas that work fast. 
It's worth noting that the scientific evidence supporting the effectiveness of weight loss teas is sometimes scant and inconclusive, despite the fact that they might have certain advantages. It is difficult to properly interpret findings from studies on the specific constituents of weight loss teas because these studies typically employ high doses or isolated chemicals. More study is required to determine the effectiveness and processes of the best teas for weight loss.
Note: There might be affiliate links mentioned here. We may receive a commission if you purchase a product through an affiliate link. There is no additional charge for you. Please do your own research before making any online purchases.
Risks Related to Weight Loss Teas
Some risks related to weight loss teas are as follows:
Teas with natural diuretics like dandelion or hibiscus are considered among the best teas to drink for weight loss, but drinking too much of them might cause you to lose your fluid balance and become dehydrated. If you drink tea, make sure to drink enough water, too, to avoid dehydration and its negative effects.
Nausea and Abdominal Pain
When taken on an empty stomach or in high quantities, certain herbal teas for weight loss have been linked to gastrointestinal distress, including nausea and vomiting. The presence of potent herbal components or their potentially irritating effects on the gastrointestinal tract are commonly cited as the causes. To determine individual tolerance and reduce the possibility of stomach pain, it is recommended to start with smaller servings of the best teas for weight loss and gradually increase the intake.
Weight-loss teas may alter the metabolism, absorption, or effectiveness of medications. Catechins, one of the substances present in tea, have been shown to inhibit enzymes necessary for drug metabolism, resulting in altered drug concentrations in the blood. If you are currently taking any drugs, it is essential to check with your doctor to find the best tea to drink for weight loss according to your routine to rule out any interactions or harmful effects.
Absence of Industry Regulation
Some of the weight loss teas on the market may not be safe or up to par with other products because the sector is not highly regulated. To be sure you're buying a safe and effective herbal tea for weight loss, do some research on the manufacturer and distributor of the product you're considering.
Reliance on Tea for Weight Loss
There is a danger in relying too heavily on weight-reduction teas as an alternative to making healthy lifestyle adjustments. In the long run, it might be counterproductive to your weight management efforts to rely entirely on weight loss teas without also making changes to your eating habits, amount of exercise, and other aspects of your daily life. It's important to incorporate the best teas for weight loss as one component of a larger weight loss regimen that also includes healthy eating and frequent exercise.
Weighing the Pros and Cons
It is important to consider the hazards and limitations of weight loss teas along with their possible benefits. Weight loss teas that work fast for one person may not be appropriate for another when it comes to weight reduction drinks. Teas for weight loss can be helpful, but they are not a silver bullet, and you should go into them with reasonable expectations. Individuals can prioritize their health by making educated decisions about their use of weight loss teas after being made aware of the risks associated with their use.
How to Choose the Best Teas for Weight Loss
Keep the following aspects in consideration while choosing the best herbal tea for weight loss:
Choosing the Right Tea is Crucial
Choosing the best weight loss tea is essential for safety, efficiency, and satisfaction. It can be difficult to decide between all the available possibilities. You can consider a few things mentioned below.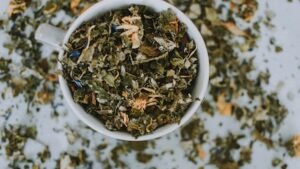 Natural Components: Choose a weight-loss tea that emphasizes natural components. Don't drink teas that have been overly processed or sweetened with chemicals. Natural nutrients have a better chance of preserving the beneficial components that help weight loss, and they're healthier to boot.
Caffeine Sensitivity: Some weight loss teas, such as green tea, contain caffeine, which may cause nervousness or sleep problems, among other negative effects. If you're sensitive to caffeine or just want to cut back, try switching to decaf or drinking a low-caffeine tea.
Check Reviews: Read reviews to learn about other people's experiences, both positive and negative, with various weight loss teas. However, use caution when assessing reviews, and keep in mind that opinions and experiences may naturally vary.
Preexisting Health Conditions: If you have any preexisting health concerns or are currently taking any drugs, you should talk to your doctor before adding weight loss teas to your routine. They can tailor recommendations to your unique situation and help you decide if herbal teas for weight loss are a good fit for your program.
Complementing Weight Loss Tea with Other Measures: Remember that weight-loss teas should not be used alone. Weight loss that lasts requires a multifaceted strategy that incorporates working out regularly, eating healthily, managing stress, and getting enough sleep. Instead of relying solely on weight loss teas that work fast, try incorporating other healthy habits into your daily routine.
Analyzing Well-Known Teas for Weight Loss
Let's have a look at the pros and cons of a few popular teas for weight loss to help you make up your mind:
Green tea's putative metabolism-boosting and antioxidant effects have made it a popular beverage. Increased fat oxidation and thermogenesis have both been linked to its high catechin content, especially EGCG. If you want the health benefits of green tea without the risks of pesticide residues, look for organic, high-quality green tea for weight loss.
Oolong tea, a type of fermented tea, has been shown to increase metabolism and fat burning. It has polyphenols, which may aid in weight loss by increasing metabolic rate. If you want good results, get oolong tea leaves from a recognized brand.
Ginger Tea: Ginger tea has been shown to help digestion and ease stomach upset. Possible thermogenic effects include a modest increase in energy consumption. Try either an all-ginger tea or one that combines ginger with other herbs and spices.
Dandelion Tea: Due to its diuretic characteristics, which can aid in reducing water weight and bloating, dandelion tea is frequently used in weight-reduction drinks. Dandelion tea is generally safe for most people; however, those with renal or gallbladder problems should use it with caution. Make sure the dandelion root in your tea comes from a reliable source.
Hibiscus Tea: This brightly colored tea may help flush excess fluids out of the system because of its diuretic properties. In addition to perhaps helping your heart, it may also have a little effect on your weight. If you want the finest effects, choose hibiscus tea that is brewed entirely from dried hibiscus flowers.
There are many more weight-reduction teas and blends on the market, each with its own set of constituents and possible advantages. You can limit your selections by doing some research depending on your tastes, finding weight loss teas that work fast, and then consulting reviews and recommendations from reliable sources.
Weight Loss Teas: Analyzing the Science Behind Them
Let us understand the scientific aspects behind the functionalities of weight loss teas.
An understanding of metabolism and its function in weight management is crucial for appreciating the possible benefits of weight loss teas. Metabolism is the intricate series of biochemical reactions that take place in the body to transform nutrients into usable energy. The term "metabolic rate" is used to describe the rate at which these activities occur, and it varies from person to person.
How Tea Affects Your Metabolism
Green tea's catechins, for example, have been linked to a sped-up metabolism and improved weight loss efforts. Catechins in green tea for weight loss, and especially EGCG, have been demonstrated in multiple studies to boost metabolic rate and fat burning. It's worth noting, though, that the effects may vary from person to person and that the overall influence on metabolism is rather small.
Analysis of Tea's Primary Components: Polyphenols and Catechins
Tea, notably weight-loss teas, contains bioactive substances such as polyphenols and catechins, which may contribute to the beverage's purported health benefits. These chemicals have been linked to increased fat metabolism, reduced inflammation, and bolstered antioxidant defense, all of which are physiological effects connected with their antioxidant characteristics. However, the levels of these chemicals may vary from tea to tea, depending on factors like processing and brewing.
How Tea Affects Your Hunger Pangs
Appetite suppressants, like those found in many weight-loss teas, work to curb food cravings and increase satiety. There is conflicting evidence as to whether or not the catechins and caffeine found in tea can help curb hunger. Factors like heredity, regular tea consumption, and overall food composition may influence the effects of tea on appetite, which can differ from person to person.
Ginger and dandelion root, two common constituents in herbal tea for weight loss, are said to aid digestion and soothe stomach upset. Both ginger and dandelion have historical uses as digestive aids and nausea remedies, respectively, while dandelion may also have diuretic properties. More research is needed to determine the precise mechanisms of action and the magnitude of these effects in weight-loss teas.
Teas that promise to help you lose weight by detoxing your body are all the rage these days. The manufacturers of these beverages say that drinking them will help you lose weight and cleanse your body of harmful substances. But we must treat this assertion with extreme caution. There is scant scientific evidence supporting the claim that weight loss teas have major detoxifying effects since the body's normal detoxification processes largely involve the liver, kidneys, and other organs.
Preliminary studies, animal studies, or small-scale human trials make up a large portion of the scientific literature on weight loss teas, which is still in its infancy. More extensive and high-quality research is required to reach firm conclusions about the best teas for weight loss and the effects of tea compounds on metabolism and weight management. The composition of the tea, the dosage, and the individual's features can all affect how well the tea works for weight loss.
The scientific research behind weight loss teas that work fast sheds light on their probable mechanisms and effects on metabolic rate, hunger, digestion, and detoxification. Recognizing the limitations of the available scientific evidence, it is prudent to treat weight loss teas as merely one component of a well-rounded weight loss strategy.
How to Start Drinking Weight-Loss Tea Every Day
Here are some crucial tips to help you incorporate the best tea to drink for weight loss into your daily routine.
Know what you hope to accomplish with your weight reduction before you start drinking weight loss teas. Think about where you are now, where you want to be, and what you can reasonably expect to achieve. Think about your current health, lifestyle, and any dietary or medical restrictions you may have to lose weight.
When incorporated into a larger weight loss strategy, weight loss teas can be helpful. Create a routine that includes healthy eating, exercise, stress reduction, and plenty of sleep. This all-encompassing strategy is crucial for long-term weight loss and health. To develop a weight loss strategy tailored to your specific requirements and goals, you may want to seek the advice of a certified dietitian or other healthcare professional.
Tips for Using Weight-Loss Teas
Here are some things to keep in mind when deciding to add the best tea to drink for weight loss to your daily routine:
Determine the Best Time: Based on your preferences and routine, choose the best time of day to drink your weight-loss tea. While some people swear by their morning cup of tea to jump-start their day, others swear by their evening or nighttime cup.
Gradual Start: Start slow and easy by drinking weight-loss teas in moderation. You should test your tolerance and responsiveness by starting with a smaller dose and increasing it over time. Be aware of any unpleasant sensations during your quest to find weight loss teas that work fast and make necessary adjustments.
Careful Preparation: Pay attention to when you consume weight-loss teas and how you prepare them. If you want to get the most out of the tea's health benefits, brew it according to the directions. Keep in mind that the flavor and any health benefits can be affected by the steeping time and water temperature.
Experiment with adding other natural components to your weight-loss teas to alter their flavor and possibly increase their effectiveness. If you want to increase the health benefits and overall enjoyment of your beverage, try adding a slice of lemon or a dash of cinnamon.
Integrating Tea Into Your Existing Diet and Routine
Combining weight-loss teas with these other dietary and lifestyle changes has been shown to increase their efficacy.
Nutrient-Rich Diet: Eat a wide range of fresh produce, whole grains, lean proteins, and healthy fats to maintain good health. Dietary changes should be the foundation of your weight loss efforts, not a cup of tea.
Regular Exercise: Maintain a regular exercise routine, including cardiovascular exercise, strength training, and flexibility exercises. Weight loss is just one of the many benefits gained from regular physical activity.
Mindful Eating: Mindful eating can help you control your portion sizes. Pay attention to when your stomach starts to feel full and stop eating when it does. Inducing satiety through the use of weight-loss teas can be an effective strategy.
Drink Sufficient Water: In addition to drinking weight-loss teas, you should drink enough water throughout the day to be well hydrated. If the weight-loss tea you've settled on contains diuretic effects, this is even more crucial.
Stress Management and Sleep: Stress management and sleep incorporate mindfulness meditation or yoga into your daily practice as stress management tools. Aim for a full night's sleep every night because sleep deprivation can hinder your attempts to control your weight.
Assessing Progress and Making Adjustments
Maintain consistent progress monitoring while using weight loss teas. Record any shifts in your weight, height, and general health. You should evaluate whether or not the weight-loss tea you've selected is helping you achieve your objectives. Consult a healthcare provider or qualified dietitian for additional help and adjustments to your weight reduction strategy if you experience any negative effects or are not obtaining the intended results.
Weight Loss Teas: An Outlook for the Future
Let us understand the scope of weight loss teas in the future.
Research Progress
The efficacy and processes of weight loss teas are the subject of continuing study to expand our understanding of these products. Researchers are looking at new tea blends, analyzing the effects of weight loss teas on certain demographics, and studying the synergistic benefits of tea constituents. Read the latest studies so you can keep up with the newest discoveries regarding weight loss teas that work fast.
Unconventional Components and Methods
Companies are always developing and offering new ingredients and formulations as the demand for the best teas to drink for weight loss increases. Some weight-loss teas feature obscure plants, fruits, or spices for their purported fat-burning properties. Keep an open mind and try out new items, but always double-check manufacturer claims with independent research.
Tailored Methods
Individual genetic variations, microbiota composition, and metabolic profiles may be taken into account in the future of weight loss teas. Weight loss teas' efficacy and long-term success may be maximized if they are used as part of a personalized weight-reduction plan.
Better Regulation and Security
More stringent safety rules could be imposed on the weight-loss tea sector as demand rises. To guarantee that weight loss teas are safe and provide accurate information about their components and potential effects, stricter quality control, more transparent labeling, and standardized production procedures should be implemented.
Emphasis on Holistic Health
In the future, weight-loss teas may shift their focus from weight loss alone to general health and wellness. Along with weight control, this strategy may highlight the significance of mental health, self-care habits, and long-term lifestyle adjustments.
Staying updated, critically evaluating new advances, and giving priority to evidence-based treatments are all essential as the landscape of weight loss therapies continues to change. Make use of methods that are in keeping with your interests and aims, and get expert help when you need it.
FAQs
Is it true that weight loss teas are a simple and fast way to get in shape?
Despite claims to the contrary, weight-loss teas are not a miracle cure for obesity. When combined with a healthy diet, frequent exercise, and other behavioral modifications, they can be an effective aid in the fight against obesity.
Does drinking weight-loss tea really help you burn fat and speed up your metabolism?
Green tea and oolong tea, two common constituents in weight-reduction drinks, have been shown to enhance metabolic rate and fat oxidation. However, the impacts are subtle, and people react differently to them.
Is it safe to drink weight-loss teas?
In moderation and for people without preexisting health conditions, weight-loss teas can be safe. However, there are some dangers to keep in mind, such as dehydration, stomach distress, and drug interactions. If you have any health issues, you should talk to your doctor before using any weight-loss drinks.
How effective are weight-loss teas at reducing hunger?
Appetite suppressants are a common selling point for weight-loss drinks. Though ginger and green tea, two of these teas' constituents, may have appetite-suppressing effects, these benefits may not be as strong or consistent for different people.
To what extent have weight-loss teas been proven to work by science?
There is little to no definitive research on the efficacy of weight-loss teas. As opposed to commercial tea mixes, many studies have zeroed in on individual chemicals or extracts found in tea. Their potential benefits and methods of action need to be investigated further.
Can dehydration occur from drinking weight-loss teas?
If you drink too much of a certain type of weight-loss tea that contains natural diuretics, you may become dehydrated. Maintaining proper hydration requires a careful tea-and-water balance.
Can a good diet and regular exercise be replaced by drinking weight-loss teas?
No, a good diet and regular exercise are still required in addition to using a weight-loss tea. They are meant to be used alongside a healthy diet and regular exercise to help with weight loss.
How do I choose the best weight-loss tea?
Natural ingredients, caffeine content, user evaluations, and professional advice should all be taken into account when selecting a weight-loss tea. Depending on your objectives, taste preferences, and health concerns, you should choose a tea accordingly.
What authorities are responsible for monitoring the safety of weight-loss teas?
Some weight loss teas may not be up to par concerning safety and quality because the business is not adequately regulated. To guarantee you're getting a quality, safe product, check for third-party certifications and well-known brands.
Keeping the weight off permanently using weight-loss teas
To keep the weight off permanently, weight-loss teas can be helpful, but they shouldn't be used without also making other, more permanent adjustments to one's lifestyle. Maintaining success over the long term requires making healthy eating, working out, dealing with stress, and getting enough sleep as top priorities.
Conclusion
Summary of Major Findings
In this post, we dove headfirst into the realm of weight loss teas, weighing the pros, disadvantages, and other factors to take into account when making your final purchase. Green tea, oolong tea, ginger, dandelion, and hibiscus were among the ingredients in our discussion of the definition and review of weight loss drinks. The advantages of weight-loss teas were investigated; these included a faster metabolism, reduced hunger, smoother digestion, less bloating, and a cleaner body. We also talked about the possible side effects of weight loss teas, including dehydration, stomach trouble, medication interactions, a lack of regulation, and reliance. Looking for natural components, checking caffeine content, reading reviews, consulting healthcare specialists, reading labels, and complementing with lifestyle modifications are all things to think about when selecting the best weight loss tea.
Individuals aiming to lose weight may benefit from including weight loss teas as part of their overall weight loss regimen. The possible benefits and hazards of weight loss teas should be carefully weighed before deciding whether or not to use them. Teas for weight loss should not be used alone but rather as part of a comprehensive plan that includes healthy eating, regular exercise, stress management, and plenty of sleep.
Although there are potential advantages to using weight-loss teas, prioritizing general health and wellness is of paramount importance. When trying to lose weight, it's important to adopt a more comprehensive strategy that emphasizes making permanent changes to one's way of life rather than relying on temporary solutions. Always check with your doctor or a certified dietitian to make sure weight loss teas are safe and effective for your unique situation and to get expert advice tailored to your needs.
People may make educated selections and start on a safe, sustained weight loss path if they have a thorough understanding of weight loss teas, their possible advantages and hazards, and how to successfully utilize them.
Disclaimer: The information provided in this article is for educational purposes only and should not be considered as a substitute for medical advice. Consult a healthcare professional before implementing any home remedies or making significant changes to your lifestyle.