How to Lose Weight Without Exercise?
Losing weight can be a difficult task, especially if you dislike exercising. While physical activity is important for overall health and weight control, there are other ways to lose weight without exercising.            
Introduction
If you are seeking answers to how to lose weight without exercise, you will get them here. This article looks at several methods and gives advice accordingly.
Powerful Tips for Losing Weight Without Exercise
If you want to lose weight quickly without exercising, you need to keep the following things in mind during your weight loss journey. By using these tips to lose weight without exercise along with incorporating long-term changes to your food and lifestyle, you can achieve weight loss goals and ensure your well-being.
Tracking Food Consumption
Tracking your food consumption is a crucial step to losing weight without exercising. Keeping a food diary allows you to obtain useful insights into your eating patterns and discover areas where you may make changes. There are numerous applications and websites available to help you track your food intake. Lose It! is a popular app that allows you to keep track of your meals, establish calorie targets, and track your progress.
Tracking your food consumption raises awareness of your eating habits and promotes mindful eating. You can make informed judgments about portion sizes, nutrient intake, and overall calorie control if you recognize the quantity and quality of the meals you consume. This method is especially useful for finding high-calorie meals or beverages that you should limit or eliminate from your diet, allowing you to lose weight quickly without exercising.
Focus on Whole and Nutrient-Rich Foods
When it comes to losing weight, the quality of the food you eat is just as important as the quantity. Rather than relying on processed and junk foods, prioritize complete, nutrient-dense foods. Fruits, vegetables, whole grains, lean meats, and healthy fats are examples of these. These foods not only supply necessary nutrients but also keep you feeling satisfied for longer periods of time.
Whole, nutrient-dense diets have several weight-loss benefits. They often include fewer calories and more fiber, which assists digestion and promotes feelings of fullness. Incorporating these foods into your meals and snacks helps to avoid overeating and the temptation to seek out harmful ones. Experiment with different recipes and meal ideas to make your meals more flavorful, filling, and nutritious.
Avoid Liquid Calories
It is critical to limit liquid calorie consumption when trying to lose weight quickly without exercise. Soda, energy drinks, and sugary juices are rich in calories and provide little to no nutritional value. You can dramatically lower your calorie intake by substituting these beverages with healthier options.
Water should be your go-to hydration beverage because it has no calories and is necessary for many biological functions. Aim for at least 8 to 10 glasses of water every day to lose weight quickly without exercise. Unsweetened tea and black coffee are also suitable options, as long as you avoid adding too much sugar or cream.
You can significantly reduce your calorie consumption and overall weight loss efforts by substituting sugary drinks with healthier options. Choose beverages that hydrate your body without adding extra calories.
Put Intermittent Fasting into Practice
Intermittent fasting has acquired popularity as an effective weight management approach and has been used by many people looking for effective ways to lose weight without exercise. It is an eating habit that alternates between fasting and eating periods. No or minimal caloric intake is permitted during fasting periods, but normal or slightly decreased calorie consumption is permitted during eating intervals.
Intermittent fasting can be done in a variety of ways, including the 16/8 method, the 5:2 method, and alternate-day fasting. The 16/8 approach entails fasting for 16 hours and eating only within an 8-hour window each day. The 5:2 technique involves eating normally five days a week and lowering calorie consumption to 500–600 calories on two non-consecutive days. Fasting every other day or consuming only a limited number of calories (about 500–600) on fasting days is what alternate-day fasting entails.
Intermittent fasting is thought to be useful for weight loss since it can help produce a calorie deficit. Individuals naturally consume fewer calories overall by decreasing the meal window or reducing calorie intake on fasting days, resulting in weight loss over time. Fasting can also cause ketosis, a metabolic condition in which the body switches from using glucose as its major fuel source to burning stored fat for energy.
Apart from enabling you to lose weight quickly without exercise, intermittent fasting may have additional health benefits. According to research, it may increase insulin sensitivity, reduce inflammation, and stimulate cellular repair and autophagy (the clearance of cellular waste). It could help improve cholesterol levels, blood pressure, and overall cardiovascular health.
While intermittent fasting can be a useful technique for weight loss, it is not for everyone. Before beginning an intermittent fasting routine, it is critical to examine personal circumstances such as medical issues, medication use, and lifestyle considerations. Individuals who are pregnant or breastfeeding, have a history of eating problems, or have chronic health concerns should seek the advice of a healthcare practitioner before beginning intermittent fasting.
It is critical to stay hydrated during fasting times by consuming water or other non-caloric liquids. Some people find that drinking black coffee or unsweetened tea during fasting hours helps to control their hunger. It is critical to remember that fasting should never be used as an excuse to deprive the body of necessary nutrients. To enhance general health, it is crucial to eat a well-balanced meal that contains a variety of nutrient-dense foods while breaking the fast.
Intermittent fasting is not for everyone's lifestyle or tastes. Some people may find it difficult to stick to fasting periods, or they may have negative side effects such as hunger, irritability, or problems concentrating. It is critical to listen to your body and make the necessary modifications. If intermittent fasting does not meet your needs or goals, there are other techniques to lose weight quickly without exercise that may be more appropriate.
Take Right Amount of Sleep for Weight Loss
Sleep is essential for weight loss and overall wellness. Sleep deprivation can affect the hormones that govern appetite, resulting in increased hunger and cravings. Furthermore, sleep deprivation can cause weariness and a loss of motivation to eat healthily or engage in physical activity.
Make sleep a priority and stick to a steady sleep pattern, along with other ways to lose weight without exercise. For optimal health and well-being, most adults require seven to eight hours of sleep per night. By getting enough sleep, you may help your weight loss attempts by controlling your hunger, maintaining your energy levels, and encouraging overall physical and mental well-being.
Manage Your Stress for Weight Loss
Stress can have a big impact on your weight-loss efforts. When you are stressed, your body produces cortisol, a hormone that increases hunger and promotes fat storage, especially in the stomach area, hampering your efforts to lose weight quickly without exercise. As a result, developing appropriate stress management strategies is critical for weight loss.
Stress-relieving activities such as meditation, yoga, deep breathing techniques, and hobbies can help reduce stress levels. These activities enhance relaxation, improve mental clarity, and minimize stress-related emotional eating or cravings. You can create a more conducive atmosphere for healthy weight loss by incorporating stress management practices into your daily routine.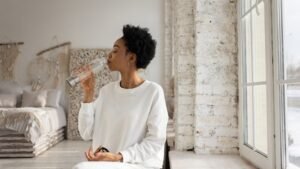 Stay Hydrated
Water consumption is critical for weight loss and overall wellness. Water is necessary for many biological functions and can have a big impact on your weight-loss journey. Staying hydrated helps boost feelings of fullness, limit calorie intake during meals, promote normal digestion, and aid your efforts to lose weight fast without exercise.
Aim for at least 8 to 10 glasses of water every day. Consider drinking a glass of water before meals to help you feel satisfied faster and maybe minimize your calorie intake. You can achieve your weight loss objectives by prioritizing water consumption and replacing sugary beverages with water.
Practice Mindful Eating
Mindful eating is a method that involves paying attention to the present moment without distraction when eating. You become more aware of your hunger and fullness cues when you practice mindful eating, allowing you to make informed judgments regarding portion sizes and food choices.
To practice mindful eating, aim to eat your meals at a table, away from distractions like television or phones. Take your time with each bite, chew carefully, and enjoy the flavors and textures of your food. This method promotes a closer relationship with your body's signals, avoiding overeating and promoting healthier eating habits.
Portion Control with Smaller Plates
Portion control is essential for weight loss, and utilizing smaller plates is a simple yet successful method. People eat more when they are provided with greater servings, according to studies. When you use smaller dishes, you visually load them up with less food, giving the impression of a more filling dinner.
Using smaller portions allows you to cut calories without feeling deprived. This method promotes portion management and trains your mind to be content with fewer portions. Experiment with different dish sizes to see how this changes your impression of portion sizes and overall meal satisfaction.
Seeking Professional Assistance
If you're having trouble losing weight without exercising, it could be a good idea to seek expert assistance. You can learn how to lose weight without exercising, according to your capabilities. A certified dietitian can design a nutrition plan that is tailored to your specific needs and goals. They can advise on proper portion control, meal planning, and eating healthier foods to lose weight fast without exercise.
A therapist or counselor can also help you manage stress and address emotional concerns that may lead to weight gain or impede weight loss progress. Mental and emotional well-being are important factors in weight management, and obtaining professional assistance might be beneficial on your weight loss path.
Note: There might be affiliate links mentioned here. We may receive a commission if you purchase a product through an affiliate link. There is no additional charge for you. Please do your own research before making any online purchases.
Low-Calorie Diet
A low-calorie diet is a popular weight-loss strategy that focuses on reducing overall calorie intake to produce a calorie deficit. When your body obtains fewer calories than it needs for daily functioning, it begins to use stored fat as an energy source, which results in weight reduction.
When following a low-calorie diet, it's critical to make sure you're still getting enough nutrients while cutting calories. This includes eating nutrient-dense foods rich in vitamins, minerals, and other helpful components. Include a variety of fruits and vegetables, whole grains, lean proteins, and healthy fats in your diet.
To achieve a calorie deficit, you must first establish your daily calorie requirements and then modify your intake accordingly. Aim for a modest calorie decrease rather than an excessive one, as severe calorie restriction might be unsustainable and lead to dietary shortages.
When adopting a low-calorie diet, portion control is essential in addition to calorie reduction. To visually regulate portions, use smaller dishes or bowls and smaller serving sizes. Mindful eating and chewing carefully are two practices that can help you feel content with fewer amounts of food.
While a low-calorie diet can help you lose weight fast without exercise, you should do it with caution and under the supervision of a healthcare professional or qualified dietitian. They can assist you in developing an appropriate food plan, ensuring nutritional adequacy, and tracking your progress.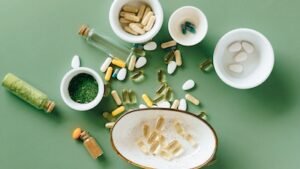 Dietary Supplements
Weight loss supplements are products that are intended to help people lose weight by increasing metabolism, decreasing hunger, or stimulating fat burning. They come in a variety of forms, including tablets, powders, and teas, and frequently contain a mix of chemicals that are said to aid in weight loss.
It is critical to understand that weight loss supplements are not a miracle cure and should not be relied on entirely to achieve weight loss goals. They should be viewed as additions to, rather than replacements for, a healthy diet and lifestyle.
Caffeine, green tea extract, garcinia cambogia, and conjugated linoleic acid (CLA) are all popular weight loss products. These compounds are thought to have potential benefits such as improving fat oxidation, reducing hunger, and boosting metabolism.
The effectiveness and safety of weight loss pills, on the other hand, can vary substantially. Many supplements lack adequate scientific proof to back up their claims, and some may even be harmful to one's health. Furthermore, because the supplement market is unregulated, it is critical to exercise caution and conduct thorough research before utilizing any weight-reduction pill.
If you're thinking about taking weight-reduction supplements, you should talk to a doctor or a qualified dietician first. They can offer advice based on your specific needs and assist you in making educated selections. They will also examine potential drug interactions and pre-existing health issues.
Always utilize weight loss pills in conjunction with a well-balanced diet and frequent physical activity. They do not replace healthy lifestyle choices like mindful eating, portion control, frequent exercise, and appropriate sleep.
FAQs
Is it possible to lose weight without exercising?
Yes, you may lose weight without exercising by using several strategies and changing your lifestyle.
How can I keep track of my food intake?
You may monitor your meals and progress by using apps or websites like Lose It! to track your food consumption.
What should I prioritize in my diet to lose weight?
Make complete, nutrient-dense foods a priority, such as fruits, vegetables, lean meats, whole grains, and healthy fats.
Should I stay away from liquid calories?
Yes, it is critical to minimize your use of calorie-dense beverages such as soda and sugary juices.
How does intermittent fasting aid in weight loss?
Intermittent fasting entails alternating between fasting and eating intervals, which might result in a calorie deficit and fat loss.
How much sleep do I need to lose weight?
To support weight loss goals and overall well-being, most adults require seven to eight hours of sleep per night.
What effect does stress have on weight loss?
Stress can increase hunger, encourage fat accumulation, and stymie weight loss efforts. Effective stress management tactics are essential for weight reduction success.
Why is hydration crucial for losing weight?
Staying hydrated helps with hunger management, digestion, and overall weight reduction attempts.
What is mindful eating, and how can it aid in weight loss?
Mindful eating entails paying attention to the current moment while eating, which allows you to make more educated decisions about portion sizes and food selection.
Can dietary supplements help you lose weight?
While some supplements may be beneficial, they should be used in conjunction with a healthy diet and lifestyle. It is suggested that you consult with a healthcare practitioner.
Conclusion
To summarize, it is possible to lose weight by following numerous ways to lose weight without exercise and making modest modifications to your food and lifestyle. Learn how to lose weight without exercise and incorporate the best tips into your daily routine.
You can effectively achieve your weight loss goals by using the appropriate ways to lose weight without exercise, like tracking your food intake, emphasizing whole, nutrient-dense foods, avoiding liquid calories, practicing intermittent fasting, getting enough sleep, managing stress, drinking plenty of water, practicing mindful eating, using smaller plates, and seeking professional help when necessary.
Remember that everyone's weight reduction journey is different, and it's critical to discover a plan that works for you and is compatible with your general health and well-being. Maintain your commitment, be patient with yourself, and rejoice in minor triumphs along the way. You may lose weight and improve your entire health and quality of life with determination and perseverance.
Disclaimer: The information provided in this article is for educational purposes only and should not be considered as a substitute for medical advice. Consult a healthcare professional before implementing any home remedies or making significant changes to your lifestyle.